The best ab workouts for runners to build strength, improve posture and prevent injury
Take your running to the next level with the best ab workouts for runners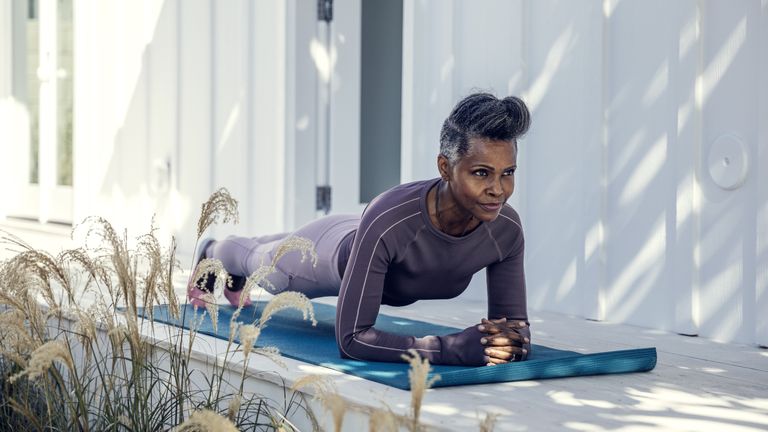 (Image credit: Getty Images)
There are endless benefits of ab workouts for runners. If you're a fan of running, your instinct for exercising might be to lace up your trainers and hit the pavement. But, even the most serious sprinters need some variety in their exercise regime. Whether it's raining outside, or your legs need a break, turning your efforts towards core strengthening workouts is never a bad idea.
Buying the best running shoes for women and hitting the pavement regularly will definitely make you a better runner. But, when it comes to improving your running technique, the best ab workouts can help you build stamina, improve posture and reduce the chances of injury.
Just like yoga for runners, ab workouts for runners can help build strong abdominal muscles, so you'll be able to engage your core as you run, taking pressure off your legs and hips and avoiding any unnecessary impact. What's more, a strong core is crucial for runners who want to improve posture and back stabilization, and trying these sweaty ab exercises will build endurance. All of which will help you run stronger, faster and for longer.
If you're embarking on a new journey into fitness for women, core strengthening workouts will not only help you build strength, but are also super important for combating the natural loss of bone density and preventing injury.
Building a six-pack doesn't have to be your goal, but if you want to become a stronger runner, try these top five ab workouts from the comfort of your own home
Five of the best ab workouts for runners
1. Mountain climbing cardio workout
Mountain climbers are a great way to get your heart rate up and build endurance, allowing you to strengthen both your body and mind, which will push you through the hard reps that will eventually guide you to the finish line of long races. Imagine you're sprinting uphill every time you get in the mountain climber position in this 20-minute cardio workout and get ready to build strength in the muscles that are key to being a strong runner.
2. Glute bridge workout
The glute bridge can be a little deceptive. At first, it may seem like a nice break, allowing you to lie on your back while elevating your hips. Hold it for long enough, though, and you'll soon feel the burn—and the benefits. This classic workout move works your lower abdomen and your hamstrings. Plus, as the name would imply, it doesn't leave your glutes behind! Tuning into this at-home workout will build strength in your lower body and core, to help you power through those miles.
3. Plank abs and core workout
A push-up without the pushing-up—how bad could it be? Although the plank can prove to be quite challenging, it is an excellent exercise for strengthening your core, improving balance and posture. This 15-minute plank workout features plank variations so you won't get bored, alternating with hip dips, shoulder taps, moving from your hands to your forearms and more! Make sure to use one of the best thick yoga mats to avoid any nasty slips and protect your body as you work through this routine.
4. Express crunches workout
On the surface, crunches may seem like less-involved sit-ups, but with this 5-minute crunches workout routine, you'll quickly build up a sweat and put your abdominal muscles to work! Targetting the core directly, if you sweat it out to this routine regularly you'll be on your way to a strong core that will push you through your next run. The no-equipment routine features a variety of crunches to keep things interesting as you work out.
5. Standing abs workout
Standing routines are some of the best workouts, especially for those who find floor exercises uncomfortable, or want to keep moving on their feet. Just because you're not lying on the floor crunching, doesn't mean you won't be putting that core to work. This 12-minute workout engages the core and builds strength, while also improving balance and posture which is essential for runners. Equipment is optional in this workout, but either way, you're sure to build up a sweat.
Ciara was the former digital health editor at womanandhome.com, covering all things health & wellbeing from fitness to sleep to relationships. She's always on the lookout for new health trends, innovative fitness gadgets and must-read wellness books.
Originally from Ireland, Ciara moved to London to study journalism. After graduation, Ciara started her career at Goodhousekeeping.com. Ciara qualified as a meditation teacher with the British School of Meditation in 2020, and outside of her day-to-day now runs her own meditation school called Finding Quiet. She is all about bettering that mind-body connection but believes wellness looks different to everyone.