Fitness for women over 50—six workouts to kickstart your fitness journey
Plus, how these activities will transform your physical fitness and emotional wellbeing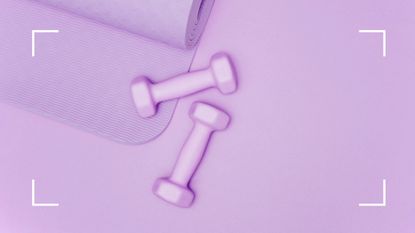 (Image credit: Future/Getty Images)
Embarking on a new journey into fitness for women over 50 is an exciting challenge and an important first step in prioritizing your health and wellbeing. But, if it's been a while since your last workout class, it's totally normal to feel nervous or a little unsure about where to start.
It's important to find an activity you enjoy that also works around your lifestyle. Investing in the best running shoes for women is a must for the keen runners among us, but if you find yourself dreading hitting the pavements every week, then it's okay to move on to another activity and try something new.
To help you kickstart your fitness journey or find workout motivation to get back on track, we've got six expert-approved workouts for you to try. Now all that's left to do is charge up your fitness tracker, lace up your trainers, and get moving!
Fitness for women over 50
1. Strength training
What is it? Strength training is any workout that focuses on improving strength. You can perform these exercises using your own body weight, resistance bands, or weights such as dumbbells. See our guide to the best dumbbells for top recommendations.
What are the benefits?
Combats natural loss of bone density
Prevents injury
Improves posture and balance
Boosts wellbeing
Relieves back pain
Boosts metabolism
You might not have realized the importance of strength training for women, but it can prevent injury and help combat the natural loss of bone density, which is important for women during menopause.
"In my opinion, increasing bone density is a hugely under-valued benefit of strength training. By adding more weight to the skeleton the bones are stimulated to strengthen—helping to reduce the risk of conditions such as osteoporosis, osteopenia and injuries such as fractures," says Greta Goodman, Trainer at F45 Wimbledon.
How do I start?
At home—you can start from the comfort of your own home with at-home workout videos using your own body weight or household items to add resistance. See our roundup of the best bodyweight exercises to get you started.
With a PT—if you can, Goodman suggests signing up for personal training. "If you're new to strength training your coach can guide you through the process, meet you where you're at and help support you to get to where you want to be," she says.
Join a class—a group class can feel intimidating but is a great way to learn the basics of strength training. "Starting anything new can feel daunting at times or we might feel an overwhelming sense of not feeling 'ready'. Often taking the first step is the hardest. Take the first step, go at your own pace, and, most importantly, enjoy the journey!" Goodman says.
2. Pilates
What is it? Pilates is a low-impact exercise that builds strength, and improves flexibility, posture and balance. All types of Pilates combine a series of strengthening exercises, but they use different sequences and equipment to engage different parts of the body.
What are the benefits?
Combats natural loss of bone density
Strengthens muscles and mobilizes joints
Improves concentration, sleep and mood
"Combining aerobic exercises with resistance training, Pilates will help strengthen muscles and mobilize joints," says Pilates teacher Lotty Somers.
Pilates is also great for keeping the brain active, improving concentration and coordination. It improves circulation and cardiac health too, through low-impact movements. Being mindful as you move, staying present in the moment, and working on your mind-body connection can help reduce stress and anxiety, improve sleep and boost confidence.
"All of these elements become even more important after menopause, and can help curb the trajectory of aging and allow women to continue to feel strong and healthy, and engage in additional recreational activities," adds Andrea Speir, co-founder and lead trainer at Speir Pilates.
How do I start?
Try YouTube—to get started at home, grab your yoga mat and try a beginner's Pilates class on Youtube. See our guide to Pilates for beginners for our top YouTube picks.
Join an online class—many Pilates studios also offer online Pilates classes, so you can learn the basics at home before taking a beginner's class with others.
Head to your local studio—begin with a Mat Pilates class or Reformer Pilates for beginners. The benefit of in-person classes is the one-on-one support and advice you'll get from your teacher, who will help you nail each move and keep your posture in check.
Stick with it—"There is no need to feel like you have to know every movement perfectly on day one, just allowing your body to move and flow will make a difference," says Speir. Consistency is key, and the more you do Pilates, the more you'll reap the benefits.
3. Nordic Walking
What is it? Nordic walking is less about speed and more about technique. By using a set of walking poles, you'll put your upper body muscles to work as well as your legs for a total body workout. It's a low-impact workout that's great for those looking for an alternative to high-impact cardio.
What are the benefits?
Build strength without putting pressure on joints
Improves cardiovascular fitness
Encourages weight loss
Boosts mood
Nordic walking will help you lose weight and build strength, all while enjoying the beauty of the outdoors. For women over 50, it's a particularly great low-impact exercise.
"It's ideal because the poles reduce pressure on lower body joints," says Gill Stewart from Nordic Walking UK. "You can add muscle groups and really work them without the discomfort of something like jogging. We call it 'upping the gears'. The poles help to move you forward—it feels easier and people can last longer."
How do I start?
Invest in the right kit—walking gear should be durable, comfortable, and suitable for all weathers. A pair of the best walking shoes and best walking poles are essential for Nordic walkers.
Team up with others—walking with others can make the experience even more fun. Invite family or friends, or join a walking club and take on a challenge with like-minded people.
Perfect your technique—start slow and master your form. "Once you have learned the technique, start with 30 minutes of walking, until you feel comfortable. Don't fret if you don't have miles of open country. Some Nordic walkers are strictly urban, using only streets and local parks," Stewart adds.
Share walking plans with others—always plan your route before you set off, and share it with family or friends. Check the weather in advance, pack plenty of water and snacks, walk during daylight, and rest as you need to.
4. Pole dancing
What is it? It's not the most traditional workout, but pole dancing really is an intense full-body sweat, combining dance and acrobatics on a pole to help you strengthen and tone, improve flexibility, and feel amazing.
What are the benefits?
Builds strength
Boosts confidence and mood
Can help improves self-esteem
Pole dancing is a total confidence booster that will push you out of your comfort zone. As you get older, taking on a new challenge is as important for your mental wellbeing as it is for your physical health.
"Pole dancing is space for you to explore movement as well as become comfortable in your own skin," explains says Dalijah Franklin, teacher at Body & Pole, "Being confident isn't just a feeling when you pole dance. You will exude it in your day-to-day life, too. My self-esteem and how I view my body have changed since I started pole dancing 14 years ago. I appreciate my body for how far it has come and the strength it has gained from pole dancing."
You might feel a little self-conscious at the beginning, and that's okay. The more you practice, the more confident you'll feel and the stronger you'll become. "It's okay to want to feel sexy and confident without being demonized or judged for it," she adds. "The more people that try poling and start normalizing it, the more society will adapt to it and realize this is a great workout for anyone and everyone who wants to try it."
How do I start?
Try a YouTube video first—if you're nervous about taking your first class, start by trying pole dancing workout videos on YouTube. The no-equipment routines will help you master some of the basic moves you'll learn in class, and improve your flexibility.
Sign up for a class—when you're ready, sign up for a class or encourage a friend to try a workout with you.
Have fun—remember, everyone in the class is there to work out, have fun, and feel great. "Pole is challenging, but it's the journey of a lifetime and one you will not regret. If you're waiting for a sign to pole dance, this is your sign!" Franklin adds.
5. Spinning
What is it? Spinning is low-impact, but it's one of the best workouts for a full-body sweat. Whether you spin at home or in a studio, you can expect to feel the benefits of spinning instantly after your first class. "It's low impact which makes it accessible to all and easy to start as a beginner," says Boom Cycle co-founder Hilary Rowland.
What are the benefits?
Improves cardiovascular fitness
Low-impact so easy on joints
Builds lower body strength
Boosts mood and confidence
For women over 50 wanting to improve their cardiovascular fitness, spin is a must-try. Because it's low-impact in nature, you won't risk putting any extra pressure on your joints. Instead, you'll build lower body strength, promote better circulation and neurogenesis and support your heart, lungs and immune system, Rowland says.
Indoor and group spinning workouts can also be incredibly empowering for women and create a great sense of community. "The feeling of being in a room surrounded by like-minded individuals with no competition or numbers–just fun, great beats and lots of sweat does wonders for boosting endorphins," says Rowland.
How do I start?
Sign up for a class—join a spin class at your local gym and or spin studio. Most studios will provide you with clip-in shoes that clip onto the bike making the process of spinning to the beat totally seamless.
Forget about everyone else—remember to take things easy as a beginner, forget about everyone else in the room and just focus on the instructor. "At Boom Cycle, we encourage riders to take things at their own pace and will never, ever call anyone out negatively during a ride. It's about having a good time and enjoying your ride," Rowland explains.
Invest when you're ready—found a new love for spinning? Consider investing in an at-home spin bike from brands such as Peleton and Apex. It makes spinning more convenient than ever. You can take part in live classes or catch up with on-demand access, and track every ride to monitor your progress.
6. Yoga
What is it? The origins of yoga date back more than 5,000 years to India. The practice combines a series of postures with an emphasis on the breath. It's a workout for both the body and the mind.
What are the benefits?
Improves flexibility and mobility
Builds muscle strength and combats loss of bone density
Helps reduce stress and anxiety
Improves breathing and sleep
Yoga is great for building muscle, bone, and joint strength and improving flexibility and mobility. It also helps to reduce stress and anxiety, promote better sleep. With a clear focus on the breath, it helps bring a new perspective into your everyday life.
"Bone strengthening and joint mobility are especially important for women as we age and practicing yoga regularly can have many physical benefits," explains Movement For Modern Life's Founder, Kat Farrants.
To really reap the physical and mental wellbeing benefits of yoga, Psycle's Head of Yoga, Gemma Soul advises practicing at least twice a week. "Any time spent on the mat is better than no time. You can start at home with a 15-minute online video, rather than feeling you have to go to an hour-long class in a studio," she adds.
How do I start?
Start small—"If you're new to the practice, try a beginner's class to fully understand the basics and alignment of the poses," says Soul. Whether you practice via a YouTube video, online class or in a studio, Farrants suggests going for a slow-paced Hatha or a Restorative yoga class to kickstart your yoga journey.
Be kind to yourself—"Take care and be loving to your body as you're trying out something new," says Farrants. Don't berate or judge yourself if you don't master every pose, enjoy the journey of learning,
Commit to the practice—if you want to see the benefits of yoga, no matter how much you want to give up, stick with the practice. "Sometimes when you start you might notice a little tension, but remember this is just you becoming more aware and mindful of your body," says Soul. "Every movement is a step to opening up the body and mind in the most beautiful and unique way to you."
If you have a pre-existing health condition or are concerned about starting a new fitness regime, you should always speak to your doctor for further advice on what is best for you.
---
w&h thanks Greta Goodman, Trainer at F45 Wimbledon, Pilates teacher Lotty Somers, Andrea Speir co-founder and lead trainer at Speir Pilates, Gill Stewart from Nordic Walking UK, personal trainer Luke Worthington, Dalijah Franklin, teacher at Body & Pole, Boom Cycle co-founder Hilary Rowland, Movement For Modern Life Founder, Kat Farrants and Head of Yoga at Psycle Gemma Soul.
Ciara is the former digital health editor at womanandhome.com and has covered all things health and wellbeing from fitness to sleep to relationships. She's always on the lookout for new health trends, innovative fitness gadgets and must-read wellness books.
Originally from Ireland, Ciara moved to London to study journalism. After graduation, Ciara started her career at Goodhousekeeping.com. Ciara qualified as a meditation teacher with the British School of Meditation in 2020, and outside of her day-to-day now runs her own meditation school called Finding Quiet. She is all about bettering that mind-body connection but believes wellness looks different to everyone.