Running on a treadmill vs outside—which one is better for your health?
Weighing up running on a treadmill vs outside? Here's everything you need to know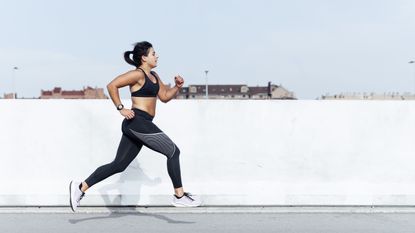 (Image credit: Getty Images)
Running on a treadmill vs outside is not a new debate. To help you weigh up the pros and cons of both, we spoke to a top running coach.
For a very simple sport, running can sometimes become very complicated and awash with questions. From finding the best running shoes for you to mastering your running technique—there's a lot more to consider than you might think.
Then you've got the running on a treadmill vs outside debate, which often comes after weighing up the benefits of walking vs running. Runners seem to fall into two vehemently opposed camps—those who love running on a treadmill and those who call it 'the dreadmill'. The latter complain about how boring it is to run in the same spot with an unchanging view and no fresh air. While the former prefer the ability to adjust their pace and structure their workout precisely. For some, they also just feel more comfortable on a treadmill, particularly if they're kicking off their couch to 5k plan or on a new journey running for weight loss.
When it comes down to it, is one method better than the other? We asked top England Athletics running coach Tom Craggs to reveal whether there's any difference in the benefits of running for women between the two.
What are the benefits of running on a treadmill?
From avoiding extreme cold or heat to staying dry in rain, there are many benefits to running inside on a treadmill. These include:
Being able to run any time of day in all weather
Ability to set the pace, time and speed of your run
Opportunity to customize workout programs
Extra protection for some joints by running on a softer surface
"Treadmills provide a solution for runners who need to train from home whilst parenting or who live in areas where getting to a safe location to undertake good quality training is challenging," says top England Athletics running coach Tom Craggs. Many women also feel less self-conscious about running in a gym or home environment than they do on the roads. These are all excellent reasons to choose treadmill running.
In comparison to roads, treadmills are a slightly softer, bouncer surface so can be great for protecting bones and joints, particularly if you're new to the activity. That's why many top athletes opt for treadmill running during recovery as it still allows them to get their miles in. You could also weigh up the benefits of cycling vs running for this too, as the former also offer less impact on the joints.
On the treadmill, the belt moves beneath you, whereas outside you have to propel yourself along the road. This is why some people actually find running on the treadmill a little easier compared to the same pace outside—though mentally, it can be more challenging.
Treadmills are also great if you want to set a specific pace and you can still track your runs on the best workouts apps. "Some runners actually find they can better conquer the battle of will that happens when trying to maintain pace when things start to get tough," Tom adds.
With a set series of programs, you can mix up your run and add hill inclines, do HIIT treadmill workouts, or mix up running with walking for a longer workout.
Treadmills are also getting more high-tech and companies and adding new features all the time. "The advent of new technologies such as Zwift—a running coach video game combo that offers runners that chance to compete online—provides an even more immersive experience and can reduce some of the boredom runners have traditionally experienced on the treadmill," Tom says.
What are the benefits of running outside?
Whether you're running to improve your mental wellbeing or better your fitness, nothing beats an outdoor run in the fresh air—even better if it's through beautiful scenery. The benefits of running outside include:
Lots of fresh air and time outdoors that's great for mental wellbeing
Boosts vitamin D levels
Provides the opportunity to run with others
Allows you to try different terrain and engage different muscles in the process
Builds endurance
Helps you prepare for races
It's free—no expensive equipment or gym membership needed
If you've been working inside most of the day, then getting outside is crucial for both your mind and your body. Plus, being outside will give you a natural vitamin D boost. It's also free and can be done almost anywhere, provided you have a safe route nearby.
For the pro runners among us, running outside in all weather will help build stamina and endurance. You'll be training not only your body but your mind, pushing yourself to keep going when conditions aren't perfect. It's particularly important for race training as, alas, runners don't get to control the weather on race day!
What's more, if your race features tricky terrain it's important you incorporate that into your outdoor running plan. Lace-up your trail running shoes and mix roads with trails for ultimate preparation. Another huge benefit of the great outdoors is the variety of terrain and the benefits mixing up your routes can have for your health overall.
Different surfaces will engage different muscles. Hill running can help build strength, while flat mud runs can be mentally challenging but a lot of fun. Running outside and mixing up routes can also make it much easier to recruit a running buddy. Or, you could join a running club to boost your workout motivation, make connections with other like-minded people in your local community and improve your running technique.
What are the differences between running on a treadmill and running outside?
One key difference between treadmill running and outdoor running is outside is rarely completely flat. Some running coaches recommend treadmill runners increase the gradient of the treadmill to 1% to mimic outdoor running. However, it's worth noting that if you're working out indoors in a warm environment, your body may already be working harder with a gradient of 0% compared to if you were jogging in a breeze outdoors.
While outdoor running is thought to be the toughest on joints, treadmill running could also overload muscles. "Outside, even on the tarmac, but especially off-road, your foot will move slightly differently with each foot strike," Tom explains. "On the treadmill, your footstrike will be more consistent, which could lead to overloading muscles that feel the same pressure each time your foot hits the ground."
Running on a treadmill vs running outside— which one is better?
When it comes down to it, which one really is better for your health? The truth is, there really is no right or wrong answer—it's all about what's best for you.
"As simple as it sounds, the best way to improve your running is to run, and if the treadmill provides you with a way to increase the frequency and consistency of your running, then it's a valuable tool," says Tom.
If your goal is to get fit, lose weight or improve your cardiovascular health, treadmills are a great option. If you're weighing up the safety of running in your local area or the practicality of fitting your workout around family time, then treadmill running could be for you.
But, if you're training for a race it's best to run outdoors. While you can do uphill running on a treadmill by increasing the gradient, you can't practice running downhill which can actually be tougher on tired legs. Running outside in all weathers and across different surfaces will help build endurance and stamina, getting you in the best shape and mindset for race day.
Remember though, you can always mix up your routine! You can hit the treadmills during the week when you're time-poor before tackling the trails at the weekend. Use one of the best fitness trackers to record your workouts and monitor your progress, and then assess how your runs vary whether you're on a treadmill or outside. Whichever you choose, if it keeps you running then it's the best choice for you.
Kate Carter is an experienced journalist who worked for the Guardian for a decade before going freelance. She writes for the Guardian, Runners World, and World Athletics amongst many other publications, and presents for The Running Channel. She is also a sub three hour marathon runner and an England Athletics coach.