9 of the biggest clothing trends of 2021 uncovered
The clothing trends of 2021 may have been influenced in part by the pandemic, but it's not all pyjamas and athleisure...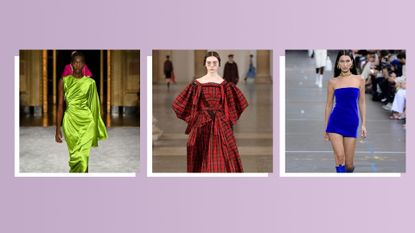 (Image credit: Getty)
Clothing trends are always influenced by the world around us and 2021 has been no exception.
While comfort reigned supreme over style for many during lockdowns at the start of this year, the lifting of restrictions around the world has ushered in a new era of chic and maximalist clothing trends to round off the year.
Minimalist wardrobe essentials have made way for mini skirts, maximalist dressing and power suits, while outdoor socialising has influenced our desire to add the best winter coats to our capsule wardrobe.
With Christmas around the corner, tartan is bang on trend for Autumn/Winter 21, but after another tough year no one will judge you for dusting off your best Christmas jumpers for the festive season ahead either.
Biggest clothing trends of 2021
While these are the biggest clothing trends of this year, most of the fall fashion trends will see you through to the start of 2022 too, so you can keep on looking stylish well into the new year.
1. The 00's
There's nothing like a return of a decade trend to make us feel old. Were the early 00's really that long ago? Apparently so. For Autumn/Winter, designers like Mark Fast and Jean Paul Gaultier brought back some old favourites, including a double denim look Britney Spears and Justin Timberlake would be proud of.
Bright satin and neon hues—especially Kermit-the-frog green—are back for party season and you should immediately start tucking your best skinny jeans into your boots, too.
WHAT TO BUY:
Faded denim: To execute this trend perfectly, you need swap your best jeans for the kind of denim that already looks like it's lived a very full life. Faded or stonewash are ideal but darker shades work too. Then for added points - double it up!
Neon satin: Any satin will work wonderfully but if you really want to amp up the 00's aesthetic then the brighter and bolder the better. Keep an eye on fabrics though, as some satin can end up looking a little cheap.
¾ length boots: Whilst the cowboy boot is once again reigning supreme, any ¾ good winter boot will work and you can wear them with everything from midi skirts to over your jeans.
WHERE TO SHOP:
2. Higher hemlines
Okay, keep with us on this one. Thanks to designers like Philosophy and Off White, short skirts just got a little bit shorter. This doesn't mean you need to flash all the flesh though. Take a leaf from Paul Costelloe who sent models down the runway with opaque tights and short peplum outerwear for a more winter-friendly nod to the trend.
WHAT TO BUY:
Pleated mini skirts: Think Clueless, think Grammar school! If you want to make them a little more sophisticated then pair them with a blazer or chunky knit.
Peplum mini coats: For what they don't have in length, these jackets certainly make up for in width–and with the added bonus that you can cinch them in at the waist. Go with a bold print.
Mini dresses: Whilst the midi and maxi have both had their moments in recent years, it's the mini that is now triumphing. Again, if you don't want too much skin on show then pair with tights and long boots.
WHERE TO SHOP:
3. Tartan
From Bora Aksu to Louis Vuitton, everyone is paying homage to our favourite Scottish fabric. Whether it's traditional red, muted monochrome or bright blue and pink, Tartan is the adaptable pattern that can be introduced to your wardrobe via skirts, dresses or even a trim here and there. Or, take inspiration from the Duchess of Cambridge and go with an outer layer like Kate Middleton's blue tartan belted coat.
The best thing about this trend is that it usually comes back around (It's been a Vivienne Westwood staple for years!) so anything you do invest in will likely keep coming out of the wardrobe for years to come.
WHAT TO BUY:
Oversized dresses: With the tartan trend, more is more, so ideally you'll embrace this aesthetic wholeheartedly with an all-over print dress - add ruffles and wraps galore.
Statement skirts: Following tradition, Tartan should really be worn on your bottom half so a skirt is a must for this one - especially if you can find a puffball one!
Anything with a nod to tartan: If you're not ready to take on the trend fully then a little tartan can definitely be worked in. Whether it's the trim of a coat, the inside lining of a jacket or even an accessory - you can still mix in a little edgy punk when you wear a scarf after all.
WHERE TO SHOP:
4. Neutrals
Music to the ears of the minimalists, neutral shades are here to stay. It's a true beige buffet, with Pantone's Colour Institute experts reporting that the dulcet tones of Buttercream, Desert Mist, and Willow were key at New York's Spring/Summer 2021 Fashion Week.
"These natural shades reflect our back-to-nature approach and are also unsurprisingly simple to incorporate into your wardrobe," says w&h's deputy fashion editor Jess Beech. "Use these muted colors to temper bold brights and pastels, or mix and match different brown shades for a tonal look."
WHAT TO BUY:
Trench coats: One of this trend's biggest benefits is that investing in simple pieces that won't induce any buyer's regret by next season. A beige trench is a perfect cover-up for in-between days, smartening up even the most casual outfits. Pick a Burberry trench coat as an investment piece that you can wear year after year.
Sweaters: When layering up shades, wearing darker brown tones closer to your body will create the illusion of a slimmer frame. A sleek and simple jumper that has been crafted from high-quality lambswool would be perfect.
A-line skirts: Perfectly tip-toeing the line between classic and contemporary, a faux leather fabric will give an otherwise simple skirt an edge.
WHERE TO SHOP:
5. The Great Outdoors
When Gucci collaborated with The North Face at the start of this year, it was official—getting out and about in nature is the new going out-out. Bringing fashion and functionality together, the maximalist collection is brimming with practical puffer coats, hike-ready backpacks, and statement boots.
"Recreate the look for less by snuggling into a duvet coat until the mercury rises, layered over a pretty midi dress," advises Jess. "Of course, when you're adventuring, a flimsy sole won't do, so embrace the fashion trend for heavy, stompy boots too. They're the perfect antidote to spring's traditionally fussy florals and frills."
WHAT TO BUY:
Puffer coat: When an actual duvet day isn't an option, heading out in a coat akin to a sleeping bag is the next best thing. If they sport a slightly oversized fit, there's plenty of room for layering knits underneath and a water repellent outer is always a plus for keeping water out.
Fleeces: Fleece garments have garnered an unfair reputation over the years, but nothing quite beats them for coziness. Go for a fun shade and shaped hemline to give it a modern feel and you can team with everything from your best workout leggings to dresses.
Boots: Nothing says outdoor like a pair of chunky boots. Get hold of a pair that has a good grip and possibly a waterproof feature too so that there's no need to splurge on a separate pair of boots for forest walks and muddy days.
WHERE TO SHOP:
6. Pajama party
After a long time spent mainly at home for many of us, the waters of what counts as indoor and outdoor clothing are well and truly muddied. And thanks to brands like Desmond & Dempsey and Sleeper, our obsession with loungewear and luxe pajamas is showing no signs of going to bed.
The good news is, there's no reason why you can't take your best jammies and nighties out with you when life returns to normal.
"The silky, fluid fabrics are perfectly suited to evening wear, especially when worn with heels and a blow-dry," says Jess.
An outfit you don't need to change out of when you get home? Sign us up.We'll be buying his and hers Christmas pyjamas for the whole household to wear in December, too.
WHAT TO BUY:
Glamorous embellishment: Any decorations or embellishments will take a pajama look to the next level. Think gems, pearl buttons, foil prints and fur or feather trims.
Satin fabrics: Create a slinky silhouette with silk or satin fabrics that—when worn as a nightie— will give the appearance of a vintage nightgown. Deep shades, spaghetti straps, and even lace or soft embroidery can up the glamor of this look. Wear a slinky nightdress for an evening with a tailored blazer and heels, or for a day over a black roll-neck or long-sleeve Breton top.
Vibrant two-pieces: Make a two-piece pajama set public appropriate with bold colors and stylish prints that can give them a dressed-up look. Wear with strappy heels and your sleeves rolled up or a trench coat and some flat sandals. Just beware of closed-toe shoes otherwise you might end up with a just-rolled-out-of-bed look.
WHERE TO SHOP:
7. Sustainably sourced
We know sustainability isn't a clothing trend. It's a much-needed movement. But it is something that needs flagging at every opportunity. Designers took leaps in the right direction for SS21, with Marni sending models down the catwalk in patchwork coats made from offerings of seasons in the past and Stella McCartney publishing an Eco-Impact report. Taking note and considering the impact and history of the clothes you're wearing will help you make more informed choices - especially when shopping for sustainable Christmas gifts with a fashion focus this year.
"Instead of falling for the lure of a bargain, think about how many times you'll wear your new purchase before you buy," advises Jess. "If it's less than seven, it's not worth it. Another good test is to enforce a 'cooling-off period.' Leave your online shopping basket overnight, and if everything in it still feels like a sensible investment in the morning, go for it. But chances are you'll be taking at least one thing out. Timeless pieces could be a good pair of jeans, a trench coat, and a classic white T-shirt will never date."
WHAT TO BUY:
Recycled and biodegradable materials: Buying recycled or biodegradable materials means that there is just a little bit less going into the world's landfills. With the planet's waste building up at an unsustainable level, any decision we can make—fashion-centric and otherwise—to use a multi-use rather than single-use material can make a big difference.
Locally-made pieces: Shopping anything locally-made is already making a more planet-wise decision from the off, as it means that the product doesn't have to travel far to get to you, so the carbon footprint of your purchase will be much lower than if you were to order something from the other side of the world. Pay attention to where the brand gets their materials from too, as if they have travel far that could add to the overall footprint of your purchase.
Ethically-supplied products: Thinking about a brand's supplier can help you to make kinder fashion choices when shopping any trends. Look into where a brand gets their clothes made and what the relationships are like with the brand's factory workers. There are even some female-owned factories if you want to support those too.
Small batch releases: Clothes that are released as part of small batches are a great option to go for if you're trying to be more sustainable, as by manufacturing in small batches, brands avoid overproduction meaning they are not creating unnecessary waste. And it even reduces the chance of you bumping into someone wearing the same outfit!
WHERE TO SHOP:
8. Extra, extra!
Can't remember the last time you wore color? Us neither. Luckily, the fashion industry has chosen to ignore the nation's somber mood and whipped us up a frenzy of smile-inducing pieces.
"Expect cheery colors, cheeky logos, and a plethora of touch-me textures," says Jess. "Just what we need following months spent almost exclusively in monochrome jersey and spandex. Now, we're not suggesting you don head-to-toe sparkles for a trip to the supermarket (although we wouldn't judge you if you did) but instead, think about adding that little bit 'extra' to every outfit. Think of a statement top with plain black trousers or a jazzy shoe with boyfriend jeans and a t-shirt."
WHAT TO BUY:
Sequins and embellishment: Nothing says extra like a dab of embellishment on your clothing. Think sparkles, gems, sequins and brooches for a touch of wow.
Bold colors: Opting for brighter colors can instantly transform any outfit. Go for bright tops, shoes or accessories to add a pop to a monochrome look or make a real statement with all-over color.
Shimmery fabrics: Replicate the looks of the catwalk with gold, silver or chrome-like outfits that will definitely turn heads in the very best way.
WHERE TO SHOP:
9. Suit up
Suit-wear has become much more of a fashion staple these days, rather than being solely reserved for office days and formal occasions, especially as there are so many different ways to wear this edgy look.
"The modern suit has ditched any stuffy connotations and is now as chic as ever," says w&h's deputy fashion editor Charlie Bell. "The perfect power-dressing piece, the best thing about a suit is its versatility. Team with a pussybow blouse and loafers during the week and swap for a slogan tee and box-fresh trainers at the weekend. You can even dress it up with a silky cami and barely-there heels for your Friday night look.
"Not only that, a suit is one of those clothing trends that works just as well separately as it does together. Throw the blazer over a dress or wear the tailored trousers solo with fine knit. A no-regrets investment piece, you're guaranteed to get plenty of wear out of this one."
WHAT TO BUY:
Structured blazers: Throw a structured blazer onto anything to give it an instant power-dressing uplift.
Smart trousers: Smart trousers can help you dress for any occasion, whether you're looking for what to wear to a christening or for a day at the office.
Shift dresses: Go classic power dressing with a smart shift dress that you can wear with court shoes and a suit jacket or dress down with loafers and a leather jacket.
Structured jumpsuits: A must-have for quick but trendy evenings out, structured jumpsuits bring speed, ease and style to power dressing.
WHERE TO SHOP:
Aleesha is a digital shopping writer at woman&home—so whether you're looking for beauty, fashion, health or home buys, she knows what the best buys are at any moment. She earned an MA in Magazine Journalism from City, University of London in 2017 and has since worked with a number of brands including Women's Health, Stylist and Goodto. A year on the w&h news team gained her invaluable insight into where to get the best lifestyle releases first—as well as an AOP awards nomination.