Where to buy the Duchess of Cambridge's tartan coat from her Scotland tour
The Duchess of Cambridge wore a stunning tartan coat during her tour in Scotland—here's where to buy the look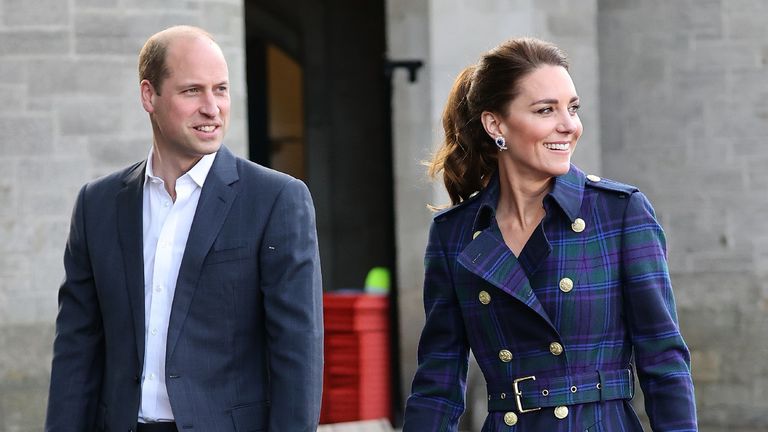 (Image credit: Chris Jackson / Staff / Getty Images)
The Duchess of Cambridge, Kate Middleton, wore a stunning blue tartan belted coat during her trip to Scotland and we are obsessed, here is how you can steal the Duchess' look. 
The Duke and Duchess of Cambridge are continuing their tour around Scotland and have had many sweet moments during their trip. At one point, Kate Middleton's heart was won by adorable baby on Scottish tour, and on another occasion, Prince William was awarded this subtle sign of respect during his Orkney tour. The tour has been very eventful, but still, it is Kate's amazing looks that are continuing to flaw the public.
The Duchess of Cambridge was at the Palace of Holyroodhouse on Wednesday 26th May to watch a screening of Cruella with the NHS staff in a drive-through cinema. For this sweet event, the Duchess stunned in a long blue tartan belted coat that she paired with plain black heels and a voluminous ponytail. The Duchess looked radiant as she kept warm in her beautiful coat and we are obsessed—so where can you buy this incredible tartan coat?
Fashion Expert and Styling Team Lead at Stitch Fix UK, Roxy Harding, tells Woman & Home that she loves seeing the Duchess in tartan. 
She states, "My favourite looks from Kate often include a twist of tartan - she wears and styles the print so effortlessly. Whether it's her blue and green Alexander McQueen coat that we've seen her wear on a few occasions, the red and green Miu Miu number, or her red pleated skirt by Emilia Wickstead.
"The latest iteration by designer, Holland Cooper, that she's chosen for her trip to Scotland is no exception - the shape, the colours, and even the buttons are classic Kate—and it's no wonder she's such a fan, as it's the perfect print to be worn casually or as part of a smarter ensemble."
Roxy goes on to say that you don't have to spend a fortune either to get the Duchess' look. "You don't have to spend upwards of £800 to weave the look into your own wardrobe, either. Several brands we carry at Stitch Fix, such as Whistles—a high street favourite of Kate's—are great at mastering striking prints whilst keeping it chic like the Duchess," she said.
The fashion expert also gave some tips for styling tartan coats like Kate Middleton's. "Pair your tartan trench with jeans, a simple white tee and a pair of Supergas, for an effortless look, or jazz it up with some heels and jewellery for a dinner date", she said.
Fashion Influencer Marilou Moles from Twenty York Street also complimented the Duchess' patriotic look. "What an absolute delight to see the Duchess in tartan! By wearing a fabric that is steeped in history and heritage, Kate makes yet another thoughtful statement with this Marlborough full-length trench coat. It is the perfect tribute fitting for the NHS event, given the theme: 1970's Britain," she said.
When asked if she thought this look was on-trend, Marilou told Woman & Home, "Technically, it shouldn't even be a 'trend' as tartan is always classic and timeless. This modern and fitted rendition, topped with gold accents is truly a lifetime investment—a striking piece of Great British Excellence."
If you love this pattern but you're looking for something with a slightly more flattering cut. There are plenty of options that sell coats similar to Kate's but without the slim fit cut and belt.
Scotland Shop has even made a tartan coat in homage to the Duchess of Cambridge. The brand states, "Our favourite Royal and style icon Kate Middleton often wears a gorgeous Black Watch frock coat and we wanted to create our own easy to wear ScotlandShop version available to order in over 500 tartans." 
The coat is £550 so while it is still expensive, it is a good deal cheaper than the coat that Kate was pictured in.
---
---
The Duchess of Cambridge's gorgeous coat is rather on the expensive side so if you don't feel quite ready to commit so much money to this trend then don't worry! There are plenty of other options at lower price points.
Jack Wills sells a stunning blue tartan coat that is currently on sale with more than £100 knocked off the original price point. This coat is made with a similar colour scheme and is also made with wool.
---
---
If you are still not quite ready to commit to the tartan trend but you are looking to get the same sleek style as the Duchess of Cambridge, there are alternative options.
Investing in a longline checked coat with a belt will give you that classic style of Kate Middleton without having to wear tartan. Checks are a great alternative and less likely to fall out of style anytime soon. 
This option from Whistles is currently on sale and has a semi-lightweight look that is perfect for Spring to keep you warm and dry in the light showers. 
If you want to get your hands on more items that the Duchess of Cambridge has been spotted in, then we have a selection of items, from earrings to concealer, that we have spotted the Duchess in.