Best sustainable Christmas gifts 2022: 30 eco-friendly gift ideas
The best sustainable Christmas gifts to buy in 2022, from refillable deodorant to socks that plant trees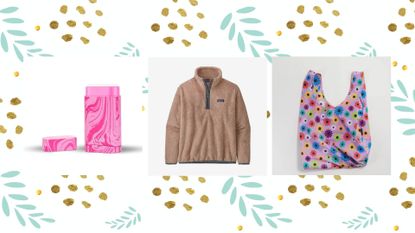 (Image credit: Future/Canva)
Browse our edit of the best sustainable Christmas gifts to buy in 2022, so you can find thoughtful presents that won't hurt the planet.
Implementing ethical shopping practices might be doable for most of the year, but when it comes to Christmas - when you just can't avoid buying presents for multiple people in your life - it can be more difficult. Think of that last-minute rush to buy a suitably cheap secret Santa present on the way to the work Christmas party, or the masses of used wrapping paper that piles up by Boxing Day, causing unnecessary waste.
These eco-conscious gifts suit all interests, making them the perfect Christmas gifts for friends who fight for a greener planet. Many are reasonably priced too, so they're great picks if you're looking for cheap Christmas gifts.
How can Christmas gifts be sustainable?
The most ethical way to shop is to reduce the amount you buy, asking yourself what you really need, and then making sure that what you do buy will last for a long time. When shopping for friends, partners or family members, really think about what gifts they'll benefit from. Once you've decided on a thoughtful gift, research the sustainability practices of the brand; these are usually fairly easy to find, but if you're unsure, you could always contact the retailer and ask how they are helping the planet.
To help you out, we've compiled a list of thoughtful, unique and sustainable gifts for your loved ones this Christmas (and beyond), from brands who pride themselves on ethical practices.
Best sustainable Christmas gift ideas in the US
Our pick of the best sustainable gifts in the US
---
---
---
---
---
---
---
---
---
---
---
---
---
---
Where to find the best sustainable Christmas gifts in the UK
Our pick of the best sustainable Christmas gifts in the UK
---
---
---
---
---
---
---
---
---
---
---
---
---
---
---