The best Christmas gifts for your wife – these are the presents she'll want to find under the tree
Whether you're looking for Christmas gifts for your wife, or to make a wish list with timely hints, these gorgeous present ideas will take the stress out of the whole process...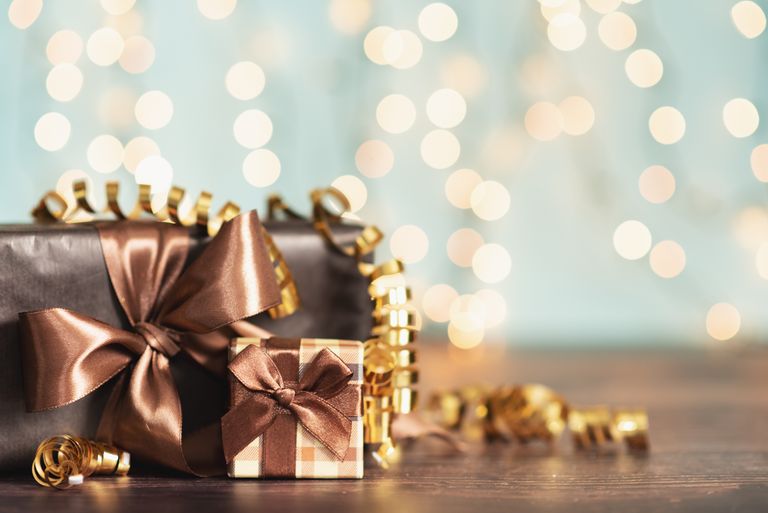 (Image credit: Getty)
Great Christmas gifts for your wife won't undo 2020 but it will show her how much she means to you – and spread a little bit of Christmas cheer.
That last minute Christmas shopping dash is likely to be cancelled this year, but there are plenty of great buys to be found online. We've handpicked the best Christmas gifts for your wife that she will absolutely love.
From a romantic underwear set to a timeless handbag she'll use forever, she'll always appreciate a luxurious treat. Or choose a special fragrance that's got all the beauty editors excited.
Fashion gifts
Barbour X Emma Bridgewater Ridley Quilted Jacket
£179
A pretty twist on the classic Barbour, this cosy quilted jacket will protect from the elements while adding a touch of style to any look. Pair with blue jeans and high-knee for a classic combo.
Coach Hutton shoulder bag in colourblock
RRP £395
The soft leather, chain handle detail and contrasting colour is all part of the dream package of this Coach handbag. Whether it's kept for best or worn as an everyday staple, this will be the perfect gift to unwrap on the big day.
Bliss cashmere robe
RRP £240/ $305
Made from 100% cashmere, the super style with belt tie and longline shape is the luxurious gift everyone would love to receive. Worn in the house with silky pyjamas or out of the house over jeans and a T-shirt – it'll be worn on repeat throughout the year.
Dita Von Tesse lace bra
RRP £65 & £38 / $80 & $50
The most glamourous of lingerie sets has arrived. Designed by Dita Von Tesse, the rich navy hue makes the lace set look even more premium. Soft semi-sheer cups with scalloped detailing is what everyone will want to unwrap this Christmas.
The White Company Silk Pyjama set
RRP £189/ $289
Who doesn't love a new pair of PJs to unwrap on Christmas day? Better still, a soft siky style from The White Company. Add a cup of hot chocolate, some fluffy slippers and a festive flick and you'll create the perfect setting.
Monica Vinander Diamond hoops
RRP £180/ $230
Treat the special lady in your life to diamonds and you can't go wrong. An update from the classic hoop earrings, these sparkly beauties are guaranteed to put a smile on her face each and every day.
Cashmere blend sequin cuff sweater
RRP £250
Sweater weather is upon us and what better way to embrace it than with a new cashmere knit? Update a classic with this fancy sequin cuff style by Wyse London – your wife will keep this in her wardrobe forever.
Liberty of London silk scarf
RRP £75
Unboxing a Liberty silk scarf will make any Christmas the best Christmas yet. Show the love with this slogan style – she'll be able to wear it around the neck, through belt holes or even tied onto her favourite handbag. This style is available from 9th November.
Handbag tidy all in bright pink saffiano
RRP £70/ $100
For the woman who has everything, this handbag tidy-all will soon become an essential accessory. It's a savvy way to stash and store makeup on-the-go, so it's all in one place when you need it. Touch ups and makeup check-ups become simple and stress-free with the in-built mirror.
Isabel sneakers
RRP £90/ $130
Chunky white trainers are a wardrobe staple these days, so why not update your better half's shoe collection with an injection of colour. This pair of rainbow-striped sneakers make the perfect addition. The slip-on style makes them perfect for casual days out, hot-footing it about town.
Personalise vintage inspired cuff bangle
RRP £80
Show her how much you really care with a personalised gift. This vintage-style bangle is perfect for engraving with a loving phrase or name. Or if you want to keep your loving words for just the two of you, a hidden message can be added to the inside, a secret that only you and your loved one will know about. It will be a treasured keepsake for years to come.
Cocktail coin purse
RRP £55/ $70
Home & tech gifts
Whatever her taste in cocktails, you'll find something to suit your loved one's palate from this eye-catching range of coin purses. Take your pick from a cosmopolitan, gin and tonic, pina colada, margarita, daiquiri or martini, ready for her next girls' night out.
Beats Studio 3 wireless noise-cancelling headphones
RRP £299.95/ $349.95
For music-lovers, podcast junkies, or women who just want to zone-out to be at one with their meditation apps, the Beats Studio 3 wireless noise-cancelling headphones are a great gift. Providing up to 22 hours of uninterrupted listening time, your wife will be able to ignore you for as long as she likes. Utter bliss!
KitchenAid 4.8l stand mixer in pebbled palm
RRP £599
The Great British Bake Off season is upon us, which inevitably leads to KitchenAid lust and baking bonanzas. For fans of the show who spend their weekends perfecting their cakes, piping icing or kneading sourdough, this sturdy piece of kit will become a baking staple. Get set, bake!
Gold lightning bolt mirror
RRP £65
Interior obsessives who spend their evenings scrolling for the latest fashion looks for their home will want this lust-worthy lightening mirror on their wish-list this Christmas. There's lots of bold colour choices to choose from, as well as rainbow and ice cream shapes for the more daring interior designers.
Beauty & fragrance gifts
Ghd gold hair straightener in iridescent white
RRP £159
Look after her locks with a new set of hair straighteners that can create waves, curls and sleek straight looks. You can't go wrong with a classic set of ghds in seasonal shades of snow white and gold. Complete with a midnight blue vanity case, these stylish straighteners would look good on any dressing table.
Elizabeth Arden White Tea Mandarin Blossom EDT
RRP $42
Thanks to Covid-19, most of us on the lookout for a new fragrance are going in blindly, unable to hit the perfume counter for a quick spritz, but we think this citrus-floral is a pretty safe bet. With sweet mandarin, bergamot and lemon, and a lingering jasmine and musk dry down, it's universally likeable!
Mugler Angel Nova EDP
RRP £53
Housed in a very festive star bottle, this delectable scent is sweet with luscious raspberry and lychee. Fans of the original Angel shouldn't be lured in by the promise of similarity though - Nova is a flirty, feminine fragrance which stands alone, sweet and sugary in its own right.
Gucci Bloom Profumo Di Fiori EDP
RRP $34
Like stepping into a secret garden, overgrown with natural greenery, this is a fresh floral blend of tuberose essence and jasmine. The base notes are made up of musk and sandalwood, which gives the fragrance a warm creaminess that lingers on the skin.
Jimmy Choo Seduction Collection Radiant Tuberose EDP
RRP £175
If you've been a very, VERY good girl this year, you may want to add this to your luxury list to Santa. It's a powerful, sensual and modern take on a floral that is said to conjure up a bouquet of white flowers. It's worth noting the dressing table-worthy bottle and impressive staying power, too.
Zara Ebony Wood Pinceau
RRP £15.99
Chances are the lady in your life owns a handbag where space is at a premium, which means a portable fragrance pen will be a thoroughly appreciated gift. The nose behind this unisex scent is the doyenne of fragrance, Jo Malone herself. The brush applicator dispenses a gel formula, scented with pink peppercorn, clove and wood notes, for on-the-go fragrance top ups.
Jo Malone London Midnight Musk & Amber Cologne
RRP $144
Books gifts
What is Christmas without a new Jo Malone scent to lust after. If you're hoping for one of their iconic cream and black boxes under the tree, perhaps consider this your go-to scent request. With warm amber, sensual musk and bracing juniper, this is an enticing oriental.
Quite by Claudia Winkleman
RRP (£16.99, HQ, HB)
If you've ever had the notion you might like to be Claudia Winkleman's friend, you'll realise quite quickly you were right once you've sat down and read her first book. Delivered in her usual tongue-in-cheek manner, this is effectively Claudia's guide to life; everything from how to pack for a holiday, finding your style, the true value of a good friend and being an embarrassment to your teenage kids. And yes, there's Strictly chat too. Despite her self-deprecating act, don't be fooled, this book proves just what an intelligent, smart and quick-witted woman Claudia actually is – and why we all want to be her friend.
The Authenticity Project by Clare Pooley
RRP £12.99/$19.59
From the author of the successful The Sober Diaries comes Clare Pooley's first novel. And in her effortless writing style we meet four very different and intriguing characters – all not quite who they seem. Take Julian Jessop – a seemingly flamboyant artist - who is actually a lonely widower. Wanting to share his truth, he writes it in a green notebook and leaves it for someone to find. Little does he know the impact it will have on the people it reaches. In a joyous read with characters you'll truly grow to love, we learn what it means to be real, to put aside the façade and open up to who we really are.
Us Three by Ruth Jones
RRP £14.99/$20.64
It's 1976 and three best friends, Lana, Catrin and Judy, swear an oath on a Curly Wurly wrapper that they'll always be there for each other. And after a trip of a lifetime to Cyprus they truly believe it. But of course, life has a habit of getting in the way and when a devastating turn of events occurs, that friendship is tested to the limits. A poignant novel about friendship and forgiveness, it is not without its light-hearted moments as Jones guides her readers through the complications of life and the challenges they pose. With fantastic characterisation, and as you'd expect from an award-winning screenwriter, witty dialogue, prepare yourselves for one epic journey.
Dear Reader by Cathy Rentzenbrink
RRP £12.99/$23.04
It's always a special moment when you cross paths with another bibliophile and joyfully lose all sense of time and place discussing the books you've read & loved. This gorgeous book will give you just that. Cathy charts the key moments in her life through the books that bought her comfort and joy - especially during some very difficult times in her life. It is indeed a wonderful homage to books of all genres, and their ability to detract, heal and let us escape. A must for every bookshelf, but be warned - you'll be adding to your collection by the end of it with some truly lovely recommendations.
Fitness & wellbeing gifts
Whether for a city commute, a daily chore-run or a Sunday jaunt, this high-quality bike is equipped with everything you need to get you where you need to go smoothly. It's light enough to lift and carry around when you need to and comes with strong integrated lights to keep you safe on the road. Plus the mobile-app connectivity will give you ultimate control over your transportation.
Fitbit Sense
RRP £299 / $329.95
This isn't just a regular tracker, that keeps checks on your movement, sleep and heart rate. Oh no no no. The new Fitbit offers a 360 health watch; it tracks stress response levels and will give your loved one a stress 'score' from 1-100, based on sleep, heart rate and various other factors. Plus, with a battery life of six days, she won't need to worry about carrying a charger everywhere she goes.
5-Piece Muscle Massage Set
RRP $42,99
Ideal for your loved one to relax her body and rid herself of any nasty knots and niggles. This set comes with a massage roller, premium massage stick for hard to roll areas, deep tissue massager and two types of massage balls. The double lacrosse ball is great for rolling the forearm, neck and shoulders whilst the spike ball is ideal for the arches of your feet.
Sweaty Betty Icon Luxe Gym Bag
RRP £95
Sweaty Betty is a go-to for stylish and practical active wear and accessories. This chic, quilted gym bag has a zip open base for wet kit or muddy trainers, there's plenty of inner compartments and separate straps for carrying a yoga mat – making it the perfect carry-all for both workouts and weekends away.
The Wellness Foundry gift card
RRP from £75
Give the gift of a Tarot reading with the talented Fiongal Greenlaw, the founder of The Wellness Foundry. This is ideal for someone who's looking for spiritual guidance, clarity of mind and assurance. Plus, it will offer advice and inspiration for 2021. Fiongal is a Tarot master, psychic artist and spiritual adviser who makes intuitive practises available to all, for he believes it is the greatest path to healing, clarity and growth. A reading for your wife will offer guidance and leave her feeling enlightened and inspired.
Brooks Adrenaline GTS Trainers
RRP £120
These are comfort at its finest. The latest Brooks running shoes have extra cushioning underfoot for that extra spring in her step, plus, this time, Brooks have focused on protecting the knees. GuideRails keep you moving comfortably by keeping excess movement in check.
Deluxe Sleep Well Aromatherapy & Weighted Gravity Blanket Gift Set
RRP £179
Beat anxiety and sleep easier with this weighted blanket and aromatherapy balm and scented candle. The blanket is made from the highest quality materials with premium beads and a soft, durable and washable eco bamboo cover. The weighted blanket uses the power of deep-touch pressure stimulation to mimic the feeling of being warmly held to help you relax and fall asleep faster. The balm blends 25 essential oils including lavender, palmarosa and ylang ylang to quieten the mind and relax the body. While the candle is made from natural sustainably sourced plant-based waxes, including beeswax, and has 35 hours of burn time.
Lucy Gornall is the former Health & Fitness editor at Future and a personal trainer specializing in pre and post-natal exercise.