Unique Christmas gifts for even the pickiest of present receivers
Surprise someone you love at Christmas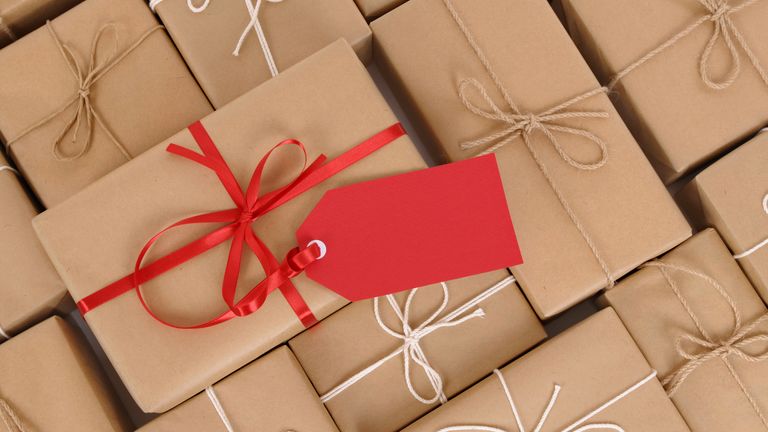 Sometimes it's not enough to give a box of chocolates or some new socks - you need really unique Christmas gifts to appeal to that special someone. Luckily we're here to help you deliver something different this year.
Shopping for Christmas gifts is a notoriously stressful task. With so many people to buy for each year, it can be hard to come up with something original and we all deserve at extra special treat after the year we've had.
From people who seem to have everything to tricky recipients such as gifts for couples, where you have to please both parties, shopping for presents can feel really overwhelming. However, there are plenty of unusual gift options available we guarantee they won't have seen before. You'll never go back to buying a boring sweater ever again!
What counts as a unique Christmas gift?
Whether it's for the friend you've known for years and have run out of shopping ideas for, or for a family member who already has it all, now is the perfect time to snap up a unique Christmas gift before they sell out. Unique can mean any spectrum of things, but we see a unique gift as something others are unlikely to buy for them, or something the receiver doesn't already own.
A hint of the unexpected never goes amiss, especially at a time when we're all sick of seeing the same advertisements over and over. Looking for useful home buys? We've found them. Gadgets to make their life easier? Sorted. Simply something indulgent they'd never buy themselves? You guessed it! These are the best Christmas gifts for friends, old and new.
One of the easiest ways to find something unique is to get your Christmas gift personalised. For dog-lovers, you can get their four-legged friend printed on a mug or their favourite lyrics printed and framed if they're music obsessive. An online marketplace such as Not on the High Street is a good place to start for the best Christmas presents that offer something different.
These unusual, thoughtful gifts are guaranteed to get you into their good books.
Unique Christmas gift ideas
Friendship story print
RRP £22.50, Not on the High Street
This adorable friendship print covers everything from your first meeting, to holidays together and even being at each others' weddings. You can choose your own milestones, and the colour you'd like to use, plus whether you want it to be framed or not.
Surprise gift reveal balloon
RRP £5.90, Etsy
Bored of giving the usual gift bag, or spending hours wrapping presents? This double-layered balloon makes opening presents so much more fun - just don't put anything breakable inside!
VR headset and controllers
RRP £299, Curry's
For a thoroughly modern gift, we can't think of better than this VR headset. While it's certainly pricey, it'll keep someone special amused for hours by simply connecting to a smartphone app - no added console or PC needed.
Bounce Below experience for two
RRP £50, The Present Finder
Help them embrace their inner child, or keep the teenagers in your family happy, with this experience at Bounce Below; an underground trampolining park housed in a former Victorian slate mine. We promise they'll leave feeling full of adrenaline.
Georg Jensen Onion box
RRP £70, Selfridges
This giant trinket box, inspired by designer Henning Koppel's series of silver Bonbonnieres from the 1960s, is the perfect quirky find for the person who loves cooking, but has all the gadgets available. It's big enough to store kitchen must-haves, but not so oversized that it'll take over the whole room.
Chardonnay vodka
RRP £32, Chapel Down
If you don't want to buy the usual bottle of wine, this limited-edition vodka - created using distilled grape skins from a single vintage year - is something a bit more special. Tip: it makes a great cocktail, so be sure to bring it to the festive party!
Books That Matter subscription
From £17, Books that Matter
This clever subscription box is a wonderful gift for those who love nothing more than discovering a great new book. The company champions diverse, female-led fiction, and each monthly box comes with one book and some treats. Buy it as a rolling subscription, or a one-off gift.
Rainbow embroidery kit
RRP £10.95, Etsy
This year has brought out the creative side of many people, so if you're shopping for someone who enjoyed puzzles and colouring books in lockdown we think this set will go down a treat. With a needle, thread, string and instructions, it's great for beginners.
Personalised Book of You
RRP £29.95, Not on the High Street
If you really want to find something special, this personalised book will definitely blow them away. Using the receiver's name and date of birth, the book of facts includes everything from top films released during the year they were born to the most popular inventions. Fascinating!
Chutney gift set
RRP £9.99, Etsy
Who doesn't love spending their Christmas holiday indulging in a cheeseboard or five? This chutney gift set is made for true cheese-lovers, and at less than £10 you might even be tempted to snap one up for yourself.
Don't Buy Her Flowers Selection box
From £8.50, Don't Buy Her Flowers
If you want to get really personal, a box containing all of their favourite goodies is bound to do the trick. With everything from chocolates to alcohol, books and beauty products, you'll have almost as much fun making this as the receiver will using it.
Cirrus No.2 Travel steamer
RRP £110, Selfridges
Stick with us here; a steamer might not seem like a subtle present for a loved-one, but it could make their life so much easier. This steamer can be used on sensitive fabrics such as silk, and removes creases in a matter of seconds. Ideal if they always like to look their best!
Sooshi - Sushi Maker
RRP £24.99, Prezzybox
We've all done a lot more home cooking this year, so if you know any budding chefs who want to up their game, this sushi making kit as everything they need. Made from completely clean, smooth wood, it contains a mold, press and pushrod to help them create perfectly packed sushi rolls.
Canopy Plants Classic Monthly Plant Subscription
From £15 a month, Canopy Plants
Perfect for a green-fingered family member or a plant newbie, this cute subscription services sends them a new leafy friend every month, with instructions on how to care for it too. You can choose to have it delivered with or without a pot for an extra touch.
Cooluli Mini Beauty Refrigerator
RRP £65, Urban Outfitters
Any beauty obsessive will seriously love this nifty gadget. Compact design and in a sweet pink shade, this fridge will store all their lotions and potions to help them work their magic even more.