The best Christmas gifts for husbands –practical yet stylish ideas for presents you'll both be truly thankful for
This year our ideas for Christmas gifts for husbands are thoughtful and practical - just take your pick from our inspiring edit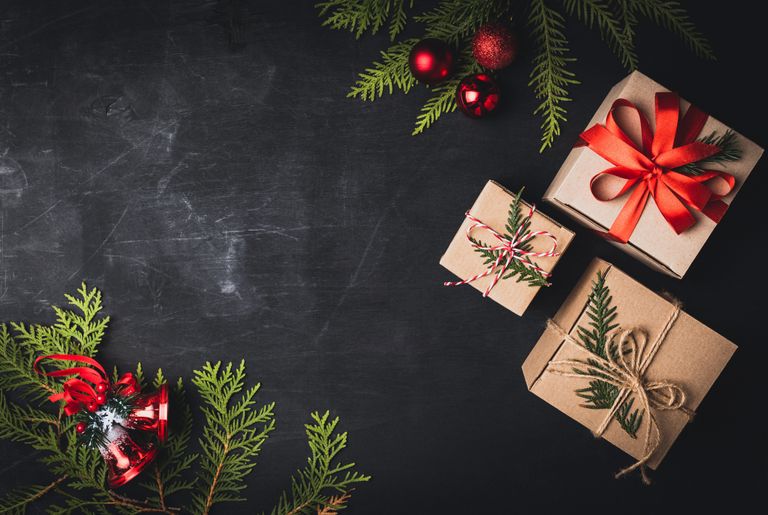 (Image credit: Getty)
We have hope that some great ideas for Christmas gifts for husbands will make up for the difficult year 2020 has been. After all, Christmas is traditionally a great time to unwind and show the man in your life how much you love and appreciate him. A fab present won't undo the global pandemic, but it will spread a little love and a little happiness.
We've curated a wonderful collection of great Christmas gifts for husbands. Tasteful and thoughtful, he'll cherish these gifts long after the wrapping paper goes in the trash. There are brilliant ideas for every taste and budget, so you can be sure of plenty of thank you cuddles on Christmas morning...
The best Christmas gifts for husbands 
Fashion gifts
Barbour Galingale tartan scarf in seaweed tartan
RRP £26.95
Get cosy this Christmas and gift him a traditional Barbour scarf. Coming in a range of different tartans and colours, you'll find a style to suit him. Our fave is this combo of rich greens, mustard yellows and navy blues. 
Pendleton Heston coat classic check shirt
RRP £435 or $319
If the hubby relies on Christmas to stock up on clothes then we have the perfect item to add to any capsule wardrobe: the check coat. This 100% wool style is the cover-up that is also odour and water-resistant so it's practical for those on the go.
Michael Kors Leather card case
RRP $38
Spend hours in the morning looking for phones, car keys and bank cards? Solve one of these problems with this handy Michael Kors zip holder. Made from 100% leather, it's the compact style men (and women) will be able to carry around in pockets, bags and briefcases. It also comes in classic black, tan and navy, FYI.
Timex Reissue 38mm Stainless Steel Watch
RRP £160 or $179
Give the gift of making sure your husband is always on time for date night. This Timex wrist watch is sleek and stylish and has a contemporary feel with the blue and navy detail. Any man would be grateful to receive this gorgeous timepiece under the tree.
The White Company Half zip knit
RRP £89 or $129
Make sure he's suitably stylish with a great piece of knitwear. We can always rely on The White Company for minimal, neutral designs for all the family – this grey half zip pullover will be the perfect addition to any man's wardrobe.

Buy it in the US
Ally Capellino Fin waxed rucksack
RRP £295
For the gym, the school run or work – this handy backpack is the do-it-all style to rely for every occasion. Made from British water-resistant waxed cotton, the tan bag – which will never date – also has a leather base to keep it looking better for longer. It even has lots of clever compartments including a handy key attachment point on the front. Handy and stylish – well done, Ally Capellino.
Barbour Desert boots
RRP £99.95
Want a fail-safe present every man will love and cherish for a lifetime? Barbour's timeless desert boots are the go-to. The classic cut, lace-up style and leather and suede mix is what makes this pair the ideal gift. The best part is they're also available in an array of other classic colours – from soft sand to rich dark brown.
Build your own gift box
RRP From £42
'All you have to do is choose their favourite items and we'll do the rest' – we like the sound of that. The Tartan Blanket Co. has created the pick 'n' mix present every man will want to find in their stocking. Customise the box with different scarves, shortbread and books and it will arrive lovingly wrapped already – gifting has never been so simple!
Grooming gifts
Ted Baker Ted About Town Toiletries Travel Pouch Christmas Gift Set
RRP £42
We may not be travelling as much as we used to but this attractive travel accessory still deserves a place in his bathroom. Generous in size as well as style, this pouch is designed to hold all his grooming essentials neatly in one place. It comes loaded with a set of Hair and Body Washes, Cleansing Bars, Body Spray and Antiperspirant Deodorant, plus a handy face cloth and comb. Watch it though, he may be in the bathroom some time… 
Tom Ford Black Orchid Gold
RRP for 50ml £98 or $190
Never has a men's fragrance looked so good sitting on a shelf. Nor smelt so good. Offering a rich, boozy scent with orchid and ylang-ylang flowers paired with golden rum at its heart. To finish there's a spicy base of patchouli and notes of truffle and plum. If his mouth isn't watering yet, then wait until he sees the bottle presented with an all-over gold flacon. Seriously sexy. You'll love it as much as he does. 

Buy in the US
SPACE NK the essential gift for men
RRP £85 (worth £210)
This limited-edition gift box is packed full of five hardworking heroes for his face, hair and body. This kit includes products from some of our most desirable brands, which are sure to upgrade his grooming kit. 
The box includes:
• Malin+Goetz Eucalyptus Deodorant (73g): Soothe, refresh and protect the underarms with this natural, eucalyptus-scented deodorant.
• Kiehl's Ultimate Razor Burn & Bump Relief (75ml): Calm and smooth the skin post-shave with this mild exfoliating cream that helps to unclog pores and reduce the appearance of ingrown hairs.
• Dr Barbara Sturm Face Cream Men (50ml): Powerful active ingredients in this specially formulated face cream help to tackle the adverse effects of shaving and environmental stressors for healthy looking skin.
• Malin+Goetz Sage Styling Cream (30ml): A lightweight styling cream that adds flexible texture and natural looking hold to the hair.
• Ren Clean Skincare Atlantic Kelp And Magnesium Anti-Fatigue Body Wash (300ml): An invigorating body wash that's infused with an anti-fatigue essential oil blend and energising magnesium.
DIPTYQUE baies candle
RRP £135, diptyqueparis.com
If you really, really love him then splash out on an iconic candle that will not only make him think he's the bee's knees, but you'll be impressed that your home is filled with a seductive (and very seasonal) aroma of blackcurrant leaves and Bulgarian rose. It's pricey, of course, but you do get over 150 hours of burn time, a beautiful handmade black porcelain container  and come on, it's DIPTYQUE, so it's well-worth the investment. 
Braun Series 7 70-N7200cc Wet & Dry Shaver
RRP £329.98 or $150
There's a shaver for Christmas, and then there's THIS shaver. Look how fancy it is in its sleek esthetic! And it offers ground-breaking design and fancy technology that he will love. The device features a revolutionary 360° Flex Head, to offer full flexibility and constant contact, adapting to the contours of his face and neck to target even those difficult areas. It also adapts to beard density to give a closer than close shave. 
CHANEL BLEU DE CHANEL Eau De Parfum Refillable Twist and Spray, 3 x 20ml
RRP £82 or $130
Now he has no excuse not to smell incredible anywhere, any time thanks to the stylish and practical fragrance offering from Chanel. This refillable travel spray is ideal for travel or after sport. Twist and mist the aromatic-woody aroma directly onto clothes or skin for lavish perfuming. He'll particularly love the fact that it's a fresh scent that lingers all day without the need for reapplication.
Books gifts
The Shadow Friend by Alex North
RRP £12.99 or $15.06
After his school friend Charlie brutally stabbed their classmate to death twenty-five years ago before going missing, Paul Adams has kept away from their village. But when his mother suffers a fall, he knows that the time has come to return. Events soon become even darker and it all seems to hinge on Charlie's disappearance. But will they ever find out what happened all those years ago? The characterisation and layers of deception laid bare, make for a chilling and deeply psychological read.
The Imperial War Museums Code-breaking Puzzles by Richard Galland
RRP £9.39
Does your husband fancy himself a bit of a code-breaker? This may just be the gift to keep him busy. With hundreds of head-scratching puzzles including military history ones and classic crosswords he'll be entertained for hours. There's also a brief history of cryptography along with tips and tricks to help him along the way. Job done!
100 Hikes of a Lifetime: The World's Ultimate Scenic Trails, National Geographic
RRP £24 or $28.79
Inspire him to pull on his walking boots with this wonderful coffee-table book full of scenic photos and great trekking ideas. Spanning the globe, from the Grand Canyon to Tryfan Mountain in Wales, this book is both practical and inspirational. The beautiful photography makes it uplifting for armchair travellers to flick through and enjoy, even if jetting off to do the trails included in the pages isn't currently an option. 
Health & fitness gifts
Fitbit Charge 4
RRP £129.99 or US$149
The newest Fitbit does all the usual useful fitness tracker stuff - but more besides. It's water resistant so he can wear it to swim and it has an in-built GPS which means he can map his runs without having to take his phone with him. The tracker calculates pace and distance, with a workout intensity map showing his route and effort available in the app when he's back home. It will also count his steps, prompt him to move, monitor his sleep and heart rate, plus track his exercise, weight and calorie intake. 
Puressentiel Fitness Wonders Gift Set
RRP £20 or $25.69
Perfect for the fitness fanatic in your life. This exclusive gift set includes a 75ml Puressentiel Muscles & Joints Roller, a 60ml tube of Puressentiel Muscles & Joints Gel and a Puressentiel Energy Stick (1ml) which isn't available to buy individually. The Puressentiel range combines 14 essential oils for immediate relief from painful and inflamed muscles and joints, and has a refreshingly musky aroma, making it more male-friendly than other more floral ranges.
Tanita RD-953S Body Composition Monitor Scale
RRP £163.99 or $210
Help him keep tabs on his health with this fantastic bit of kit. It's a pair of scales, of course, so he can hop onto them to find out how much he weighs but it does oh-so-much more. It's a body scanner too so it will give him more than 10 body composition readings, including fat ratio, bone and muscle mass as well as his metabolic age, BMI and hydration levels. The smart scale uses medical-grade Dual Frequency BIA technology, which basically means this is top-notch for accuracy.
Lumie BodyClock Shine 300
RRP £129 or $160
Is he a poor sleeper? Or a nightmare to get up in the morning? Try this wake-up light, and you can both improve your night's sleep. It's like your own personal sunrise, using LED technology to gradually brighten and wake you both, rather than the harsh wake-up call of a traditional alarm clock or your phone. It also has a fading light for bedtime so you can wind-down before bed for a great night's sleep. This model also has an FM radio and 15 sleep/wake sounds to run alongside the light.
Silk'n ToothWave Electric Toothbrush
RRP £265, Boots
If he loves a gadget, he'll adore this. It's a toothbrush which does so much more than clean his teeth. Thanks to the latest science-driven oral technology it can remove stains, whiten teeth and reduce tartar. It's the first electric toothbrush to remove calculus (a form of hardened dental plaque) and help produce teeth up to eight shades whiter in just six weeks. Its secret is DentalRF™ technology which produces a wave of charged molecules which destabilises the strong bonds that fix discoloration, stains and tartar to a tooth's surface. That's got to be something for him to smile about!
Home & tech gifts
Sonos Beam
RRP £399 or $399
Renowned for their good quality sound, Sonos have become the tried, tested and trusted market leader in wireless home sound systems, operated by voice, remote or app. The beam, specifically designed to be used as a TV soundbar is a great way to up his home-cinema setup, either as a starting point for building up his Sonos sound system or an invaluable addition to his current one.
PlayStation 5
RRP £499.99 or $499.99
Grown-up gamers, and there's plenty of them, have long-awaited the release of PlayStation's next-generation console. It's available from November 12 in the US or 19 November if you're in the UK, so just in time for Christmas. If you're longing to get your husband out from under your feet, this will keep him entertained for hours. 
DeLonghi La Specialista EC9335.M
RRP £719.99 or $799.95
Coffee aficionados and budding baristas no longer have to pop to the local cafe for their daily cup of joe. Get quality java, from bean to cup, in the comfort of your own home with the DeLonghi La Specialista. Hopefully he'll become so impassioned with his caffeine creations that he'll bring you a steaming hot mug in the morning. Well, you can dream. 
Adnams six bottle brew box
RRP £9.99
For the hard-to-buy-for, a box of their favourite beers is sure to please. Adnams brewery itself has become a popular tourist destination on the Suffolk coast, with visitors flocking to buy not just their beer but their other distilled drinks and delectables. This gift set contains a classic range of their flavourful tipples to try.  
Jam stream turntable
RRP £99.99 or $99.99
If digital music isn't cutting it for your man, why not get him started with a turntable and vinyl collection? This entry-level record player is an affordable option to enjoy listening to music the old-fashioned way. With wireless connectivity, it can stream records to any Bluetooth speaker too, so he can enjoy his LPs anywhere in the home.