The best coffee travel mugs to keep your drinks hot on the go in 2023
Our list of the best coffee travel mugs comes from hours of testing various brands and materials. See which ones we deem most worthy of your coffee (and your hard-earned cash)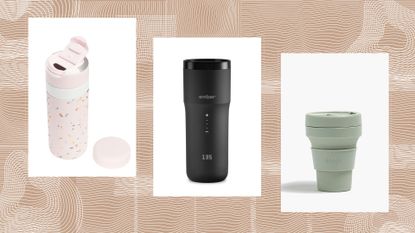 (Image credit: Future)
Browse our list of the best coffee travel mugs for a convenient, eco-friendly way to keep yourself caffeinated at work, school, or long road trips. Every option on this list has been thoroughly tested by us and includes a mix of big-name brands and smaller eco-friendly labels.
Reusable coffee mugs have become increasingly popular over the past few years amid growing awareness and concern over the environmental impact of takeaway coffee cups. In fact, many establishments and cafes now reward customers who bring in their own reusable travel mugs with discounts on drinks. Of course, having a travel mug of your own means you can play at-home barista and put your coffee machine to work, too.
The best coffee travel mugs are efficient (a plus if you often run late for early morning classes or meetings) and sustainable, which means you can do your part to save the environment. And if you need help choosing the right one for your needs, we've included some expert advice to make your decision process smoother. From a collapsible mug to a digital temperature control tumbler, scroll down for our first-hand experiences with the best travel mugs.
After weeks of testing, this is our pick of the best coffee travel mugs
Why you can trust Woman & Home Our expert reviewers spend hours testing and comparing products and services so you can choose the best for you. Find out more about how we test.
1. Tefal Travel Mug
Best stainless steel coffee travel mug
Specifications
RRP: $38.74 / £23.09
Weight : 16.6oz / 386g
Capacity: 17oz / 500ml
Dishwasher safe: Yes
Reasons to buy
+
Durable design fits cup holders well
+
360° drinking edge
+
100% leakproof
Reasons to avoid
-
More of a flask than a cup
-
Somewhat hard to find now
The 17oz/500ml Tefal Travel Mug is more of a flask than a cup but is pretty easy and comfortable to sip from nonetheless. It claims to be completely leak-proof and it certainly kept its contents to itself when we took it for a walk stashed carelessly away in a bag.
While it was our second heaviest cup (16.6oz/386g unfilled), it holds a lot, meaning you get more coffee bang for your buck. As with other Thermos flasks, the keep-warm facility is helped by rinsing it with warm water—or cold if you want to keep your drink cool—before it's filled. We found it kept coffee or tea drinkable for just under four hours but it can keep water or soft drinks cold for up to eight hours.
The top unscrews to reveal a wide mouth which means it's easy to fill, then simply screw the lid back on and off you go. When you want to drink, you just push down the central button. It comes in stylish black or bold red, and has a silicone outer that provided a secure grip. It's also dishwasher safe, which means cleaning is a doddle.
2. Thermos Stainless King Travel Mug
Best coffee travel mug with a handle
Specifications
RRP: From $24.95 / £18.40
Weight: 18.7oz / 531g
Capacity: 16oz / 470ml
Dishwasher safe: No
Reasons to buy
+
Keeps drinks hot for longer than other mugs in this guide
+
Has a built-in hook for tea bags
+
Leakproof design with a secure grip
Reasons to avoid
-
Limited to hand-wash cleaning
-
Keeps drinks very hot so don't burn your mouth
You'll never have a problem getting to grips with this 16oz/470ml Thermos Stainless King Travel Mug. Unlike many others we tested, it has a solid handle by which to grasp it. Coming in several colors — including an on-trend Copper, a bold Red, and stunning Midnight Blue — it looks stylish, too. No matter your choice of caffeinated beverage or healthy alternative to coffee, it promises to keep hot drinks that way for up to eight hours, the longest of all the double-walled insulating mugs we tried.
It feels comfortable in the hand and it's a quick turn to open and pleasant to drink from, particularly on the go. Do be aware, though, that as with other double-walled mugs, once they are closed they keep the drink hot—we mean really, really hot—so be careful not to burn your mouth. It's leak-proof, too, so the inside of our bag wasn't troubled by hot coffee spilling out, even when we were forced, rather ungainly, to run for the train.
For tea lovers, it also features a clever tea-bag hook in the lid, so you never have to dig it out with your fingers. While it is the heaviest of the mugs we tried, coming in at 18.7oz/531g unfilled, we felt it was worth the extra weight for how long it kept our drink hot. Grab one of these and then snap up one of our best coffee machine deals and you're set for all your future coffee mornings.
3. Smidge Travel Cup
Best leak-proof coffee travel mug
Specifications
RRP: From £14 (UK only)
Weight: 268g
Capacity: 355ml
Dishwasher safe: No
Reasons to buy
+
Lightweight and completely leakproof
+
Inner measurement markers
+
Prevents condensation
Reasons to avoid
-
Lid could be more durable
-
Not dishwasher-safe
The Smidge Travel Cup might look like a traditional reusable cup but, unlike other best coffee travel mugs, the makers claim it's 100% leak-proof. While the mug — which comes in a range of bold shades — is actually fairly light compared to some, it does have a double-wall thermal inner that keeps drinks hot or cold for several hours.
A nice touch is measurements marked on the inside of the cup to show your barista where to fill for your favorite 8oz or 12oz brew. Made from 18/10 stainless steel, it weighs just 268g unfilled and features a screw-on lid with a silicone seal that, despite us trying quite hard, helped this cup live up to its maker's boasts of it being totally leak-proof.
We rather nervously popped it in our work backpack in the morning but needn't have worried as the bag was as dry as a bone when we got home later that day. The contents stayed hot for a long time, too and several hours after we'd filled it, it was still warm enough for it to be pleasant to drink.
4. Bodum Vacuum Travel Press
Best coffee travel mug for fresh coffee lovers
Specifications
RRP: From $28.02 / £16.59
Weight: 19.9oz / 563g
Capacity: 12oz / 350ml
Dishwasher safe: Yes
Reasons to buy
+
Unique design features
+
Can use filter for coffee or tea
+
Keeps drinks hot for hours
Reasons to avoid
-
Doesn't prevent leaking
-
Be careful, your coffee will be hot
While this 12oz/350ml Bodum Vacuum Travel Press only admits to being spill-proof rather than leak-proof (and should be always carried upright), it does have a few other things going for it that we think make it a good investment for a freshly brewed coffee lover.
Firstly, it's not just any old drinks cup among the best coffee travel mugs. Oh no, this one has a filter piston that essentially turns the flask into a cafetiere—or teapot depending on your taste—meaning you don't even have to buy fresh coffee while you're out, let alone single-use cups. It also comes with an extra lid, which we found handy once we'd finished our hot drink and wanted to fill the flask with water for the journey home. With home brewing a big coffee trend, this smart cup means you can access the best french press functionality on the go, without relying on a barista.
Both spouts are pleasant to drink from but do be aware if black coffee is your tipple because, as we found out to our cost, it stays searing hot for quite some time and was still hot to drink several hours after we first made it. It's dishwasher safe on the top rack and there are several colors of top and silicone outer to choose from.
5. KeepCup Reusable Glass Coffee Cup
Best glass coffee travel mug-cup hybrid
Specifications
RRP: From $28 / £18
Weight: 9.2oz / 260g
Capacity: 12oz / 340ml
Dishwasher safe: Yes
Reasons to buy
+
Variety of styles and sizes available
+
Made from safe, recyclable materials
+
Lid is spill-proof
Reasons to avoid
-
Not 100% leakproof
-
Doesn't keep drinks hot for long
Available in many colors, sizes and materials, the KeepCup Reusable Glass Coffee Cup is the world's first barista-standard reusable cup, fitting under coffee machines making it ideal for coffee-lovers on the go. Environmentally friendly, the one we tested is made from durable, toughened soda lime glass and BPA-free and BPS-free plastic. The cup, lid and lid plug are all recyclable at the end of the product's life.
We liked the simple look of the black and glass combo and it's pleasant to drink from both the plastic lid or if you prefer, from the glass itself. All the parts are dishwasher safe if put on the top rack. While it doesn't claim to be leakproof—and it isn't—we did tip it over a couple of times and when the flip mechanism plug is closed it seems to make it fairly spill-proof, ensuring you don't end up with coffee all over your desk if you accidentally knock it over. These features won us over, and we knew this option deserved a spot in our best coffee travel mugs guide.
6. Libby Ballard Ceramic Hand-thrown Travel Cup
Best ceramic coffee travel mug
Specifications
RRP: $37.12 / £30.95
Weight: 12oz / 340g
Capacity: 10oz / 300ml
Dishwasher Safe: Yes
Reasons to buy
+
High-performing silicone lid
+
Has a simple, chic design
+
Fabric band protects hands from heat
Reasons to avoid
-
A bit hefty to hold
-
Not completely leakproof
-
Doesn't keep drinks hot for long
If you want to replace single-use cups when you're traveling but prefer something more traditional, then the Libby Ballard Ceramic Hand-thrown Travel Cup is a good choice among the best coffee travel mugs.
The tightly fitting silicone lid of this hand-crafted tumbler creates a good seal, making sure that, as long as the cup is kept upright, it's pretty spill-proof. Because it's handmade, the colors and shapes of this 10oz/300ml cup will vary a touch but we think that simply adds to its beauty. While it's not the lightest we tested at 12oz/340g, it's not the heaviest either, and it does look good and is very pleasant to drink from, whether you're traveling or sitting at your desk.
We loved the pretty thick cotton fabric band that sits over a silicone ring to prevent your hand from burning, and each cup comes with a choice of band colors and a grey silicone lid. Being ceramic, it's completely dishwasher safe, just like any other cup, although remember to take off the material grip first.
7. Stojo Collapsible Mug
Best collapsible coffee travel mug
Specifications
RRP: From $10.50 / £11.95
Weight: 5oz / 142g
Capacity: 12oz / 355ml
Dishwasher safe: Yes
Reasons to buy
+
Has a lightweight, portable design
+
Can pop the stopper with one hand
+
Great value buy
Reasons to avoid
-
Sometimes smells like previous contents after wash
-
Not 100% leak-proof -this is a cup to carry in your hand, not stashed in your bag, when full
For those that want to grab a coffee and go but worry about having to carry something bulky around in their bag all day, the Stojo Collapsible Mug is a great buy. The cup itself is made from recyclable food-grade silicone, while the lid collar and heat sleeve are made from BPA-free polypropylene plastic.
Available in a wide range of colors (we loved the Hot Pink) it's super light but still feels sturdy unlike some other collapsible cups and it's very pleasant to drink from. The stopper is easy to pop out one-handed, which is great if you're walking about or on your phone. Once you've finished, simply remove the heat sleeve and open the stopper and collapse it up into a 2in/5cm deep ring.
The clever design means the heat sleeve simply slots in at the base, creating such a small package that you can simply pop it into your bag or even in a pocket. It's the lightest we tried, too at just 5oz/142g unfilled. Remember though to fit the stopper back in place to prevent any drink residue in the cup dribbling out.
8. Stanley Classic Trigger Action Travel Mug
Best insulated coffee travel mug
Specifications
RRP: From $24.45 / £19
Weight: 12.6oz / 358g
Capacity: 12oz or 16oz / 350ml or 470ml
Dishwasher safe: Yes
Reasons to buy
+
Durable design that's convenient to clean
+
Different sizes available
+
Keeps drinks to temperature
Reasons to avoid
-
Too large for car cup holder
-
Not very aesthetically-pleasing
A leader in churning the market's best coffee travel mugs, Stanley has been making vacuum flasks for more than 100 years and has pretty much perfected the art of travel cups with its Stanley Classic Trigger Action Travel Mug. It's available in two sizes, 12oz/350ml and 16oz/470ml.
The easy-as-you-like, leak-proof press release lid is designed so that you can hold the mug and open it to drink from and then swiftly close it with the same hand, great for multi-taskers or hikers. It also means that if you accidentally let go of it while you're drinking, not a single drop of your precious brew will be lost. Made from 18/10 stainless steel, the 12oz/350ml model we tried keeps drinks hot or cold, for 5 or 8 hours — plenty long enough for a day out in town or a hike with the dogs.
It's super tough, too, having survived conditions that include -70˚F wind-chill, speeding bullets, 4,000ft drops and category five hurricanes—not your average jaunt to Waitrose, we'll admit, but impressive nonetheless. The lid disassembles for cleaning and the whole thing can go in the dishwasher, too.
9. DrinkPod Reusable Coffee Cup
Best plastic-made coffee travel mug
Specifications
RRP: From $21.38 / £9.33
Weight: 5oz / 143g
Capacity: 12oz / 340ml
Dishwasher safe: Yes
Reasons to buy
+
Ergonomic design made from safe plastic
+
Silicone sleeve for comfort
+
Many colors available
Reasons to avoid
-
Has a cheap feel
-
Rather pricey (in the US)
The organic curved shape of the DrinkPod Reusable Coffee Cup appealed to us, as did the variety of colorways it comes in. We opted for Autumn, a pleasing blend of oranges and greens, but there are seven other themes to try including icy Winter, cool blue Ocean and moody Storm.
It holds up to 12oz/340ml (perfect for a big brew) but despite this we found it to be surprisingly light, coming in at just 5oz/143g - the lightest full size up we tried. Made from BPA free plastic (research has shown that bisphenol A (BPA) can seep into beverages from containers, causing some worries about the possible health issues) with a silicone grip and rotating rubber spout, it's dishwasher safe and when we tested this the cup washed well - even on the top shelf. Easy to sip from and comfy to carry, this cup certainly belongs on our best coffee travel mugs curation, today and always.
Image 1 of 2
10. Ember Travel Mug 2
Best temperature control travel mug
Specifications
RRP: From $179.95 / £199.95
Weight: 15.2oz / 431.5g
Capacity: 12oz / 355ml
Dishwasher safe: No
Reasons to buy
+
Temperature control technology ensures your coffee is at your perfect drinking temp every time - a feature not available on any other coffee travel mug
+
Touchscreen display with state-of-the-art functions like tracking how much coffee you drink or what your ideal drinking temperature is for your favourite drinks
+
360-degree leakproof lid means you can carry it around worry-free
Reasons to avoid
-
The most expensive coffee travel mug on this list
-
Only comes in one size
The Ember Travel Mug 2 is the coolest coffee travel mug we've tested. From its touch display to control your coffee's temperature, to its personalized in-app features that mean the mug can be made unique to you, to its included battery coaster and built-in battery life for easy charging, I was left amazed after testing this coffee travel mug. These features not only make life a little easier but I was also always excited for my next cup of morning brew.
Starting out, I was a little worried that the three-hour battery life wouldn't be long enough, but I soon found after using the mug for a week that it was more than enough time to finish my coffee. However, if you're going to be at the office all day, we recommend bringing the included coaster charger with you.
I loved how sleek, simple, and durable this mug is. No need to worry about accidental spills on your work desk or during an abrupt stop at the traffic light. With a 360-degree leakproof lid, my coffee didn't go anywhere. You can confidently toss this travel mug in your purse or work bag and experience no leakage whatsoever.
One downside of this expensive travel mug (apart from the price tag) is that if you're a 16oz coffee drinker or more, this mug might not be big enough. Its only size is a 12oz/355ml and there's no option at the moment to size up or down.
This travel mug is definitely on the more expensive side, but if you have the money to splurge or you're looking for unique gift for coffee lovers, this futuristic travel mug will make a great gift and leave a lasting impression.
Image 1 of 3
11. W&P Porter Drink Through Insulated Bottle
Best portable hot and iced coffee travel mug
Specifications
RRP: From $35 (US only)
Weight: 213.19g
Capacity: 12oz, 16oz, 20oz / 340ml, 470ml, 591ml
Dishwasher safe: Yes
Reasons to buy
+
The flip-top and drink through lid design makes it easy to drink from
+
Gorgeous colors and designs make it great for gifting and a fun addition to your desk
Reasons to avoid
-
Not the best coffee travel mug on this list at keeping coffee hot for long periods of time
The first thing you notice about the W&P Porter Drink Through Insulated Bottle are the pretty and soft colors. The speckled designs are perfectly on trend, making it this coffee travel mug a great 18th birthday present or even 21st birthday gift for your Tiktok-loving Gen Z.
Along with its gorgeous silicone sleeve exterior, we love this insulated bottle because it's super portable and cute. Our shopping writer Kenedee tested this amid a busy weekend with her godson. With no free hands to carry the travel mug, she was able to toss the bottle in her tote thanks to its leakproof lid, and it's safe to say no spills were made.
The brand claims to keep your beverage hot for 12 hours and cold for 24 hours, and although it kept our coffee hot, by the time the 10th hour came, it was more on the warm/room temperature side - so it didn't quite live up to that 12 hour claim. But, if you're looking for a cute portable mug to keep your coffee hot throughout your 8-hour work shift or school day, this W&P insulated bottle is a great option.
We also love that there are three sizes to choose from, 12oz, 16oz, and 20oz. So, there's a size to match, regardless of your caffeine intake.
How we selected and tested the best coffee travel mugs
We tested a number of reusable cups to find the best coffee travel mugs for your needs using the following criteria...
Material: We considered various materials — from glass and ceramic to bamboo and steel — and reviewed them based on weight, durability, ease of cleaning, and overall feel when we drank from them.
Insulation: Travel mugs are designed to keep your drink hot—or cold—using double insulate linings. We tested our sample mugs to see how well they maintained the temperature of our drinks over the course of a typical day.
Size: The best coffee travel mugs and coffee cups come in a variety of sizes and shapes. Standard coffee shop measurements are 8, 10, or 12oz. The ability to select the right size travel mug for your preferences is a huge plus and we found some brands offer plenty of choices here.
Lid: The best coffee travel mugs have leak, or spill-proof seals, to ensure no liquid escapes while traveling. We tested the lids on each model to see how durable they are— and also, how easy they are to drink from.
How to choose the best coffee travel mug for you
To choose the best coffee travel mug you'll want something that meets your needs when it comes to portability, insulation, taste, and maintenance.
If you're traveling long distances and want to keep your coffee hot all day, a metal insulated mug might be best for you. However, for those who are more sensitive to a metallic taste, a stainless steel travel mug may affect your enjoyment of the coffee.
Going for ceramic or glass travel mugs will help maintain the flavor of your coffee or tea. They're also easier to clean since you can pop them right in the dishwasher. However, they won't hold the heat of your drink as well as other materials. In other words, if you just want something to keep at your desk, a ceramic or glass coffee travel mug will suit just fine.
No matter the material, just make sure the insulated mug you choose is approved for use with hot drinks and not just cold ones.
And if you're seeking a way to travel to the office or classroom with your favorite chilled beverage, our list of the best water bottles will have what you need.
Are coffee travel mugs dishwasher safe?
The best coffee travel mugs and reusable coffee cups are dishwasher friendly on the top shelf, including ones made from bamboo, plastic and glass. However, ones that feature Thermos linings are not recommended for use in a dishwasher, as the extreme heat from the dishwasher can damage the vacuum seals and insulation.
Decorative cups are also not recommended for the dishwasher, as the finish will eventually wear off with the heat generated from the machine.
Which travel mugs will keep coffee hot the longest?
If your top priority is temperature regulation and insulation, opt for a travel coffee mug made with vacuum-sealed stainless steel. This material can keep drinks hot for up to eight hours — in other words, a full day's work for many. However, stainless steel can affect the taste of your coffee if you also use it with other flavored liquids, as it's prone to imparting notes from past drinks into your current brew.
Ceramic and glass won't retain heat as well as vacuum-insulated stainless steel but they'll each still do an admirable job of keeping your coffee hot in the time it takes for you to drink it. These materials also won't affect the taste of your brew unlike stainless steel — ceramic, in particular, is likely your best bet if you care about flavor above all else.
Which brands offer the best coffee travel mugs?
If you're looking for an insulated travel cup then opt for models from brands such as Thermos, Bodum or Stanley as they're all experts in the field. For a simple reusable cup, there many brands producing stylish, eco-friendly products that will help you reduce your carbon footprint such as Stojo and KeepCup.
However, if you want to go the extra mile and choose a cup that isn't made with plastic, we're fans of Smidge. Their biodegradable travel cups will break down in a landfill in just two years. Cups made from bamboo are also a good choice as it's a fast-growing sustainable plant and although the bamboo fibers are held together with resin, this is also biodegradable.