Best French press coffee maker: 9 tried and tested cafetières for a craft coffee experience
We put the best French press coffee makers through their paces to bring you the top cafetières to add to your kitchen's coffee making collection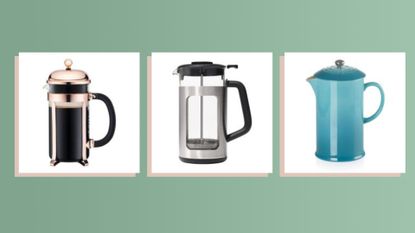 (Image credit: Future)
woman&home newsletter
Sign up to our free daily email for the latest royal and entertainment news, interesting opinion, expert advice on styling and beauty trends, and no-nonsense guides to the health and wellness questions you want answered.
Thank you for signing up to Woman & Home. You will receive a verification email shortly.
There was a problem. Please refresh the page and try again.
The best French press coffee makers will help you to make a strong and delicious brew that's particularly popular with coffee fans because of how gently the coffee is extracted for maximum flavor.
A French press, also sometimes referred to as a cafetière, coffee press or coffee plunger, is a simple device that consists of a carafe, plunger with an attached filter screen, and a lid. Generally used with coarse ground coffee, and mixed with hot water, it brews for minutes before the plunger gently presses down on the coffee, for the ideal brew. The small size and relatively low price tag of a French press make it a great option for both novice coffee drinkers and seasoned connoisseurs who follow the latest coffee trends to the cup.
We researched, sampled, and reviewed a range of the best French Press coffee makers on the market at the moment from top brands such as Bodum, Le Creuset, and OXO. We rated and ranked all the bestselling models to bring you this list of the best French press products for your home.
Our expert coffee machine tester, Jaclyn Turner, reviewed the models in her own home over the course of a few days. She assessed each one on its performance (and the resulting cup of coffee)—and has shared her reviews below.
How we chose and evaluated the best French press models for our guide
Why you can trust Woman & Home Our expert reviewers spend hours testing and comparing products and services so you can choose the best for you. Find out more about how we test.
We reviewed a range of French presses across price points—from budget to luxury options—for a full representation of what's on the market.
To evaluate the best French press coffee makers, we looked at:
Design—French press coffee makers come in a variety of sizes and materials, so we assessed how stylish each one looked in our kitchen, as well as the storage options—was it compact enough to fit in a cupboard, or store on the counter, when not in use?
Ease of use—the best coffee machines are kitchen essentials for many of us, so they need to be easy to use! We looked at whether each option had easy-to-follow instructions, or whether it was complicated to set the product up and use it.
Performance—most importantly, we analyzed how well each French press actually worked when making our coffee.
Value-for-money—was each model worth the money, or did we think any were too expensive for the experience offered?
The best French Press coffee machines as reviewed by our expert
1. Bodum Chambord French Press
Best French press overall
Specifications
RRP: from $24.99 / £37.90
Capacity: 12, 17, 32, 51 oz.
Material: Borsilocate Glass
Region: US/ UK
Reasons to buy
+
Different size options
+
Dishwasher safe parts
+
Replacement beakers available for purchase
+
Well-priced compared to other models in this list
Reasons to avoid
-
Easily breakable when cleaning
The Bodum Chambord is a classic staple among French Press enthusiasts. In fact, it's the same design that has been in place since the 1950s. Available in various sizes to suit your daily coffee intake, a borosilicate glass beaker is accentuated with a stainless steel frame, in a range of metallic shades. Replacement beakers are available, but those that err on the side of caution in case of accidents will likely love the shatterproof version, made of plastic.
The plunger design features a stainless steel filter plate that separates the ground coffee beans from the water after the brewing has stopped and a stainless steel spiral plate that keeps the filter mesh in place and lets water go through, but not the grounds, and a cross plate.
The Bodum Chambord created a rich, relatively smooth coffee and didn't require much getting acquainted to for a consistent cup. Finding the right balance was pretty easy, considering you're instructed to add one teaspoon for every 4 oz. of water. For instance, for my 32oz. carafe, I'd add about 800 grams water, and 4 tablespoons or approximately 56 grams.
2. Espro P7
Best luxury French Press
Specifications
RRP: from $119.95 / £99
Capacity: 18 oz. and 32 oz.
Material: Stainless Steel
Region: US/UK
Reasons to buy
+
Micro-filter for smoothest French Press Coffee
+
Coffee stays hot for a long time
+
Dishwasher safe parts
Reasons to avoid
-
Heavy compared to other models such as the Bodum Chambord French Press
-
Pricey when evaluated next to similar products such as the Bodum Brazil French Press
-
Minimal fill line requirement
The top of the line Espro P7 makes coffee as sleek as it looks, thanks to a patented double micro-filter that makes the smoothest French Press coffee we've come across. The secret: two ultra-fine filters and a silicone lip seal trap all the grit and sludge for a grit-free coffee.
The double filter allows for two stages of filtering. The outer basket-shaped filter is slightly more coarse, and it separates the majority of the grinds from the brewed coffee while the inner basket-shaped filter has a much finer mesh than any other press out there for the smoothest coffee.
It also utilizes a vacuum seal press system that stops extraction immediately, so any coffee not poured from the very first cup tastes as good as the first step and double-wall insulation that keeps contents hot for hours. Don't worry though, the exterior stays cool to the touch, though the stainless steel construction is relatively hefty when both empty, or filled. It is however durable against accidental drops.
Espro recommends a Golden Ratio of one gram of coffee per 15-18 milliliters of water (1:15 or 1:18) but as our tester likes very rich coffee, it took her a little trial and error to get to her perfect size. The large 34-ounce, also has a minimal fill requirement because of the double filter design.
3. Bodum Brazil French Press
Best budget French Press
Specifications
RRP: from $16.99 / £21.99
Capacity: 12 oz., 34 oz., 51 oz.
Materials : BPA-free polypropylene and borosilicate glass.
Region: US/ UK
Reasons to buy
+
Dishwasher safe
+
Available in many colors
+
Affordable price point compared to more luxurious models
Reasons to avoid
-
Plastic parts mean this isn't the most durable product on this list
The Bodum Brazil French Press features the same brewing parts of our top pick the Bodum Chambord, but is made with different materials that contribute to a lower cost: namely plastic in place of stainless steel.
The body, handle, & lid are made of BPA free plastic, which enables the Brazil to be produced in many colors, but does not hold up as well to heat. The borosilicate glass beaker and stainless steel filter and plunger remain the same. The Brazil employs a more modern design, with a wide color palette including a lime green French press.
4. Fellow Clara French Press
Best stylish French press
Specifications
RRP: from $99 / £99
Capacity: 24 oz.
Material: Stainless Steel
Region: US/UK
Reasons to buy
+
Attractive design
+
Non-stick interior for easier cleaning
+
Includes fill lines for less precise measuring
+
Stays hot for longer than other products, such as the Bodum Brazil French Press
Right out of the box, the Fellow Clara feels different. From the cylindric design to how it feels in your hand, it makes you feel like a coffee expert just being in its proximity. It will become your secret weapon to great coffee, featuring subtle ratio aid fill lines to take out the measuring guesswork (and if you still want to properly measure, the recipe calls for 60 grams of coffee and 840 grams of water), a non-stick interior to make clean up a breeze, and the mesh filter is also one-piece, to reduce having to make sure everything is in place.
It comes with a wooden agitation stick to kick off the brewing process, and the lid can be placed on in any direction, with nothing that needs to be lined up to a spout to pour. When brewing, the ultra-fine mesh filter sits at the top of the press before being plunged down to create a smooth, and full-bodied cup of coffee. The Heat Lock Double Wall Vacuum design made of 304 18/8 insulated stainless steel keeps coffee hot and consistent for long after the coffee is brewed. Both French press newbies and faithful users will find something to be impressed with when they brew a cup with Clara.
5. Veken French Press Coffee Maker
Best French press for beginners
Specifications
RRP: from $29.99 (US only)
Capacity: 12 oz., 21 oz., 34 oz.
Matierals: Borosilicate Glass and stainless Steel
Region: US
Reasons to buy
+
Also includes a measuring spoon, agitator, milk frother, and cleaning brush, extra filter screen
+
Four filters
Reasons to avoid
-
Screws on handle come out for cleaning
-
Fragile
-
Wobbly
Those new to manual coffee methods may be wooed by all the accessories that come with the Veken French Press and for good reason. The coffee press comes with a wooden spoon, measuring spoon, handheld milk frother, a cleaning brush, and extra filter screens— a really nice touch.
Making a fresh pot is standard with the Veken, and it even has measuring lines in case you want to brew less than the max 34 oz. We did notice the screw design on the handle can get a little finicky. To clean the glass beaker, it's a little tight, and you will have to grab a screwdriver to unscrew the bolt if you want to put it in the dishwasher. Some users have reported that the glass beaker is fragile, and prone to chipping or cracking, which can happen if water is too hot or the beaker is improperly handled. Some called it a little wobbly too, so be sure to brew only on a stable surface. It does come with a two-year free replacement, guarantee.
6. Le Creuset Stoneware French Press
Best ceramic French Press
Specifications
RRP: from $75 / £59
Capacity: 34 oz.
Materials: Stoneware
Reasons to buy
+
10-year warranty
+
Available in many colors
+
Stainless steel plunger
+
Good heat retention
Reasons to avoid
-
Easily broken if dropped
-
Accidents not covered by warranty
Le Creuset isn't just home to the best cookware and best induction pans on the market at the moment, they also make a mean (read: very aesthetically pleasing) French press too.
An alternative to the glass, plastic and stainless steel designs so far mentioned on this list, we present to you ceramic stoneware—and Le Creuset does this best. If you're a Le Creuset collector, it also matches with a number of other favorite Le Creuset items, and will look timeless on display.
The classic Le Creuset stoneware French Press has better heat retention properties than glass, and won't interfere with the coffee taste, which is a characteristic of stainless steel. The glaze are nonporous, non-reactive and resistant to chips, scratches and stains. It's also dishwasher safe, oven safe, microwave safe, and freezer safe, so you can find plenty of uses beyond coffee.
It does come with a 10-year warranty, but accidents or user errors are not covered. Unlike its glass counterparts, the entire unit will likely have to be replaced if cracked or chipped, making it a more fragile option.
While this model is more expensive than other French press products on the market, you can always find a French press in the various Le Creuset sales throughout the year. For example, in last year's Le Creuset Black Friday deals, their French press was one of the most heavily discounted items on offer.
7. OXO BREW 8 Cup French Press with GroundsLifter
Best French Press for ease-of-cleaning
Specifications
RRP: $41.99 (US only)
Capacity: 34 oz.
Materials: Borosilicate Glass and Stainless Steel
Reasons to buy
+
Special Groundlifter design to make clean up less messy
+
Soft, non-slip handle grip for easy handling
Reasons to avoid
-
Sometimes grounds escape into cup
Making coffee with a French Press can be quick and easy, but clean up is another story. This French press from OXO Brew helps bypass the mess with its special so-called groundlifter functionality. Instead of the coffee settling on the bottom of the beaker, it piles neatly on to a little tray. Once the coffee is completed, lift the handle and the stainless steel and silicone GroundsLifter acts like a squeegee to empty, clearing out used grounds in one move without having to dig, shake, or reach for soggy grounds. No more having to deal with coffee grounds clogging the drain, or having to find another spoon to scoop out what's clinging to the bottom.
OXO, always thinking about the user experience, incorporated a soft, non-slip handle into the design when pouring. While the stainless steel exterior works to add some insulation to the glass carafe. Handwashing is recommended, and the glass carafe slides out of the stainless steel encasement without much fuss.
Beyond that, it has a classic French Press design with a fine mesh stainless steel filter. It feels sturdy in your hand, and is simple to use.
8. ESPRO P0 Ultralight Travel Coffee Press
Best French Press for traveling
Specifications
RRP: $49.99 / £46.53
Capacity: 16 oz.
Material: Stainless Steel
Reasons to buy
+
Micro-filter for smoothest French Press Coffee
+
Double-walled insulated keeps coffee hot for hours
+
Easy handle to carry along
Reasons to avoid
-
More expensive than other French press models in this list
For travelers serious about French Press, consider the ultra-light Espro P0 a necessity right up there with your ID and your best walking shoes. It's lightweight, packable, durable, and even better, lets you take your coffee on the go. In fact, you can even drink straight from your press. It can be fiddly to add in milk or sugar if you're drinking straight from the tumbler though, so we recommend brewing slightly less if you like to top off your coffee.
The travel-sized French Press features the same double microfilter as our Splurge pick, the P7, for smooth sipping and immediately stops extraction once pressed to keep coffee from turning bitter. This version has a 16 oz. capacity and brews 12 oz. of coffee. Pair it with one of the best travel coffee mugs and you're good to go.
9. Bodum Bean Cold Brew Coffee Maker
Best French Press for cold brew
Specifications
RRP: $16 / £25
Capacity: 51 oz.
Materials: Plastic
Region: US
Reasons to buy
+
Affordable
+
Includes two lids
+
Can be used for hot coffee too
It can be a treat to make cold brew coffee at home, but did you know that all you need is a French Press? If you want to cater your equipment to your coffee drinking preferences, try Bodum's Bean Cold Brew Coffee Maker. It features two lids: a traditional plunger lid and a sealed lid that you'll put on when chilling in the fridge. Both are sealable to protect against spills. Bonus, you can find it in a ton of fun colors.
Brewing is pretty similar, except you'll pour in cool water instead of hot, and let it steep for 12-24 hours in the fridge (compared to four minutes) before pressing. Brewing with cold water ensures a less bitter taste.
If you're a person of practicality, the Bodum Bean can also be used to make hot coffee, but since it is plastic, will not retain the temperature for long.
What to consider before buying a French Press
Material—French press beakers are typically available in glass or stainless steel, though ceramic is common too. Glass designs let you monitor the brewing process in action, and it's definitely satisfying to watch extraction take place when you press; however, stainless steel designs offer added durability and tend to retain heat longer, especially designs with double-wall vacuum seals.
Size—they generally range in capacity from a single-serving of 12-ounces up to a generous 51 ounces. A 12-ounce design makes three cups of coffee, while a 51-ounce can make 10. Consider how many people will be drinking each batch, and how quickly it'll be drunk. If you brew a large carafe, but can only drink your way through half by the time it cools down, maybe time to consider downsizing, or cutting your recipe in half. An 8-cup, 24-ounce French Press is considered one of the most popular sizes.
Budget—we've found French Press coffee makers ranging from as low as $15 / £15 to as much as $150 / £150. A lot of it has to come down to the materials used, craftsmanship, and even brand name. If you're after a top brand name in the coffee biz, be prepared to shell out a little more, though we've found that Bodum offers a variety of designs across many price points, that all share the same core stainless steel materials.
What is the advantage of a French Press?
The advantages of brewing with a French Press are numerous. Whether you're new to manual coffee brewing or an expert, French Press is a simplified brewing method that lets you control the parameters of temperature or timing and ratios of coffee to water, with minimal technique for a full-bodied coffee drinking process.
The French Press is a coffee tool you'll have forever. When properly maintained, it's unlikely you'll ever need to buy one every few years, and replacement parts are often readily available. They're also relatively compact and easily portable for travel, work, or happily in your kitchen without taking up too much space.
It's also highlighted as a particularly environmentally friendly way to drink coffee, as they do not create extra waste, use paper filters or pods, and used grounds can easily be composted.
Can I use regular coffee in a French Press?
French Press works best with medium to coarse ground coffee, and you can use any roast you prefer.
Most pre-ground coffee options are fine ground and best suited for drip coffee styles, not manual coffee methods such as French Press. We sometimes find coarse ground options at the supermarket, but you'll have the best results (and most options) when you grind your own coffee.
There are a few reasons why you'll want to brew with coarse ground coffee. French Press is an immersion method, and the beans and water need to be together for a certain amount of time to reach full flavor The coarser grind helps to to slow extraction and avoid over-extraction. Meanwhile, finer coffee grounds can get stuck in the filter and can come out as sludgy or gritty. Finally, the coarse ground coffee gives a much clearer, brighter flavor in a French press.
What accessories do I need to make French Press Coffee?
A food scale: A food scale will help you properly reach the desired coffee ratio required of a French Press, especially since you'll often see measurements vary from grams to sometimes ounces, and it's best to not eyeball it. We're currently loving the Etekcity Food Kitchen Scale, it's cheap and easy to use.
Hot water kettle: Doesn't need to be fancy, just a solid hot water source, either electric or a classic teapot will suffice.
Coffee Grinder: Unless you're buying coarse pre-ground coffee, you'll need a good coffee grinder that can churn out a consistent coarse grind. Coffee tastes better the fresher it's ground too. We're using the OXO Brew Conical Burr Coffee Grinder.
Timer: Your phone timer works to keep track of those four long minutes that you're waiting for coffee.
Stir stick: You'll want to agitate your coffee to set off brewing with a long spoon, wooden or plastic is fine. It's also useful for scraping out grinds once you're finished.
How to clean a French Press
Cleaning a coffee machine, especially a French press is perhaps our least favorite part of the brewing process, but definitely necessary.
Once empty of any remaining coffee, you'll want to take a long wooden or plastic spoon, spatula or your hands to scoop out the remaining grounds. They will be soggy, so they can go right into the trash, or the compost. They should not go straight into the drain, which can cause you some plumbing problems, though if a few go down, no sweat.
An alternative way is to fill the press with water, give it a swirl to help loosen any sticky grounds, and then pour out the contents with a fine mesh strainer to catch the grounds. rinse with water and shake to get out any sticky grounds. It's fine if a few make it down the drain, but if you use a lot, you'll want to have another fine strainer on hand to catch the grounds.
Many designs vary as to whether they have dishwasher safe parts, so you will either want to follow your individual makes care instructions or resort to handwashing. Soap and water will suffice, and depending on the construction of your press, you may need to disassemble and reassemble filters. Make sure to give a piece a good scrub and make sure it's clear of any coffee residue.
Sign up to our free daily email for the latest royal and entertainment news, interesting opinion, expert advice on styling and beauty trends, and no-nonsense guides to the health and wellness questions you want answered.