7 coffee trends that are only going to grow in 2022
These coffee trends can help make your morning pick-me-up work even harder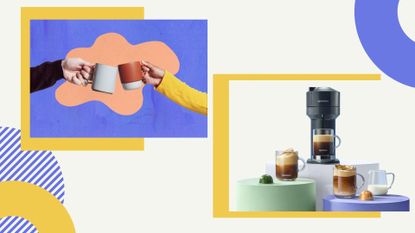 (Image credit: Getty Images/Nespresso)
woman&home newsletter
Sign up to our free daily email for the latest royal and entertainment news, interesting opinion, expert advice on styling and beauty trends, and no-nonsense guides to the health and wellness questions you want answered.
Thank you for signing up to . You will receive a verification email shortly.
There was a problem. Please refresh the page and try again.
The biggest coffee trends for 2022 are here, handpicked by industry experts to give you the lowdown on what to watch out for this year. Whether you're a keen coffee drinker with a ticket to the next world-famous festival, or someone who loves a French press at home, there's something for everyone to try.
Over the last few years, we've seen the world's love for coffee reach new heights. There was the Dalgona coffee craze of 2020, sending even the most committed iced-coffee lover off to buy an instant blend, and as the world opened up again in 2021, coffee subscriptions from the likes of Pret finally found their target audience.
So what's in store for 2022? As the wellness trends for this year have shown, it's all about feeling better, doing better, and achieving more, with Nespresso leveling up their pods, drip coffee makers taking their turn in the spotlight, smaller brands coming out with innovative new products.
7 new coffee trends to watch out for in 2022
There are so many coffee trends out there to discover, from protein-infused 'proffee' that will help you reach your fitness goals, to adaptogen-rich nootropics coffee. Here's our rundown of the seven that industry experts think it's worth knowing about.
1. Home brewing to rival barista coffee
When cafes and restaurants were forced to close in the lockdowns over the last two years, the coffee industry took a big hit. And as these closures came with stay-at-home orders from both UK and US governments, we were all forced to make our favorite drinks at home.
This has had a prolonged effect, says Ashley Palmer-Watts, Michelin starred chef, founder, and chief product developer for Artisan Coffee Co (opens in new tab), as people have seen what lies on the other side.

Note the rise in coffee subscriptions, where you can pay a monthly fee to have ground coffee from roasters including Pact, Caravan Coffee, Monmouth Coffee and Grind delivered to your front door, and the increase in sales of the best coffee machines and best French press coffee makers.
"After two years in and out of lockdown, more people are recognizing that an investment in better coffee and home brewing appliances is worth it," Ashley says. "But more importantly, similarly to the wine revolution 25 years ago, we are seeing a far broader shift in the way consumers are looking for better than what they were buying before. They are now exposed to a far greater choice of coffee profile and they see the value in finding the coffee character that ticks the box for them."
"Coffee has become something more than simply a morning pick-me-up, or a one size fits all we're now seeing for many people, a combination of different coffees for different times, using different machines for each occasion, is what works best.
2. Evolution of pod coffee
How else do you take on barista-style coffee at home? You make it stronger, of course. It's always been possible to just add another shot of espresso to your flat white at Starbucks, but in 2022, some big-name brands are levelling up with at-home coffee-making that really packs a punch.
Nespresso is leading the way on this for the big-name brands, with their newest range of booster coffees⁠—Stormio (more intense) and Melozio (less intense). While Nespresso already has a range of punchier coffees for those who like something a little stronger, these two blends are different. Born out of the decaffeination process, the roasters added extra caffeine to raise the total caffeine content by 20% compared to the rest of the pods. But once boosted, these blends go through the same roasting process, meaning that the same great taste is there.
Explaining that the pods were created out of a desire to innovate, managing director of Nespresso UK & ROI (opens in new tab), Guillaume Chesneau, told woman&home, "We understand the demands many of our customers are now facing on their lifestyle balance and their time. So, our new Functional Coffee range has been developed to support those prioritising their wellbeing – and seeking convenience – whilst providing the same great taste and uncompromising Barista-style quality that Nespresso coffee is known for."
But it's not only Nespresso that is levelling up their pods this year. Pod coffee generally is evolving, Andre Chanco, co-founder at Morning, says. "From being all about convenience, now pod coffee can empower enthusiasts to enjoy speciality coffee from world-class roasters, even if they're based halfway around the world."
Plus, the often-exclusive world of premium coffee has become available to the everyday drinker. "The 'average' coffee drinker is becoming savvier with their coffee choices," adds Morning's other co-founder, Leon Foo. "They're choosing a speciality for a higher quality product, which has a more positive impact on producers and the world around us."
When it comes to the environmental impact (opens in new tab) of pod coffee that's given brands like Nespresso and Tassimo a bad rep in the past, it's not all shiny. But there are new alternatives available with these brands both confirming that their pods are now completely recyclable, as of 2020 and 2021 respectively.
"Many pods are now either recyclable or compostable, meaning they can help reduce your environmental impact too," Andre adds.
3. Nitro coffee goes nuclear
2016's biggest barista coffee craze, nitro coffee (that's coffee with added nitrogen gas to create a less bitter, smoother texture with less added sugar than normal sweetened coffee) has gone mainstream as one of the biggest coffee trends for this year.
Once only really available in certain Starbucks in the US, nitro coffee now sits next to the Diet Coke and pre-made sandwiches in almost every supermarket in the US and UK. And although you can still pick up the Starbucks, Costa, Nescafe, or other big name versions, it's the smaller brands that are really taking over this market in 2022.
Take Minor Figures, with their minimalist colors and cool doodles on the front of the cans. The alternative m*lk producers' nitro black coffee, oat latte or oat mochas are some of the most-frequently-seen offerings, filling the shelves of Sainsbury's and Ocado vans in the UK. While in the US, Walmart stocks brands like Sail Away, RISE, and Califa.
4. Alcohol-infused coffee
Sure, we've all had an Espresso Martini and you may have even tried a caffè corretto, but in 2022, frontrunners in the drinks industry are taking things up a notch and combining coffee with their world-famous alcoholic drinks.
Brewdog, the Scottish beer company, was among the first to do it a couple of years ago with their release of Roaster Coaster, a coffee-infused stout. Guinness has become the one to bring it to the masses though, with a cold brew-infused beer added to their ever-growing collection in April 2022.
"With coffee recently named the number one drink by Brits (overtaking tea with 95 million cups of coffee consumed each day), Guinness Cold Brew Coffee Beer offers an exciting new route into the world of beer," Aisling Ryan, Guinness' innovation brewer, told us. "We're always looking to try new recipes and brewing methods, whilst experimenting with flavors that blend well with our stouts."
With this big name making waves, the pivot to cold brew-infused alcohol is what makes sense for right now, says Ashley Palmer-Watts. "Having played around with incorporating an easy cold brew concentrate into classic cocktails, I think we're going to see a rise in coffee in cocktails in 2022," she says. "Not only does it add complexity and a little caffeine pick me up, but it helps to make the drink last longer by reducing the ABV [alcohol by volume], perfect for those looking for lower ABV cocktails."
She adds, "It also has multiple benefits for the taste and character of the cocktail. And it also means you can have more than you might usually have if you want to."
5. Alcohol-infused m*lks
The alternative milk (or m*lk/mylk industry as it has to be legally known in the EU, due to a landmark ruling (opens in new tab) in 2017) is also making strides to innovate. While alternative m*lks have hit their prime with the likes of Alpro and Oatly leading the drive for a plant-based swap, smaller brands are also catching the drift⁠—and bringing something new to the table.
It's something that Paul Crawford, founder of Panther M*lk (opens in new tab), knows all about. He created his own alcoholic oat milk blend based on a Spanish cocktail called 'Leche De Pantera'. It quickly gained an avid following in Glasgow, where Paul's bar of the same name was based.
"When I decided to launch the drink as a brand, I decided to make the leap to oat milk to lower our carbon footprint and become more sustainable. The feedback was overwhelmingly positive from old and new customers. Nobody seemed to miss the dairy aspect and in fact, it opened up our audience to vegans and those with lactose intolerance," he says.
"There had clearly been a gap in the market for a product like this, especially in the ready-to-drink category, and the flavor of the oat milk works well with the premium spirits within the drink so I think it enhances the original product."
So whether you want to finally commit to trying a White Russian cocktail, or want to turn your Irish coffee plant-based, there's set to be more options than ever with alcohol-infused coffee drinks in 2022.
6. Coffee meets the wellness industry
A walk-through any one of the biggest coffee festivals in 2022 will show you that one of the biggest coffee trends for this year is adaptogen blends and alternatives to caffeine in coffee. While the 'healthy' coffees of previous years, like matcha and turmeric lattes, show no sign of going anywhere, this is a newcomer to the arena.
"Adaptogens, such as medicinal mushrooms, are natural ingredients that help our mind and body adapt to physical, mental, and emotional stressors and find balance," explains Zain Peer, co-founder of London Nootropics (opens in new tab). "For example, ashwagandha works on our adrenals and CBD works on our endocannabinoid system. Both have been shown to help balance stress and anxiety."
If you're imagining some crushed mushrooms at the bottom of your cappuccino, then don't worry, that's not quite how it works. An adaptogen coffee is the result of these particular medicinal mushrooms being ground with coffee beans during the blending process, creating a rich and nutty aroma.
They might not be for everyone but more people are trying out adaptogen coffee than ever before. Zain's company London Nootropics has seen huge demand for the product recently, while another mushroom coffee brand, DIRTEA, is stocked in high-end stores including Harvey Nichols and Selfridges.
And it's not surprising, given the health benefits associated with the drink. "Mushrooms have the highest fiber content of all foods, which means that they feed and nourish our gut microbiome. This keeps our gut healthy, as well as our cardiovascular, immune, and nervous systems," explains Clarissa Berry, DIRTEA (opens in new tab)'s resident nutritionist.
"When mushrooms are broken down under proper processes, fiber is broken down into smaller molecules called beta-glucans that have incredible properties. These molecules can stimulate the immune system to find and destroy pathogens and damaged cells, they are highly anti-inflammatory and have the power to regulate and soothe the body's systems," she says.
7. Collagen coffee
Protein is having a real moment right now. From attempts to make healthy chocolate with 'hi-protein' Snickers and Mars bars to innovative releases from legacy nutrition brands, it's no surprise that coffee hasn't escaped the macronutrient treatment.
What is collagen? Collagen is the main structural protein in the body's connective tissues, explains Harvard's Nutrition Source (opens in new tab). Aging, as well as environmental factors like sun damage, smoking, excess alcohol, and exercise, causes our collagen levels to decrease and this can lead to natural wrinkles on the skin's surface. It's a natural part of aging, totally harmless, and you shouldn't feel pressured to do anything about it unless you want to.
In 2022, one of the biggest emerging coffee trends seems to be putting collagen peptide supplements into coffee as a way to consume more collagen, with the idea to lessen the effects of aging. With celebrities like Jennifer Aniston partnering with collagen brand, Vital Proteins, and confirming that she puts a scoop in her coffee every morning, it's not a surprise that the trend has gone viral.
Popular nutrition brands like Bulk have jumped on the bandwagon, introducing a variety of coffee infused with collagen, while Holland & Barrett stocks Dose & Co.'s range of flavored collagen creamers among other collagen powders, foods, tablets and liquids.
How many cups of coffee a day is healthy?
Several factors go into how many cups of coffee a day is healthy, but new evidence from the American College of Cardiology (opens in new tab) suggests that the lowest risk of diseases is associated with drinking between three and five cups of coffee a day.
"It's generally considered that 400mg of caffeine or less a day (about four or five coffee drinks) is safe," explains Alex Manos, chief wellness officer at Exhale Healthy Coffee (opens in new tab). For context, one espresso shot has 60-80mg of caffeine, so be sure you know how many shots are in your regular takeout order.
Naturally, however, the upper limits of this won't be suitable for most people. Although it's rare to be allergic to caffeine, according to a study by the University of Hamburg (opens in new tab), many people are highly sensitive to it, meaning they experience sleep problems and anxiety-related issues as a result of drinking coffee. So for anyone who experiences this, the right answer to this question could be none at all.
What is the best time of the day to drink coffee?
As for when it's best to drink coffee, Alex explains that many of us may need to limit our consumption to the morning as caffeine intake can be linked to sleep problems. He recommends opting for caffeinated coffee in the morning, then switching to decaf coffee in the afternoon or evening to maintain good sleep hygiene.
And, if you thought decaf coffee didn't provide any health benefits, you couldn't be more wrong. "Decaf coffee provides many of the same health benefits as caffeinated coffee, partly due to the polyphenols—plant-based antioxidants—in the coffee," says Manos.
Best coffee trends to try at home
Give these shop-bought ingredients a go for an easy way to reap even more benefits from your brew...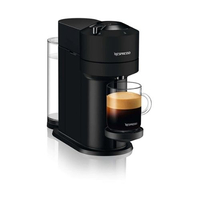 (opens in new tab)
1. Vertuo Next Coffee Machine - $194.49 / £149
Available in seven exciting colors and offering coffee in five different sizes, from a full mug to a small espresso, this little machine packs a real punch. If you want to try Nespresso's latest pod offering, it's well worth picking up one of these.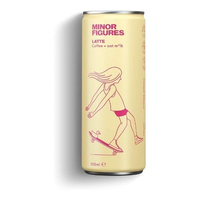 (opens in new tab)
2. Minor Figures, Oat Latte (12 x 200ml) - $32.63 / £24.99
Our pick of the best nitro coffee, available to buy on Amazon in both the US and UK. Super cool packaging aside, these lattes are a delicious way to enjoy your favorite coffee as the weather warms up. Pour into a glass to get that proper nitro feel or drink straight from the can for that classic creamy taste.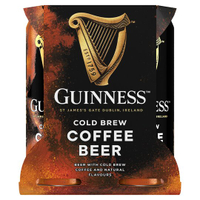 (opens in new tab)
3. Guinness Cold Brew Coffee Beer - £6
Currently only available in the UK from Tesco, Guinness' cold brew coffee beer is the perfect accompaniment to the warmer weather for a stout-lover.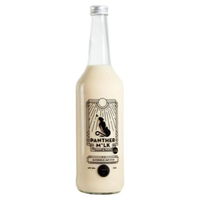 (opens in new tab)
4. Panther Milk Original Bottled Cocktail - £26
If you want to see what the hype is about yourself, we definitely recommend picking up a bottle of Panther Milk's signature vegan bottled cocktail and adding a splash to your coffee. Also available in mint, strawberry and chocolate.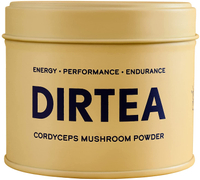 (opens in new tab)
5. DIRTEA Cordyceps Mushroom Powder - $39.16 / £29.99
If you want to give mushroom coffee a go, try DIRTEA's cordyceps mushroom powder. With enough servings per tin to last 30-days, you'll soon know whether it's for you, as cordyceps is the purest and most potent form of mushroom powder.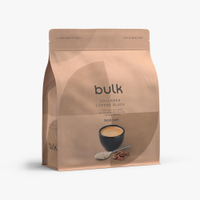 (opens in new tab)
6. Bulk Collagen Coffee - £18.99
This high-quality collagen coffee is packed with 18g of protein and 100mg of caffeine per cup. Made with Fairtrade Colombian Arabica coffee, it contains just 86 calories per serving. Taken over time, collagen has been shown to help boost skin health and potentially fight the signs of aging, such as sagging skin and wrinkles.
A digital health journalist with over five years experience writing and editing for UK publications, Grace has covered the world of health and wellbeing extensively for Cosmopolitan, The i Paper and more.
She started her career writing about the complexities of sex and relationships, before combining personal hobbies with professional and writing about fitness. Everything from the best protein powder to sleep technology, the latest health trend to nutrition essentials, Grace has a huge spectrum of interests in the wellness sphere. Having reported on the coronavirus pandemic since the very first swab, she now also counts public health among them.