The best coffee machines in 2022, featuring drip, espresso and craft coffee makers
Our guide to the best coffee machines includes models we've tested from Nespresso, Keurig, and Breville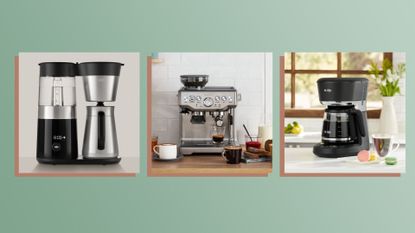 (Image credit: Future)
We've sought out and tested the best coffee machines for various price points and brew styles, from exceptional drip coffee makers to craft coffee machines that will give you a barista-quality brew.
A coffee machine should be easy and intuitive to use, made to last, and of course, produce excellent coffee. And let's not forget some of the fun extras you could get in addition, such as a milk frother, coffee grinder, and smart technology that'll allow you to craft your ideal brew from anywhere.
Keep reading to learn more about the best coffee machines, plus some advice on how to choose a suitable one for your preferences and budget. If you like to take your java on the go, make sure you're drinking from one of the best travel mugs. And level up your barista game with any of the best milk frothers to give your homebrew that coffee shop latte look.
The best coffee machines, at a glance
Only have time for a short skim? Here's an abridged list of the best coffee machines, with quick links to buy...
OXO 9-Cup Coffee Maker: This drip coffee machine meets the rigorous standards of the Golden Cup — and it also tops our list.
Nespresso's Vertuo Next: You won't have to choose between coffee or espresso because this Nespresso makes both.
Technivorm Moccamaster Select KBGV: A 5-year warranty, fuss-free design, and Golden Cup approval make this worth the splurge.
Breville Barista Express: This intuitive espresso machine always knows how much to grind and dose.
How we chose and evaluated the best coffee machines
We selected the following coffee machines in order to share products within a range of different prices, from budget to luxury options - and from well-known and more niche brands for a full representation of what's on the market.
To evaluate the best coffee machines we looked at:
Price tag—and subsequent value-for-the-money.
Ease of use—is brewing a cup intuitive or do you need to pour through the manual?
Special functions—can you customize cup size? Adjust strength? Program?
Design—coffee makers come in all shapes and sizes. Are you looking for something purely functional, or do you want something to match your personal interior taste?
Our pick of the best coffee machines to buy in 2022
Best drip coffee makers
1. OXO 9-Cup Coffee Maker
Best coffee maker overall
Specifications
RRP: From $230 / £371
Capacity: 9 cups
Dimensions: 15" x 8.3" x 17.2"
Water filter: No
Hot plate: No
Programmable: Yes
Reasons to buy
+
Specialty Coffee Association approved
+
Timer tells you how old the brewed coffee is
+
Thermal carafe has excellent heat retention
Reasons to avoid
-
Must use knob to see settings
-
Thermal carafe hard to see to clean
Taking the crown for best drip coffee maker, and best coffee maker overall is the OXO 9-Cup Coffee Maker. That's no small feat. It's also approved by the Specialty Coffee Association for meeting its rigorous Golden Cup Standards, which means the machine meets its standards for water quality, coffee-to-water ratio, grind/particle size distribution with a temperature between 195 and 205 degrees, and a brewing time of fewer than eight minutes.
The secret to OXO's perfect brew—BetterBrew Precision which controls water, temperature and optimizes brew cycles for rich, flavorful coffee. Then, a rainmaker head even disperses water over the grounds for better extraction. Following that, a silicone mixing tube in the lid helps blend the coffee when it's brewing to ensure the first cup is as good as the last.
The OXO is speedy too, able to produce a full carafe in under eight minutes, but we can't blame you if you want to take advantage of the sneak-a-cup function. Beyond excellent coffee, the OXO has you choose cup size to optimize brewing between a 2-4 cup brew or a 5-9 cup brew, a timer function to program up to 24 hours in advance, and a count-up timer (up to 60 minutes) to let you know you how long the coffee has been completed.
A thermal carafe is another one of our favorite features and helps retain the coffee's temperature without any chance to burn it. The handle has a good grip, so it should be comfortable to hold and is easy to pour, with no drips. It can be a little more difficult to clean since the mouth of the carafe is pretty narrow. Make sure you note that the carafe is not dishwasher safe, but the brew basket and other plastic parts are.
Best coffee machine for espresso and coffee
Specifications
RRP: From $130 / £80 (without Aeroccino frother)
Cup capacity: 1.35oz., 2.7oz., 5oz; 8oz; 14oz; 18 oz. carafe
Water capacity: 37 oz.
Size: 5.5" x 16.9" x 12.4" inches
Pod type: Vertuo Line
Reasons to buy
+
An affordable, space-saving option
+
Made from partially recycled materials
+
Only machine that can make an 18 oz. carafe
Reasons to avoid
-
Lock and unlock mechanism takes effort to open
-
Carafe is sold separately
-
It can be a little noisey
The beauty of Nespresso's Vertuo coffee machine line is that there is never a compromise between choosing coffee or espresso. You can have both, in one compact machine. The Vertuo Next is particularly interesting as it is just 5.5" wide and also made with 54% recycled plastic. Nespresso is famous for its single-serve capsules, the Vertuo Next can brew five sizes: espresso (1.35 oz.), double espresso (2.7 oz.), gran lungo (5 oz.), coffee (7.7 oz.), and alto (14 oz.), plus, a new 18 oz. carafe size.
The Vertuo machines brew through Centrifusion, a unique process that rotates the Vertuo capsules 7,000 times in a minute to extract the best brew. Each capsule also has a barcode that the machine reads and automatically adjusts according to the ideal temperature, cup size, brew speed, and more. All you have to do is open the machine, place it in the slot, and simply press the center button. It self-disposes in a separate tank that you won't have to bother with until the bin is full. From there, each aluminum capsule is fully recyclable, and Nespresso makes it even easier by providing each order with a mailer to send back used capsules.
Better still, you'll often find the Nespresso machines bundled in with an Aeroccinno milk frother to expand the function of your coffee maker and to make cappuccinos at home. Browse the best Nespresso deals if you want to score a discount on this already-affordable machine.
Read our full Nespresso Vertuo Next review.
3. Technivorm Moccamaster Select KBGV
Best coffee maker to splurge on
Specifications
RRP: From $349 / £200
Capacity: 10 cups/40 oz.
Dimensions: 12 3/4" x 6 1/2" x 14"
Water filter: No
Hot plate: Yes
Programmable: No
Reasons to buy
+
Handmade in the Netherlands
+
Brews both half and full carafes
+
Long warranty and replacement parts readily available
Reasons to avoid
-
Set up and installation takes a little getting used to
-
Plastic parts feel flimsy
If you're all about the art of coffee, we think you'll want the best of the best. For the smoothest cup of coffee you've ever brewed, you'll want to divert your attention to the Technivorm Moccamaster.
Available in tons of colors to suit your style or kitchen decor, the Moccamaster quickly and quietly brews some of the best-tasting coffee we've tried. In fact, it meets the rigorous qualifications set by the Specialty Coffee Association to meet the Golden Cup Standard. It's a design-forward machine—the body style hasn't changed since its introduction in the 1970s—with a fuss-free design that puts the coffee it brews center stage. It only has two switches for simplicity, the power button and the option to choose between a full or a half carafe.
So, what makes the Moccamaster KBGV Select worthy of its hefty price tag? For one, it's assembled by hand in the Netherlands, making for a sleek and unique design. It also features first-rate materials, such as a copper-heating element. It also has one of the longest warranties around, with five years. But the real beauty of a Moccamaster is that you should still be able to use it a decade from now, maybe more. And if a part does wear down, such as the plastic brew basket or the glass carafe, these items are easily replaceable or repairable, which in turn prevents perfectly good machines from being discarded into landfills.
4. BLACK+DECKER 12-Cup Thermal Coffeemaker
Best coffee maker for value
Specifications
RRP: From $70 (US only)
Capacity: 12 cups/60 oz.
Dimensions: 8" x 11" x 11.5"
Water filter: No
Hot plate: No
Programmable: Yes
Reasons to buy
+
Thermal carafe more durable than glass
+
Programmable with easy-read controls
+
Has adjustable Brew Strength
Reasons to avoid
-
No water filter
-
Lift up to fill, might not be great under cabinets
Black & Decker manages to squeeze in all the features you might seek from a high-end machine and keeps the price affordable. The roomy 12-cup thermal carafe is durable, keeps coffee warm for hours, is easy to handle, with a drip-free pour spout and an ultra-wide mouth for hassle-free cleanup. On most models, the thermal carafe is pricier than glass carafes with hot plates.
But seriously, this coffee maker is the real deal. It offers you the chance to adjust brew strength (very important to us since it seems like everyone takes their coffee a different way) and the rainfall showerhead, dubbed Evenstream Showerhead, dispenses water over coffee grounds evenly for better bloom, and flavor.
It also features easy to read digital controls that display the time, brew a smaller batch of 1-4 cups, choose brew strength from regular, strong, and bold, and this pretty cool feature - a timer that indicates how much time has passed since the coffee was brewed, up to 120 minutes. Because we all know how a coffee that has been sitting for too long starts to taste. Each button is very easy to select, though we would say it's maybe too sensitive, as the large buttons can accidentally be pressed to advance the time when you're not intending to.
5. Keurig K-Supreme Plus Coffee Maker
Best single-serve coffee maker
Specifications
RRP: From $189.99 (US only)
Capacity: 78 oz.
Dimensions: 13.35" x 8.31" x 12.24"
Water filter: Yes
Hot plate: No
Programmable: Yes
Reasons to buy
+
Coffee-over-ice setting for cold drinks
+
Adjustable temperature and strength settings
+
Can make up to 9 beverages with a full water tank
Reasons to avoid
-
No instructions for installing water filter
-
Pods can be wasteful if not properly disposed of
Coffee for one? If you limit your coffee consumption to one serving at a time or love the idea of fresh coffee on demand in minutes, you'll want the Keurig K-Supreme Plus. Not only do you get the beauty of customizing cup size, coffee strength, and temperature, the introduction of Multi-Stream technology makes for a much more robust brew. And trust me, you will taste the difference.
So, what is Multi-Stream Technology? Instead of the one needle in the center, five are punched in the K-cup, which creates better water saturation over coffee grounds, like a rainfall effect, for better-tasting coffee and even stronger aromas.
The design is sleek and modern, with a small footprint, but a large water tank capacity, 78 oz. for up to nine 8 oz. cups of coffee. And it comes with a water filter if your water source is straight from the tap. However, our tester did have to take to YouTube to figure out the installation. It also offers an Over Ice setting, which brews the coffee at a slightly lower temperature over ice for perfectly chilled coffee. With so many setting options, you can program your favorites for up to three users.
If waste is a reason you've steered clear of Keurig in the past, don't let that stop you from the convenience of single-cup coffee makers. All Keurig K-Cups are recyclable, just peel off the lid and empty the grounds, which make great compost.
6. Capresso 5-Cup Mini Drip Coffee Maker
Best compact coffee machine
Specifications
RRP: From $39.95 (US only)
Capacity: 5 cups
Dimensions: 8" x 6.25" x 10"
Water filter: No
Hot plate: Yes
Programmable: Yes
Reasons to buy
+
Perfect size for 1-2 people
+
Programmable and two-hour hot plate
+
Permanent filter reduces waste
Reasons to avoid
-
Coffee could be stronger
Don't skimp on the features you want in a coffee maker just because you're short on space. Capresso's Mini-Drip Coffee Maker is perfect for 1-2 people and takes up very little space on your countertop. It's only 10 inches tall, and 6.5 inches wide. It's compact and attractive, making this machine a great starter coffee maker.
Let's talk about what this small but mighty coffee maker can do: it's programmable, uses a permanent gold-tone filter so you don't have to think about specialty-sized filters, and has a hot plate that automatically turns off after two hours. It could brew a stronger cup of coffee, but it does brew quite a smooth-tasting cup. It's a total workhorse, proof that good things do come in small packages.
7. Breville Grind Control Coffee Maker
Best coffee machine with a built-in grinder
Specifications
RRP: From $330 (US only)
Capacity: 12 cups/ 60 oz.
Dimensions: 12.5" x 8.5" x 16.3"
Water filter: No
Hot plate: No
Programmable: Yes
Reasons to buy
+
Travel cup option
+
Interesting design
+
5 grind options plus 8 strength settings
Reasons to avoid
-
Needs to be cleaned often
-
Can't just grind beans
It's true, freshly ground beans make the best tasting coffee. It doesn't always have to add an extra step—or machine—to your coffee. The Breville Grind Control Coffee Maker offers five grind settings to help you brew the freshest coffee possible and calibrate according to the beans being used.
In addition to the ability to choose your desired strength level, up to eight settings, you can choose from a single-serve portion from 8-20 oz. or the full 12-cup carafe. Once you spin the dial to indicate your selections, the machine automatically adjusts to the perfect water to bean ratio. The LED interface and control panel easily shows you your selections. It can also be programmed ahead of time, so you can wake up to a ready-made coffee. Should you want to use pre-ground coffee, that's an option too, as well as the ability to choose between paper and permanent filters. Though, one user did note, that if you wanted to just grind coffee for another use, say your French press, or to make cold brew, that was not an option.
Before you go ahead and buy a grind and brew-style coffee maker, know that they typically require more care and attention to keep them a well-oiled machine, as beans stuck in the grinder can cause a big headache. The machine uses a flat burr grinder that needs to be regularly cleaned to prevent blockages. You'll therefore need to pay special attention to learning how to clean your coffee machine.
If you're in the UK, this exact model isn't on sale there. Check out the similar Sage Dose Control Pro (opens in new tab) instead.
8. Mr. Coffee 12-Cup Coffee Maker
Best coffee machine from Amazon
Specifications
RRP: From $28 (US only)
Capacity: 12 cups / 60 oz.
Dimensions: 8" × 8" × 12"
Water filter: No
Hot plate: Yes
Programmable: No
Reasons to buy
+
Easy to use with a large capacity
+
Reliable for good, tasty coffee
+
23,000+ 5-star Amazon reviews
Reasons to avoid
-
Not programmable and no auto shut-off
Choosing to take advantage of that Amazon Prime membership and cash in on that two-day quick delivery? Well, the Mr. Coffee 12-cup coffee maker is an Amazon Choice product, and a continual best-seller, with over 23,000 5-star reviews. While it's one of the most affordable brewers on our list, it does exactly what you want it to: make a good, reliable cup of coffee, and lots of it, too.
It springs to life with the flick of the on/off switch, with the convenience of the dual-sided water window and a removable filter basket to minimize overflows and for easy clean-ups. And if you just can't wait for the whole pot to brew, it does offer a sneak a cup feature. Seriously, it has almost everything you could need in a solid coffee maker, with a hot plate too!
Best espresso makers
1. Breville Barista Express Espresso Machine
Best espresso maker
Specifications
RRP: from $650 / £299
Bean hopper: 1/2 lb.
Water tanl: 2 liters / 64 oz.
Cups: 1 or 2 cups
Dimensions: 12" x 11" x 13.5"
Water filter: Yes
Hot plate: N/A
Programmable: N/A
Reasons to buy
+
Ideal amount of espresso dosed / ground each time
+
Adjustable temperature and instant hot water
+
Built-in steam wand to create latte art
Reasons to avoid
-
Complicated process, especially at the start
With a design meant to impress, The Breville Barista Express is made to make the art of espresso approachable and fun in a compact (for an espresso maker) size. Advanced users can take delight in the manual settings like adjustable grind sizing and temperature control, while those new to pulling shots of espresso at home will find joy in the automatic dosing.
The stately machine has a 1/2 pound bean hopper capacity that pulls into a conical burr grinder. You can make up to two oz. of espresso at a time, but the water tank holds 64 oz. so you don't constantly have to refresh. Once you tamp and insert the portafilter, the machine pre-infuses the coffee with the tiniest amount of water, which saturates the coffee better and gives it a better brew. From here, the grind size and pressure affect the extraction, which can be monitored via the pressure gauge, while electronic PID temperature control will make sure your espresso's temps turn out consistent every time. For lattes and such, try out the steam wand that gives barista-level micro-foam texture.
At $650 (£299 in the UK), it's quite an investment in your home-espresso regimen, but for a quality espresso machine, it's actually quite middle-of-the-road. Once you master the machine, you'll truly understand the value as your visits to your local coffee shop starts to dwindle. We found tons of tips for newcomers in the manual (it's over 40 pages long), from how to prepare your coffee from grind size to texturing milk to make the perfect froth. It even educates you on achieving the perfect extraction. With home brewing a big coffee trend of 2022, this machine could be shrewd investment.
2. Delonghi 15 Bar Espresso Machine with Advanced Cappuccino System
Best espresso maker for beginners
Specifications
RRP: From $150 (US only)
Bean hopper : N/A
Water tank: N/A
Capacity: 12-51oz.
Dimensions: 9.6" x 7.2" x 11.9"
Pressure: 15 bar
Reasons to buy
+
Manual espresso preparation
+
Slim, compact design
+
Approachable price-point
+
Also works with ESE pods
Reasons to avoid
-
No built-in grinder
-
Not readily available in the UK now
Espresso for beginners can go one of two ways: a very expensive super-automatic that simply involves pressing a button and making sure coffee and water are well stocked, or a traditional design that gives you quality and room to learn, at an introductory price point. That's why our tester loved the De'Longhi 15 Bar Espresso Machine with Advanced Cappuccino System. It utilizes a three-in-one filter holder, with space for single and double espresso shots, or an easy-serve espresso pod (for foolproof espresso).
The Advanced Cappuccino System maintains temperature so you can brew cups consecutively, and the manual steam wands let super-automatic you whip up frothed milk for lattes and cappuccinos. However, it does take more effort to get that café-style micro-foam.
3. Philips 3200 Series Fully Automatic Espresso Machine w/ LatteGo
Best espresso maker for specialty drinks
Specifications
RRP: from $800 / £499
Bean hopper: 9.7 oz./275g
Water tank: 60.8oz./1.8L
Dimensions: 9.6" x 17" x 14.6"
Pressure: 15 bar
Reasons to buy
+
Brews 5 different beverages with the touch of a button
+
Milk frother makes fool-proof lattes and cappuccinos
+
Adjust cup sizes, temperature, and strength
Reasons to avoid
-
It makes a lot of noise
-
Also, it's quite expensive
Skip all the fuss and let the super-automatic Philips 3200 Series with LatteGo grind, brew and froth your morning cappuccino. The addition of the special LatteGo milk frother turns the Philips from a well-performing espresso maker to one that basically cancels the need to visit a coffee shop ever again when you can have a latte in just one step.
The machine can whip up espresso shots, coffee, Americano, Latte, cappuccino, or hot water with settings to adjust brew strength, temperature, and beverage and milk quantity. Once you select your desired beverage and press brew, the ceramic burr grinder kicks in, with 12 different setting options to get your ideal grind size, and soon enough, your beverage is ready. There is also the option to use ground coffee.
The magic of the LatteGo milk frother is that it uses steam pressure to suck up milk through the hole at the bottom of the plastic container and channels it up to pour dense, silky milk foam straight into your mug. This machine is the ultimate gamechanger in your morning, afternoon, and evening coffee, and we don't say that lightly. There's no denying, it is an expensive machine, (the most expensive on this big list), but if you're looking for a do-it-all machine that is insanely easy to use and replicates coffeehouse drinks, look no further.
Best specialty coffee makers
1. KitchenAid Cold Brew Coffee Maker
Best cold brew coffee maker
Specifications
RRP: From $109 (US only)
Capacity: 14 servings/28 oz.
Dimensions: 8" x 7" x 6.9"
Water filter: N/A
Hot plate: N/A
Programmable: N/A
Reasons to buy
+
Makes a smooth cup of cold brew
+
Easily fits and dispenses in fridge
+
Handle makes it simple to handle
Reasons to avoid
-
Glass is fragile
-
No longer readily available in the UK
Our tester has tried a number of cold brew coffee makers (call it a minor obsession) and the KitchenAid Cold Brew Coffee Maker tops the list. The super-concentrated brew is notably smooth, while the easy drink dispenser design means you can pour straight from the fridge. Its short and boxy design was compatible to sit on a middle shelf, as opposed to taking up valuable real estate on the top shelf.
While some coffee makers make a cold brew that could almost be taken straight up black, a serving is just 2 oz., with a 2:1 ratio of milk or water to coffee. And it's such a bold brew that that's really all you'll need, meaning one batch can brew 14 servings and is good for up to two weeks in your fridge. If that's not enough, KitchenAid also offers an XL 38 oz. option too.
Brewing is just simple enough and involves adding approximately 8 oz of coarsely ground coffee to a brew basket with a liter of water, followed by another 8 oz. of water. It'll steep for 12-24 hours before you lift the basket out of the brewer, and enjoy your coffee.
2. Chemex Pour Over Glass Coffee Maker
Best pour over coffee maker
Specifications
RRP: From $43 / £49.99
Capacity: 3 cups / 8 cups / 10 cups
Dimensions: 9.6" x 6.4" x 1.3"
Water filter: N/A
Hot plate: N/A
Programmable: N/A
Reasons to buy
+
Available in multiple sizes
+
Attractive design looks good on display
+
Great for beginners and advanced pour-over users
Reasons to avoid
-
Required to use Chemex-branded paper filters
While this may just be the same pour-over coffee maker your grandma used (the Chemex has been the same tried-and-true design since the 1940s), we promise that it is all that, and then some. Seriously, you're sipping from a little piece of coffee culture and design history.
Whether you're new to manual coffee methods or a coffee connoisseur, the Chemex can suit all. It's available in personal-sized three-cup options to as large as a family-style 10-cup size. To master your technique, you'll pour your hot water through the grounds (this is where you'll want to invest in a quality gooseneck kettle), watch it bloom, and then, voila, pour to enjoy. It's made of sturdy borosilicate glass that can be added to an external heat source to keep warm with a removable wooden collar that is both stylish and protects your hands from hot glass.
The only caution, really, is that it requires the use of proprietary Chemex filters that are only available at a select number of retailers, so you'll want to keep track of your inventory. It's for good reason though, the specially designed filters are 20-30% heavier than other filters, and designed to remove the smallest particles as well as the undesirable oils and fats, for the finest extraction possible.
Are expensive coffee makers worth it?
We all hold a certain pride in our fancy coffeemakers and trying out the latest coffee trends, but before you jump on the most luxurious machine, consider how often you'll use it, the features you plan to take advantage of, and if you're up for the maintenance that often comes with keeping these machines in shape.
And while it just so happens that some of our favorite coffee makers fall on the expensive side, we have come across brewers that we like for under $100 (£73). We seek out special functions like the ability to control brewing parameters, the overall brewing process, or the presence of water filters as to what makes a high-quality machine. More expensive machines typically use more expensive materials such as stainless steel shells, or in the case of the Moccamaster, a copper-heating element.
Sometimes a cheap coffee maker is a quick fix in a bind, but they usually struggle to get to the perfect temperature, or the heating element begins to burn out. If you're reaching for a cup of coffee every day at home, why not invest in something that brews superior coffee. We also place a lot of expectations on our expensive machines with the intention that they will serve us for years. Note, it's not just the coffee maker that affects your coffee, but the beans, their size, and freshness level that can make or break your beverage.
What type of coffee machine is right for you?
We've covered a wide amount of the types of coffee makers you can bring into your home. Now, we'll break down all of the different types of coffee machines and why one might be better for you than the other.
Drip coffee maker—this makes your standard pot of hot coffee. Water is heated before being sprinkled over coffee grounds that then drips down into a carafe. A cup is usually identified as 5 oz., so when you see a 12-cup coffee maker, it really makes 60 oz. of coffee.
Single-serve coffee makers—loved for their convenience to brew just one cup of coffee at a time. They usually feature pods, which tend to cost more per cup than using a drip coffee maker, but they require little measuring or skill. There are also a growing number of single-serve coffee makers that use grounds as a way to be less wasteful with pods.
Espresso machines—encompass a wide variety of machines and brewing styles, but the most common is referred to as including semi-automatic, automatic or super-automatic. Semi-automatic requires places the responsibility of measuring grind, tamping, and timing the shot on you. Automatic machines automatically stop the water flow when at completion, but the grinding and tamping is still part of the art while super-automatic machines do everything for you at the touch of a button, from grinding to brewing to dispensing. Espresso is a finely ground coffee that's brewed under pressure.
Pour-over coffee maker—is a craft method of coffee where you manually pour hot water over coffee grounds, usually in a cone-shaped filter. Experts will say there is particular science to the water's temperature, pour speed, and saturation technique. Once saturated, the coffee drips into a cup or a small carafe to be drunk immediately. This method usually creates one to two cups of coffee at a time.
French press—a craft method where hot water is poured over loose, coarsely ground coffee grinds. After it steeps for four minutes, a plunger
Cold brew—very similar to the French press in that it uses coarse grounds. Coffee steeps for 12-24 hours in the refrigerator, which creates a very smooth full-bodied coffee that should not be bitter or acidic.
If you're inclined to change up your morning drink choices every now and then — either for health reasons or just because — take a look at these healthy alternatives to coffee for other ways to get the boost you need to tackle the day.