The 10 best drip coffee makers for great tasting coffee at home
In our guide to the best drip coffee makers you'll find models from Smeg, Cuisinart, Keurig and more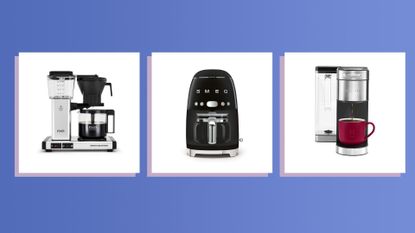 (Image credit: Future)
The best drip coffee makers are simple to set up, easy to use and should make your morning beverage routine even simpler. These nifty machines generally take on the heavy lifting of getting your coffee to the ideal temperature and ensuring the right ratio of coffee to water without you even having to think about it.
Drip coffee makers extract the coffee slowly to ensure a properly brewed pot of black coffee in a matter of minutes. There are plenty of options out there too, whether you're after a compact or single-serve design for one, or a high-tech gadget that grinds and brews the latest coffee trends for you.
To determine the best drip coffee makers for our guide, we considered the machines that give you the most value for your money without sacrificing quality. Our expert coffee machine tester Jaclyn Turner researched and sampled machines from well-known brands—such as Black+Decker, Smeg, and Cuisinart—using each one in her own home over a period of a few days. Not only did she assess the cup of coffee that each machine produced, but she also analyzed factors such as design and value-for-money, to help you find the best coffee machine for you. And once you've chosen a drip coffee maker, why not attempt a barista-quality latte with one of the best milk frothers, too?
How we chose and tested the best coffee machines
Why you can trust Woman & Home Our expert reviewers spend hours testing and comparing products and services so you can choose the best for you. Find out more about how we test.
We selected the following coffee machines in order to share products within a range of different prices—from budget options to more investment, luxury buys.
To determine the best drip coffee makers we looked at:
Price tag and value-for-money—is the machine affordable or expensive, and if the latter, did we feel it was worth the price? Or, could you get a similarly good experience with a less pricey machine?
Ease of use—is brewing intuitive, or do you need to pore through the manual to figure things out? Plus, how long did they take to make the coffee?
Special functions—can you customize cup size? Adjust strength or temperature? Are there program options—and is there a built-in grinder, or do you need to do it yourself? Some of these functions will be necessary for certain shoppers, so it's worth noting that not all of the best drip coffee makers have them.
Design—coffee makers come in all shapes and sizes—we assessed all of the below on how stylish they looked in our kitchen, as well as how compact (or not) they were, whether you plan to store yours in a cupboard or on your counter. And if they could fit the best coffee travel mugs, even better!
User reviews—in addition to our own experience, we culled through hundreds of reviews to see other users take on each machine.
The best drip coffee makers as reviewed by our expert
1.OXO Brew 9-Cup Coffee Maker
Best drip coffee maker overall
Specifications
RRP: $209 / £153.90
Capacity: 9-cups
Dimensions: 15" x 8.3" x 17.2"
Water filter: No
Hot plate: No
Programmable: Yes
Reasons to buy
+
Specialty Coffee Association approved
+
Fully programmable for coffee to suit you
+
Count-up timer tells you how old the brewed coffee is
+
Thermal carafe has excellent heat retention
+
Dishwasher safe parts
Reasons to avoid
-
Must use knob to see settings
-
Thermal carafe hard to see to clean
For an impeccable cup of coffee, turn to OXO. The company is all about thoughtful design and they've nailed it with their OXO Brew line. Their first drip coffee maker, the OXO 9-Cup is one of just a handful of products that have been approved by the Specialty Coffee Association for meeting its rigorous Golden Cup Standards, which means the machine meets its standards for water quality, coffee-to-water ratio, grind/particle size distribution with a temperature between 195 and 205 degrees, and a brewing time of fewer than 8 minutes. Already a big tick!
The medium-capacity coffee maker is fully programmable with a single dial and sleek LED screen which displays your choices. BetterBrew Precision Brewing controls water temperature and optimizes your brew cycles for rich, flavorful coffee, while the rainmaker head even disperses water over the coffee grounds for better extraction. Each time, you'll find uniform results, where the water will heat to 197.6–204.8°F /92-96°C. A silicone mixing tube in the lid also helps blend the coffee when its brewing, to ensure the first cup is as good as the last.
This OXO makes a full carafe in under eight minutes. If you can't wait the whole time, there is a function that will momentarily pause brewing though. The OXO 9-Cup also has several convenient features, like the ability to designate your cup size to optimize brewing between a 2-4 cup brew or a 5-9 cup brew, a timer function to program up to 24 hours in advance, and a count-up timer, (up to 60 minutes) to let you know you how long the coffee has been ready for. The choice to use a thermal carafe is for durability, and it helps to retain the coffee's temperature well without any chance of burning it. The handle has a good grip so it should be comfortable to hold and is easy to pour, with no drips. It may be slightly more difficult to clean, since the mouth of carafe is pretty narrow, but it's benefits far outweigh this minor drawback.
2. Technivorm Moccamaster KBGV Select
Best luxury drip coffee maker
Specifications
RRP: $349-$369 / £199
Capacity: 10-cups/40 oz
Dimensions: 12 3/4"W x 6 1/2"D x 14"H
Water filter: No
Hot plate: Yes
Programmable: No
Reasons to buy
+
Brew both half and full carafes
+
Available in lots of colors
+
Extremely quiet
+
Long warranty and replacement parts readily available
Reasons to avoid
-
Set up and installing takes a little getting used to
-
Plastic parts feel flimsy
If you're after a smooth cup of coffee, the luxurious Technivorm Moccamaster KBGV Select gives us that feeling and is as close to an automatic pour-over coffee as you can get. The iconic machine is really fuss-free with the intention of putting the coffee it brews center stage. It only has two switches: the power button and the option to choose between a full or a half carafe, which makes it easy to use. And we loved its unique design and how many colors there were available to choose from.
But what makes the Moccamaster KBGV Select worthy of its steep $350/£200 price tag? The machine is also hand-assembled in the Netherlands and utilizes a unique copper heating element (opposed to aluminum) that rapidly helps water reach its perfect temperature. The hot plate also knows to shut off automatically, and maintains the coffee temp in a steamy range of 175ºF-185ºF without burning it.
If you like to drink coffee every day, we think it'll soon pay for itself, especially since it's designed to last a long time. It has a 5-year warranty in case the machine malfunctions, and replacement parts are readily available—but we've heard of people going strong with their Moccamaster 10-15 years down the road. Technivorm as a company emphasizes its commitment to sustainability and many plastic parts are recyclable, which is probably why some of the lids and brew-basket felt a little flimsy.
3. Black+Decker 12-Cup Thermal Coffeemaker
Best budget drip coffee maker
Specifications
RRP: $70 / £141 (UK delivery is more expensive as it is a US product)
Capacity: 12-cups/60 oz
Dimensions: 8" x 11" x 11.5"
Water filter: No
Hot plate: No
Programmable: Yes
Reasons to buy
+
Thermal carafe more durable than glass
+
Programmable
+
Adjustable brew strength
Reasons to avoid
-
No water filter
-
Lid needs to lift up to fill, meaning it might not be great under cabinets
While some coffee machines can cost hundreds of dollars, we've found this Black & Decker 12-Cup Thermal Coffeemaker is poised to keep up even at a lower price, offering many of the features you might seek from a high-end machine.
The machine lets you control brew strength and the Evenstream Showerhead dispenses water over coffee grounds evenly for better bloom and flavor. The digital controls that display the time are easy to read. It's pretty straightforward to brew a smaller batch of 1-4 cups, choose brew strength from regular, strong, and bold, and the count-up timer that indicates how much time has passed since the coffee was brewed is very handy, and lasts up to 120 minutes (a full hour longer than the OXO, our top pick.)
The roomy 12-cup thermal carafe is durable, keeps coffee warm for hours, is easy to handle, has a drip-free pour spout, and has an ultra-wide mouth for hassle-free cleanup. Typically, we see thermal carafes costing much more than their glass counterparts, but that's not the case here, so you're arguably getting a bit of a bargain with the best drip coffee maker for those on a smaller budget.
4. Cuisinart PerfecTemp Coffeemaker, 14 Cup
Best large drip coffee maker
Specifications
RRP: $119.95 (US only)
Capacity: 14 cups
Dimensions: 10.13 x 10.75 x 16.38 inches
Water filter: Yes
Hot plate: Yes
Programmable: Yes
Reasons to buy
+
Programmable up to 24 hours
+
1-4 cup options
+
Comes in several different finishes
Reasons to avoid
-
Pouring spout difficult to pour coffee out of
-
Slower to brew
Whether you have a large family, or you generally need a vat of caffeine to get you through the day, we think you'll enjoy the Cuisinart PerfecTemp Coffeemaker. After all, 14 cups in one machine is quite substantial, even economical.
It's available in several metallic finishes from stainless steel to rose gold. The backlit LCD is easy to read, and here you'll be able to choose between a brew strength of Regular or Bold, simply adjust the temperature to your liking and program it up to 24 hours before. The control panel looks pretty packed, but the machine itself is not difficult to use. It also has an indicator light to let you know when it's time to descale, and a cleaning button to run cleaning cycles. It can be a little difficult to access the water tank to pour in water, with some online users saying you need to hold the carafe at a 90-degree angle to pour out the coffee.
Due to the size, a brew takes about 14 minutes, which might be longer than some are willing to wait. Luckily, there is a brew-pause feature if you're getting antsy for that first cup of piping hot coffee though. And for times when you require just a little cup of coffee, the machine also has a 1-4 cup feature. The machine also includes a gold-tone permanent coffee filter and a charcoal water filter.
5. Ninja Hot & Cold Brew Coffee Maker
Best drip coffee maker for iced coffee
Specifications
RRP: $199 (US only)
Capacity: 10-cups/40 oz
Dimensions: 15" x 10" x 11"
Water filter: No
Hot plate: Yes
Programmable: Yes
Reasons to buy
+
Makes hot coffee, single-serve, lattes, tea, cold brew and more
+
Built-in milk frother and measuring spoon
Reasons to avoid
-
4 oz. specialty brew is more like a coffee concentrate, not true espresso
-
Have to preheat milk for milk frother
If you're just as obsessed with cold brew as we are, you're going to want a machine that can handle the best of both worlds. The Hot and Cold Coffee Maker from Ninja (the brand behind some of the best blenders on the market at the moment) is the one—bringing you the joys of hot, iced, or cold brew coffee basically on demand.
This Ninja machine is one of the most versatile machines out there. Choose six cup sizes from a single-cup to a whole 10-cup carafe and the ability to brew Classic, Rich, Over Ice, Cold Brew, or Specialty. It's also quite the champ with making tea too, according to the type that you are brewing. The display is pretty clear, and it's easy to switch between options if you fancy different drinks throughout the day. While some of the above functions may be self-explanatory, the cold-brew option turns a typical day-long process into a treat in just 15 minutes. And the specialty brew dispenses a super-concentrated 4 oz. beverage for making lattes and cappuccinos at home.
6. Breville Grind Control Coffee Maker
Best drip coffee maker with a built-in grinder
Specifications
RRP: $329 (US only)
Capacity: 12 cups/ 60 oz.
Bean Hoppper: 1/2 lb.
Dimensions: 12.5" x 8.5" x 16.3"
Water filter: No
Hot plate: No
Programmable: Yes
Reasons to buy
+
Single-Serve/ Travel cup option
+
Interesting design
+
5 grind options
+
Bean to cup
Reasons to avoid
-
Pricey compared to models from brands like Black+Decker
-
Needs to be cleaned often
For the bean to cup experience, we recommend the Breville Grind Control Coffee Maker, which offers 5 grind settings to help you brew the freshest coffee possible right into your 12-cup thermal carafe. There's also a calibration feature to suit the different kinds of beans you use. Turn the dial to choose how much to brew, from 8 oz. to a whole carafe, with increments increasing by the ounce. From here, the machine doses the perfect serving, according to your desired strength level, up to eight settings. Here you don't need to consider the perfect water to bean ratio, it does it for you. And while the coffee is grinding, the machine is pre-heating to waste no time.
It can be programmed to be ready just when you want it. It's quite easy to fill the top water tank, and the brew basket easily swings out from the front to make cleaning the grounds fuss-free. Just don't forget, the filter—permanent or paper—needs to be cleaned each time (see our guide to how to clean a coffee maker here). And if you ever want to just use pre-ground coffee, that's an option too.
Before you go ahead and buy a grind and brew-style coffee-maker, know that they typically require more care and attention to keep them a well-oiled machine, as beans stuck in the grinder can cause a big headache. The machine uses a flat burr grinder that needs to be regularly cleaned to prevent blockages.
7. Smeg drip filter coffee machine
Best stylish drip coffee maker
Specifications
RRP: $249 / £199
Capacity: 10 cups/ 50 oz./ 1.4L
Dimensions: 9 3/4" x 10" x 14 1/4"
Water filter: No
Hot plate: Yes
Programmable: Yes
Reasons to buy
+
Fun, retro design available in many colors
+
Programmable up to 24 hours in advance
+
Makes delicious coffee too
+
Warming Plate goes for 60 minute
Reasons to avoid
-
Pricey
-
Little tricky to fill up water tank
The retro-styled Smeg drip filter coffee maker is one that will always look stylish in your kitchen, no matter what the latest kitchen trends are. The eye-catching design is a great choice if you want your coffee maker to be a focal point of your kitchen (some of us love to highlight our coffee habits) or match other Smeg appliances you have. The cheery-looking machine is exactly how we want to start our days. The programmable machine can brew up to 10 cups of coffee at a time, with the option for a 4-cup function for lighter coffee days. New updates to the machine include an extended "Stay Warm" function for up to 60 minutes after brewing, with the option to turn off the beeping at the end of a cycle, and an anti-drip system.
The Smeg drip filter coffee maker comes with a permanent filter, but you're also welcome to use paper ones if you prefer. It also has an aroma intensity function to adjust the strength, and an adjustable water hardness feature to brew the best quality coffee based on your local water. It does not have a water filter. From our experience with the machine, the water tank is a little awkward to fill up, because the lid doesn't seem to open far enough to easily pour the water in. It's not a deal-breaker by any means, just takes a little patience.
8. Keurig K-Supreme Plus Coffee Maker
Best single-serve drip coffee maker
Specifications
RRP: $189.99 (US only)
Capacity: 78 oz.
Dimensions: 13.35" x 8.31" x 12.24"
Water filter: Yes
Hot plate: No
Programmable: Yes
Reasons to buy
+
Coffee over ice setting
+
Adjustable temperature and strength settings
+
Makes up to 9 beverages before needing to refill the 78 oz. water tank
Reasons to avoid
-
No instructions for installing water filter
-
Pods can be wasteful if not properly disposed of
If it's just you at home, or you love the convenience of pod coffee, we really like the Keurig K-Supreme Plus. After using several single-serve machines, such as the best Nespresso machines, it's still the machine we turn to on days when we just need a quick fix. The stainless steel design makes the most of its small footprint, incorporating a removable 78 oz. water tank for up to nine 8 oz. cups of coffee. It even has an option to add in a water filter.
Now, Keurig really stepped up its brewing process with the introduction of Multi-Stream technology that makes for a much more robust brew. Now, five needles are punched into the K-cup, as opposed to just one in the center, which creates better water saturation over coffee grounds, like a rainfall effect, for better-tasting coffee and even stronger aromas. Plus, the K-Supreme Pro lets you customize cup size, coffee strength and temperature. Up to three users can program their favorite settings so you can essentially be on autopilot when you're preparing your morning brew.
It also offers an over-ice setting, which brews the coffee at a slightly lower temperature over ice for perfectly chilled coffee. You can't adjust the cup size for this though, as it's pre-determined.
How to choose the right drip coffee machine for you
As you have likely noticed, there are so many factors that go into choosing a coffee machine for your personal needs. Consider the following things that could make or break your top pick:
Size—how many cups does it make? How much coffee do you drink in a day and how many people will be drinking it? Where will you be placing it? Will it fit under your cabinet?
Coffee filters—most machines let you choose between permanent and paper filters according to your brewing preferences. It's worth it to check and see if the machine you're interested comes with a permanent one. Permanent filters are easily washable and considered more sustainable. People who love paper filters may argue that they get a smoother brew (no grit), but you do have to remember to keep them on hand, and they are a recurring cost.
Settings—some may want a simple machine while others love having options for different brew settings, drink styles, and temperatures.
Programmable—if you want your machine to wake up ahead of you and have the coffee hot and ready by the time you get to the kitchen, look for a coffee maker with this capability. These machines will always have a display of some sort to show the time.
Glass versus thermal carafe—this comes down to preference. Glass lets you easily see just how much coffee is left. However, glass is more fragile and is always paired with a hot plate. Varying on the machine, the hot plate might continually stay on until you manually shut it off, or be on a time. Some people love hot plates, others think it keeps their coffee hot to the degree that it is now burned. Thermal carafes are considered more durable and there's no chance that you'll burn your coffee or forget to turn off a hot plate. Some are better at retaining heat than others, and it's harder to gauge how much coffee is left in the pot. Machines with thermal carafes are usually more expensive than glass.
Water filter—are water filters important to you? If you have readily available filtered water, this may be a feature you can skip.