How to clean a coffee maker—according to each type of machine
Learning how to clean a coffee maker is an essential skill to master so we've broken it down into easy steps, for each type of machine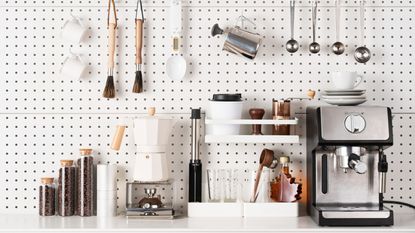 (Image credit: Getty Images)
Mastering how to clean a coffee maker is an all-important part of ensuring it produces delicious drinks and remains in tip-top condition. We all strive to brew that perfect barista-style coffee at home, and a state-of-the-art coffee machine is now a common sight in our kitchens.
But, just like with other kitchen appliances and kitchen gadgets, without proper maintenance, a coffee machine can soon start to collect dirt, limescale, and bacteria—making your once heavenly hot drinks far less satisfying. As in cafes and coffee shops, the key to preparing a creamy cappuccino, mouthwatering mocha, or whichever coffee trend is on your list, is not only the coffee bean quality, but using a squeaky clean and competent coffee maker for the job every time.
If you're planning a deep clean for your home appliances, you might also want to check out our cleaning guides on how to clean a washing machine, how to clean an oven, and how to clean a microwave.
What you need to clean a coffee maker
No matter what type of coffee machine you own, you'll need a few handy tools to make sure the clean is easy, fast, and meticulous.
You will need:
damp cloth
descaling solution or vinegar
warm soapy water
washing-up brush or supplied coffee machine brushes
pipe cleaners
kitchen roll or paper towel
How to clean a coffee maker—a step-by-step guide
How to clean a coffee maker most effectively may vary depending on the type of coffee machine you own. Each design has a slightly different coffee-making process and selection comes down simply to personal taste and budget.
Pod or capsule coffee machines are easy and convenient. Filter or drip coffee machines are classic and budget-friendly, while bean-to-cup and Espresso machines are high-end and slow-brewing, but it's well worth the wait for that perfect cup of coffee. Every coffee machine will have a set of specific cleaning and maintenance instructions included within the packaging and can usually also be found online.
Here's how to clean a coffee machine to coincide with the manufacturer's advice, whatever your chosen coffee machine is (if you're in the market for an upgrade, you might want to check out our guide to the best coffee machine deals or, more specifically, best Nespresso coffee deals).
How to clean a pod or capsule coffee maker
Pod coffee makers are arguably the easiest coffee machines to clean.
Components such as the water jug, tray, and capsule holder may come out so wash these in warm soapy water and dry. It may be possible to add them to the dishwasher cycle, but check it's safe to do so first (if you want to give yours a thorough clean beforehand, or afterwards, check out our guide to how to clean a dishwasher).
Double-check manufacturer instructions for any other internal cleaning instructions and how to descale (we'll come to that bit later).
Wipe down the main body, coffee nozzle, and any other exterior parts with a clean damp cloth and dry with a kitchen towel.
How to clean a filter or drip coffee machine
Maintaining filter coffee machines takes a little more effort as they need to be cleaned after each use. But don't worry, it soon becomes part of the coffee-making routine and you'll hardly notice the extra chore. The parts are often dishwasher proof too.
Remove and throw away the used coffee and filter. Remove both the filter basket and carafe and clean by washing up or adding to the dishwasher cycle (if dishwasher safe).
Once the hot plate has cooled down, wipe it with a clean damp cloth and dry with kitchen paper.
Wipe down the exterior of the coffee maker with a clean damp cloth and again dry with kitchen paper.
How to clean a bean-to-cup or espresso coffee machine
As well as general external cleaning, a high-end bean-to-cup coffee machine should have clever digital indicators that prompt you to clean when necessary. The hefty price tag also means they often require very little maintenance as most models include self-cleaning modes—genius!
That being said, bean-to-cup machines grind a new portion of beans for each cup of coffee so although they may have an automatic rinse function—a manual clean will also maximize longevity and taste.
Check the manufactures manual for any cleaning program directions that are built into the machine. These will require additional cleaning tablets that should be provided but then need to be purchased separately once used. Cleaning tablets should not be confused with descaling tablets or solutions.
As well as running self-cleaning modes, bean-to-cup machines should also be cleaned manually approximately once a month for optimum productivity.
Pull out the brewing unit, wash up, dry, and replace.
Remove and clean the steam wand preferably after each use to prevent clogging and bacteria build-up. Clean as per manual instructions with appropriate brushes that will be provided.
Tori Miller, small appliance expert at AO.com also suggests getting your hands on pipe cleaners. "Pipe cleaners can help to clean out the spouts as well as the steam wand (if you have one) to keep perfectly frothy coffees coming. Pipe cleaners are handy for cleaning inside the machine as well as getting rid of any excess coffee grounds that have built up in the corners."
Wipe down the external frame with a clean damp cloth and dry with a kitchen towel.
How to descale a coffee maker
Descaling a coffee machine to remove limescale build-up is a necessary part of maintenance to keep it running smoothly and efficiently. Without it, your coffee machine will soon become clogged, become noisy, start to leak, and generally make weak coffee—bad news for those of us who rely on our morning pick me up!
How often the coffee machine needs descaling depends on the amount of use it gets and if you live in a hard water area.
Descale a coffee machine using a chemical solution
Before you descale any coffee machine check the user manual first. The manufacturer will approve certain types and brands. Using a type that is not recommended may jeopardise the warranty.
Certain brands supply their own descaler created for specific models. Once purchased, follow the packet instructions.
For general all-purpose descalers follow our below instructions.
Half fill the water reservoir with water and add contents of sachet or required tablets.
Switch on the machine and allow half of the solution to filter through before switching off.
After approximately ten minutes switch the machine on to filter through the remaining solution.
Run the machine through twice again with clean water.
Descale a coffee machine naturally
For a more natural alternative, vinegar can be used to descale coffee makers. First, check the instructions for your model. If vinegar is ruled out you could damage your machine and affect the warranty. If it's fine to use the store cupboard super-hero, here's how as recommended by Aggie Mackenzie and Emma Marsden, authors of The Art of Vinegar and cleaning experts.
Add a 50:50 ratio of clear vinegar and tap water to the coffee machine water chamber and run the machine through a cycle, without coffee.
Repeat the process a couple of times, just with water.
Cleaning your coffee maker may take a little extra effort once a month but having an aromatic cup of coffee at home every day is worth the effort.
And, if you love a cup of tea, why not give your kettle the same TLC with our guide on how to descale a kettle?
Amy Hunt is an experienced digital journalist specialising in homes, interiors and hobbies. She began her career working as the features assistant at woman&home magazine, before moving over to the digital side of the brand where she eventually became the Lifestyle Editor up until January 2022. Amy won the Digital Journalist of the Year award at the AOP Awards in 2019 for her work on womanandhome.com.