These are the best Nespresso deals to shop—from coffee and espresso machines to capsule pods
The one-stop destination for Nespresso deals across retailers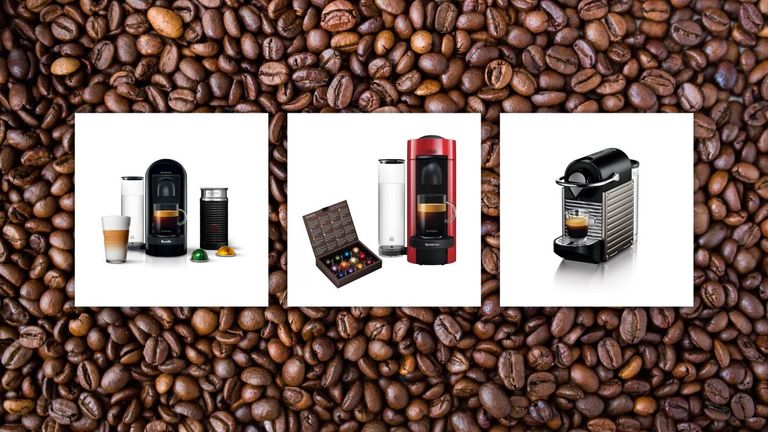 (Image credit: Future)
As expert deal hunters, we've hand-selected the best finds for Nespresso's top-rated coffee makers, espresso machines, and everything in between. With your convenience in mind, we regularly update this list of best Nespresso deals with new discounts as they hit the shelves.
Nespresso produces exceptional kitchen essentials—helping customers brew the perfect velvety blend every time. Luckily for you, there are plenty of Nespresso deals across different retailers—and these best coffee machine deals regularly pop up online—not just during shopping holidays.
But what makes the brand stand out? For starters, Nespresso machines are easy and convenient with pods/capsules. Available in standard, decaffeinated, and flavored varieties, these capsules guarantee the same, consistent taste and quality—meaning no fluctuations or surprises with your cup. This is especially great for beginners prone to human error or those who loathe bitter and acidic drinks.
Each machine is automated to adjust to the pressure, brewing time, and water temperature required for that type of drink. For creating a wider variety of frothy blends, you may want to invest in additional appliances. Otherwise, your favorite cup will be made with a simple touch of a button.
When it comes to manufacturing, Nespresso partners with Breville and DeLonghi in the U.S.; and Krups and Magimix across the pond in the UK and Europe.
The Best Nespresso Deals: Our Top Picks
To help you shop, we've rounded up the best Nespresso deals you can score right now.
But before you splurge, it's important to understand the brand's lines of machines and how they differ:
Nespresso Vertuo collection: suitable for shoppers who value versatility, innovation, and authentic taste
Nespresso Original collection: ideal for those who want hot drinks with simple, yet smart features included
Nespresso Vertuo machine deals
The Nespresso Vertuo line is relatively new, leveraging high-performance technology to curate more authentic tasting drinks. Compared to the Original line, these machines make larger cups, perfect for coffee, and produce a denser crema. Capsule variety is limited, and you can only use Nespresso Vertuo-specific pods; however, they seal in flavor for richer taste and quality. Moreover, Vertuo machines are similarly priced at around $200-$300 and are generally more affordable than originals.
Vertuo models are powered by Centrifusion technology, an extraction system to deliver high-quality coffee blends. This feature reads the barcode on each capsule and then adjusts to the perfect settings accordingly for the precision brew Mr. Coffee can't handle.
1. Nespresso Evoluo
The classic Vertuo for coffee and espresso
Specifications
Price: From $199/£276
Water tank capacity: 54 ounces
Power: 1350 watts
Warranty: 1 year
Reasons to buy
+15-second heat-up time+Versatile+Automatic off mode after nine minutes+BPA-free water tank+Color range: red, silver, titan, graphite metal, and black
Reasons to avoid
-May leak
The multi-purpose Nespresso Evoluo brews five drink varieties in a snap: 1.35 oz espresso, 2.7 oz double espresso, 5 oz Gran Lungo, 8 oz coffee, and 14 oz Alto. It's compact and lightweight, weighing 11 pounds. This machine integrates a large capsule container capacity (17 mugs to be exact), and a descaling alarm, thoughtful features that simplify drink prep. Shoppers can also buy this machine with The Aeroccino 3, which provides smooth, thinly textured milk froth for your drinks. In short, the greatest companion to your best coffee travel mugs.
2. Nespresso Vertuo
The retro-modern machine that launched Vertuo
Specifications
Price: From $199.99/£179.99
Water tank capacity: 40 ounces
Power: 1350 watts
Warranty: 1 year
Reasons to buy
+Versatile+Sleek profile+15-second heat-up time+Drip tray and movable cup support for tall glasses+12 capsule tasting pack included
Reasons to avoid
-Pods are pricey
The Nespresso Vertuo is nearly identical to the Evoluo in appearance, but with several variations. It has a smaller removable water tank, less container capacity for used capsules (13 mugs), and a lighter weight of 10.85 pounds. Nonetheless, it boasts coveted accouterments you'd see across Vertuo machines, including the bar code-reading technology. The tech enables capsules to spin up to 7,000 rotations per minute. Once brewing is complete, the machine automatically ejects the capsule.
Similarly, this machine brews five types of cups: 1.35 oz espresso, 2.7 oz double espresso, 5 oz Gran Lungo, 8 oz coffee, and 14 oz Alto.
3. Nespresso Vertuo Next
The brand's newest, smallest, and most versatile Vertuo
Specifications
Price: From $239/£149
Water tank capacity: 37 Ounces
Power: 1500 watts
Warranty: 1 year
Reasons to buy
+Comes in a variety of finishes: standard, premium, deluxe, and limited edition+Compact design+Sustainably made+20 second brew time
Reasons to avoid
-Sells out quickly
Vertuo Next is the first Nespresso machine made from recycled plastic, as the newest, most eco-conscious edition to the brand's roster. Though it touts a thin profile, this machine doesn't sacrifice performance. In fact, it's capable of brewing a vaster range of coffees, all the way up to an 18-ounce Carafe cup. Greater bandwidth = more drink options to enjoy.
Each Vertuo Machine comes with an Aeroccino3 milk frother for preparing cappuccinos and lattes. However, the drip tray may vary across SKUs.

4. Nespresso Vertuo Plus
The Vertuo machine for simplicity
Specifications
Price: From $149/£160
Water tank capacity: 37.1 ounces
Power: 1300 watts
Warranty: 1 year
Reasons to buy
+Available in 11 colors+Automatic machine head+Adjustable water tank position+10 pounds+20-second heat-up time
Reasons to avoid
-Sells out quickly
The Vertuo Plus brews up to 14 ounces of coffee, espresso, and double espresso delicacy drinks. Similar to other Vertuo models, this machine leverages a precise brewing system and is only compatible with Nespresso Vertuo capsules. However, it's available in additional colors and finishes, with deluxe options incorporating detailed chrome accents.
Additionally, the Vertuo Plus features an automatic opening head: an apparatus that easily inserts and ejects capsules. And since its water tank is adjustable, you can optimize your kitchen countertop space to include more of the best kitchen gadgets.
Nespresso Original machine deals
Nespresso Original is the brand's classic collection with a greater variety of machines and capsules. Nespresso Original machines brew smaller cup sizes; in order words: espresso, ristretto, lungo, and latte macchiato drinks.
Unlike the Vertuo line, the Nespresso Original collection features two appliances with built-in milk frothers, the Lattissima and the Creatista. The Original machines operate on a traditional, pressure-based system, where the capsule's top is ruptured and forces in hot water until the bottom collapses. Overall, this line varies in price, covering a wide spectrum of budgets upwards of $800.
5. Nespresso Creatista Plus
The premium espresso machine for creating latte art
Specifications
Price: From $599/£450
Water tank capacity: 50.7 ounces
Power: 1600 watts
Warranty: 2 year
Reasons to buy
+Robust+3-second heat-up time+Option to program cup sizes+Auto clean system+High-pressure pump (19 bar)
By design, the Nespresso Creatista Plus allows users to replicate barista-crafted Latte Art and drinks from home. It features an elevated stainless steel finish, designed to withstand scratches and abuse. Not to mention, the Plus integrates an easy-to-use interface and digital display—guiding both beginners and experts in prep and maintenance.
Caffeine drinkers will appreciate this appliance's sturdy steam pipe, which is ideal for frothing milk and giving it texture. They'll also come to love its milk jug with a pour spout, included specifically for creating quality micro-foam. And the perks don't end there: The machine includes a descaling alarm, sliding drip tray, and an adjustable setting for meeting any cup size.
6. Nespresso Lattissima One
The compact milk machine for creating espresso, latte macchiato, and cappuccino drinks
Specifications
Price: From $379/£176.51
Water tank capacity: 33.8 ounces
Power: 1300 watts
Warranty: 1 year
Reasons to buy
+Includes programmable water hardness+Automatic frother included for specialty drinks+Lightweight (under 10 pounds)+Durable construction
Reasons to avoid
-Limited milk container
We get it. Unless you're an experienced barista, espresso curation is difficult, and visits to Starbucks add up. Fortunately, the Nespresso Lattissima One crafts frothy, velvety milk creations—with a simple one-touch button. This operation is powered by a 4 oz milk container, which consistently guarantees a top-quality cup that's ample in flavor.
The Lattissima One is compact and sleek in design, serving as the perfect space-saver for apartment dwellers. Additionally, it's a breeze to clean: just toss the water tank and milk jug in the dishwasher.
7. Nespresso Lattissima Pro
The do-it-all machine that prepares nine espresso and coffee recipes
Specifications
Price: From $599/£324
Water tank capacity: 34 ounces
Power: 1300 watts
Warranty: 2 year
Reasons to buy
+Digital multi-language display: pre-programmed options+Programmable water hardness: soft, medium, and hard+Folding dip tray+Semi-auto cleaning function+Automatic frother included+Used capsule container: 15 capsules
Reasons to avoid
-Expensive
Nespresso's Lattissima Pro is the twin sister of the Lattissima One, just a tad smarter and more capable. Though similarly compact and sleek in design, the Pro offers a large 16-ounce milk carafe capacity. During the extraction process, the integrated carafe freshly adjusts and dispenses milk for a perfect cup every time. The milk unit itself can be refrigerated, which helps preserve drink quality and flavor.
Still, it's simple to use, thanks to an intuitive digital touch display where you can even change the language preference.
8. Nespresso Gran Lattissima
The newest and most modern of Nespresso's Lattissima line
Specifications
Price: From $599/£349.99
Water tank capacity: 44 ounces
Power: 1300 watts
Warranty: 2 year
Reasons to buy
+Robust+Sliding drip tray+Features cappuccino, caffé latte and latte macchiato functions+Available in both matte and glossy finishes
This Gran Lattissima does way more than its peers because of the machine's digital touchscreen display, which boasts a larger spent capsule capacity and additional preset beverage recipes. Beyond espresso and lungo, these recipes include hot foam, hot milk, cappuccino, latte macchiato, caffé latte, and flat white. Yes, it's expensive, but you'll end up saving in the long run. Greater performance means you can finally part ways from coffee shop splurges.
9. Nespresso CitiZ
The retro-inspired Nespresso machine
Specifications
Price: From $299/£183
Water tank capacity: 33 ounces
Power: 1710 watts
Warranty: 1 year
Reasons to buy
+Lightweight design+Quick heat-up time+Automatic off-mode+Can bundle your buy with the Aeroccino 3 milk frother +Under nine pounds
Reasons to avoid
-Manual capsule insertion and ejection
Don't let the petite size of the Nespresso CitiZ machine fool you: It's a dependable appliance that crafts the perfect single-serve coffee or espresso every time. Not to mention, it conserves speed and energy, leveraging an expedient heat-up system and power-down function that works after nine minutes of inactivity (and can be extended!). Once the job is complete, you can simply remove the capsule container, drip tray, and water tank and place the trio in the dishwasher.
10. Nespresso Essenza Mini
The most compact espresso machine
Specifications
Price: From $149/£70
Water tank capacity: 20 ounces
Power: 1150 watts
Warranty: 1 year
Reasons to buy
+Wide color variety+Affordable+Easy to use
Reasons to avoid
-Limited to two cup sizes
The Nespresso Essenza Mini is ideal for those who are either confined to limited space or want an inexpensive first foray into espresso-making. With simplicity at the forefront, this machine offers two programmable cup sizes: espresso and lungo.
Despite its diminutive size, the machine isn't limited in performance. Users will enjoy a high-pressure pump, one-touch operation, quick heat-up, and automatic power-down mode as with every Nespresso machine.
11. Nespresso Creatista Pro
The most premium Nespresso machine
Specifications
Price: From $799/£649
Water tank capacity: 68 ounces
Power: 1500 watts
Warranty: 2 year
Reasons to buy
+Hot water option included for tea+Option included to program cup sizes+3-second heat-up time: dual ThermoJet™ heating system+Steampipe included for frothing milk+Descaling alarm
Reasons to avoid
-Expensive-On the heavier side: 15 pounds
The Creatista Pro is innovative in how to prepare and create café delights, using smarter design features that elevate the process beyond conventional means. Unlike its predecessors, this machine integrates a vibrant, LCD color touchscreen, which allows users to swipe up and down their preferences. Furthermore, it features a built-in milk frothing system and automatically adjusts based on coffee volume, hot water volume, and milk temperature. Drink beverages include ristretto, espresso, lungo, Americano, flat white, cappuccino, café latte and latte macchiato.
Nespresso pods deals
12. Nespresso pods and capsules
Available in individual servings, packs, and specialty assortments
Reasons to buy
+Vast flavor variety+Bundles offered+Compatible with all Nespresso machines
Every great Nespresso machine is powered by a single-serve pod/capsule, which delivers the elevated taste and aroma you'd typically enjoy from a barista. Shoppers can order one online or invest in large-scale packs, with 40 to 120 options included. Stick to traditional flavors of indulgence, or expand your palate with offerings like Vanilla Eclair, Caramel Creme Brulee, and Cocoa Truffle.
Dominique (Dom) is a very online shopping writer at Woman & Home, where she covers products, sales/deals, and market news across categories. Before joining the team, she penned stories as an editorial fellow at Insider Reviews, the affiliate commerce team at Insider Inc./Business Insider. The bespectacled NJ transplant specializes in commerce journalism, women's lifestyle content, and hoarding makeup—much to her mother's dismay.
Her foray into storytelling began in the early aughts, the era in which she developed a passion for fiction writing and an aversion to math. This passion, along with many failed math exams, led her to Marist College, where she studied public relations, creative advertising, and English.
Aside from writing, she doodles in notebooks, crafts memes, and sleuths for homes out of her tax bracket on Zillow. Follow her adventures via the web:
Instagram: @domimcintee / @drugstoredomi
LinkedIn: https://www.linkedin.com/in/dominique-mcintee-3a32ab9a/
To connect: dominique.mcintee@futurenet.com