40 of the best 40th birthday gift ideas for women and men in 2022
Our edit of 40th birthday gift ideas will help you find the right way to commemorate this significant milestone for a special someone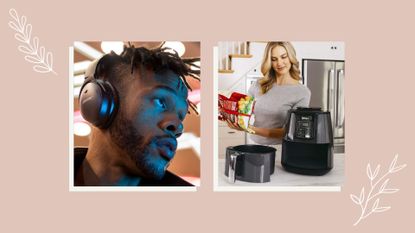 (Image credit: Future)
Our list of 40th birthday gift ideas features thoughtful, practical items geared toward people who have a much better idea of who they are and what they want out of life. Once associated with being 'over the hill,' turning 40 is now a celebration of new beginnings and embracing a life well-lived thus far.
Whether they're your significant other, friend, sibling, or work colleague, you'll find the perfect 40th birthday gift idea for them in our guide below. We have a list of 50th birthday gift ideas to peruse, as well, if you know someone who is approaching that milestone. (Several of those items may be fitting for a soon-to-be 40-year-old, too.)
The best 40th birthday gift ideas
Our edit of the best 40th birthday gifts includes a range of items and experiences across multiple price points. From themed journals and DIY whisky kits to personalized video greetings recorded by celebrities, you're bound to find something that your gal or guy will be thrilled to receive.
Of course, that's not to say you shouldn't buy them anything that overtly declares their official passage into their forties. Our list includes those items as well, but they celebrate turning 40 in a way that's both tasteful and sentimental.
Where to find the best 40th birthday gift ideas
To help steer you in the right direction, here are a few storefronts worth exploring for gift ideas:
40th birthday gift ideas for women
40th birthday gift ideas for men
Is there a traditional gift for a 40th birthday?
A traditional gift for a 40th birthday (or anniversary) is a ruby. Queen Elizabeth celebrated her 40th year on the throne with a Ruby Jubilee in 1992. (She's now celebrated her Platinum Jubilee this year, 30 years later.)
Ruby signifies wealth, prosperity, and courage. This vivid red gemstone is also the birthstone for July, so if your recipient's birthday falls within that month, it becomes an even more fitting present.
You can gift your partner or loved one a ruby pendant, bracelet, or a pair of ruby studs if you want to buy some jewelry to mark the occasion. However, if they're not one for jewelry, you can still go the traditional route and purchase a ruby-colored item instead — for instance, glassware, a wallet, flowers or a leather-bound notebook.
What do you get someone for their 40th birthday?
The oldest millennials are either in or on the brink of their 40s. Millennials have a reputation for valuing experiences over material items – and a 2021 survey from StorageCafe (opens in new tab) about gift-giving trends confirms that's still the case. According to the millennials polled, 17% of them said experiences make the best gifts, followed by tech (13%), jewelry (9%), and household items (8%).
Based on the above data, you'll truly impress your middle-aged millennial with an experience gift like an online class, weekend excursion or virtual meet-and-greet with a beloved celebrity. However, if you insist on giving something tangible, a practical gift will suit, whether it's a high-tech activity tracker or a table-top pizza maker.
What else do millennials enjoy? Nostalgia (just think of all the franchise reboots and retro product re-launches that currently exist). Of course, as we grow older, we're naturally inclined to think of 'the good old days,' anyway. Thus, a gift that harkens back to older millennials' youthful, carefree days of the '80s and early '90s is bound to hit the right notes.
As for milestone-specific gifts, you'll go far with something subtle. No longer is turning 40 a sure sign you're becoming 'old'—in fact, 4 in 10 adults view their 40s as a fresh start according to research from South West News Digital (opens in new tab). But keep in mind that everyone is different. If you know for sure that your recipient isn't ready to accept the fact that they're entering their fifth decade, avoid gifting them anything that expresses that sentiment, no matter how tasteful.
Freelance writer and editor
Alison Barretta is a freelance writer and editor from Philadelphia, USA who specializes in home and lifestyle, skincare, and tech. For the last 15 years, she has been sharing buying advice and product reviews with curious, cost-conscious shoppers from around the world. Alison's work has been featured in Forbes, Business Insider, Tom's Guide, TechRadar, and Creative Bloq.
When she's not reviewing mattresses or waxing poetic about her favorite face cleansers, Alison can be found teaching/training in martial arts, streaming underrated TV series, trying new recipes, and singing karaoke until her throat is hoarse.