Best UK staycations for 2021—the most beautiful places to visit in Britain
Put these beautiful UK staycations on your list for adventures closer to home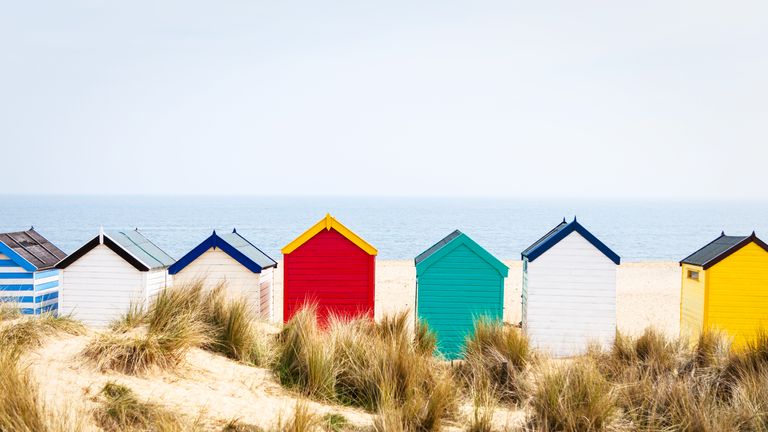 (Image credit: Getty Images)
While long-haul holidays do hold their own appeal, the best UK staycations can sometimes create the most memorable trips and even offer fun destinations to explore, which are often much more convenient and less costly—not to mention better for the environment.
From enjoying views of Scotland's magnificent highlands in one of the area's many lodges with hot tubs to exploring the lush green valleys of Northern Ireland (if you need further information we have a guide to the best Ireland trips), those with a taste for adventure needn't even board a plane in order to find somewhere a million miles away from the daily grind. It's no secret that staycations are firmly back on the map. There's a welcome nostalgia that comes with remembering the epic family road trips of our childhoods. In fact, a study conducted by Heathrow found that 79% of Brits had more fun holidaying when they were younger than they do now as adults—perhaps this relates back to our fondness of a simpler time when the world felt significantly smaller, and far-flung destinations weren't quite as much within our reach.
With sustainability front of mind for many of us, reducing air miles is a common goa—and opting for a family staycation in the UK can make a lot of difference. A 2020 study conducted by Carbon Footprint Ltd found that a flight from London to Paris for a family of 4 emits 220kg of CO2, while a train journey from London to Manchester emits an average of 48kg of CO2. And with the best UK staycations offering such a variety of landscapes, there does seem little reason to dust off the passport, aside from, perhaps, the unreliable British weather. From wild coastal landscapes to stunning hilltop views and chocolate-box villages, here's our pick of the best UK staycations.
Essential Cabin Suitcase: £530 | Rimowa
Sponsored
If you want something sturdy to pack all your essentials in while you go on your tour of the best UK staycations, this hard-shell suitcase won't let you down. We love the choice of colours available - with this white option one of the chicest. The lightweight feel makes it easy to carry around but the 22x16z10in size will fit in your best jeans so you can take outfit choices with you. And there might even be room left for your best walking boots too!
The best UK staycations to take this year
1. Portloe, Cornwall
Sitting at the tip of the Roseland Peninsula, and one of the prettiest villages in Cornwall, Portloe is home to several steep-sided valleys with cliffs that tumble down into the sea. Its photogenic good looks are one of the reasons it's one of our best UK staycations and they have seen the destination star as a film location over the years, in the likes of steamy drama The Camomile Lawn. Portloe has managed to escape development over the years, with most of its buildings retaining their original features - and charm.
Smuggling was rife here in the 18th and 19th centuries, with fishermen bringing home French brandy and hiding it in various coves. Today, more legal pastimes include visiting the picturesque Caerhays Castle, or the nearby fishing town of St Mawes. A feast for the eyes, as well as the tastebuds, we can think of few places where we'd rather enjoy a seafood platter overlooking the sea. And you could even bring along your favourite induction pan and one of the best portable induction hobs for your staycation so you can cook up some fish in your rental home.
Where to stay: Surrounded by cliffs and windswept headlands forming a beautiful part of the Cornish Coastal Footpath, The Lugger Hotel sits in the heart of Portloe, right on the water's edge. Its 22 bedrooms are tastefully decorated, and its restaurant serves local fish and seafood. The hotel's terrace is truly spectacular - especially in the summer months.
2. The Jurassic Coast, Dorset
Made even more famous by its starring role in the acclaimed ITV drama Broadchurch, the Jurassic Coast – a World Heritage Site – is simply jawdropping. And its coastal path, perfect for walkers of all abilities, affords views as far as the eye can see.
As the name suggests, it spans 185 million years of geological history; the area around Lulworth Cove contains a fossil forest, and at Lyme Regis, dozens of different rock strata have been identified. But mainly, it's one of our best UK staycations as it's just an utterly glorious place for a stroll or a sunbathing session.
Where to stay: The Castle Inn in West Lulworth started life as a traditional, thatched-roof hostelry in the 16th century, and today features 12 individually designed bedrooms, a relaxing bar and a popular restaurant, just five minutes away from Lulworth Cove itself.
3. Aberdeenshire, Scotland
Fancy embarking on a Scotland road trip this year? Make sure that Aberdeenshire is on your list—it's one of the most beautiful places in Scotland. There's something magical about a trip to the Scottish Highlands. Always inspiring awe and wonder, it's unlike any other place on earth. This part of the highlands is the perfect destination for discovering Scotland's rich history, housing the historic counties of Aberdeenshire and Kincardineshire, as well as part of Banffshire. You're never far from the water in lush Aberdeenshire, with a number of rivers running through the area, including the River Dee, River Don, and River Deveron as well. It's also the best place in Scotland to spot dolphins!
If you want to stop off at a few different destinations, the North Coast 500, also know as Scotland's 'Route 66' offers incredible landscapes. The route starts in the city of Inverness, then weaves along the west coast to Applecross, and then on to the towns of Torridon and Ullapool.
Where to stay: For something truly spectacular in a remote location, head to Glen Dye Cabins and Cottages. These eco-friendly cottages are housed within a 30,000-acre estate, consisting of forest and moorland on the banks of the River Dye. For those who want to be truly immersed in nature, this is the place - it will definitely make this one of the best UK staycations you've ever been on.
But let us be clear; a stay at Glen Dye certainly isn't roughing it. These luxury cabins have all the latest gizmos and gadgets, as well as some thoughtful interiors touches. Each lodge, from the small bothy to the larger lodges, is in its own secluded spot and as a guest at Glen Dye, you get access to the Glen Dye Arms – their BYOB pub – and you can purchase their eggs and vegetables grown in the gardens.
4. Holkham, Norfolk
Frequently voted best beach in the UK, Holkham is rightly known as the jewel of the North Norfolk Coast so is of course one of our best UK staycations; at low tide, it stretches for miles, and you can walk in a blissful, unspoilt landscape of just sand, sea and sky. As part of Holkham National Nature Reserve, the beach is also home to large flocks of wintering birds and is an important site for breeding little terns, ringed plovers and oystercatchers.
In the summer, the dunes are carpeted with yellow flowers that attract beautiful butterflies; could anything be more idyllic?
Where to stay: The elegant, 20-bedroom Victoria Inn is located within a privately owned estate with 600 acres of parkland, fallow deer herd and abundant wildlife. At the centre of the estate sits Holkham Hall, an 18th-century mansion that's now lived in by Thomas Coke, 8th Earl of Leicester. Aside from the picturesque setting, the real draw to The Victoria is the food. Among the inviting seasonal menus are a few local treasures, including Galloway beef from the estate's very own herd.
5. Castleton, Derbyshire
The Peak District is one of the most beautiful places in the UK—and the first National Park to be established in 1951 out of the total 13 National Parks in England, Ireland, and Wales. For keen hikers, the Peak District National Park consists of three peaks—the Dark Peak, White Peak, and South West Peak. The Peaks have challenging but rewarding terrain, with some of the most stunning views of the midlands. On route, you'll spot stunning wildlife, manicured hedges, pastures, and farmland, as well as hidden coves and valleys, and natural springs. Castleton is just one of the many beautiful villages in the Peak District, and a great one to visit for its bustling farmers market and cozy pubs. Plus, nearby there's the legendary Doncaster Racecourse, with numerous festivals throughout the year, including the iconic Cazoo St Leger Festival—the UK's oldest and most classic racing event, where you can enjoy a glass of champers while placing your bets and a spot of afternoon tea for a quintessentially British afternoon.
Where to stay: It would only be appropriate to stay in a traditional village pub for your Peak District minibreak, and luckily there are plenty to choose from. The aptly named Peak Hotel, which is just off Castleton's main street, is a stone-built village pub with plus rooms, right by the medieval ruins of Peveril Castle.
6. Grasmere, Lake District
Literary lovers; this is the place for you. Born in Cockermouth, just north of the Lake District National Park, William Wordsworth moved to the small town of Grasmere in 1799, where guests and neighbours included Samuel Taylor Coleridge and Thomas de Quincey. As well as being steeped in history, this beautiful area offers incredible landscapes in all seasons, which makes it one of the best UK staycations. We particularly love this picturesque spot in autumn.
He wrote his most famous poem, Daffodils, after taking a walk with his sister Dorothy in the woods. He was inspired by the area's beautiful "vales and hills", as well as by the distinctive golden flower that bloomed there every spring. There are plenty of walks and trails that evoke his former life here, such as the Rydal Water Walk, which starts in the churchyard where he is buried, and passes his old homes, Dove Cottage and Rydal Mount.
Where to stay: Former Georgian mansion house Storrs Hall sits on the shore of Lake Windermere, and Wordsworth himself has stayed here, so you can soak up the literary atmosphere.
7. Lavenham, Suffolk
The medieval village of Lavenham, built by wealthy Tudor wool merchants, is the epitome of a charming chocolate-box village in the heart of Suffolk, full of half-timbered houses. There are plenty of picturesque walking trails, including one that takes you to Sudbury, the birthplace of the artist Thomas Gainsborough.
Where to stay: The Swan at Lavenham is situated in one of the village's medieval buildings, where exposed beams, leaded windows, and tapestry hangings provide a sense of history and charm.
8. Guernsey, the Channel Islands
April 2019 sees the reopening of one of the most fascinating former writer's homes, Hauteville House, in St Peter Port, where the French poet and author Victor Hugo spent 15 years while in exile from his homeland. It was here, from his writing room at the top of this eccentrically decorated structure, that he penned Les Misérables, among other novels, facing a view that looked across the sea to his beloved France.
Later novels, such as The Toilers of the Sea, were set in, and inspired by, the island's craggy landscapes; follow in his footsteps along the stunning cliff walk he regularly took, from St Peter Port to Fermain, or visit the statue in his honour at Candie Gardens.
Where to stay: The charming Bella Luce Hotel is set in a former Norman manor house in the quiet parish of St Martins, where they even distill their own gin.
9. Norfolk Broads, Norfolk
The Broads is a birdwatcher's paradise – the two standout rarities are marsh harriers and bitterns. The Broads also has a number of wonderful nature reserves that can be visited, such as the "floating" Broads Wildlife Centre on Ranworth Broad.
Where to stay: Exploring the Broads by boat means you can not only easily visit all the waterside wildlife centres, but you get right up close with the bird life. A three-night hire of a Jazz-class motor cruiser costs around £399 and sleeps two.
10. New Forest, Hampshire
It may be synonymous with small ponies, but there are plenty more cute creatures in the New Forest. Take a trip to the Wildlife Park and you'll spot plenty of adorable mammals, from the Asian short-clawed otter to the grey wolf, polecats, wild boar and lynx.
Where to stay: Grade II-listed Burley Manor is a restaurant with rooms that combines old manor house charm with a contemporary twist. Nestled in eight acres of grounds, it offers a peaceful sanctuary.
11. Amberley, West Sussex
This little corner of the South Downs is brimming with birdlife. From Amberley Wildbrooks – a wetland Site of Special Scientific Interest – to the Arundel Wetland Centre, you're likely to spot dozens of rare birds and wildfowl. In winter, Wildbrooks is one of the few remaining places you can still see Bewick's Swan; you might also spot a wigeon, teal and hobby. All you need is a pair of good binoculars, and you're off!
Where to stay: Amberley Castle, a restored, former medieval hunting lodge, boasts 19 luxurious bedrooms, 12 acres of beautiful landscaped garden, and an impressive, 12th-century, barrel-vaulted dining room. Entrance is through the original portcullis, and many other original features still remain.
12. Snowdonia, North Wales
The Snowdonia National Park is full of wild, sweeping landscapes, craggy hills and rocks, and home to Mount Snowdon. There are views for miles, and you can explore them on foot or by bike.
Where to stay: Luxury converted barn Clogwyn Barn sits on the western slopes of Snowdon itself, so there's no excuse for not trying to tackle it. It sleeps four and is dog-friendly too.
13. Hadrian's Wall, Cumbria
Tackling the 73-mile route along Hadrian's Wall – not necessarily all on the same day – will really clear the mind. A spectacular World Heritage Site, the route reaches from the North Sea to the Solway Firth across some of the wildest and most dramatic country in England. Particularly incredible are the views from the Birdoswald walk, dominated by remains of the Roman frontier and picturesquely set by the River Irthing.
This 30-mile section of Hadrian's Wall features the best preserved milecastle, a Roman fort and a priory made from stones found on Hadrian's Wall.
Where to stay: Tottergill Farm comprises a range of 10 exclusive holiday cottages sleeping between two and eight people, in the tranquil Cumbrian countryside, set on a private 46-acre estate.
14. Bridlington, East Yorkshire
The Bempton Cliffs Nature Reserve, located on the spectacular Yorkshire coast, is informally known as "seabird city", thanks to the half a million seabirds that gather here to raise their chicks every year between March and October. From courting puffins to swooping gannets, these chalk cliffs near Bridlington offer stunning wildlife encounters.
Cliff-edge viewing platforms offer the perfect vantage point to spot the birds, including gannets, guillemots, razorbills, kittiwakes and fulmars, while the much-loved puffin makes its home at the reserve between mid-April and July.
Where to stay: Book into a cottage in the sweeping grounds of Sewerby Hall, a Grade I-listed Georgian house. From here, you're close to the beach and a short drive from both Bridlington and the nature reserve.
15. Chipping Camden, Oxfordshire
Located right in the honey-stoned heart of the Cotswolds, this peaceful corner of English countryside is home to an array of lovely boutiques, shops and cafés – where cream teas are a must. The surrounding area offers walking routes, cycling and many more outdoor pursuits, allowing visitors to experience the area's picturesque charm.
Where to stay: The Cotswold House Hotel is an elegant base for anyone wanting to explore the area, with a spa on hand to soothe limbs tired from country walks.
Lauren is deputy editor at woman&home.com in the UK and became a journalist mainly because she enjoys being nosy. With a background in features journalism, Lauren has worked on the woman&home brand for four years. Before woman&home Lauren worked across a variety of women's lifestyle titles, including GoodTo, Woman's Own, and Woman magazine. After starting out working for a local paper in Yorkshire, her journalism career took her to Bristol where she hunted out stories for national papers and magazines at Medavia news agency, before landing a job in London working as a lifestyle assistant.
Lauren loves helping people share their stories, bringing experiences to life online, honing her interview techniques with everyone from authors to celebrities, headteachers to local heroes. As well as having a good nose for a story, Lauren has a passion for the English language and years of experience optimizing digital content to reach the widest audience possible. During her time at w&h, Lauren has worked on big brand campaigns like the Amazing Women Awards and assisted in developing w&h expert-approved Buyer's Guides—the place to go if you're looking to splash out on an important purchase and want some trusted advice. In addition to her journalism career, Lauren also has a background in copywriting for prestigious brands such as Inhabit Hotel, eco-development K'in in Tulum, social enterprise The Goldfinger Factory and leading London architect Holland Harvey, using language in all its glorious forms, from detailed guidebooks to snappy social content.
A big fan of adventure, Lauren is also a keen travel writer and loves sharing tips on where to find the best places to eat, drink, and be merry off the beaten track. Lauren has written a series of travel guides for London hotels and loves sharing her insights into a destination's cultural and culinary offerings. If you need a recommendation on any UK destination, she's more than happy to help. At the weekend, you'll usually find her hanging out with her pet cat (or anyone else's pet she can get her hands on), escaping to the countryside, or devouring a good book.
Follow her adventures @laurenkatehughes
Twitter: @laurenkhughes
LinkedIn: Lauren Kate Hughes
Email: lauren.hughes@futurenet.com