The best UK staycations 2023: Discover cosmopolitan cities, coastal walks, and innovative dining
Forgo flying to make the most of the best UK staycations for 2023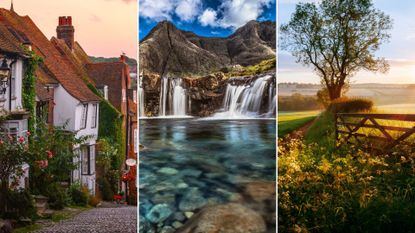 (Image credit: Getty Images)
With the best UK staycations offering such a variety of landscapes, there seems little reason to dust off the passport, aside from, perhaps, the unreliable British weather.
Discovering the best UK staycations was one of the positive outcomes of a difficult few years as the lack of global travel meant many of us explored - and fell in love with - vacation destinations a little closer to home.
Walking holidays in the UK became more popular than ever with the benefits of nature, and the benefits of wild swimming doing wonders for anyone struggling in times of uncertainty, while the popularity of forest bathing also soared. Luckily these activities are super accessible, and mostly free right here on nature holidays in the UK.
But don't worry, staycationing in the UK doesn't just mean being at one with the natural world. As well as life-enriching countryside escapes there's also a whole host of incredible cities, innovative restaurants, and cool art galleries to visit too.
From wild coastal landscapes to stunning hilltop views and chocolate-box villages, here's our pick of the best UK staycations...
Best UK staycations to take in 2023
1. Aberdeen, Scotland
When a Scottish adventure is in the works, it's often assumed the bright lights of Glasgow, rugged Highlands, or the historical city of Edinburgh will be the main event. And while they're all true jewels in Scotland's crown, the city of Aberdeen and the surrounding area often get overlooked. Deserving of a UK staycation in its own right, Aberdeenshire is filled with whiskey distilleries and whimsical castles aplenty, but another draw - especially for royal fans - is the fact that select scenes for The Crown season 5 were filmed here, so make like royalty by visiting some of the awe-inspiring castles in the area. Dunnottar Castle, perched precariously on the edge of a cliff looks like it belongs in a fantasy film, and wild dolphins occasionally swim in the ocean below it. Meanwhile, the rosy-hued UK castle of Fyvie is reminiscent of fairytales with its imposing demeanor that dates back 800 years.
Not far from Aberdeen city center is Footdee (known locally as 'Fittie'), one of the best places to visit in March for its wide selection of fresh seafood. This former fishing village is filled with pastel-colored cottages, boasts an old-world charm, and is home to The Silver Darling (opens in new tab) a restaurant with sea views specializing in delicious seafood platters, oysters, and plump local scallops.
Where to stay in Aberdeen: With its touches of tartan, huge beds, and roll-top baths, a stay at the Malmaison (opens in new tab) is a sound option. Double rooms start at $99 (£76) per night and can be booked here through Booking.com (opens in new tab)
Where to eat or drink in Aberdeen: A trip to Aberdeenshire wouldn't be complete without a tour of Glenfiddich (opens in new tab), the distillery where the world's best-selling single malt whiskey is made. As well as learning all about the distilling process and history of the brand, visitors get to sample a few wee drams of the good stuff once the tour is over. The distillery is open for tours every Wednesday through Sunday from 9.30am with the last tour departing at 3.30pm.
Travel tip: The Lemon Tree (opens in new tab) is a cozy venue with an upstairs lounge specializing in new, up-and-coming, and experimental arts - book ahead for gigs, plays, and comedy acts.
2. Over Haddon, The Peak District
Nestled within the gloriously underrated rolling peaks, equidistant from one of the most spiritual places in the world, and Bakewell's perfect puddings is Over Haddon, a tiny enclave where you can forget the rest of the world exists for a few days. This little village makes the perfect base to embark on a UK walking holiday with the Narnia-esque scenes of Lathkill Dale just a few kilometers away. And once you've worked up an appetite, the quaint market town of Bakewell draws famished hikers with its promise of hot Bakewell pudding and custard, The Old Original Bakewell Pudding Shop (opens in new tab) is the only place to get the real deal.
Majestic Chatsworth House (opens in new tab) is just a 15-minute drive from Over Haddon and warrants a good half day to see the house and its impressive grounds. Of late, Chatsworth has been getting a reputation for its innovative art displays, previously housing Five Centuries of Fashion, an exhibition in conjunction with Gucci. This year, Mirror Mirror: Reflections on Design at Chatsworth, runs from March 18 to October 1, don't miss it.
Where to stay in Over Haddon: Manor Barn is spacious enough for six adults and has been thoughtfully furnished with high-quality fittings and tasteful decor, making it a great option for a countryside celebration. Within the large garden hosts, Steve and Wendy have set up a cozy fire pit area where you can toast marshmallows and drink hot chocolate while stargazing in the clearest sky. Straight out of the front door are a number of breathtaking walks, so whether you fancy checking out mystical stone circles or taking a dip in a wild river, this gorgeous barn is your best bet - but get in there fast as bookings fill up sharpish. Manor Barn sleeps six adults, from $350 (£275) per night, book here through Airbnb (opens in new tab).
Where to eat or drink in Over Haddon: There's just one pub in Over Haddon but country house The Peacock at Rowsley is a short drive away and impresses with its extensive wine list, log fires, and local dishes. Headed up by Dan Smith who was trained under Tom Aiken, the menu changes with the seasons and boasts delights such as buttermilk fried quail and Derbyshire lamb. There are also 15 bedrooms, decked out with antiques and some with ancient wood-beamed ceilings, rooms start from $300 (£235) a night and can be booked directly with the house or through Mr and Mrs Smith (opens in new tab).
Travel tip: Don't forget your best hiking boots, the area around Over Haddon is a real walker's paradise.
3. Lyme Regis and the Jurassic Coast, Dorset
As you arrive at the coastal town of Lyme Regis, you realize pretty quickly why it's nicknamed the Pearl of Dorset. Sitting alongside crumbling cliffs on a perfect stretch of beach, it's an atmospheric place that's great for whiling away a long weekend and one of the best places to visit in April when the trees are blossoming and nights are lighter. The area is famous for the fossils found in the cliffs and along beaches, or you can pick up some beautiful ammonites from shops around town if you fail to hunt some out for yourself. The view out to sea is dominated by a distinctive harbor wall known as The Cobb which Meryl Streep's character walks along in the film The French Lieutenant's Woman.
Fuego (opens in new tab) on Coombe Street is worth seeking out for handcrafts or venture over to Bridport on a Wednesday or Saturday from 8am for the amazing street market where you can buy anything from plants and clothing to paintings and local cheese.
Where to stay in Lyme Regis: Dorset House (opens in new tab) is a grade II listed building with just five rooms. Each one is decorated impeccably plus there's a veranda where you can eat breakfast on sunny mornings. Prices start from $193 (£155) per room, per night, including cooked breakfast.
Where to eat or drink in Lyme Regis: The Harbour Inn (opens in new tab) right on the harbor front has perhaps the best views in town. Make sure you book in advance to secure a table on the terrace for dinner. With its selection of seafood, wholesome steaks, and heady wines, you'll be won over by this family restaurant in no time. For afternoon tea you can't beat the garden at The Alexandra Hotel (opens in new tab).
Travel tip: If you can track down local artist Julie Oldfield (opens in new tab), you'll want to snap up one of her pieces. The seascapes she works on are inspired by the Dorset coastlines and changing light on the ocean and rumour has it she'll be showcasing select works of art spanning her career at The Malt House this February!
4. Isle of Skye, Scotland
As one of the most beautiful places in Scotland you'd be forgiven for thinking you'd actually been transported to a magical European Island, but alas, Skye can be accessed by boat or bridge from the UK mainland making for an easier trip. Sparsely populated and boasting wonderful landscapes, Skye is made for hiking and wildlife spotting with an unmissable part of any trip being whale and dolphin spotting from the western tip. There's an abandoned lighthouse nearby which photographers flock to at sunset to get the dreamiest of shots.
Where to stay on Skye: The Black Shed is an architectural gem and award-winning location for serious seclusion. Offering week-long stays overlooking Loch Dunvegan, here you can escape reality and hunker down for fall or winter. Inside you'll find everything you'd expect of a cozy cabin - dreamy wrought iron king-size bed, underfloor heating, beautiful rugs, and of course, a wood burner. The large loch-facing windows lend themselves to lazy days by the fire, while the modern kitchen is the perfect place to cook a long Sunday roast, you can even help yourself to vegetables from the shed's own garden. The Black Shed sleeps two, from $953 (£765) per week, and can be booked directly on the website here (opens in new tab).
Where to eat or drink on Skye: For such a small island there's an incredible array of restaurants, many of which feature in the Michelin guide. Boasting Scottish seafood with a French twist Loch Bay was awarded one star in 2021 and continues to be the place to go for the freshest fish, lobster, and clams, don't miss the oatmeal oyster mignonette.
Travel tip: Visit in winter months to be in with a chance of catching the Aurora Borealis (Northern Lights).
5. Bassenthwaite, Lake District
Due to the varied amount of wild fungi and mushrooms including some absolutely stunning bright crimson fly agarics, the Lake District is without a doubt one of best places to visit in September when these wondrous fungi are in sheer abundance. A particularly good hike for beautiful lake views, wild blackberries, and tons of mushroom spotting opportunities is the Dodd Wood walk, with its easy-to-find car park at the bottom. From the starting point in the car park, follow the three-mile trail to the summit for brilliant views across two endless lakes, moody moorlands, and forests as far as the eye can see.
Wild swimming has become more popular than ever in recent years and it's easy to see why - the addictive thrill you get from being submerged in icy waters can leave you on a high that lasts for hours and it's free. There are 16 lakes in the Lake District so it makes sense to go for a dip, the best lakes for swimming are the smaller ones, for their lack of boats, but remember to take warm clothes for after your swim and avoid going alone.
Where to stay in Bassenthwaite: Armathwaite Hall Hotel (opens in new tab) is a 17th-century, former stately home right next to Bassenthwaite Lake. Its location, with lake views and huge spa makes it the perfect base to explore from. The main part of the hall is what you'd expect of a country house, with dark wood paneling and huge fireplaces, but bedrooms in the newer part of the hotel are a complete contrast. Recently refurbished, they're bright and modern with huge murals and massive beds. There's also a relaxation sanctuary that rivals some of the best spa hotels in London with its hot tub, thermal suite, pool, sauna, and steam room - you'll certainly want to book in for some much need relaxation. Prices start from $305 (£245) per night and can be booked through Booking.com (opens in new tab) or the hotel's site directly.
Where to eat or drink in Bassenthwaite: Stop by the Lakes Distillery to enjoy a tour of the tasting room, sampling local whiskey, gin, and vodka made with water that has flowed through the lakes.
Travel tip: The cafe in the car park at the base of the Dodd Wood walk is simple, but surprisingly good, try the homemade soup!
6. London
Home to some of the world's most beautiful hotels the UK's capital wows with its myriad of dining options, cultural spaces, shows, walks, and even two of the world's most beautiful gardens. First-timers to the city should take a walk all the way from Greenwich and the Cutty Sark, through the foot tunnel that runs under the Thames, and along the river past Millwall, Canary Wharf, and Wapping, making time to stop for a drink or two at Sir Ian Ian McKellen's pub The Grapes, and the oldest riverside pub in London, The Prospect of Whitby, where floor flagstones date back to 1520. Continue along the Thames Path and eventually you'll reach landmark Tower Bridge, from where you can cross the bridge and continue along the South Bank stopping at the Tate Modern and Haywood Gallery. AIRE Ancient Baths (opens in new tab) provide the perfect tonic to rainy days in the city, book now to experience a series of heated and ice cold pools that'll leave you blissfully relaxed by the time you leave.
Where to stay in London: With just four bedrooms The Lost Poet (opens in new tab) on Portobello Road is ridiculously homely but oh so special. Exquisitely printed wallpaper elevates rooms to luxury level, along with the coolest artwork along with neat touches like vases of stylish dried flowers and coffee from London Grind. But the best bit? Sweet breakfast pastries by Ottolenghi left outside rooms for whenever you feel sufficiently rested. Lie-ins have never felt so good nestled amongst sumptuously soft covers and pastel-colored pillows. Rooms start from $245 (£199) and can be booked directly through thelostpoet.co.uk (opens in new tab).
Where to eat or drink in London: New to the London restaurant scene and deserving of a special mention is Beaverbrook Town House (opens in new tab) which has fast become the place to be seen. The decadent bar decked out in tones of peach and mint provides a discreet and cozy space to enjoy a cocktail or two whipped up by expert mixologists - check out Miss Moneypenny if you're feeling fancy! But the pièce de résistance is the Omakase (Japanese tasting menu) created by chef Jan Horak (opens in new tab). Here you'll find top-quality delights like yellowtail sashimi with zingy yuzu jelly, prettily arranged sirloin tempura, and plump scallop temaki, just seared to perfection - book ahead to secure a spot at the most coveted table in town, this place is in serious demand. Or mystical indoor garden Jurema Winter Terrace (opens in new tab) at The Mandrake Hotel is a world away from the hustle of nearby Oxford Street. With heaters, faux-fur blankets and a transparent covering this is the place to come when you're in need of a tranquil oasis, surrounded by candlelight and exotic hanging plants. Guests can feast upon exclusive new South American inspired sharing dishes created by the hotel's restaurant YOPO, we'd recommend sampling the Portland crab brioche, Scottish scallops with salsa of tomatillo and the Welsh lamb loin with piquillo pepper and pine nuts.
Travel tip: It's easier than ever to use the underground and buses of London, simply tap your debit or credit card to travel across the city, no Oyster card needed!
7. Edinburgh, Scotland
Providing an international showcase for Scotland's culture as well as performances from the world's leading artists, the Edinburgh International Festival (opens in new tab) celebrates its 76th anniversary this year, making Edinburgh one of the best places to visit in August. Outside of August, there's still plenty to see and do in the city though: Arthur's Seat, an extinct volcano 10 minutes from the center provides a panoramic view of the surrounding area, while a stroll along the cobbles of the Royal Mile to the famous Edinburgh Castle is a must (grab an audio guide to find out more about the building and its gory history). Edinburgh is also home to Quentin Tarantino's all-time favorite cinema - Cameo - where Trainspotting premiered in 1996. Art-house and mainstream movies are still shown and provide the perfect tonic to a cold evening.
Where to stay in Edinburgh: Locke Living is a boutique Aparthotel group known for its pleasing pastel color palette and well-designed rooms. The Edinburgh version, known as Eden Locke has 72 apartments and glorious light and airy plant-filled lounge to enjoy breakfast. Each room comes with cookbooks, cocktail kits and natural bath and body products. Nightly rates start from $261 (£208) and can be booked here directly through the website (opens in new tab).
Where to eat and drink in Edinburgh: With food that rivals restaurants in Lima street food pop-up The Peruvian (opens in new tab) serves authentic Peruvian food like Lomo Saltado and tequeños in different locations across the city. With two street food awards already under their belt, you won't want to miss out, check their Instagram page for their latest movements.
Travel tip: You can't go to Scotland without eating haggis, neeps and tatties - tuck in at The White Hart Inn, the haunt of Oliver Cromwell and Robert Burns. They do a veggie version too.
8. Broadway, Cotswolds
Off-season, some of the best holiday deals include trips to the Cotswolds where picturesque villages and homely country pubs await. National Trust village Bibury looks like it's been taken directly from a movie set so it's no wonder William Morris described it as the "most beautiful village in England." Bibury is undeniably charming, but for many, it's Broadway that truly shines these days.
Surrounded by woodland hikes and overlooked by Broadway Tower, there's everything you'll need for a long weekend in the village. Number 32 is a great spot for breakfast, Broadway Deli is full of the most mouth-watering treats, fresh seasonal produce and sells strong coffee and Hamiltons Chocolates will instantly transport you to childhood with a rainbow selection of sweets in glass jars alongside a counter full of luxury chocolates.
The Broadway Tower hike takes in 6.5kms of countryside views, dry-stone walls, and if you visit in spring, an abundance of fluffy little lambs, each one bleating for attention.
Where to stay in Broadway: Rivalling some of the best hotels in Israel The Lygon Arms (opens in new tab) also boasts a spa and swimming pool as well as cocktail lounge and restaurant. Rooms here range from cozy boltholes to grand suites with imposing four-post beds. Check the hotel's website for midweek deals, rooms start at $332 (£265) per night.
Where to eat and drink in Broadway: Flipside serves gourmet burgers using interesting combinations like beef, peanut butter, and bacon jam to satisfy hungry walkers. Or for something a little more traditional The Crown & Trumpet Inn (opens in new tab) is listed in various good pub and beer guides and always has an interesting locally brewed seasonal beer or ale on tap - but watch out, they're deliciously lethal. Food is simple but filling with lots of traditional pub grub and a selection of British puddings like jam roll poly and spotted dick.
Travel tip: 90 acres of stunning lavender fields sit just outside Broadway on the route to Snowshill - June is the best time to visit.
9. Rye, East Sussex
Steeped in history, the cobbled lanes of Rye are filled with boutique shops, old-world pubs and ancient architecture. Mermaid Street - perhaps the most famous street in town - shouldn't be missed for the photo opportunities alone. This picturesque lane is dotted with an array of outstanding buildings, including the oldest in Rye, the Mermaid Inn (opens in new tab). Dating back to 1156, and later rebuilt in 1420 after being burnt down by French invaders, the pub has been a regular haunt of smugglers and pirates for centuries, there are even rumors of secret underground tunnels and sightings of spooky figures. Today the Mermaid Inn is a good place to grab a drink after exploring the town and nearby Ypres Tower.
Beloved Camber Sands is the closest beach to Rye and draws filmmakers as well as regular folks dues to its wild and rugged sand dunes. Hugh Grant's Maurice and The Theory of Everything with Felicity Jones and Eddie Redmayne are just a couple of examples of films with scenes shot on the famed beach.
Back in Rye, chocolate lovers should make for Knoops (opens in new tab), a concept store where you can craft your very own blend of hot or iced chocolate, right down to cocoa percentage and additional flavors like orange zest or sea salt.
Where to stay in Rye: The Gallivant (opens in new tab) is the only place to stay in the area on account of its sophisticated rooms, proximity to the beach and delightful staff. The theme of the place is beach-chic with a side of nostalgia - think framed retro swimsuits, washed-out shades of sea-green and mint, and wicker details. They also provide a selection of activities for guests each day including restorative yoga, English wine tasting and even pastry skills should you want to brush up on your baking. Rooms, including a delightful breakfast, start from $365 (£292) and can be booked on the hotel's site directly.
Where to eat and drink in Rye: Even if you're not staying, it's worth booking into The Gallivant to sample head chef Jamie Guy's wonderful menu of seasonal delights and locally caught fish. A master at pairing bold flavours with delicate seafood, standout items on his menu include Silver mullet with pickled mussels, Indian spices and a smattering of bright green coriander, mouth-watering Rye Bay squid paired with green chilli, and the Charred hispi cabbage made irresistible with umami butter and a sprinkling of charred sourdough crumbs.
Travel tip: Independent cinema Kino hosts new movies and Q&A's plus they have a pretty decent food and drinks menu too - great for rainy days.
10. Birmingham, West Midlands
Peach-cheeked lovebirds compete for attention with sunflower bright koi-carp and an epic selection of well-pruned bonsai trees at Birmingham's Botanical Garden (opens in new tab). Open daily from 10am it's a beautifully tranquil place that shows off an unexpected side of Birmingham most people usually tend to miss. The canal quarter has changed drastically in the last few years with regeneration projects and a huge selection of new bars and restaurants, it's here you'll find the internationally acclaimed Ikon Gallery (opens in new tab) with past and present exhibitions from artists such as Carlo Crivelli, Cornelia Parker, and Antony Gormley. For shopping fans, The Mailbox is the place to go, make a beeline for Harvey Nichols for great designer pieces and a large selection of luxury fragrances in a setting that feels more spacious than the London branch.
Where to stay in Birmingham: The High Field (opens in new tab) in Edge Baston is one of the only hotels in Birmingham where a selection of rooms have bathtubs. They also just scooped an award for best sustainable pub and make a fabulous selection of memorable cocktails - enjoy them in said tub. Rooms start from $173 (£140) per night and can be booked directly through the website where seasonal deals often make an appearance.
Where to eat and drink in Birmingham: No frills Peach Garden is a Chinese restaurant serving the most delightful three roast rice as well as delights like wok-fried morning glory and crispy duck. It's brightly lit, service is brisk and menus are laminated, but all add to the pure joy of the place. For wonderful traditional Italian dishes, San Carlo (opens in new tab) impresses with rich aubergine rigatoni and trademark dish lobster tagliolini.
Travel tip: Try a midweek staycation in Birmingham to take advantage of better hotel deals, and well-priced lunchtime tasting menus, Restaurant Folium (opens in new tab) is a good place to start.
11. Llandudno, Wales
When it comes to seaside towns and all of the delights associated with them - sticks of minty pink rock, Punch and Judy, the neon lights of penny arcades, steaming fish and chips by the sea - it doesn't really get more typical and charming than Llandudno. The peaceful promenade provides everything you'd expect of a seaside town and the perfect after-dinner walking spot, but for a slightly more challenging walk the Great Orme circuit takes in 8 kilometers' worth of pretty sea views all the way along Marine Drive.
The Victorian-style pier is the longest in Wales and dotted with arcades, candy floss stalls, and a Ferris wheel, it really is the home of old-school fun and should not be missed. For a culture hit, Llandudno's contemporary art gallery Mostyn (opens in new tab) has six exhibition spaces, revolving art shows, and puts on Sunday workshops enabling children to pick up artistic skills such as sculpting and painting.
Where to stay in Llandudno: The best spa hotels in Wales provide serene and calming havens and Llandudno is no different. Hunker down at Bodysgallen Hall and Spa (opens in new tab) a short drive from the town center. Providing a secluded stay, the hotel is nestled within 200 acres of parkland - expect roaring log fires, traditionally decorated rooms, and an indoor swimming pool. Double rooms start from $383 (£310) per night and can be booked through Expedia (opens in new tab).
Where to eat and drink in Llandudno: A beachside break and afternoon tea go hand-in-hand, Characters Teahouse is the place to go for mismatched china, interestingly flavored scones, and good loose-leaf tea.
Travel tip: Not just for kids, The Cresta Run is a looping toboggan track that will leave you on a serious high - book your slot asap!
Lydia is woman&home's Lifestyle News Editor and a freelance travel writer. Day-to-day she manages an international team of nine news writers and oversees all news content on woman&home.com. Her travel writing has been published in BBC Good Food, Oh magazine, Harper's Bazaar, Town&Country, ELLE, MailOnline, Woman, and woman&home.