21 of the world's most beautiful hotels
From waterfront retreats to designer escapes and historical castles, the world's most beautiful hotels deserve a place on your bucket list...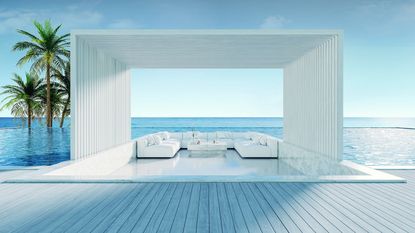 (Image credit: Getty Images)
Our pick of the world's most beautiful hotels each offer something extraordinary, whether it's their incredible location, unparalleled personalized service, exquisite design, or ultimate seclusion.
From locales on unspoiled beaches of tiny islands, to destinations with amazing swimming pools in the heart of buzzing metropolises–these properties have all earned their place on the list.
Here's where to book your next stay, whether you're looking for hotels in some of the best places to visit in Europe, India, the Americas or beyond...
The world's most beautiful hotels
1. Oheka Castle, Huntington, New York
Built on Long Island's Gold Coast in 1919, the charming Oheka Castle has since made cameos in celebrated movies and TV shows like Citizen Kane, Gossip Girl, and Succession. Built over a century ago by financier and philanthropist Otto Hermann Kahn, guests today can participate in guided castle tours that reveal the history of this property.
Prices start from $395 per night. Book Oheka Castle here (opens in new tab).
2. Columns, New Orleans, Louisiana
The 20 sophisticated rooms at Columns are housed in a building that dates back to 1883, in the historic Garden District of New Orleans. The property seamlessly blends elements of its original architecture with modern-day features, and its expansive garden, enticing sundeck, and trendy bar and restaurant channel a modern Victorian vibe. The hotel's bar and restaurant, focuses on innovative Southern cuisine.
Prices start from $230 per night. Book Columns here (opens in new tab).
3. The Wickaninnish Inn, Tofino, Canada
This boutique hotel has been welcoming adventurers and travelers seeking sophisticated stays since 1996. Enveloped by 100 acres of coastal rainforest and overlooking Chesterman Beach, The Wickaninnish Inn offers prime access to some of Vancouver Island's most treasured natural sites. Indulge in a meal at the onsite fine dining restaurant, The Pointe, and enjoy sweeping views of the Pacific Ocean while gorging on dishes inspired by local and farm-fresh ingredients.
Prices start from $398 per night. Book The Wickaninnish Inn here (opens in new tab).
4. Fairmont Banff Springs, Banff, Canada
This 757-room Fairmont Banff Springs is a 133-year-old hotel in Canada's first national park. Styled after a Scottish Baronial Castle, rooms offer guests sweeping views of the surrounding Rockies. The luxury hotel is equipped with a bowling centre, tennis courts, and a 27-hole championship golf course just in case you're looking for a winter snow holiday that doesn't involve skiing or snowboarding.
Prices start from $400 per night. Book Fairmont Banff Springs here (opens in new tab).
5. Hôtel Barrière Le Carl Gustaf, St. Barts
Made up of 21 lavish sleeping chambers and overlooking the glittering port town of Gustavia, Hôtel Barrière Le Carl Gustaf on St. Barts is a haven for tranquillity and relaxation. With personalized treatments and rejuvenating massages on offer, there are lots of opportunities for indulgence at the hotel. Le Carl is situated in close proximity to idyllic Shell Beach, and an enclave of fine dining restaurants and posh boutiques, making this the perfect stay for those who want to be close enough to the action but far away from the noise.
Prices start from $1019 per night. Book Hôtel Barrière Le Carl Gustaf here (opens in new tab).
6. Jade Mountain, Mamin, St. Lucia
This 600-acre beachfront resort on St. Lucia's southwestern Caribbean coastline makes use of its stunning tropical environment and inspires guests to unplug during their stay. With an absent fourth wall in each of the 29 guest sanctuaries, guests are able to marvel at the sweeping views of the twin Pitons and the Caribbean Sea. When the sun sinks below the horizon, stargaze from the comfort of your four-poster canopy bed.
Prices start from $1285 per night. Book Jade Mountain here (opens in new tab).
7. Casa Kimberly, Puerto Vallarta, Mexico
Casa Kimberly in Puerto Vallarta showcases the legacy of Elizabeth Taylor and Richard Burton's passionate romance. Set over the shimmering Banderas Bay, this property was a gift to Taylor from Burton, which was across from his own residence. Connected by Puente Del Amor, or the Bridge of Love, the dual villas operate as Casa Kimberly. Guests can even stay in Elizabeth Taylor's bedroom which features the original, pink-tiled, heart-shaped bathtub. The property's most stunning units have a wrap-around terrace and a private pool along with unobstructed views of Puerto Vallarta.
Prices start from $615 per night. Book Casa Kimberly here (opens in new tab).
8. Acre Resort, San Jose del Cabo, Mexico
Acre Resort is comprised of 12 treehouses strewn across 25 acres of rich farmland in San Jose del Cabo. For ultimate peace and relaxation, fall asleep to the rhythmic rustling of surrounding palm trees. This modern-day treehouse channels your inner child, but comes with all the adult indulgences, like a king-sized bed, private terrace, and outdoor shower.
Prices start from $355 per night. Book Acre Resort here (opens in new tab).
9. Kalon Surf, Dominical, Costa Rica
Situated where the lush Costa Rican rainforests meet the ocean, this all-inclusive surf resort boasts stunning natural beauty and offers week-long getaways for surf bums who want to improve their craft with a coach. This luxury holiday resort offers total privacy with its remote location and access to secluded beaches. Witness blooming sunsets, and relax by participating in the property's yoga and massage sessions.
Prices start from $3990 per week. Book Kalon Surf here (opens in new tab).
10. The Singular, Puerto Natales, Chile
A 1915 sheep-processing plant turned luxury historical escape, The Singular Patagonia now boasts 57 rooms, a spa, bar, and two restaurants. Serving as part museum, you can browse the collection of original machinery on the first floor of the hotel. Set against a dramatic backdrop of the Ultima Esperanza Sound, guests at The Singular can enjoy these sweeping views from the wall-sized windows in their neutral-toned rooms that scream understated elegance.
Prices start from $445 per night. Book The Singular Patagonia here (opens in new tab).
11. Kilkea Castle in Castledermot, Castledermot, Ireland
Live out your fairytale dream by staying at Kilkea Castle in Castledermot, a fortress that dates back to 1180. Over the course of six years, the fortress underwent a $30 million transformation to create a luxury stay with magical medieval elements. Enveloped by 180 acres of immaculately landscaped gardens, woodlands, and its very own golf course, guests at Kilkea Castle can participate in riding, tennis, fishing, and beyond.
Prices start from $280 per night. Book Kilkea Castle here (opens in new tab).
12. Vista Palazzo Lago di Como, Como, Italy
With the dazzling Lake Como in front of you and the vibrant city of Como behind you, Vista Palazzo Lago di Como enjoys a pristine location on the edges of this luxury vacation spot. Welcoming guests year-round since it first opened in June 2018, this 19th-century Venetian style palazzo is the first five-star property in Como. Aptly named, Vista Palazzo Lago di Como affords sweeping vistas of Lake Como throughout the property.
Prices start from $660 per night. Book Vista Palazzo Lago di Como here (opens in new tab).
13. Beaverbrook Estate, Surrey, England
A dreamy escape just 30 km from central London, Beaverbrook Estate in Surrey is surrounded by woodlands and rolling hills. One of the best spa breaks in the UK, this luxurious country house hotel is set on 470 acres of immaculate grounds and boasts 18 stylish and elegant rooms. Each is named after a former famous guest, like Elizabeth Taylor and Winston Churchill.
Prices start from $730 per night. Book Beaverbrook Estate here (opens in new tab).
14. El Fenn, Marrakech, Morocco
El Fenn enjoys a prime location in the heart of Marrakech, a short seven-minute walk to Jemaa el-Fna Square. This ultra-chic boutique hotel reopened earlier this year following an expansion, and the property now spans 2,700 m2 across 12 interconnected riads. Its 1,300 m2 rooftop is the place to be when looking for relaxation and for a break from the medina's bustling atmosphere. From its daybeds and heated rooftop pool, soak in panoramic views of Marrakech's cityscape and the Atlas Mountains.
Prices start from $538 per night. Book El Fenn here (opens in new tab).
15. Ellerman House, Capetown, South Africa
Overlooking the Atlantic coast, Ellerman House is set in an enchanting Edwardian-era mansion in Bantry Bay. This award-winning luxury boutique hotel is comprised of 13 bedrooms and two three-bedroom villas with panoramic views of the ocean and the estate's manicured gardens. Art lovers will appreciate the on-site contemporary art gallery and won't want to miss a browse through one of the country's most prestigious private art collections.
Prices start from $907 per night. Book Ellerman House here (opens in new tab).
16. Tswalu Kalahari, South Africa
Set in South Africa's largest privately-owned game reserve, Tswalu Kalahari is rooted in sustainability and actively takes on a low-impact approach to responsible travel. They accommodate a maximum of 28 guests at a time across two luxury campsites — the Motse camp and the Tarkuni homestead. Join your guide on an interpretative walk through the region, or see meerkats and steenbok on a private safari.
Prices start from $2395 per night. Book Tswalu Kalahari here (opens in new tab).
17. Song Saa Private Island, Cambodia
Nestled on a private island in Cambodia's Koh Rong Archipelago, this ethical luxury resort puts sustainability and eco-tourism at the forefront and is deeply committed to programs that preserve the environment and its marine life. Built with the help of local hands and from materials sourced in the region, the property's luxurious thatched-roof villas come equipped with private decks and pools, ideal for witnessing sunsets over the Gulf of Thailand. Find your zen in yoga and meditation sessions, or pick up the pace with sailing, snorkeling and kayaking at the beach whilst staying in one of the best luxury hotels in the world.
Prices start from $890 per night. Book Song Saa Private Island here (opens in new tab).
18. The Brando, Tetiaroa, French Polynesia
30 miles north of Tahiti, the private atoll of Tetiaroa serves as the setting for The Brando, a refined luxury resort nestled on sparkling white sands. Its 35 villas put privacy at the forefront, and each unit comes equipped with its own private beach area and plunge pool, surrounded by coconut trees. The Brando can be accessed via a 20-minute flight aboard the hotel's private plane from Faa'a International Airport.
Prices start from $3289 per night. Book The Brando here (opens in new tab).
19. Conrad Maldives Rangali Island, Alif Dhaal Atoll, Maldives
This ritzy resort enjoys a prestigious location in the Maldives and stretches across two private islands in the Alif Dhaal Atoll joined by a footbridge. Enveloped by the Indian Ocean, Conrad Maldives Rangali Island can be reached via a scenic 30-minute seaplane journey from Velana International Airport in the capital city of Malé. Dine at the on-site establishment Ithaa, the world's first glass-enclosed underwater restaurant, and get up close to the region's diverse marine wildlife as you enjoy your meal.
Prices start from $1900 per night. Book Conrad Maldives Rangali Island here (opens in new tab).
20. Higashiyama Niseko Village, Hokkaido, Japan
Japan's first-ever Ritz-Carlton Reserve can be found at the base of Mount Niseko Annupuri, which officially opened in December 2020. Along with 43 rooms and seven suites, two distinctive restaurants, and a world-class spa and onsen, Higashiyama Niseko Village also offers panoramic views of Mount Yotei. Its serene and natural setting inspires guests to embark on reflective self journeys while basking in the solitude of the nearby mountain or in the natural elements of the region's hot springs.
Prices start from $602 per night. Book Higashiyama Niseko Village here (opens in new tab).
21. Taj Lake Palace in Lake Pichola, Udaipur, India
This summer palace-turned-hotel is set in an 18th-century marble palace on an island in the midst of Lake Pichola. Adorned in luxurious silk fabrics and showcasing beautifully carved wooden furniture, each of the 65 majestic rooms and 18 suites ooze with glitz and glamour and come with a butler. The property delivers stunning views of some of the best places to visit in India: Jag Mandir, Aravalli and Machla hills, as well as the City Palace.
Prices start from $572 per night. Book Taj Lake Palace here (opens in new tab).
Vivian is a Vancouver-based freelance writer who has worked for Culture Trip and Fodor's Travel as well as Woman&Home. She covers a wide range of topics, ranging from travel and outdoor adventure, to food and mental health and wellness. She's a curious wanderer with a thirst for adventure, and when she's not writing, can likely be found lazing by a lake, hiking the forested trails of beautiful British Columbia, or on a mission for the next best donut.