What is Succession, where to watch all 3 seasons and why the show should be on your watch list
You might not know what Succession is yet, but prepare to surrender your evenings to this intense drama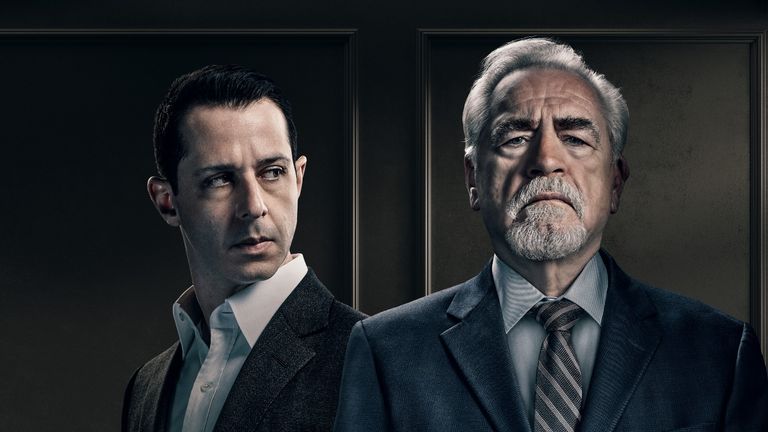 (Image credit: Sky Atlantic)
What is Succession has been the question on many HBO fans' minds ever since the hit drama's third season landed and if you're also yet to discover the scheming Roy family, this is why Succession should be on your watch list.
If you love the intensity of crime dramas such as Angela Black and Guilt series 2, but with the family focus of Maid's true story and power play worthy of Game of Thrones, then Succession is the ultimate autumn watch. Starring the likes of Brian Cox, Kieran Culkin, Sarah Snook and Matthew McFadyen, this comedy-drama tells the tale of the almost impossibly rich Roy family and their attempts to assert themselves in the family and its billion dollar business. Throughout the seasons we've seen heartbreak and back stabbing galore and now Succession season 3 has been released, there's plenty more to come for those who've not yet delved into the show.
But what is Succession, is it based on a true story and how can you watch all three seasons of the hit drama as we reveal why it should be on your list?
---
What is Succession?
For those who are still wondering what Succession is as they assess their autumn to-watch list, then prepare for some seriously opulent settings, stand-out cast performances and family betrayals to unfold in spectacular style. The hit HBO show follows the dysfunctional Roy family, led by patriarch Logan played brilliantly by Scottish star Brian Cox.
With his health becoming ever more uncertain, his family began to wrestle for control of the family's global media and entertainment conglomerate, Waystar RoyCo. This includes his sons Connor (Alan Ruck), Kendall (Jeremy Strong), Roman (Kieran Culkin) and daughter Siobhan 'Shiv' (Sarah Snooks), whilst his current wife Marcia (Hiam Abbass) and Shiv's fiancé and now husband Tom (Matthew McFadyen).
Across Succession seasons 1 and 2, the siblings have jostled for position, with Kendall initially assumed to be Logan's successor and desperately trying to prove himself to his aloof father. And who could forget *that* dramatic season 2 finale which saw Kendall seemingly gain the upper hand after almost becoming the family's sacrificial lamb?
Though it seemed he was prepared to take the fall for covering up horrific deaths and sexual assaults that took place on Waystar RoyCo's cruise lines, the scheming son implicated Logan in a jaw-dropping moment during a press conference. Whether the father and son will ever move past this shocking act remains to be seen.
Meanwhile, Shiv and Tom's marriage reached breaking point last season and it's unclear if they will ever be able to pick up the pieces. One thing's certain however—Succession season 3 is sure to have some major twists and turns in store for the Roys as each one tries to fight their way to the top...
Is Succession based on a true story?
Given the show's abundance of family drama and its focus on maintaining power in business, it's perhaps no surprise that some might be wondering if Succession is based on a true story. After all, the Roys aren't the first to build a multi-million dollar media empire and there's one prominent family in particular that has often been compared to them—the Murdochs.
Both families have distinct similarities that have not gone unnoticed by some eagle-eyed fans, with Rupert Murdoch and Logan Roy both media moguls in their 80s and 90s, with children from multiple marriages, many of which are involved in the family businesses.
However, the show remains a work of pure, but nonetheless brilliant, fiction, Succession creator Jesse Armstrong has previously confirmed that Succession is not directly about any particular family, but is inspired by "elements" seen around us.
Opening up to The New York Times back in 2019, Jesse explained, "The amazing thing about this stuff is that it's everywhere. Sumner Redstone's family. The Mercers. The Murdochs. Conrad Black. Sometimes people have said, it's really about these people, isn't it? It's based on them. And: No."
He added, "We read widely and we do take elements of stuff. Hopefully, if you're writing in the right area, you end up hitting reality. But there are no moles."
Meanwhile, Logan Roy's actor Brian Cox has also shared how he personally incorporates his understanding of Rupert into his portrayal. But he declared that it's Logan's distinct approach in Succession that makes him appreciate this multi-layered character even more.
As reported by the Radio Times, he was asked by the Radio Times magazine about whether he based his character on Rupert Murdoch, Elon Musk, Jeff Bezos and even former Italian Prime Minister Silvio Berlusconi and the late Robert Maxwell.
Brian responded that there "are bits of all of them in Logan" though "the family have increasingly become their own thing".
He claimed, "[O]ne of the reasons I like Logan is that he would never do" what Richard Branson or Jeff Bezos did and look towards space exploration, instead remaining rooted in the world around him.
So whilst Succession and Logan Roy in particular might have echoes of real-life figures in them, the hit HBO show is not actually based on a true story.
And that's good news for fans as it means they can look forward to seeing it go in literally any direction, free from the need to follow real-life events. We have a feeling things will only be getting even more intriguing...
Why the show is so popular – and why you should watch it
Succession has gone from strength to strength since it first landed on HBO and Sky back in 2018 and has amassed thousands of fans across the world. The actors' performances, from Brian Cox's performance as cold patriarch Logan, to Kieran Culkin and Jeremy Strong's portrayal of ambitious siblings at odds Roman and Kendall, the cast bring these unlikeable characters to life and make them truly compelling.
As power-hungry, privileged figures, the hugely wealthy Roys are hardly the most relatable of characters to the majority of viewers. From their art collections to their helicopter rides, nothing is off limits when you're as rich as these Succession characters, and yet the star studded cast gives them that humanity that in principle they might lack.
*taps mic* Succession season 3 premieres tonight. pic.twitter.com/NSGuPi8ll8October 17, 2021
See more
Parental relationships are often complicated and as fans watch the Roy children struggle to connect with Logan and drag his attention away from the business, it's hard not to feel a sense of sadness and pity for them. Wealthy they might be, but they're frequently lacking in the fatherly love department.
It's this same sense of humanity that comes shining through when Siobhan 'Shiv' Logan's marriage to Tom Wambsgans soon starts to crumble around her, leaving her desperate to find a way to patch things up.
Though their lifestyles might be dramatic and lavish, the clever writing and skilful acting make the character's personal relationships and heartbreaks the ultimate relatable element of Succession.
Ultimately, whilst the show is fictional, it certainly incorporates recognizable tropes we see around us from the mega rich celebrities like the Kardashians to the Trumps and Murdochs. This fascinating portrayal and satire of the lives of the super rich is enhanced by the use of "wealth consultants" who help create an environment that feels authentic.
As reported by The Telegraph, art curator Fanny Pereire was brought in to advise on the pilot episode of Succession, as well as fellow wealth-focused drama Billions.
She revealed, "Succession deals with older money than Billions. Logan Roy had Juan Gris and Egon Schiele in his home, because 40 years ago, that's what would have been bought as the up-and-coming thing," she explains. "But there were also very contemporary works that his third wife Marcia was bringing in to the collection."
The attention-to-detail makes for an intriguing on-screen experience as viewers become drawn into the Roys' world, all the while knowing that they are living at a completely different and outrageous level. Succession's ability to intrigue viewers with the displays of opulence and privilege, yet satirize the concept of mega rich figures at the same time is a brilliant aspect to the show.
Another important reason Succession has captured imaginations across the world lies in its ability to bring humor to these gripping story-lines. Described as a comedy-drama, the show expertly blends hilarious quips and moments with the darker side of the Roy family's power-play and this blend not only adds variety, but another point of difference to the wealth-focused drama.
How to watch Succession seasons 1 and 2
If you're not already intrigued to watch the Roy family's schemes unfold in Succession then catching up on all the dramatic reveals, lies and manipulations from seasons 1 and 2 are sure to have you eager for more. The matter of where to watch Succession online depends on where you live, as for those living in the US, HBO Max is the place to turn. Here you can check out all 20 of the Emmy-award winning show's earliest episodes and see the Roy family's journey to maintain their hold over the media world from the very beginning.
For anyone in the UK, Succession seasons 1 and 2 are available to watch via Now TV when you sign up to their Entertainment Pass for £9.99 a month. And if you're not sure that Now TV is for you, they offer a 7 day free trial so that you can see what the platform has to offer before taking the plunge.
With Succession season 3 currently airing, the first two seasons look set to be available for the foreseeable future, though NOW TV often changes what shows are available so remember to catch up whilst you can!
Where to watch Succession season 3
The first two seasons certainly built in intensity and now Succession season 3 has finally landed. It premiered on October 17 and can be watched on Sundays at 9pm on HBO Max and anyone who's prepared to stay up late can also check out each episode of Succession season 3 on NOW TV from 2am on after the US airing. Succession season 3 is then shown at 9pm on Sky Atlantic for UK viewers a day later. So depending on where you are as you prepare to watch Succession, it's Sundays or Mondays that are the days to mark in your calendars this autumn so as not to miss a single episode.
Now you know what Succession is, there's never been a better time to binge-watch your way through all the past episodes as you wait for season 3 to continue.
Emma is a Senior Lifestyle Writer with five years experience working in digital publishing, ranging from book publishing to magazines. She currently looks after all things Lifestyle for Woman&Home, GoodToKnow and My Imperfect Life.
Before she joined Future Publishing, Emma graduated from the University of Warwick with a Bachelor of Arts degree in English and Comparative Literary Studies. After leaving education, she started out her publishing career in the world of books, working as a Publisher for an independent digital publisher specializing in back-list and debut commercial fiction novels. With a huge book list and a passion for bringing the best stories to the broadest audience possible, Emma filled her spare time with reading the latest best-sellers and catching up on hit adaptations.
In 2017 she joined TI Media as a fiction writing coordinator on Woman's Weekly and Woman's Weekly Fiction as part of the features team. From here, she used her love of books, working to bring short stories to our dedicated readers and began writing for the books pages of Woman, Woman's Own and Woman&Home, as well as online features ranging from genre round-ups to travel pieces for womanandhome.com.
After honing her skills, Emma branched out online in 2020 when Future gave her the opportunity to focus on digital-first. When she's not writing about the next big lifestyle trend, she enjoys cooking, long walks and watching as many crime dramas as she can!