Why the true story behind Maid means there could be a season 2
Maid is inspired by a poignant true story and fans can't help hoping for more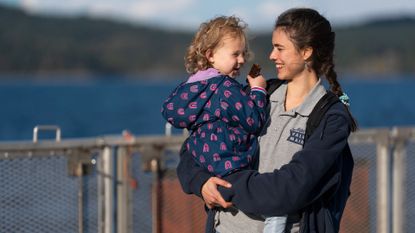 (Image credit: Netflix)
Maid landed on Netflix on October 1 and has quickly become one of the most talked about shows of the moment, leading many excited fans to speculate whether Maid season 2 could be announced.
Maid on Netflix is a ten-episode series sure to bring you to tears with its moving and heart-warming moments. Starring Margaret Qualley as Alex alongside her real-life mom, Andie MacDowell—who recently embraced her natural gray hair—as Paula, the drama tells the tale of Alex's journey to escape an abusive relationship and give her and her daughter Maddy a brand new life. Taking on work cleaning houses to support herself and Maddy, Alex fights to survive as she forms new friendships and inches one step closer to her dream of studying at college. Perfect for those who love the emotional core of Ridley Road, the hit Netflix show has already got fans hoping for a Maid season 2.
But could Maid's true story and that emotional season 1 ending reveal what might happen in a possible Maid season 2?
*warning, spoilers for Maid ahead*
---
Is Maid based on a true story?
Netflix's Maid is based on a true story—the story of Stephanie Land, who wrote about her life experiences in the book, Maid: Hard Work, Low Pay. The writer first caught a literary agent's attention with her essay on cleaning houses which she published on Vox. It was from here that the essay became her acclaimed book, with Stephanie's memoir being published in 2019.
It was upon Stephanie that Alex's character was based and many of her experiences were reflected in this Netflix protagonist. After becoming pregnant, Stephanie is understood to have sacrificed her dreams of studying creative writing in order to raise her child.
MAID made the top 20 books sold on Amazon this week!! pic.twitter.com/GzrtvxeY9iOctober 14, 2021
See more
She later found herself in a homeless shelter with her daughter, Mia, after reportedly receiving little support from Mia's father or major help from close relatives at this time. Over the following years, Stephanie took a job cleaning houses to support herself and her child, though she still dreamt of one day getting her degree.
Stephanie explained during an interview with The Atlantic (opens in new tab), "I think they didn't know how much I was actually struggling. I kept it hidden from my friends and especially my clients—I never wanted to evoke sympathy from them or have them feel sorry for me."
Can't believe it's almost 10 years since we moved to Missoula!! Thank you all for watching #MAIDNetflix and buying my memoir MAID that inspired it. Link to order a signed copy from my local bookstore here: https://t.co/7eevo5H1eB pic.twitter.com/MwZUqNO6g4October 14, 2021
See more
She added, "But I also didn't want them to know that I was on food stamps, or anything like that. That's sort of stigmatized, almost as thievery. When you're being trusted to be alone in someone's house, you don't really want them to think that about you".
Now all these years later, Stephanie is a writer and her powerful and moving memoir has served as inspiration for Netflix's hit show, Maid.
Could there be a Maid season 2?
With Netflix's Maid achieving so much success since it first landed on October 1st, the question of whether they'll be a Maid season 2 has got us all hanging on for an official answer. Sadly for fans, no second season has been confirmed and Maid was described as a limited series.
Though that doesn't mean that Maid season 2 is completely off the table. Netflix has previously brought limited series back, including Big Little Lies, which is based on one of the best thriller books. And that's not all, as showrunner Molly Smith Metzler has previously opened up to Decider (opens in new tab) about how much she loves writing Alex's character.
"I will say that this is such a labor of love, this show. I'm in love with all these characters, and I could write Alex for the rest of my life. You know, she's just in my heart," Molly said.
And though she mentioned that she does feel they've told Alex's story already, Molly did offer another tantalizing possibility when it comes to a Maid season 2.
Molly explained, "I do think there's a lot of maids out there, there's a lot of domestic workers who are experiencing stories that are as bad, if not worse than, Stephanie Land's."
She added, "I think it would be very exciting and a dream world to get to see a different maid's story in another season. Someone from a totally different geographic with totally different life experience and who probably is a mom."
With no Maid season 2 confirmed just yet though, fans will have to keep their fingers crossed for any exciting announcements in the future.
What might happen based on the ending of the first season?
Though a Maid season 2 has not yet been announced, the season 1 ending has definitely left room to speculate about what might happen in it. It could of course, as Molly Smith Metzler discussed, follow another main character entirely. Though if a Maid season 2 is announced, there is also potential for Alex's story to go further.
Having started out in Maid a single mother determined to forge a new life for herself and her daughter, Alex has certainly done that by the emotional finale. The enterprising character started her own cleaning business and began teaching a creative writing therapy class. And she didn't stop there, as viewers saw Alex heading to college in Montana with little Maddy.
Sadly for Andie MacDowell fans, though, Alex's mom Paula doesn't go with them, ultimately choosing to stay with boyfriend Micah who had left his wife for her. However, Paula has had her redemptive moment, intervening and bringing Maddy home from a supervision session with Alex's ex-partner Sean after he dramatically loses his temper.
After struggling with alcohol addiction, Sean admits to Alex that if the supervision session hadn't had someone else there, he would've taken Maddy to go and get a drink. Knowing he's not in the right place to be the father Maddy needs, he signs custody over, promising to visit after he finally gets sober. Having reached some kind of closure on the trauma of her past, Alex and Maddy embark upon their new life.
Just like the characters, Stephanie Land made a new life for herself in Missoula, Montana. And though her Maid book does end on this same happy note, she did reflect upon how things still weren't easy at this time during an interview with The Atlantic (opens in new tab).
Asked about how life has been since her move to Montana and what happened next, Stephanie responded, "At the end of the book, I'm actually still on food stamps. Still cleaning houses and struggling to go to school. We struggled for a long time, probably up until 2016. That's when I was finally off of food stamps."
She continued, "And even that was just out of stubbornness. I was barely [qualifying], and I just decided to not apply anymore, because I couldn't take the reapplication process. As a freelancer, it's really hard to prove your income and prove that you're working.
"There were a lot of times when I thought we were going to lose the place we lived. There were weeks when I was incredibly hungry. The book ends on a really happy note because it's a moment of celebration; it was a huge accomplishment for me to move. But it wasn't necessarily like, We're here and everything's fine."
With this in mind, Maid season 2 could explore the challenging years after Alex moves to Montana, reflecting how things are never quite the "happy ever after" they seem. This would also allow viewers to see her undertake her college course and how she balances studying with work and raising Maddy, all the while reflecting the immeasurably difficult conditions for her as a single working mom.
It could even potentially show Alex making the decision to write about some of her experiences in an essay, showing fans the beginnings of the Maid book itself.
A second season of Maid might well also bring back Sean and Paula, whose stories weren't quite resolved at the end of season 1. The question of whether Sean will get sober remains to be answered and with Alex having invited him to visit anytime, this may be a trip he makes after all.
But having just got to a cordial place with her abusive ex-partner, will Alex be ready to welcome him back into Maddy's life with open arms? Meanwhile, Alex's scepticism about just how long Paula's relationship with Micah might last could mean we also see her mom arriving unannounced, but perhaps not entirely unexpectedly, to join them in Montana.
Whilst fans wait patiently to see if Maid season 2 might land on Netflix in the future, they'll have plenty of time to re-watch all their favorite episodes and form their own theories about what joyful moments and heartbreaking challenges a second season could bring to life.
Emma is a Senior Lifestyle Writer with six years of experience working in digital publishing. Her specialist areas including literature, the British Royal Family and knowing all there is to know about the latest TV shows on the BBC, ITV, Channel 4 and every streaming service out there. When she's not writing about the next unmissable show to add to your to-watch list or delving into royal protocol, you can find Emma cooking and watching yet more crime dramas.