The best thriller books: 15 page-turners that will keep you on the edge of your seat
Mysterious, chilling and very addictive, the best thriller books of 2022 will keep you guessing until the last page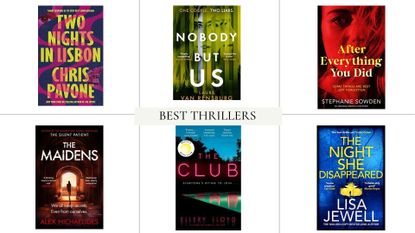 (Image credit: Future)
The best thrillers have a tight grip on the bestseller charts - with novelists striving to shock and delight readers with twists, turns and clever plotting.
Whether you listen to the story unfold on an audiobook, get stuck into a paperback, or prefer an eReader (we have some handy guides on the best Kindles and best eReaders if you're in the market for an upgrade), a good thriller will mean you are unable to resist just one more chapter.
Due to their high-drama storylines, range of complex characters, and shifting perspectives, thrillers make for some of the best book-to-screen adaptations. Over the last few years, several of these have been hugely successful, with Big Little Lies, The Girl on the Train, and Gone Girl being some of the most well-known examples. And their popularity has secured more fans for thriller book novels. So which should you choose? These are the best thriller books of 2022.
Crime thriller books
Crime thrillers are perhaps one of the most popular types of thriller books, and for good reason. These options explore serious incidents—murders, disappearances, large-scale theft—giving the author a chance to explore the impacts of such crimes and the race to solve them.
---
---
---
---
Psychological thriller books
In the same way that the best historical fiction books bring the past to life, many of us are drawn to the best thriller books because of a need to understand motivation and find some shred of humanity in the evilest of criminals. Psychological thrillers explore the psyche of people, both criminal and otherwise, with nail-biting twists and turns along the way.
---
---
---
---
---
Domestic thriller books
Perhaps the most prominent and popular theme in domestic thrillers is the idea that perfection is impossible. Unlike the best romance books, thrillers take the idea of the ideal family and twist it, showing the cracks beneath the perfect façade.
---
---
---
---