The best historical fiction books to read in 2022, as recommended by our Books Editor
The best historical fiction books can make the past seem as immediate as the present day and teach us valuable lessons...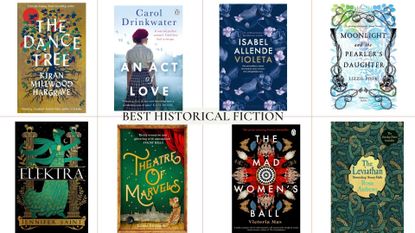 (Image credit: Future)
What is it about the best historical fiction books that makes them so enduringly popular? Their obvious appeal is a fascination with the past and how the times in which characters live affect their stories. But the best historical fiction also shows us that some themes are universal and resonate across the centuries.
So what are the best books to add to your list this year? Our team of books editors and avid readers have chosen some fantastic novels from recent years, alongside brand new titles they've read recently, covering everything from Victorian theatre to the plague of dancing in 16th Century Strasbourg.
Whether you prefer to read your books in print, or love to use your digital device (you can read any of these books on both the best eReaders or the best Kindles as well as buying them in paperback), these are the historical fiction books that should be on your reading list this summer...
Best historical fiction books to read in 2022
Historical fiction encompasses an enormous time frame, so to make it easier for you to find the best historical fiction books for you we've grouped our picks by era: Pre-19th Century; Victorian and Early 20th Century; World War II and Mid to Late late 20th Century. You can jump between these categories using the navigation bar.
Pre-19th Century
A must for history buffs—there's everything from Greek myths to royal courts and the lives of ordinary folk in the 1700s.
---
---
---
---
---
---
---
---
Victorian and Early 20th Century
This section includes our top historical fiction picks from the mid 1800s, through to the 1930s, an era when many of the best period dramas are set and unsurprisingly some of the best historical fiction books, too.
---
---
---
---
---
---
---
---
World War II Era
Our selection of World War II fiction includes stories of everyday people doing extraordinary things as the threat of war looms ever closer and we've also included stories set in the immediate aftermath of the war.
---
---
---
---
---
---
• The German Heiress by Anika Scott at Amazon for US$12.75 (opens in new tab)
---
Mid-Late Twentieth Century
Covering our most recent history, the literature of the mid-to-late twentieth century often explores social themes such as race, identity, class, gender and non-conformist behaviour.
---
---
---
---
---
---
---