The best historical fiction books to add to your reading list in 2021
The best historical fiction books will transport you to another world...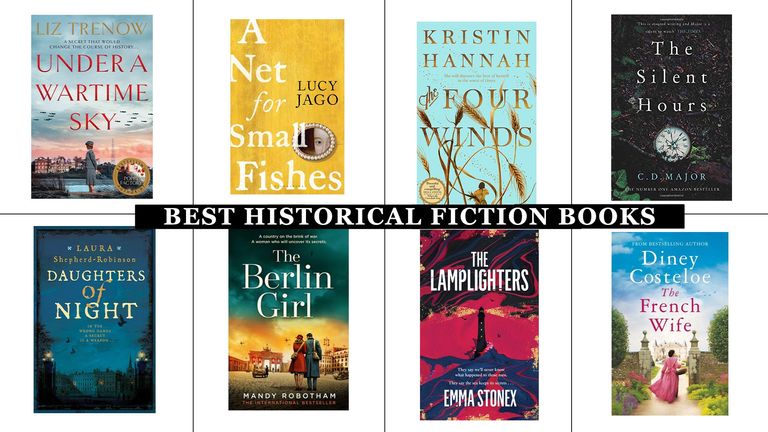 (Image credit: Future)
Historical fiction remains enduringly popular—for who doesn't love journeying back into the past and discovering long-buried secrets? Whether set in medieval times or only a few short decades ago, the past is something that immediately captures all of our attention. So, we've rounded up the best historical fiction books of 2021 so far, to help you decide which decade to delve into this weekend...
The best thriller books may be more popular, but millions of us have a soft spot for historical fiction books. With fact and fiction often blurring, the opportunity for historical writers to use their own unique flare and showcase their take on events means you're always in for a dramatic reading experience.
But which time period appeals most to your imagination? And which historical books should be added to your reading list—or in fact, your book club books list—this year?
Whether you prefer to read on an eReader (see our guide to the best eReaders, or the best Kindles on offer right now) or favor a traditional print book, here we reveal our pick of the best reads that this genre has to offer in 2021...
Best historical fiction books to read in 2021
Of course, the literary world of historical fiction encompasses an enormous time frame, so to make it easier for you to scan our curated list to find the novel you want to read, we've grouped them into time periods—from Pre-19th Century to Victorian and Early 20th Century, all the way through to the Second World War and post World War 2, up to modern historical fiction—most of which takes place in the late 20th Century.
Pre-19th Century
The 19th Century began on 1st January 1801, so all of the fiction picks listed below pre-date this time.
This section is a must for real history buffs—those who want to know more about times vastly different to the modern area. You can expect everything from the tales of early Kings and Queens to the lives of ordinary people living in the 1600s and 1700s.
1. The Mercies by Kiran Millwood Hargrave
Inspired by true events, this bewitching historical book captures a real sense of the suspicion that's soon to tear a small Norwegian community apart. On Christmas Eve, 1617, the island of Vardø suffers a tragedy as a sudden storm lays waste to the local men. Eighteen months later, godly Absalom Cornet arrives, determined to stamp out what he sees as female evil. This is one atmospheric and unforgettable read.
Read it because...: Tension, emotion and prose that's as spartan as the bleak Norwegian weather, this book has it all. As Millwood Hargrave's first novel for adults (her previous fiction being aimed at a younger audience), it's a thrilling tale that shines a light on the less well-known witch trials that darken history.
A line we love: "Grief cannot feed you, though it fills you."
---
2. Katheryn Howard: The Tainted Queen by Alison Weir
Charting the rise and fall of Henry VIII's fifth queen, historian Alison Weir is an expert at weaving together historical detail and political powerplay. When her uncle's machinations get naïve Katheryn Howard noticed by the ageing Henry VIII, all of her past liaisons are set aside in favour of this more advantageous match. Now all she can do is hope her old secrets won't be revealed…
Read it because...: History has not been kind to Katheryn Howard, often depicted as the flirty teen who made some bad decisions. Weir's book, in contrast, recasts her more as a young girl forced to grow up fast. A must-read for fans of Tudor fiction with pacey chapters and layers of intrigue.
A line we love: "The shift fell to the floor as she began weeping, grieved, not only for the suffering of Queen Anne, but also because the Howards had lost their standing at court and in the world, tainted by the crimes of one of their own."
---
3. Hamnet by Maggie O'Farrell
Delving into the Elizabethan era with great flair, Maggie O'Farrell's first historical tale is inspired by the life of Shakespeare's beloved son. When a young girl falls ill one summer day in 1596, her twin brother Hamnet is desperate to find help. But with both their parents at work far away, it becomes clear that only one child will survive the week. Will the family's love be enough to hold them together despite their grief? Moving and beautifully written.
Read it because...: If you love award-winners, this brilliantly imagined novel is one for you, having scooped the 2020 Women's Prize for Fiction, the Fiction Prize at the 2020 National Book Critics Circle Awards and the 2021 Dalkey Literary Awards novel of the year. Lyrical and vivid, the characters leap off the page.
A line we love: "Cruelty and devastation wait for you around corners, inside coffers, behind doors: they can leap out at you at any moment, like a thief or brigand."
---
4. Rose Nicolson by Andrew Grieg
It's the winter of 1574 and deadly forces are at play in Edinburgh. As clashes between reformers and those loyal to Queen Mary of Scots tear apart the land, lowly student William Fowler seizes his chance to make his name. Becoming tangled in the world of Scotland's exploitative elite, Will and his friends arrive at the heart of a powerful conspiracy. Andrew Grieg's turbulent tale of unshakeable ambition and conflicting loyalties takes the reader on a vivid and unforgettable journey.
Read it because...: It's a brilliant combination of romance and historical insight, and Rose is an intriguing heroine.
A line we love: "My lofty resignation of minutes before was succeeded by a black dread of being taken by the sea, sinking down into nothingness or worse."
---
5. The Foundling by Stacey Halls
The writer of the bestselling The Familiars returns with a vengeance with this tale set in Georgian London. Bess Bright is devastated to discover that the daughter she left at London's Foundling Hospital has now been claimed. Meanwhile, widow Alexandra lives in comparative luxury, determined to protect herself and her daughter from the past. With a strong emotional core, you'll be carried along by the historical details.
Read it because...: There are many books dedicated to motherhood but The Foundling is especially poignant, with female characters that are engaging and modern without being unrealistic. Get ready for it to pull at your heart strings.
A line we love: "Like the Thames tide the city had a temperament, and it could give or take."
---
6. The Queen's Rival by Anne O'Brien
It's 1459, and the English nobility are bitterly divided over whether to remain loyal to their weak-minded King Henry VI and his haughty French wife Marguerite of Anjou. And when powerful Cecily Neville, Duchess of York, is imprisoned, she does everything to get her family back where they belong. A compelling story of divided loyalties and family betrayals. Dramatic and highly evocative.
Read it because...: For those who love unexplored corners of history, the forgotten story of a strong woman who played a major part in the War of the Roses, overlooked for so long, will be thrilling. At more than 500 pages, with much of it in letter form, it makes a great holiday read.
A line we love: "I could see defeat, engraved in the lines from nose to mouth. His familiar features had become a bleak map of failure."
---
7. A Room Made of Leaves by Kate Grenville
Inspired by the real life of Elizabeth Macarthur, Kate Grenville imagines the private life of a remarkable woman whose husband was a pioneer of the Australian wool industry. It's 1788 when Elizabeth makes the decision to marry John Macarthur, but soon realises her mistake as he proves himself to be devious and angry with the world. Elizabeth must find an inner strength if she is to steer her husband away from danger. Packed with wonderful historical detail, this is an absorbing read.
Read it because...: As a mix of fact and inventive fiction, this imagined memoir is sure to inspire lively debate—perfect for a book club. Worth reading for its compelling characters, engaging storytelling and interesting possibilities.
A line we love: "Vexation was vexing, but idleness was like death."
---
8. Daughters Of Night by Laura Shepherd-Robinson
Already being heralded by critics as the "best historical fiction book of the year", Daughters Of The Night is a chilling murder mystery set in the dark underbelly of Georgian London. Caroline "Caro" Corsham is awaiting the return of her politician husband from France when she happens upon the body of a well-dressed lady in Vauxhall Pleasure Gardens. When it transpires that the woman was a high-class prostitute, the police lose interest in the case, and it's up to Caro and thief-taker Peregrine Child to track down her killer. A delectable whodunnit oozing with menace and lively period language.
Read it because...: Mystery fans will rejoice in Shepherd-Robinson's evocative prose filled with well-researched historical details, complex characters and beautiful depiction of Georgian London. Serve this one with a large G&T and take the phone off the hook.
A line we love: "In the wrong hands a secret is a weapon."
---
9. A Net For Small Fishes by Lucy Jago
Based on the true scandal that rocked the court of James I in the 17th century, this richly layered story seizes attention right from the opening page. With her beauty and family connections, Frances "Frankie" Howard has the position in society that Anne Turner, for all her wit and talent, can only dream about. Yet when the two women meet under the oddest of circumstances, they soon realise that combining their attributes could help them to open powerful doors in the court, doors that others may be seeking to keep shut at any cost… Colourful, characterful and a true celebration of women, this is a debut that warrants a lot of attention.
Read it because...: With more scandal and drama than an episode of Eastenders, this entertaining historical fiction centres around female friendship, politics and power struggles in the court of James I. A debut novel filled with rich imagery that'll keep you turning the pages.
A line we love: "I meant no insult to him, but it is a foolish woman who puts her whole trust in her husband."
---
Victorian and Early 20th Century
In this section we'll be sharing our top historical fiction picks from the Victorian era and Early 20th Century. The Victorian Era spans the entirety of Queen Victoria's reign, from 1837, until her death in January 1901. The recommendations will also cover literature based in the early part of the 20th Century.
Reflecting the growing fascination with the morbid and supernatural in the Victorian era, there are a few book options based around that topic. Below you'll also find tales from foreign countries and their history as they entered the 20th Century.
10. Spirited by Julie Cohen
Blending together supernatural elements with a historical setting, Julie Cohen brings us Victorians Viola and Henriette. After losing her father, the only thing that can lift Viola's grief is photography, though her pictures seem to pick up spirits that are invisible to the naked eye and after meeting spirit medium, Henriette, she is drawn even further into a very different world. Wonderfully written and evocative.
Read it because...: More than your average romance novel. For those who believe that true love conquers all, this haunting story set in the Victorian era is sure to delight with ghostly goings on and themes that still resonate today.
A line we love: "They were chilled here in this empty church, cold and clumsy, and Viola had to think very hard about sunshine, about violets, as the man whom she had promised to love forever put the ring of a dead woman onto her own finger."
---
11. Meet Me In Bombay by Jenny Ashcroft
Vividly set against the backdrop of colonial India, Jenny Ashcroft's latest historical tale brings to life the colour, love and heartbreak that make life worth living. When Madeline and Luke first meet at a party in 1914 on the shores of Bombay, the love that blooms is unstoppable, despite the war on the horizon. But when Luke is called to fight, all Maddy can do is think of the promise he made her—that they would once again meet in Bombay.
Read it because...: It's a heart-warming story set against the backdrop of war that'll sweep you away to another time and place. Feel the sweltering heat of colonial India on every page – just right for warming up a gloomy day.
A line we love: "It was quieter outside, the sultry air acting as a muffler on the music, the voices of all those milling around, lounging at the tables in the shadows."
---
12. Islands of Mercy by Rose Tremain
In this literary read, Tremain negotiates the complexity and fragility of the human condition with great skill. Opening in 19th century Bath, a cast of distinctive characters, ranging from Doctor Valentine Ross, to doctor's daughter and nurse, Jane Adeane, bring forth a tale of passion and soul-searching as Jane must choose between a conventional marriage and an affair with a female lover. Intertwined with their tale is that of eccentric British 'rajah', Sir Ralph Savage in Borneo and together, Tremain boldly explores our very human need for sanctuary and expression.
Read it because...: Explore the world without having to step outside your door as this horizon-expanding novel takes you from places as diverse as Bath, London, Dublin, Paris, the west coast of Ireland and Borneo. Beautiful narration makes this story unputdownable.
A line we love: "We cannot shape the world according to the delights society decrees appropriate for us; we must be unconventional in our joys and find them wherever we can."
---
13. The French Wife by Diney Costeloe
With her sister's spectacular wedding fast approaching, Helene St Clair's growing feelings for a young Englishman, Rupert, and friendship with orphan Annette may yet prove dangerous. Following the 1871 siege of Paris, Annette and Helene have grown close and now working for the St Clair family, Annette's dark secret lies squarely in her friend's hands. This is a truly captivating read that brings together vibrant characters and historical setting with great success.
Read it because...: As satisfying for fans of Costeloe's work as it will be for those new to the genre of historical fiction, this sequel to The Children of the Siege is full of dangerous passions, characters you'll root for and villains you'll love to boo.
A line we love: "A friend, Agathe had described her to Annette, but as she looked across at Rosalie now she knew that they were not friends, simply two women who had met in the most peculiar circumstances some years ago, and had made some sort of connection."
---
World War II Era
World War II fiction is without doubt one of the most popular sectors of historical fiction, given the myriad of stories and experiences lived by people at that time.
In our list complied below you'll discover the stories of everyday people doing extraordinary things as the threat of war looms ever closer—as well as a fascinating fictional retelling of the lives of a young Queen Elizabeth II (then Princess Elizabeth) and Princess Margaret during the Second World War.
14. Under A Wartime Sky by Liz Trenow
Suffolk, 1936. When Kathleen begins work as a tea girl at Bawdsey Manor, she is initially happy to simply be doing her bit. With the threat of war hanging over Europe, the smartest minds, including shy physicist Vic, have gathered at Bawdsey to work on an invention that could tip the odds hugely in Britain's favour. As the team's progress gathers pace and local women are invited to become operators, Kathleen finds herself swept up in an exciting new world. But neither she nor Vic could have imagined what the future has in store. Engrossing and accomplished.
Read it because...: Even if you're a fan of books and films set in the time of WWII, this immersive novel is sure to add to your knowledge by shining a spotlight on part of British history that's still relatively unknown. Moving, intricate and layered with detail.
A line we love: "She leapt to her feet and found herself face to face with a man unlike any she'd ever encountered, so unusual that she instinctively lowered her gaze for fear he might think she was staring."
---
15. The Berlin Girl by Mandy Robotham
It is 1938, and fledgling reporter Georgie arrives in Berlin to find the city overrun with Nazis. As she and fellow Londoner Max witness more atrocities with each passing day, it becomes clear to Georgie that the pair must do something – but how can they hope to ensure the safety of others when to do so will put their own lives at risk? By capturing with gut-lurching accuracy the tension and horror of a country on the precipice of war, bestselling author Robotham has created yet another richly detailed and poignant tale about the immense tenacity of the human spirit.
Read it because...: This meticulously researched and suspenseful novel does a great job of presenting history from a different perspective, without a romantic storyline to distract.
A line we love: "Well, it means dogsbody really, but they couldn't very well put that in the job description."
---
16. The Animals at Lockwood Manor by Jane Healey
It's the beginning of the Second World War when Hetty, a young female museum curator and evacuee, arrives at Lockwood Manor with a large part of the Natural History Museum's collection. She hopes to keep them safe, but there is something strange going on and when Hetty feels she is being followed through the corridors the book takes a more gothic turn. Part love story and part-mystery, this historical book is sure to draw you in.
Read it because...: Part love story, part mystery, but all intriguing, this book is part of a long British tradition of haunting stories set in foreboding manors which influence the characters' fate. A debut that's great for curling up with on a stormy night.
A line we love: "Perhaps I could be like some desert plant, and these months together could be the rarest of summer rainstorms, could be all the water I would ever need to survive, to live on – but I knew that could not be true, for I was a creature of flesh and blood."
---
17. The Unwanted Dead by Chris Lloyd
For Paris police detective Eddie Giral, the day the German forces march into Paris is a day he will never forget. Feeling helpless, he throws himself into investigating the murder of four refugees – people who no one seems to want to claim. But with Europe in turmoil and eyes everywhere, he must be careful. He must do what he can to survive, but Eddie soon begins to unearth a truly horrific conspiracy that goes right to the heart of the German leadership and must soon see the light of day. Tense, emotional and vividly written.
Read it because...: This crime novel has it all – a flawed old-school detective who enjoys acts of defiance, atmospheric wartime Paris with its landmarks, jazz clubs and cafes and a beautifully wrought plot. Has the potential to be the first in a series, so start reading now.
A line we love: "A fraction of a moment after the heavy swing doors opened, a cannonade of music hit me like velvet bullets fired from a silver gun."
---
18. The Governess by Wendy Holden
In her first foray in historical fiction, Holden focuses on Scottish educator and governess, Marion Crawford, who soon took the young princesses, Elizabeth and Margaret under her wing. Just what was Marion doing there when she had intended to teach in the slums, and why was she shunned from the Royal family years later? This intriguing fictionalisation of real-life events offers a fascinating insight into the Queen's childhood.
Read it because...: If you've been gripped by The Crown, this different perspective on royal life will resonate. Plenty here for book clubs to talk about.
A line we love: "Everything was brown, from the desks with their lids and inkwells to the wooden forms and floorboards. Brown was the heavy Bakelite clock and brown the picture frame surrounding a bulge-eyed King George V and a flint-faced Queen Mary."
---
19. Mrs England by Stacey Halls
A fascinating novel charting the lives of ordinary women—this one set in what some consider the golden era of childhood. Ruby, a Norland nanny, enters the home of Edwardian couple, Mr and Mrs England, to look after their children. But as she adapts to life at Hardcastle House it's soon apparent not everything is as it seems, and this is a house full of secrets and the family is anything but perfect. An intriguing, atmospheric story full of underlying menace.
Read it because...: It's another classic tale form the much-loved author of The Familiars, and The Foundling. Halls has a wonderful gift for creating atmosphere and a sense of unease.
A line we love: "The room was so quiet I could hear my heart breaking, and it sounded like a daisy snapping at the stem."
---
---
Post-World War II Era
Fiction based on a world that was rebuilding itself following a savage and difficult war is complex and multi-faceted.
While some people and parts of the world, thrived in freedom—finally—after the war, others were left to pick up the pieces and deal with the psychological scars left over.
As such, the below fiction recommendations cover a wide range of experience in a post-World War II era—everything from the consequences of war crimes to new lives in new countries.
20. The Silent Hours by CD Major
Former history teacher CD Major was inspired to write this deeply affecting story after discovering what occurred in the French town of Oradour at the end of the Second World War, when losing Nazi soldiers were displaced and desperate. Told from the perspective of Adeline, a mute woman being cared for in a convent, Jewish banker Sebastien, who's fallen in love with a local woman, and nine-year-old Tristin, newly arrived in the village with his family after they fled from Paris, it charts the events leading up to and after the devastating event that changed all their lives. A haunting yet captivating must.
Read it because...: Based around a real event, this epic debut brings wartime France to life. An excellent read for Remembrance Sunday—keep a box of tissues handy.
A line we love: "When a German soldier is running at you, there's no point quoting Virgil at him, you're better off kicking a football in his face."
---
21. The Four Winds by Kristin Hannah
The year is 1934, and Elsa Martinelli is living the life she always wanted as a wife and mother on a farm in the Great Plains of Texas. But when a devastating drought brings the community to its knees and Elsa's husband flees, she must decide whether to stay and fight for her land or journey to California with her two children in search of a new start. As with all of author Hannah's breathtaking books, The Four Winds is not only a mesmeric study of nature at its most beautiful and terrible, but also of the bonds that bind us to those we love.
Read it because...: A story of survival that will leave you thirsting for more of this author's work. Pour yourself a large glass of water as you read this heart-breaking portrait of the American Dust Bowl in the 1930s.
A line we love: "Courage is fear you ignore."
---
22. The German Heiress by Anika Scott
Set in Essen, Germany in 1946, Anika Scott's extraordinary novel follows iron works heiress Clara as she desperately tries to evade the Allied authorities, accused of being complicit in her father's wartime crimes. When Clara returns to find her hometown in ruins, she realises that for her to have a future she must first face up to her past. Fans of The Tattooist of Auchwitz will be fascinated by Scott's portrayal of post-war Germany in this tale of guilt and redemption.
Read it because...: The best kinds of historical fiction push us to see ourselves in the past and wonder what we would have done then. This heart-pounding debut does just that, questioning both morality and justice.
A line we love: "She had read the article below the picture, picked out words—incitement to war, support of a criminal regime, crimes against humanity—and they seemed to slap her awake after a long sleep."
• The German Heiress by Anika Scott at Amazon for US$12.75
23. Tell Me How It Ends by V.B. Grey
Grey brings to life a plot that is as dramatic as its characters, rich with 1960s period detail. Singer Delia Maxwell has been adored and envied since the 50s, although Private investigator Frank thinks Delia's ambitious new assistant Lily is more obsessed than most. Despite his fears, however, Delia doesn't seem concerned. With brilliant homages to film noir, this intriguing novel is packed full of tension.
Read it because...: Fans of black and white movies will adore this read of revenge and manipulation as you're transported to a world of glamour with a little seediness.
A line we love: "Although her hair, always naturally wavy, is now a shining halo of blonde, and her heavily made-up eyes make her appear older, I recognise her instantly for who she really is."
---
24. Small Pleasures by Clare Chambers
Clare Chambers' tender 1950's mystery follows Jean Swinney, a features writer on a local newspaper, whose world is turned upside down when she is sent off to investigate Gretchen Tilbury's 'virgin birth'. Her life quickly becomes intertwined with the charismatic Tilburys, though their story seems to be casting a darker shadow the more she looks deeper. A stunning novel that will steal your heart.
Read it because...: Longlisted for the Women's Prize for Fiction, this is a proper comfort read with understated tragedy and mystery underscored by observations of suburban life.
A line we love: "Never before had she considered that all these experiences that had nearly demolished her had built her into something better."
---
25. The Jane Austen Society by Natalie Jenner
Just when the little village of Chawton think that they can finally start to put the devastation of the recently ended war behind them, they look set to be dealt another blow in the form of the sale of Jane Austen's former home. Faced with the possibility of the estate being purchased, eight of the villagers band together to fight to preserve this historic site, calling themselves The Jane Austen Society. Uplifting and warm, the characters and charming settle can't fail to bring a smile to your face.
Read it because...: A cosy, feelgood debut about how a shared passion can bring people together, this will appeal to Austen fans and newcomers alike.
A line we love: "Reading, she now understood, had been her own choice of rebellion."
---
26. This Lovely City by Louise Hare
In her atmospheric debut, Louise Hare transports us to post-war London with newly arrived jazz musician, Lawrie. Touring the music halls of Soho by night, by day he paces the streets as a postman—which is when he happens upon a terrible discovery and becomes the prime suspect. It soon becomes clear that the new arrivals from the Caribbean may not be as welcome as they'd been led to believe. A thought-provoking mystery that's sure to get people talking.
Read it because...: It's easy to romanticize post-war Britain but this debut doesn't pull any punches with prejudice and identity struggles at its core. Lots to discuss in this murder mystery—love story combo.
A line we love: "Stiff upper lip, put on a brave face and pretend that if you can ignore the horrors of the past and think only of the future, then you too will be all right."
---
27. She Came To Stay by Eleni Kyriacou
It's London, 1952 and Dina has arrived from Cyprus with her brother, looking for a better life. When she meets the glamorous Bebba at the notorious Pelican Revue, she sees her chance to start really living. Only, Dina soon learns that everyone has a secret. This is an intriguing tale of friendship, betrayal and hope.
Read it because...: Dark, atmospheric and complex, this debut is guaranteed to make you question loyalty and trust in your own life. Perfect as a long, cosy evening read.
A line we love: "I was growing to love it here, Soho especially, but when the cold weather swept in it brought with it this dense, filthy fog, full of shadows, and it made me uneasy."
---
28. The Victory Girls by Joanna Toye
Joanna Toye is back with the fifth book in her much-loved World War 2 series. Set at Marlows Department Store, we find ourselves in the spring of 1944—and Lily Collins wants to do her bit. But where does her duty lie? With her best friend, Gladys facing having her baby alone, and Beryl run off her feet building her bridal-hire business amidst the bomb damage, it's a busy time at the Midlands department store. But what does fate have in store for Lily? A wonderful testament to friendship as the Allied forces push on towards longed-for victory. We love this series!
Read it because...: Joanna Toye has written for one of the best-loved dramas of all time—The Archers on Radio 4. She's brilliant at creating believable characters you'll care about.
A line we love: "She lived with her gran, so she wasn't totally on her own, but Florrie Jessop wasn't exactly the twinkly grandma of storybooks."
Modern Historical Era
In a move way from the wars that dominated the early to middle 20th Century, our final section is on modern historical fiction, from around the 60s onwards. While these stories might seem like they aren't set too long ago, it's fascinating to examine—throughout literature—the way in which the world has changed in just 50 years or so.
29. The Lamplighters by Emma Stonex
Cornwall, 1972. Three keepers disappear from a remote lighthouse far from shore. The door is locked from the inside, the clock has stopped and a ferocious storm has been noted in the log despite skies being clear all week. Nobody can work out what happened or why. Twenty years later, a writer approaches the wives of the three missing men and offers them the chance to tell their side of the story. But are they strong enough to face their deepest fears? One of 2021's most-anticipated novels, this chilling and atmospheric story more than delivers on its promise.
Read it because...: Based on a real event that also inspired the film The Vanishing, this haunting story is both intriguing and filled with emotive descriptions of the ocean.
A line we love: "Jory knows loud seas and silent seas, heavy seas and mirror seas, seas where your boat feels like the last blink of humankind on a roll so determined and angry that you believe in what you don't believe in, such as the sea being that halfway thing between heaven and hell or whatever lies up there and whatever lurks down deep.''
---
30. Liar by Lesley Pearse
Set in 1970s London, Pearse's latest dark tale follows saleswoman Amelia White, who has ambitions to become a reporter. Luckily, these might just be about to become reality when she discovers a murdered woman's body. Determined to report the truth amidst a media frenzy that spreads outrageous lies, Amelia convinces her paper's editor to allow her to delve deeper. A superbly twisting and intense historical book that will have you gripped to the end.
Read it because...: This might be the author's 28th novel but it's no less suspenseful, exploring a time period that few do, full of power cuts and dustbin collection strikes.
A line we love: "It takes an accident or a drama of some sort to make people speak to one another. The hippie scene made it more friendly for a while, but that's drifting away now."
---
Emma is a Senior Lifestyle Writer with five years experience working in digital publishing, ranging from book publishing to magazines. She currently looks after all things Lifestyle for Woman&Home, GoodToKnow and My Imperfect Life.
Before she joined Future Publishing, Emma graduated from the University of Warwick with a Bachelor of Arts degree in English and Comparative Literary Studies. After leaving education, she started out her publishing career in the world of books, working as a Publisher for an independent digital publisher specializing in back-list and debut commercial fiction novels. With a huge book list and a passion for bringing the best stories to the broadest audience possible, Emma filled her spare time with reading the latest best-sellers and catching up on hit adaptations.
In 2017 she joined TI Media as a fiction writing coordinator on Woman's Weekly and Woman's Weekly Fiction as part of the features team. From here, she used her love of books, working to bring short stories to our dedicated readers and began writing for the books pages of Woman, Woman's Own and Woman&Home, as well as online features ranging from genre round-ups to travel pieces for womanandhome.com.
After honing her skills, Emma branched out online in 2020 when Future gave her the opportunity to focus on digital-first. When she's not writing about the next big lifestyle trend, she enjoys cooking, long walks and watching as many crime dramas as she can!