The best historical fiction books to add to your reading list in 2021
The best historical fiction books will transport you to another world...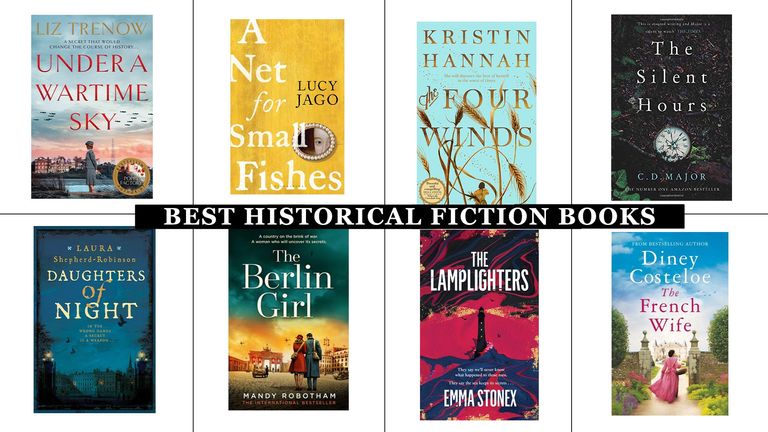 (Image credit: Future)
Historical fiction books remain enduringly popular – for who doesn't love journeying back into the past and discovering long-buried secrets? Whether set in medieval times or only a few short decades ago, the time period immediately draws you in.
The best thriller books may be more popular, but millions of us have a soft spot for historical fiction books. With fact and fiction often blurring, the opportunity for historical writers to use their own unique flare and showcase their take on events means you're always in for a dramatic reading experience.
But which time period appeals most to your imagination? And which historical books should be added to your reading list or book club books list in 2021?
Whether you prefer to read on one of the best eReaders, or favour a traditional print book, here we reveal our pick of the best reads that this genre has to offer…
Best historical fiction books to read in 2021
Of course, the literary world of historical fiction encompasses an enormous time frame, so to make it easier for you to scan our curated list to find the novel you want to read, we've grouped them into time periods - from Pre-19th Century to Victorian and Early 20th Century, all the way through to the Second World War and post World War 2, up to modern historical fiction - most of which takes place in the late 20th Century.
Pre-19th Century
The 19th Century began on 1st January 1801, so all of the fiction picks listed below pre-date this time.
This section is a must for real history buffs - those who want to know more about times vastly different to the modern area. You can expect everything from the tales of early Kings and Queens to the lives of ordinary people living in the 1600s and 1700s.
---
---
---
---
---
---
---
---
Victorian and Early 20th Century
In this section we'll be sharing our top historical fiction picks from the Victorian era and Early 20th Century. The Victorian Era spans the entirety of Queen Victoria's reign, from 1837, until her death in January 1901. The recommendations will also cover literature based in the early part of the 20th Century.
Reflecting the growing fascination with the morbid and supernatural in the Victorian era, there are a few book options based around that topic. Below you'll also find tales from foreign countries and their history as they entered the 20th Century.
• Spirited by Julie Cohen at Amazon for US$16
---
---
---
---
World War II Era
World War II fiction is without doubt one of the most popular sectors of historical fiction, given the myriad of stories and experiences lived by people at that time.
In our list complied below you'll discover the stories of everyday people doing extraordinary things as the threat of war looms ever closer - as well as a fascinating fictional retelling of the lives of a young Queen Elizabeth II (then Princess Elizabeth) and Princess Margaret during the Second World War.
---
---
---
---
---
Post-World War II Era
Fiction based on a world that was rebuilding itself following a savage and difficult war is complex and multi-faceted.
While some people, and parts of the world, thrived in freedom - finally - after the war, others were left to pick up the pieces and deal with the psychological scars left over.
As such, the below fiction recommendations cover a wide range of experience in a post-World War II era - everything from the consequences of war crimes to new lives in new countries.
---
---
• The German Heiress by Anika Scott at Amazon for US$12.75
---
• Small Pleasures by Clare Chambers at Amazon for US$15
---
---
---
---
Modern Historical Era
In a move way from the wars that dominated the early to middle 20th Century, our final section is on modern historical fiction - from around the 60s onwards. While these stories might seem like they aren't set too long ago, it's fascinating to examine - throughout literature - the way in which the world has changed in just 50 years or so.
---
---
Emma is Senior Lifestyle Writer for Goodto.com, womanandhome.com and Myimperfectlife.com and she loves sharing the latest lifestyle, royal, celebrity and entertainment news. Before joining Future, previously TI Media, Emma was a Freelance Editor and before that a Publisher for an independent digital publisher. When she's not writing about the next big lifestyle trend, she enjoys cooking, long walks and watching as many crime dramas as she can!