The best period dramas to watch right now if you've already binged all of Bridgerton
Here's our pick of the best period dramas to watch right now to save you from post-Bridgerton longing and take you back in time...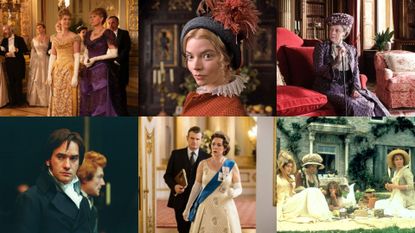 (Image credit: Future// Image credits from left-right, top-bottom: Image 1: WarnerMedia // Image 2: Focus Features Pictorial Press Ltd / Alamy Stock Photo // Image 3: PictureLux / The Hollywood Archive / Alamy Stock Photo // Image 4: PictureLux / The Hollywood Archive / Alamy Stock Photo // Image 5: Credit: Netflix / The Hollywood Archive via Alamy // Image 6: Photo by Liaison Agency/Getty Images / Handout)
woman&home newsletter
Sign up to our free daily email for the latest royal and entertainment news, interesting opinion, expert advice on styling and beauty trends, and no-nonsense guides to the health and wellness questions you want answered.
Thank you for signing up to Woman & Home. You will receive a verification email shortly.
There was a problem. Please refresh the page and try again.
The best period dramas will soon have you dreaming of sumptuous costumes and romantic dances and whether you're looking for a slightly more intense or light-hearted watch there's something for everyone to enjoy in this genre.
So many of the best book-to-TV shows and book-to-movie adaptations are those that have a historical setting and Netflix's Bridgerton shows just how popular and successful period dramas can be. Now that Bridgerton season 2 has finally ended and Bridgerton season 3 seems like forever away, many viewers might be searching for the next historical show or movie to transport them back in time.
After all, period dramas have everything we could hope for: nostalgia, love, drama, loss, and some pretty spectacular costumes and settings. And if you've never seen a period drama before, want to explore more, or simply fancy a re-watch of some particular moments, we've got you covered.
Here we reveal our ultimate selection of the best period dramas to enjoy if you've finished binge-watching Bridgerton…
The best period dramas to watch 2022
Pride and Prejudice
When it comes to the best period dramas Pride and Prejudice is pretty hard to beat! With Regency dances and costumes, re-watching this classic might well make you feel like you've stepped back into the world of Bridgerton. And there are two versions of this boy-meets-girl tale that particularly capture our hearts, often described as the Colin Firth version and Keira Knightley version.
The latter came out in 1995 with Colin playing wealthy, aloof Mr Darcy, whilst Keira plays prejudiced Elizabeth Bennet in the 2005 adaptation. Relax and watch Elizabeth and Mr Darcy become closer despite their flaws in this historical epic love story.
How to watch: Enjoy the 2005 adaptation of Pride and Prejudice on Netflix or the 1995 version via Hulu, Amazon Prime Video or BritBox.
Parade's End
Set during the First World War, the BBC adaptation of Ford Madox Ford's Edwardian novel, Parade's End, tells the tale of a wealthy English aristocrat (played by Benedict Cumberbatch) who is caught in a love triangle with his destructive wife Sylvia and young suffragette Valentine. Struggling with war injuries, he's torn between being faithful to his decidedly unfaithful wife and giving in to his feelings for the fearless younger woman he's fallen for. If you love the blend of romance and darker moments in your period dramas, then why not give this a go?
How to watch: Fans can buy Parade's End on Amazon Prime Video.
Downton Abbey
As long-time fans prepare for the highly-anticipated release of the Downton Abbey sequel later this year, there's still time to binge-watch your way through the original series which is still one of the best period dramas to this day. The Emmy-Award-winning historical show soon captivated viewers with the lives of the aristocratic Crawley family and their servants. And if the brilliant characters, Downton Abbey filming location, and impeccable costume design aren't enough to tempt you, with the time-frame moving from 1912 to 1920s, with the show you'll see the changes of decades play out on screen too.
How to watch: Downton Abbey is available to watch on BritBox, Netflix and Amazon Prime Video.
Little Dorrit
Little Dorrit is one of Dickens most personal novels, portraying his personal and public life through the lead character Amy Dorrit. Trapped in a debtors' prison with her family, Amy soon discovers that her father William is the heir to a fortune, changing her life forever. The fourteen-part BBC adaptation from 2008 sees the original Queen Elizabeth in The Crown, Clare Foy, step into the lead role. Packed with emotional highs and lows, Little Dorrit will have you rooting for this strong heroine to get the happy future she deserves.
How to watch: Little Dorrit is available to buy on Amazon Prime Video.
Sense and Sensibility
Jane Austen's charming love story has been adapted several times over the years, including by the BBC in 2008 which features Downton Abbey's Dan Stevens and in 1995 starring Dame Emma Thompson and fellow Harry Potter actor, the late Alan Rickman, as well as Kate Winslet. Sense and Sensibility tells the tale of a widowed mother who moves from her grand home in Sussex to a more demure cottage in Devonshire in the hope of finding suitable husbands for her three daughters, Elinor, Marianne, and Margaret Dashwood. With brilliant acting and a plot filled with family and romantic drama, this is well worth checking out!
How to watch: Sense and Sensibility is available to watch on Hulu and to buy and rent on Amazon Prime Video.
Tess of the D'Ubervilles
There's more than one familiar face in the 2008 adaptation of Thomas Hardy's Tess of the D'Ubervilles. Fantastic Beasts star Eddie Redmayne takes the role of Angel Clare, whilst Gemma Arterton (Quantum of Solace, St Tinian's) plays the titular Tess. Though different from a lot of the more fairytale-esque best period dramas, this hauntingly harrowing tale of love, loss, and social class makes this one to watch. Judged by her community, Tess fights to protect and support those she loves when her paths cross with the handsome apprentice farmer Angel.
How to watch: Watch Tess of the D'Ubervilles included with BritBox on Amazon Prime or buy it on Amazon Prime.
Cranford
Bringing together an ensemble cast led by the brilliant Dame Judi Dench, this adaptation of Elizabeth Gaskell's Cranford novellas has a teleplay by the wonderful Heidi Thomas of Call the Midwife fame. Set in the fictional village of Cranford in the North West of England in the 1840s, it follows a network of ladies who thrive on gossip and romance. However, it's not long before their once-quiet lives are set to be changed forever by the industrial revolution...
How to watch: Watch Cranford on BritBox or buy series 1 and 2 on Amazon Prime.
Jane Eyre
Charlotte Brontë's classic novel has hit British television screens a number of times over the past 20 years, with many well-known actors stepping into the roles of brooding Mr Rochester and his principled governess and eventual love interest, Jane Eyre. With strong themes of morality and social criticism, the story of Jane Eyre is often considered one of the best period dramas. It also has its fair share of love, as Jane falls in love with her employer without knowing the dark secrets of his past.
How to watch: Watch the 2011 adaptation of Jane Eyre on STARZPLAY on Amazon.
Bleak House
Love Dickens but tired of Oliver Twist or Great Expectations? Then Bleak House could be the period drama for you. This is a darker period drama about the injustices of the legal system in the 19th century, filled with plenty of plot twists and edge-of-your-seat suspense. The 2005 adaptation features The Crown's Gillian Anderson as Lady Dedlock and Anna Maxwell Martin, who played Line of Duty fan-favorite Patricia Carmichael, as Esther Summerson.
How to watch: Watch Bleak House on Hulu or BritBox with Amazon or buy it on Amazon.
Emma
If it's the love story element of the best period dramas that gets you every time, then any of the brilliant adaptations of Jane Austen's classic tale, Emma, will be right up your street. Telling the tale of meddlesome Emma Woodhouse as she match-makes the people around her (often less than successfully!) whilst forgetting about finding love for herself, this tale served as the inspiration for hit movie Clueless. Over the years Emma has been played by everyone from Gwyneth Paltrow to Romola Garai, but the latest adaption has Anya Taylor-Joy in this intriguing role.
How to watch: Watch the 2020 adaptation of Emma on Netflix.
Upstairs Downstairs
Upstairs Downstairs was one of the most prolific costume television dramas of all time, so much so that it was bought back to life in 2010 starring Keeley Hawes, Claire Foy, and Eileen Atkins. The original 1970s period drama series follows the lives of the Bellamy family and their servants in 165 Eaton Place, a townhouse, between 1903 and 1930 in London. Reflecting on the major changes that took place in these decades with the two World Wars, this is an insightful watch.
How to watch: Watch Upstairs Downstairs on the ITV Hub or enjoy on Amazon Prime Video.
The Gilded Age
Anyone who loves Julian Fellowes' flair for the best period dramas as demonstrated to great effect in Downton Abbey, might well find themselves drawn to his latest historical show. Set across the Pond to Downton Abbey, The Gilded Age takes place in the United States and begins in 1882. The new money Russell family have taken up residence across the street from the old money van Rhijn-Brooks and it's not long before social issues and family and romantic dramas come to the fore in this sumptuous show.
How to watch: Fans can enjoy The Gilded Age on NOW or HBO.
The Crown
Attracting the attention of anyone fascinated with the life and inner workings of the extended Royal Family as well as historical drama fans, The Crown has drawn in viewers across the world since it first landed in 2016. Starring the likes of Claire Foy and Olivia Coleman as Queen Elizabeth II at different points, this fictionalized portrayal of her life and reign is full of dramatic moments, heartbreaking scenes, and some historical snippets you might not have known before. So if you're looking to be thoroughly entertained and more than a little intrigued over how accurate The Crown is, then look no further!
How to watch: Enjoy The Crown seasons 1-4 on Netflix ahead of the release of The Crown season 5.
The Duchess
Keira Knightley shines as the determined Duchess of Devonshire in this period drama movie alongside Ralph Fiennes as the Duke. After becoming disillusioned with her husband, Duchess Georgiana soon finds romance elsewhere, much to her husband's displeasure as rumors spread. And although the romantic element is central to the storyline, it's the Duchess' love for her children and desire to be known and loved for who she truly is that makes this such a compelling watch.
How to watch: The Duchess is available to watch on Netflix.
Mr Selfridge
Ever walked into London's department store, Selfridges, and wondered where it got its name? Well, from none other than Mr Harry Gordon Selfridge who set up the store in the early 1900s. The Mr Selfridge show focuses on the work and life of Harry as he strives to make his new venture a commercial success. With a brilliant cast that includes Emmy winner Jeremy Piven in the titular role, this is a must-watch period drama to add to your list if you love an expert blend of fiction and fact.
How to watch: Tune into Mr Selfridge on BritBox or enjoy via BritBox on Amazon.
The Paradise
Just like many of the best period dramas, The Paradise is based on a book, though the setting is changed dramatically in the 2012 adaptation. The show is inspired by French author Émile Zola's Au Bonheur des Dames but the events take place in the North East of England instead. Beginning in 1875, The Paradise depicts the lives and romances of the people who work and shop in the first English department store. If you can't get enough of Mr Selfridge, then this is another historical show sure to pique your interest...
How to watch: The Paradise is available to enjoy with BritBox on Amazon.
Belgravia
Set in the 19th Century, Belgravia is based on Julian Fellowes' novel of the same name and is another of his brilliant creations. Named after an affluent neighborhood in London, Belgravia gives you the upper-class society events you loved in Bridgerton as it begins with the Duchess of Richmond's Ball. The events of that night continue to resonate throughout the years that follow as viewers are drawn into the lives of the Trenchard and Bellasis families. With secrets lying just beneath the surface, there's so much to enjoy in this intriguing drama...
How to watch: Fans can enjoy Belgravia season 1 on BritBox.
Sign up to our free daily email for the latest royal and entertainment news, interesting opinion, expert advice on styling and beauty trends, and no-nonsense guides to the health and wellness questions you want answered.
Emma is a Royal Editor with seven years of experience working in digital publishing. Her specialist areas including literature, the British Royal Family and knowing all there is to know about the latest TV shows on the BBC, ITV, Channel 4 and every streaming service out there. When she's not writing about the next unmissable show to add to your to-watch list or delving into royal protocol, you can find Emma cooking and watching yet more crime dramas.