Gillian Anderson is one of the world's most versatile actors—and we're all baffled by her unique accent
Gillian Anderson glides from role to role (and accent to accent) with ease. But who is the woman behind the characters—and where is she actually from?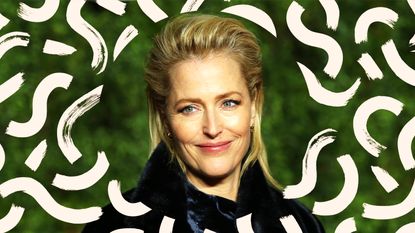 (Image credit: Getty Images/Future)
We shine a spotlight on powerful and inspiring women like Gillian Anderson to tell you more about their daily lives and most relatable moments. Our in-depth profiles cover everything from how these women juggle work and play, to their most important relationships, and the pearls of wisdom they have to offer other women—with no detail spared.
---
Gillian Anderson has become the Queen—or should we say the Prime Minister—of television in recent years and fans are in equal parts impressed by her acting talents and perplexed by her real accent (spoiler: it's not British...and that's our minds blown).
Having starred as Agent Dana Scully in The X Files decades ago, Gillian catapulted back onto screens alongside Jamie Dornan in BBC serial killer drama The Fall back in 2013, followed by standout roles in Netflix's Sex Education and The Crown in fairly quick succession, becoming a regular fixture in our favorite TV shows. But we aren't complaining. Watching Gillian act is nothing short of delightful. The 52-year-old can go from a charming sexpert to steely Margaret Thatcher in the blink of an eye, proving she's got real range, depth, and talent.
As well as her TV credits, Gillian has starred in a number of live theatre roles including A Streetcar Named Desire and All About Eve in London's West End. She's one of few actors that successfully straddles both television and theatrical spheres. And, with an accent that can switch between British and American in the blink of an eye, it's no wonder she's got such transatlantic appeal.
Off-screen the mum-of-three is equally as brilliant and incredibly relatable, recently revealing she'd ditched bras for good because they're "too f***ing uncomfortable". So we know she's a woman's woman, we know she's an incredible actor—nailing her 'Thatcher Face' in The Crown so well she scooped a SAG Award for it—and we know she recently split from The Crown writer, Peter Morgan. But what else do we need to know about the woman behind the characters?
What is Gillian Anderson's accent?
You could say Gillian Anderson's blend of accents has caused a bit of an identity crisis, as the actor originally hid her American accent to make friends in London before trying to do the opposite when she returned to Michigan. And she still flits between the two now.
"Even on the phone my accent will change," she told The Telegraph. "Part of me wishes I could control it, but I can't. I just slip into one or the other. When I moved to the States I tried hard to cling on to my British accent because it made me different."
Fans are also perplexed by Gillian's accent, with many taking to social media to express their confusion. "I still get shocked when Gillian Anderson talks, I don't why I expect her to have an English accent," wrote one fan. While another commented, "Yeah there are some big mysteries in the world, but have you ever listened to Gillian Anderson's accent?"
i still get shocked when gillian anderson talks i dont why i expect her to have a english accent 😂July 20, 2021
See more
yeah there are some big mysteries in the world but have you ever listened to gillian anderson's accent ?July 23, 2021
See more
While Gillian's accent baffles some people, others are obsessed with her British/American twang. "It's always thrilling to hear what accent Gillian Anderson is going to choose at any given moment," tweeted a fan of Gillian's. They've got a point!
It's always thrilling to hear what accent Gillian Anderson is going to choose at any given momentMarch 1, 2021
See more
Is Gillian Anderson British?
Gillian was born in Michigan but moved to the north London neighborhood of Crouch End when she was very young and stayed there right up until she was 11 years old.
After that, Gillian and the rest of the Anderson family relocated back to the States, but kept their flat in London—and she's traveled back and forth ever since. On whether the UK or the US is her home, Gillian Anderson told Blog Talk Radio, "I've been asked whether I feel more like a Brit than an American and I don't know what the answer to that question is. I know that I feel that London is my home and I'm very happy with that as my home. I love London as a city and I feel very comfortable there. In terms of my identity, I'm still a bit baffled."
With a career spanning more than 28 years, Gillian is one of few actors that has gone the distance. And she believes her transatlantic popularity is to thank for that. "I was very lucky in that I had an upbringing in the UK, and everything I had seen in terms of how often actors were able to move back and forth between television, film, and theater… that just didn't exist in the States," Gillian revealed. "I think it has only really begun to exist in the past five years or so, where you'll find A-list actors that will do television, as opposed to keeping it at arm's length."
While Gillian Anderson's initial success in X-Files put her on the map, being part of a television series as long as that (the show ran for nine seasons), was never something she planned for. "That was the bit I hadn't planned. The planned bit was that I was going to be able to jump back and forth between mediums and work in America and England, and to be able to choose between doing things where I got paid little to nothing, and then bigger projects that would pay my mortgage," she confessed.
How old is Gillian Anderson?
Gillian Anderson is 52 years old. She was born on 9 August 1968—making her a Leo. Although she's over 50, Gillian arguably looks better than ever and she credits her anti-aging skin regime for keeping her looking young. She told New Beauty that she started worrying about her skin in her forties, and only then started to take better care of it. "I began to pay more attention to it. I started using a mixture over the years of Clinique and Estee Lauder."
Having said that, it's not something she obsesses over. "It's not a huge part of my life, but I've begun making an attempt to use some of the stuff that's out there. And you know, I think it works. I think my skin definitely feels better."
So what are the products Gillian relies on? She loves Sarah Chapman Skinesis products "to cleanse, tone and moisturize, prime and polish" and uses Dr. Organic's "amazingly hydrating" lotion for "all-over body moisturizing." Aside from taking care of her skin more, Gillian previously revealed she's found aging a "traumatic" experience. She told Vogue, "There's a sense of being forgotten as you age, of becoming invisible when your currency has no value anymore.
"If you watch yourself on film, there is a certain point you see yourself…change. It's arresting. It can either be completely traumatic or something that instigates a shift of consciousness towards thinking about what's important. But you have to go through that trauma first, to mourn."
Where does Gillian Anderson live?
It's fair to say the Sex Education star is a bit of a transatlantic globe-hopper, but she currently resides in central London with her three children. The most recent home Gillian Anderson put up for sale was a £3.6million property in Clerkenwell.
After finding fame as Special Agent Dana Scully in The X Files, Gillian upped sticks and returned to London in 2002 to avoid getting boxed into one role. She tackled a variety of live theatre roles in London's West End shows, with credits including A Streetcar Named Desire, A Doll's House, and All About Eve.
---
More from woman&home:
---
Having moved back and forth from the UK to the US, Gillian rarely stays in one place. "I move around a lot, but being in the vicinity of my loved ones is where I feel most at home," she once told Country & Town House.
How tall is Gillian Anderson?
Gillian Anderson stands at 5ft 3in, but it's safe to say her presence on the red carpet is an almighty one. While Gillian may have made peace with her body now, the actor has previously revealed that she's had a complex relationship with her body over the years.
"For years I was very self-centered and focused on my body, my weight, and it caused so much sadness," she admitted to the Mail on Sunday. "That really moves me now, just how much of my younger life I missed out on because I was so focused on my thighs or my outfit; it was such a waste of time."
Is Gillian Anderson married?
Gillian Anderson is currently single, but has previously been married several times. The star first got married back in 1994 to Clyde Klotz, an X-Files assistant art director. They tied the knot in a Buddist ceremony and their daughter, Piper Maru (now 25), was born just a few months later. By 1997, the couple had divorced.
Seven years later in 2004, Gillian walked down the aisle again and married Julian Ozanne, a filmmaker. The pair called time on their relationship in 2006. Gillian went on to have two sons—Oscar, 14, and Felix, 12—with businessman Mark Griffiths, but the pair never married. They amicably split in 2015 after six years together.
Most recently, Gillian Anderson was dating creator of The Crown, Peter Morgan, but the pair split back in December. It seems the two of them are still on good terms though as she recently thanked him during her SAG Awards acceptance speech, saying, "And last, but never least, Peter Morgan for creating so many multidimensional roles for all us actors to sink our teeth into and win awards for," she said. "Thank you, thank you, thank you."
Gillian and Peter worked together on season four of The Crown, and it was actually him who helped the actor clue up on the royals ahead of her stint on the Netflix show. There's much debate around how accurate The Crown really is, but the many storylines do closely resemble how royal events played out historically.
Despite spending a large portion of her childhood in the UK, Gillian's family didn't have a particular affinity to the royal family. "I never paid that much attention [to the royals] until I was in a relationship with Pete," she confessed to Vanity Fair.
On how Gillian juggled working and a personal relationship with Peter, Gillian said, "For our own sanity, and actually for the benefit of the relationship, we had very clear boundaries… I am not going to comment on the script, but you are not allowed to comment on the performance!"
Who are Gillian Anderson's children?
Gillian Anderson has two sons, Oscar, 14, and Felix, 12, and a daughter, Piper, 26. Piper is a London-based set and costume designer, and visual artist. She trained as a theatre designer at Royal Central School of Speech and Drama and now works in theatre. Oscar and Felix are both still in full-time education—and are said to find their mum's most recent role as Jean Milburn in Netflix's Sex Education rather embarrassing.
Opening up to The Times, she admitted, "I find myself saying something embarrassing at the dinner table and I don't know if it is me or if Jean has given me the license to say that. Maybe I have always been that way, though. Some of what she shares is too much information. I wouldn't share it, even with my eldest in her twenties."
Despite saying she is good at "compartmentalizing" her life, Gillian has previously been very honest about struggling with mum guilt.
"[Maybe other mothers have] tougher nerve endings," she told The Times. ″[I do the] right thing [and play but] my kids can sense it's not easy for me. I struggled when Piper was little as well. I remember getting restless and feeling this pressure that I should be doing something else, but when I was doing something else feeling this pressure that I should be with my child."
With a busy filming schedule, Gillian tried to spend as much time just being a mum as possible. "It's that constant tug of war...and I don't think I'm alone with that. I try to be tolerant and patient," she explained. "How I am in the house depends on my time of the month: I'm either embracing the noise or its nails on a chalkboard. But they know that it's just Mum. There's an acceptance and a lovingness."
What is Gillian Anderson's net worth?
Given her lengthy career, it's hardly surprising that Gillian Anderson is worth an estimated $40million—and Gillian has fought hard to end up where she is. After starting out as a rookie on X-Files, Gillian had to fight to earn the same as her co-star David Duchovny. And even when the show returned in 2016, Gillian was offered half of what her co-star was offered, before demanding equal pay. It is thought the stars then earned the same salary of $240,000 per episode.
Speaking out about the gender pay gap, Gillian told The Daily Beast, "I'm surprised that more [interviewers] haven't brought that up because it's the truth. Especially in this climate of women talking about the reality of [unequal pay] in this business, I think it's important that it gets heard and voiced. It was shocking to me, given all the work that I had done in the past to get us to be paid fairly. I worked really hard toward that and finally got somewhere with it. "Even in interviews in the last few years, people have said to me, 'I can't believe that happened, how did you feel about it, that is insane'. And my response always was, 'That was then, this is now'. And then it happened again! I don't even know what to say about it."
And it wasn't just her salary that was dictated by gender. Gillian was instructed to stand a few feet behind her male counterpart on camera too, presumably to reinforce his importance on the screen. "I can only imagine that at the beginning, they wanted me to be the sidekick," she explained to the Daily Beast. "Or that, somehow, maybe it was enough of a change just to see a woman having this kind of intellectual repartee with a man on camera, and surely the audience couldn't deal with actually seeing them walk side by side!"
Having fought tirelessly for equal rights, this rule didn't last long for Gillian. "I have such a knee-jerk reaction to that stuff, a very short tolerance for that s**t. I don't know how long it lasted or if it changed because I eventually said, 'F**k no! No!' I don't remember somebody saying, 'OK, now you get to walk alongside him'. But I imagine it had more to do with my intolerance and spunk than it being an allowance that was made."
Gillian Anderson on David Duchovny
Gillian Anderson and David Duchovny starred alongside each other as Dana Scully and Fox Mulder on The X Files for nearly a decade, and their on-screen chemistry was on point from the very beginning. Gillian explained that during the casting process, David had already been cast and directors were looking for a suitable co-star when she stepped into the audition room and their spark was "palpable".
"We didn't know each other at all, but for some reason, there was something in the room between the two of us that wasn't there with others," she told Deadline. "To a degree, you can manufacture that as actors, and you have to most of the time, but for some reason, there was something tangible and palpable that existed between us, right then."
Her co-star, David, said their chemistry came from a natural enjoyment of working with each other. "It's really a mutual respect and enjoyment of working with one another," he confessed in the same interview. But, off-screen the pair didn't always see eye to eye and while they've remained good friends, it hasn't always been that way. In an interview with The Guardian, Gillian said, "I mean, yes, there were definitely periods when we hated each other.
"Hate is too strong a word. We didn't talk for long periods of time. It was intense, and we were both pains in the arse for the other at various times — I'm not going to get into it. I'm not even going to begin to get into that. But we are closer today than we ever have been." Echoing a similar sentiment, David said the pair got too familiar with each other after living in each other's pockets for eight years.
"Familiarity breeds contempt," he explained. "It's nothing to do with the other person. All that fades away and you're just left with the appreciation and love for the people you've worked with for so long. We used to argue about nothing. We couldn't stand the sight of each other."
What is Gillian Anderson really like?
When she's not attending glitzy parties and red carpets, Gillian Anderson describes herself as a bit of a hermit. "I have spent a lot of my life being a bit of a loner and a bit of a hermit, and that's my preferred state of being," she told the Guardian.
Given how high-profile her career has been over the years, Gillian has likely enjoyed the downtime many of us have experienced as a result of the Covid-19 pandemic. "I'm an isolator," she said. "So, [lockdown] suits me just fine. I'm not quite ready to be released into the big, bad world."
As well as her sense of humor, freedom is a key to Gillian's personality. She loves travel adventure and variety—hence her decision to switch between the UK and the US. She doesn't like to be tied down and change is constant in her world.
What causes does Gillian support?
Gillian Anderson's brother, Aaron, was diagnosed with Neurofibromatosis—a genetic disorder of the nervous system that causes tumors to form on the nerves—and died of a brain tumor in 2011 at the age of just 30. Gillian is a long-time supporter of the Neurofibromatosis Network and even addressed Congress on the matter back in 2000, urging more education and funding for NF. The star and her sister, Zoe, regularly raise money for the cause.
Gillian is also an avid supporter of PETA and famously said she would rather go naked than wear fur. An animal cruelty activist, Gillian likened her own experience of lockdown to the seclusion and isolation experienced in zoos and called for Pata Zoo to close down.
She wrote in an open letter, "In these trying days, we are all experiencing the challenges of seclusion.
Thinking about when Gillian Anderson wrote this letter to flag up animal cruelty. 👑🥺 pic.twitter.com/C9O870vltBFebruary 23, 2021
See more
"I can't help but think about the animals in the Pata Zoo, who have experienced the same loneliness and isolation for years or even decades. In light of the recent fire that broke out at the zoo, I am writing to ask you to reflect honestly on what life is like for animals there and come to the decision to close it."
A few brilliant Gillian moments
1. Gillian's original role as Agent Dana Scully put the actor firmly on the map
2. Gillian masters the 'Thatcher Face' for season five of The Crown in a role that earned her a SAG Award
3. Gillian lights up the stage as legendary Margo Channing in All About Eve on London's West End
4. Gillian transforms into a glamorous, kimono-adorned sexpert for Sex Education
Sign up to our free daily email for the latest royal and entertainment news, interesting opinion, expert advice on styling and beauty trends, and no-nonsense guides to the health and wellness questions you want answered.
Georgia writes across Woman & Home and Good to Know and specialises in all things royal. Previously labelled the "Queen of the royals," Georgia knows the whose who and what's what when it comes to the monarchy. When she's not eagerly following the royal family, Georgia enjoys shopping and self-care. She lives with this motto in mind; "if your dreams don't scare you, they aren't big enough."