Judi Dench is one of the world's most powerful actors—and it's impossible to predict what she'll do next
Judi Dench is a woman of many talents, from an incredible movie career to breaking the internet with a TikTok routine—the actor has done it all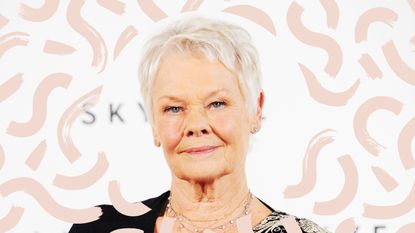 (Image credit: Getty Images/Future)
We shine a spotlight on powerful and inspiring women like Judi Dench to tell you more about their daily lives and most relatable moments. Our in-depth profiles cover everything from how these women juggle work and play, to their most important relationships, and the pearls of wisdom they have to offer other women—with no detail spared.
---
Dame Judi Dench is a formidable force. Having starred in over 68 films and won 56 awards, there's not a lot she hasn't done. But there's one area of Judi's life that she won't budge on—marrying again.
The 86-year-old actress suffered a difficult time back in 2001 when her partner of 30 years, Michael Williams, died of lung cancer. And, despite finding love again with conservationist, David Mills, Judi has no plans to enter another marriage, telling woman&home that she would rather not make things official, and instead "let's all just pull ourselves together and be our age".
Instead, the actor is busy with her blossoming TikTok career after joining her now-famous grandson to create viral videos during lockdown and vowing to keep working despite her age. While most 86-year-olds would be deep into their retirement years at this point in life, Judi is still full-steam ahead with her career, speaking openly about balancing her work-life with health struggles—and why they won't hold her back. Judi's deteriorating eyesight has been a battle for the star in later life, but the actor—like with most things in her life—met the challenge with grace and courage."You find a way of just getting about and getting over the things that you find very difficult," she told The Guardian in an inspiring interview.
But what else do we need to know about the actor who steals the show in everything she stars in?
What is Judi Dench doing these days?
According to her friends, Judi Dench may be nearing 90, but the actor is still young at heart and shows no signs of slowing down. Her latest movie, James Bond No Time To Die, is due to hit movie theatres in September 2021 after it was delayed several times due to the covid-19 pandemic. It will be the star's eighth appearance in the Bond series, in which she plays M.
Having been an actor since 1964, the Oscar winner has had her fair share of experience when it comes to preparing for a role. But now, suffering from age-related macular degeneration, Judi is having to come up with new ways of learning lines now she struggles to read.
Speaking to The Guardian, Judi said, "I've had to find another way of learning lines and things, which is having great friends of mine repeat them to me over and over and over again. So I have to learn through repetition, and I just hope that people won't notice too much if all the lines are completely hopeless!"
As well as the highly-anticipated release of David Craig's final 007 stint, Judi also worked on an upcoming British-Irish drama film called Belfast, which tells the story of a young boy and his working-class family struggling during the late 1960s. Judi will star alongside Caitriona Balfe, Ciarán Hinds and Jamie Dornan.
Aside from work, Judi became a bit of an internet sensation during lockdown when she joined her 23-year-old grandson for socially distanced dance videos on TikTok.
And Judi said the app, "saved [her] life" during the national UK lockdown. Opening up about how the platform gave her a sense of purpose during the lockdown, Judi told Channel 4 News, "Well, it saved my life. I know nothing about TikTok. Sam is the person who is technically minded and who has all the ideas, so he got very strict. He made me do it. I had to rehearse, I had to rehearse all those moves. Don't just think that comes naturally."
Like people around the globe faced with restrictions to their personal freedom, Judi found lockdown a particularly challenging and isolating time. "Every day is so unchartered," she admitted. "You wake up and wonder what day it is, and then you wonder what date it is, and sometimes what month. And then you think, 'What do I do today?' and if the prospect is, 'Well, what is there to do today?' I've done a bit of painting and I've talked to friends and rehearsed my TikTok and done it with Sam."
Who is Judi Dench's grandson?
Sam Williams shot to fame last year after he featured his very cool grandmother on his TikTok channel. He is the son of Judi Dench's daughter, Finty Williams. The star's appearances on the platform caused Sam to amass a whopping 226.7K followers and over 1.7million likes.
Prior to becoming a TikTok star, Sam had a keen interest in musical theatre and regularly went to watch West End shows. He made his 'West End debut' earlier this year in a one-off storytelling show with his mother, Finty, and grandmother, Judi, in a special night called A Dench and 2 Williams.
While most people would have seen Judi and Sam's TikTok videos as a bit of light entertainment during the pandemic, Judi previously revealed her grandson was "very strict" about their routines.
Speaking on This Morning, she admitted, "Strict! Very strict. I'd say, 'we'll do it now' and he'd say, 'no you can't do it now you're not good enough, do it again, do it again!'"
How many children does Judi Dench have?
Judi Dench has just one daughter—Tara Cressida Frances Williams, also known by her loved ones as Finty. Finty, 48, is Judi's only child with Michael Williams, who sadly passed away in 2001.
She was born in London and like her famous mother developed a love of acting. She trained at the Central School of Speech and Drama—one of London's top colleges for thespians and has gone on to have a successful acting career.
She has starred in the likes of Born and Bred, as well as plays including Party Piece. Finty has also landed many jobs doing voiceover work.
She and her mother share an incredibly close bond and Judi even considered giving up her career to be a full-time mum to Finty. The Hamlet star previously told the Express, "I wanted to give it up because I wanted to be a proper mother and be around."
Despite being proud of Finty's decision to follow in her footsteps, Judi always worried Finty would end up living in her shadow. "I think that people, you know, compare and say things," she told the Express. "I don't think it's kind when people do that at all. I think it makes it very, very difficult, and nor do I think there's a necessity for it."
---
More from woman&home:
---
Does Judi Dench have a husband?
No. Judi is in a happy relationship with 76-year-old David Mills, but the pair have no plans to get married. Although the couple has been together since 2010, you certainly won't hear her refer to him as her "partner".
"I have a jolly nice friend now. I don't know what the word is because I don't like the word partner," she previously told woman&home. "Partner is something to do with dancing. Partner - horrible word. Friend? No. Boyfriend? No. Chap? Will chap do?"
Having previously been married, the veteran actress admitted that she's not willing to consider that sort of commitment again. Seeming to allude to the fact that their age is the reason, she added, "He's not going to propose. No, no, no, no, no. Let's all just pull ourselves together and be our age."
In spite of the fact that the pair aren't prepared to take their relationship to the next level with marriage, Dame Judi maintains that their time together is nothing short of "fantastic". She admitted, "One hot night during the summer, we swam and then had a glass of champagne in the garden and I said, 'This is so fantastic'. But perhaps if I was a romantic I'd have been cool and calm about it. I get a bit over-excited about things." On the qualities she looked for in a significant other, Judi said, "I love having a good laugh. A sense of humor is the most attractive thing of all. It's essential."
Although she's in her eighties, Judi Dench's sex life is still very much active. She told the Radio Times, "Well, of course, you still feel desire. Does that ever go?"
And, going on to explain just how she likes to keep things interesting behind closed doors between herself and her partner, David Mills, the actress explained how she loves to frequent a "lovely naughty knicker shop" in Covent Garden, adding amusingly, "but don't buy up everything because I'm going there!"
What does David Mills, Judi Dench's partner, do?
Judi's boyfriend, David Mills, is a conservationist and is as passionate about nature and the environment as Judi. The pair featured in an ITV documentary, Wild Borno Adventure, together—a documentary that left Judi Dench speechless—and are both now patrons of the South East Asia Rainforest Research Partnership.
It was through their love of the environment that they met after David invited Judi to open a brand new red squirrel enclosure at the British Wildlife Centre in Newchapel. And things went from strength to strength from that point onwards. He previously told Radio Times, "I invited her to come and have supper one night, and then she asked me to one of her things."
Having previously lost her husband, Judi wasn't expecting their relationship to blossom in the way that it did. "I wasn't even prepared to be ready for it... It was very gradual and grown-up. We got together, in a way, through the animals. It's just wonderful," Judi told The Times.
The Oscar-winning actress even insisted at the time that the pair didn't even have plans to live together. Judi revealed, "We are much too independent. And he is very busy. He has a business to run."
Has Judi Dench been married before?
Yes. Judi was married to fellow actor Michael Williams from 1971 to 2001 when he tragically passed away aged 65. They had both starred in the 1980's sitcom, A Fine Romance, after meeting in a pub when they both worked for the Shakespeare Company. Having been married for over three decades, Judi said Michael's death from lung cancer left an "enormous chasm" in her life.
Speaking about the grief she experienced, Judi said, "I suspect I shall never ever get over Mikey. "It changes who you are all together, I think. Because it's like you're walking along, and suddenly you're not looking and there's an enormous chasm in front of you."
Although he passed away many years ago now, Judi said it never gets easier. "Unexpected kinds of things happen. Suddenly, you'll walk in somewhere and there's a photograph or something. I don't expect you ever get used to it."
Shortly before Michael's death, Judi's daughter Fenty and her son, Sam, moved into the family home. With them, they brought various animals, including a dog, six cats, two goldfish, ducks, moorhens, and a hamster.
How many cats does Judi Dench have?
Judi Dench has made no secret of the fact she's a huge animal lover and previously revealed her family homed 17 cats during the war. She told RTÉ Entertainment, "I am definitely a cat lover. During the war nobody could feed their animals so we had 17 cats, that's what I was brought up with and I have actually had a cat ever since until my last cat died."
In fact now is the first time in years the actor doesn't have any animals, having previously resuscitated her pet goldfish when she was younger. Recalling all the pets she's had over the years on Chris Evans' How to Wow podcast, Judi—who recently appeared in the film Cats alongside James Corden—said, "This is the first time in my life I haven't got a cat, a dog, and my goldfish died. I gave it the kiss of life. It died when it was a very, very little goldfish."
Judi went on to revive the fish and it grew to be "six inches long" before passing away recently.
What are Judi Dench's most famous films?
Although Judi's career has been incredibly successful within the film industry, Judi actually started out in theatre. She established herself as a thespian in several Shakespeare plays, before receiving excellent reviews for her performance as Sally Bowles in the musical Cabaret. Judi went on to work for the highly esteemed National Theatre Company and Royal Shakespeare Company, and her film appearances at the time were few and far between. The two movies that shot Judi into the spotlight were A Room with a View in 1985 and Golden Eye in 1995.
While her role as M in the James Bond series was just a supporting one, it's one she continued right up until her final appearance in Spectre in 2015. Although her character got killed off in the last instalment, Judi will make a special beyond-the-grave appearance in the upcoming movie. With a career spanning several decades, it's no surprise Judi is worth a rumoured £26million.
Judi Dench's five most popular films according to IMBD are:
Casino Royale, 2006 (8.0)
Pride And Prejudice, 2005 (7.8)
Skyfall, 2012 (7.7)
Hamlet, 1996 (7.7)
Philomena, 2013 (7.6)
How tall is Judi Dench?
Although TV often skews our perception of how tall celebrities are, Judi Dench stands at just 5ft 1inches.
That makes her one of the shortest UK actors, with Cate Blanchett standing at 5ft 9 inches and her James Bond co-star Daniel Craig towering over her at 5ft 10 inches.
Sign up to our free daily email for the latest royal and entertainment news, interesting opinion, expert advice on styling and beauty trends, and no-nonsense guides to the health and wellness questions you want answered.
Georgia writes across Woman & Home and Good to Know and specialises in all things royal. Previously labelled the "Queen of the royals," Georgia knows the whose who and what's what when it comes to the monarchy. When she's not eagerly following the royal family, Georgia enjoys shopping and self-care. She lives with this motto in mind; "if your dreams don't scare you, they aren't big enough."