Gillian Anderson quits wearing bras as she brands them 'f***ing uncomfortable'
Gillian Anderson's bra confession has delighted fans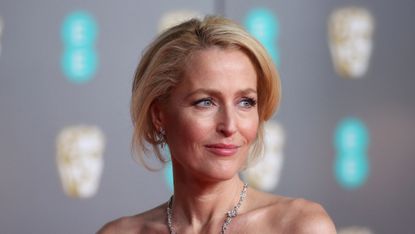 (Image credit: Getty Images)
Gillian Anderson's bra is hitting the headlines for all the right reasons.
The 52-year-old actress has revealed that she's ditched wearing a bra in a bid for comfort and has no plans to start wearing one again.
Speaking candidly in an Instagram Live with her 1.8 million followers, Gillian confessed, "I don't wear a bra any more."
At a time when there have been claims saggy boobs should be seen and celebrated more, Gillian explained, "I can't wear a bra. I can't. I'm sorry, there's no... I don't care if I reach my belly button... my breasts reach my belly button. I'm not wearing a bra any more.
"It's just too f***ing uncomfortable."
Her decision to ditch bras has been met with widespread praise on Twitter with women desperate to embrace going braless after spending years hunting for the best bra, perfecting how to measure bra size and dabbling with comfortable non-wired ones.
One online user tweeted, "If two-time Golden Globe and Emmy winning actress Gillian Anderson says no more bras, who are we to disagree?"
Another said, "I'm not gonna wear a bra ever again because Gillian Anderson said so."
It seems Gillian Anderson might be on to something, as research suggests ditching the bra can actually do your boobs good.
Clinical Professor of Surgery at UCLA and a founder of the US National Breast Cancer Coalition, Susan M Love, MD, MBA explains that there is no medical reason to wear a bra.
"Except for the women who find bras especially comfortable or uncomfortable, the decision to wear or not wear one is purely aesthetic—or emotional," she writes in her book, Dr. Susan Love's Breast Book (opens in new tab).
"If you don't enjoy it, and job or social pressures don't force you into it, don't bother."
It turns out going braless can actually reduce pain, as wearing the wrong size can do more harm than ditching your bra completely.
An ill-fitting bra can cause shoulder, back and neck pain and a too-tight underwire can push into the breast tissue and aggravate the breast, especially for those with larger breasts or women who lead active lifestyles.
The braless movement: A brief history
The Emmy-award-winning actress is not the first person to embrace going braless.
Its origins can be traced back to the Women's Liberation movement of the 1960s. In particular, the protest at the Miss America Pageant of 1968, where protestors threw products closely associated with womanhood—bras, girdles, corsets, hairspray, make-up, false eyelashes and mops—into dustbins in order to protest against "enforced femininity".
Ever since then, the decision to not wear a bra has become a strongly political one, often considered a woman's refusal to conform to societal pressure to look or act a certain way.
While society's pressure on women to wear bras has lessened somewhat, today the decision to go braless is still a politicized one—and that is because of the nipple.
Lina Esco instigated the #FreeTheNipple (opens in new tab) movement back in 2014 to fight against the fact that a woman's bare breast is still censored on Instagram while a man's is not.
Instagram's ban just underlines a fact that women have grappled with for decades— unlike other body parts, our breasts (and what we do or don't wear over them) have never been neutral. Even in 2021 they still carry outmoded cultural and sexual expectations.
Georgia writes across Woman & Home and Good to Know and specialises in all things royal. Previously labelled the "Queen of the royals," Georgia knows the whose who and what's what when it comes to the monarchy. When she's not eagerly following the royal family, Georgia enjoys shopping and self-care. She lives with this motto in mind; "if your dreams don't scare you, they aren't big enough."