Saggy boobs are nothing to be ashamed of—in fact, they should be celebrated
It's time we learn to celebrate saggy boobs, says fashion writer Esther Newman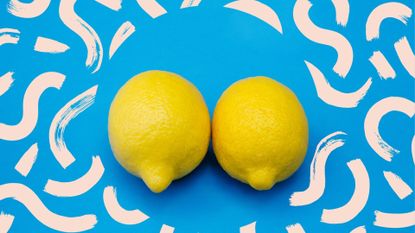 (Image credit: Future / Getty Images)
There's plenty of discussion about whether women should be wearing a bra or not.
Every day there seems to be yet another article warning women against the 'dangers' going bra-free, and more celebs ridiculed on social media for their so-called 'saggy boobs', when there are plenty of the best bras available. This is not to berate those who do wear a bra—neither is it to champion a bra-free lifestyle if that's not your cup of tea. It's a hugely personal choice, one that only can be made individually and one that is deeply affected by concerns both physical (be it needing extra support for bigger boobs, back pain, or posture) and emotional (confidence). Some women just don't like the look of their nipples showing through their clothes, others enjoy the security an extra layer of material offers.
What I take offence at is society's conscious characterization of boobs, their appearance delineating their worth. Saggy boobs = bad; perky = good. It's a polarization deeply steeped in fat-shaming and is yet another unrealistic body standard that women are expected to fulfill. The media and porn industry has brainwashed us into thinking only one type of boobs is 'right' when, in fact, all boobs are perfectly natural and normal, and worthy of celebration. Surely the last thing we want to be doing is attacking each other for how we look?
We're living in an era of boob anxiety and envy—the saggy boob argument is just playing into this
Unsurprisingly, many of us aren't happy with our lot in the breast department; an evening spent in the ladies' toilets at a bar will tell you as much. Much can be said about the impact of social media on body image. In a new study (opens in new tab), published in Body Image: An International Journal of Research, a survey of 18,541 women in 40 countries, with an average age of 34, found that British women have the greatest breast-size dissatisfaction. Overall, almost half (48%) of the women surveyed said that they wanted larger breasts than they currently have, while just under a quarter (23%) say they want smaller ones.
Arguably, other culprits include the porn and lingerie industries, both of which have been steadily drip-feeding us the notion that only perky breasts are desirable; a concept only reinforced by reality TV shows such as Love Island. In 2018, feminist campaigning group Level Up (opens in new tab) and health experts (including the British Association of Aesthetic Plastic Surgeons) rightfully criticized the show for 'exploitative' adverts and intentionally targeted messaging promoting cosmetic surgery for breast enhancement. One of the most vocal critics was Simon Stevens, the head of NHS England.
"You've got explicit adverts being aimed at young women around breast cosmetic surgery," he told Andrew Marr. "That is all playing into a set of pressures around body image that are showing up. The time has come to think long and hard about whether we should be exposing young people to those kinds of pressures."
Not long before this, blogger Chidera Eggerue, otherwise known as The Slumflower, was inspired to start her #SaggyBoobsMatter campaign in 2017, sparking a much-needed conversation and inspiring women across the world to share images of themselves, celebrating their saggy boobs.
'You'll get saggy boobs if you go bra free' argument is just a myth
The saggy boob debate is nothing new. Ever since the 1970s, when the braless movement truly took off, critics have warned women against the practice, claiming that without a bra, the breasts' Cooper's ligaments—the connective tissue in the breast that helps maintain structural integrity—would tire, leading to saggy boobs. This argument was thrown into question though in 2013 when a 15-year-long French study found that bras might actually cause boobs to sag, suggesting that they make Cooper's ligaments lazy.
Today, the Internet is awash with pro-and anti-bra arguments in relation to sagging. As Daniel Mills, MD, vice president of the American Society for Aesthetic Plastic Surgery told Health, sagging is a natural occurrence for us all. "Like all the tissue in your body, [breasts are] made up of collagen and elastin, which break down as you age.
"A bra will hold up your breasts to give you the shape and look you want, but it can't prevent further sagging, which is caused by age and gravity." In other words, the best push-up bras (even the best strapless bras) are no match against fate.
Ultimately there is clear evidence that while wearing a bra is helpful, especially for bigger-breasted women, sagging will naturally happen to all of us no matter our lingerie choices.
How to care for your boobs if you don't fancy going braless
I get it, going braless might not be for you. Luckily, the lingerie world is your oyster. For those who wish to be freer with their boobs, bralettes and comfortable non-wired bras offer that all-important support without compromising on comfort.
It's a myth that non-wired designs are only for small boobs too. Over the past few years a growing number of brands dedicated to catering for—and celebrating—all body (and boob) types have shaken up the industry, innovating and creating products that work for everyone.
Esther is a features and fashion writer and stylist, who is particularly focused on the intersection between fashion and social issues and feminism. Her work has been featured in woman&home, Refinery29, ELLE, Stylist, Dazed, Grazia, HelloGiggles, and HuffPost.
She also founded The Activist, a fashion, arts, and culture magazine, dedicated to celebrating young women and non-binary people in politics and protest.
When she's not writing and styling, Esther is an avid bookworm and usually devouring something from the latest Women's Prize longlist, getting crafty with embroidery art, or enjoying a jaunt around the Suffolk countryside.