The best push-up bras to give breasts of all sizes that extra lift
Uplift your bust to the max with our edit of the best push-up bras for every size.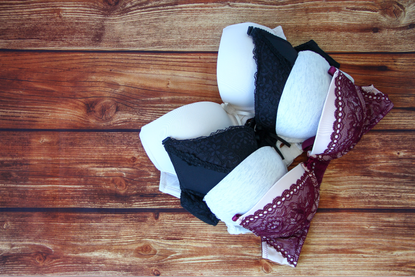 (Image credit: Getty Images)
Push-up bras offer support, security, and comfort to your beloved breasts—all while accentuating the coveted decolletage. To help you cut through the clutter, we've rounded up our favorite picks that elevate, lift, and give some much-needed TLC to your chest (even if it's part of the itty-bitty-titty committee).
Whether you're seeking a natural lift or an added cup size, the push-up bra is a highly versatile piece of lingerie that does just about anything (we vehemently argue that it's a type of brasserie every woman must own).
Its enduring popularity is rooted in its design, which works to augment your bust upward and towards the center of your chest. Generally, push-up bras function with soft foam at the bottom or sides of the cups: extra padding that's airy and, with some models, adjustable to your liking. A well-fitted, exceptional push-up bra can even be concealed without bulging to compliment your outfit. And unlike bras of the early aughts, today's cult-status, media darlings come in various sizes, silhouettes, and features that prevent slipping and discomfort throughout continued wear.
If you're on the hunt, well, serendipity says you've come to the right destination. We've scoured far and wide for the best push-up bras that are worth the hype for all bust types. For our research and testing methodology, we've examined quality and design, level of comfort and support offered, and consumer reviews. Our FAQ section answers common inquiries and dispels misconceptions to educate and empower you with the necessary knowledge. Here's a brief overview of what to keep in mind during your shopping journey (note: we further elaborate on this topic in our FAQ portion):
Your band size: Be sure to wrap measuring tape around your ribcage and directly under your bust. Your bra's band directly affects your desired level of comfort and support.
Your cup size: Wrap the measuring tape around the fullest part of your chest. Your bra's cup size directly affects your desired level of lift, so tread wisely.
Still confused? We've got you covered with our comprehensive guide on how to measure your bra size (opens in new tab), so yours will fit like a glove.
Fit preferences: Before you swipe the card, tap into your personal preferences and what you want your push-bra to achieve. Do you want something lightweight for everyday, casual wear, or need a heavy-duty, more formal option?
Design: Not all push-up bras are created equally. Look out for unique features, such as cup lining and padding, stretch and material, capabilities for adjustment, underwiring, detachable straps, etc.
Check out our recommendations for small, medium-sized, and large breasts from brands like ThirdLove and Wonderbra, among other fan-favorites.
The best push-up bras for small, medium-sized, and large breasts
For Small Breasts
Why you can trust Woman & Home Our expert reviewers spend hours testing and comparing products and services so you can choose the best for you. Find out more about how we test.
1. Wacoal b.tempt'd B.wow'd Push-up Bra
Best suited for everyday, casual wear with an added boost
Specifications
Price: $25
Material: Nylon and spandex
Cup Sizes: A-DD
Reasons to buy
+
Hook and Eye closure
+
Convertible strap, crossover or halter
+
Integrated wire
Reasons to avoid
-
Hand wash only
-
Cups run small
Hailed as "THE bra for deflated breasts" by shoppers, the B.wow'd push-up bra offers full-coverage lift and support for smaller busts without sacrificing comfort. This lingerie hero is seamless and looks flattering underneath garments; its sides sit flat with no overhang, and by design, it eliminates bra cup gaps. It's particularly excellent for everyday wear since it's lightweight and utilizes an underwire that "doesn't feel like it's there." Plus, it's convertible, so you can adjust accordingly.
2. Wonderbra Refined Glamour Full Effect Push-up Bra
Best suited for elevated wear and dramatic lift
Specifications
Price: $22.23
Material: Polyamide, polyester, and elastane
Cup Sizes: A-D
Reasons to buy
+
Beautiful detailing
+
Full-coverage padding for extra lift
+
Convertible straps
+
Hook and eye closure
+
Machine washable
Reasons to avoid
-
May not be the best for casual wear
-
May be see-through under thin garments
-
A bit itchy
Wonderbra's refined glamour push-up bra proves that quality and innovation aren't divorced from thoughtful decorative detail. This bra marries support and comfort with ornate floral lace and mesh, making it the perfect lingerie piece for upscale events, bridal wear, etc. This option offers adjustable straps that can convert to crisscross and features a stunning plunge neckline for added drama. With these features considered, this bra is arguably the quintessential, ultimate must-have for those with smaller breasts.
For Medium-sized Breasts
3. Maidenform Love The Lift Push-Up Bra
Best suited for natural "my-boobs-really-look-like-this-I-swear" enhancement
Specifications
Price: $23.64
Material: Lace, nylon, spandex, and rayon
Cup Sizes: A-D
Reasons to buy
+
Stretchy and comfortable cups
+
Machine washable
+
Hook and eye closure
+
Crisscross straps at center
+
Convertible straps
+
Smoothing side wings
Reasons to avoid
-
May feel tight on the band
-
Color isn't true to photo
Maidenform's Love the Lift push-up is designed with soft yet durable fabric that rests seamlessly underneath garments without peeping through or chafing. If you want to create a natural lift that's not too over-the-top, then this option is most definitely for you. If, however, you want to create the illusion of breast augmentation or breast implants, you'll want to opt for a full-coverage alternative. For medium-sized breasts that need extra support, this bra features a sturdy, thick band that doesn't feel too cumbersome and weighty.
4. Marks & Spencer Rosie Silk & Lace Push-up Multiway Bra
Best suited for in-between luxe, casual, and strapless wear
Specifications
Price: £28
Material: Polyamide, silk, polyester and elastane
Cup Sizes: A-E
Reasons to buy
+
Padded and wired
+
Lace and silk design
+
Gorgeous "haute" detailing
+
Hook and eye closure
+
Adjustable straps
Reasons to avoid
-
Exclusive to M&S retailer
-
Not machine washable, cannot be ironed or dry cleaned
The M&S multiway push-up bra is a versatile lingerie piece that can be used for casual and elevated wear. Particularly, the multiway straps lend for numerous wear options and customization. It's both striking and comfortable, featuring soft silk and lace that feels like a second skin. This bra offers the just-right cup fit and padded support for mid-sized busts, prompting many shoppers to go strapless with guaranteed boost and lift.
For Big Breasts
5. Gossard Superboost Lace Plunge Bra
Best suited for major full-coverage support
Specifications
Price: £37
Material: Polyamide, polyester, elastane, and viscose
Cup Sizes: A-G
Reasons to buy
+
Variety of color styles
+
Full-coverage with great hold
+
Removable padding
+
Underwire
+
Adjustable straps
+
Expanded back sizes (40, 42, 44)
Reasons to avoid
-
Not machine washable
-
Straps may feel uncomfortable after continued wear
If you're blessed with a bigger bust, maximize your assets with this boosting bra from Gossard, a tried-and-true brand that ups the ante in the lift and support department. The bra leverages contoured foam plunge cups that lend a precise and comfortable fit for your breasts. It also incorporates soft mesh throughout the back wings, preventing chafing you'd normally experience with irritating fabric.
6. Thirdlove 24/7™ Classic Uplift Plunge Bra
Best suited for natural lift and support
Specifications
Price: $65
Material: Nylon and spandex
Cup Sizes: AA-I
Reasons to buy
+
Sizes run the gamut
+
Smooth band with foam padded hook and eye
+
Removable inserts for extra lift
+
Tagless printed label - no scratching or poking
+
Flexible nickel-free wires
Reasons to avoid
-
Costly
-
Straps may slip and fall throughout the day
The 24/7 Classic bra is a best-seller that leverages the best qualities of a push-up bra created by Thirdlove, a beloved lingerie and loungewear behemoth with over 9,000 positive customer reviews. To ensure a proper fit for each bust, this brasserie harnesses smooth memory foam cups to minimize gaping, which typically happens when your bra is too big. Not to mention, shoppers love its cozy feel, durable support, and versatility for casual and formal events.
FAQ
How do I choose the right push-up bra?
Selecting the right push-up bra requires strategy, and you must assess your personal preferences. Examine your breast shape, cup, and band sizes, as they will determine what you should purchase for maximum comfort and support.
Then, ask yourself: what will you be wearing with your push-up bra? And how do you want your push-up bra to function? Different styles serve different purposes. If you plan to wear a dress, a strapless push-up option is your best bet. If you're seeking full coverage and enlargement, opt for extra padding for sufficient support. However, if you want a casual, everyday staple, buy something with lightweight, gentle padding (think: cotton, silk, or lace). To sum it up,
1. Stay away from oversized and undersized cups.
2. Choose the appropriate padding.
3. Examine the material, especially if you hate chafing. This will determine how you'll wash your bra (opens in new tab).
The video below dissects the process with tips and tricks to get you started.
What types of push-up bras are available?
There are plenty of push-up bra styles lining the aisles, all of which serve unique purposes, accommodate all sizes, and achieve different looks.
1. Demi-cup + plunge: also known as the half or shelf bra. Designed with a slight tilt, this option covers about three-quarters of your breasts and pushes them towards the center. It enhances the appearance of cleavage by adding definition and perkiness but with subtlety. Since they have an extra layer of push, demi-cups work best with low-cut tops when you want to accentuate your features.
2. Strapless: Strapless push-up bras leverage the band around your ribcage to support and hold breasts in place. It's excellent for concealment and for wearing underdresses, tube tops, and garments without straps.
3. Double-padded: ideal for women with smaller breasts. Double-padded bras add extra lift to enhance the appearance of your cleavage. While it's important to consider fit with every bra, it's especially imperative with your double-padded bra, or your breasts will spill over. If you're large chested, you may want to opt for a lighter option, as this bra style may cause discomfort.
Many double-padded options are also wireless, which is particularly great for those who grow easily irritated by underwires poking through. Wireless bras feel less restrictive and rely on padding, support bands, and straps for heavy lifting.
4. Cotton t-shirt: leverages soft, breathable material that's ideal for women with sensitive skin and breasts. This bra masters the delicate art of comfort and support, lifting your breasts to create a round shape.
5. Removable: Removable push-bras can be customized and adjusted to suit your needs, a major perk for bridal wear and events. They're also ideal for women whose breast size fluctuates due to their hormonal cycle (opens in new tab).
Push-up vs. traditional bras
1. Push-up vs. everyday bras: Everyday, traditional brands are generally seamed with zero padding and underwires. While push-up bras push upward and inward, giving breasts a smooth, rounded look, everyday bras tend to "flatten" your bust.
2. Push-up vs. t-shirt bras: Compared to the push-up, t-shirt bras are less visible and conceal texture lines and bumps - hence why they're designed to be worn under airy and see-through t-shirts. They give a smooth finish rather than work to augment your bust.
3. Push-up vs. padded bras: Both have padding; however, the pads in push-up bras lift breasts a bit higher, making them look fuller. Padded bras only make them look bigger, without the added boost.
4. Push-up vs. nursing bras: Nursing bras serve a specific purpose and target a niche audience: breastfeeding mothers. Push-up bras, sadly, are not the best option for new moms, as the extra padding may create discomfort for tender breasts.
Lizzie Thomson is a regular contributor to woman&home, and also contributes to Metro.co.uk, Ideal Home, Culture Trip, and Evening Standard, covering all things lifestyle.