How to wash bras—according to the experts
Want to learn how to wash bras without damaging the delicate fabrics? Our expert-approved advice is here to help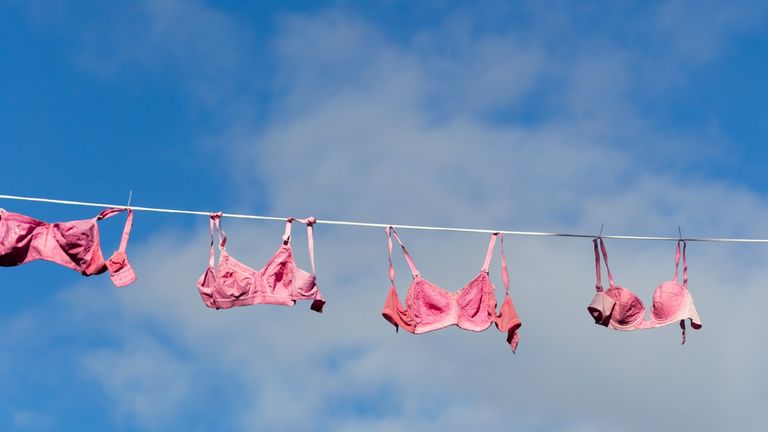 (Image credit: Getty)
We ask the experts how to wash bras, because it turns out many of us have been doing it wrong. And if after years of searching, you've finally found the perfect bra for you then you want to hold onto that brand-new bra feeling.
The key is how you care for it—and how you wash bras is really important.
How often should you wash your bras?
A bit like your trusty jeans, bras don't need to be washed every time you wear them. In fact, washing unnecessarily can waste money in the long run, as it will speed up the colour fade and weaken the elastic.
As a general, all-year-round rule, aim to wash your bras after every third wear. This will be enough to keep bacteria at bay, without shortening the life span of your much-loved best bras. For your best sports bras though of if it's a particularly hot day or you've managed to spill something down yourself, you can always clean your bra more often.
Not all bras and types of bras are created equal, so it's important to check the care label before washing to avoid any shrinkage in bra sizing or color-run mishaps.
One of the UK's biggest bra brands, Bravissimo, has been stocking bras specifically for cup sizes D-L for more than 25 years. So, who better to ask how to wash our bras than their technical manager, Paula Skarratt?
How to hand wash bras
"We recommend that you hand wash your lingerie," Paula explains. "It's easy, we promise!"
"Start by soaking them in cool water and detergent for up to 10 minutes," advises Paula. You could do this in a big washing-up bowl or even in your bath.
"Next, gently rub your bra all over with a soft cloth, paying special attention to the under band and around the wires, before rinsing in clean, cool water."
Proper rinsing is really important, as the band and straps of your bra sit directly, and firmly, on to your skin. Any leftover detergent is likely to cause redness or itching, especially if you have sensitive or easily irked skin. Rinse until the water runs clear and foam-free, then go again for another 30 seconds to be on the safe side.
Still daunted by the prospect of hand washing your bras? To save time and effort, wait until you have a few bras in need of a wash and do them all at once.
How to wash bras in the washing machine
Underwiring and washing machines tend not to mix, as wires have a crafty habit of breaking free on a spin cycle. This is at best annoying, and at worse could cause serious problems with your machine.
"Some non-wired lingerie can go in the machine on a cool wash," says Paula. "But it's always best to check the label first—and remember to fasten the hooks, so they don't get caught on anything else.
"Try to avoid using fabric softener if possible, too, as it can leave a coating on the bra and break down the elasticity of the fabrics. This is a particular problem with sports bras, where this coating can reduce its sweat-wicking properties, meaning it can no longer draw moisture away from the body."
For extra protection for your bras in the machine and to stop the clasps from catching on your other clothes, invest in some specialist laundry bags. But remember, this won't protect them from damage caused by heat and spinning, so they still need to go in a delicate wash.
Delicates laundry bags to try
Sturdy and fast-drying, this bra bag is worth every penny. The zip carefully covered to protect the rest of your laundry too.
A great choice for anyone who wants to make more eco-friendly choices, this stops the fibers of our manmade fabrics from slipping into the water system when we wash them. Made from a recyclable, untreated mesh, it is pricier than the others but much larger. Great for bulky loads.
Super-clean homes influencer Mrs Hinch is a huge fan of Minky and their delicates bags don't disappoint. This pack of two contains a medium and a large bag to stop fabrics from snagging during the wash.
How to dry bras
"When you're drying your lingerie, we recommend avoiding any source of direct heat, like the tumble dryer or radiator, as this can damage the shape and elasticity of your bra," advises Paula. 'For best results, leave it out to air dry after washing."
"If you have padding in your bra, make sure to smooth out any creases there, too," Paula adds. This will stop the padding from drying with any funny lumps or bumps and ruining the lovely smooth lines.
But where should we dry them?
"You can dry your bras on any drying rack or a towel rail if it isn't heated – or even over the edge of the bathtub," advises Paula.
Katie adds, "A normal clothes horse is perfect or even the end of a curtain pole."
Best drying racks for your bras
Dunelm 3 Tier Concertina Indoor Clothes Airer in Blush Pink
A favorite of Curvy Kate's Katie Weir, this perfectly toes the line between pretty and functional. It folds down flat when you're not using it – handy if you're short on space.
Leifheit Pegasus 150 Flex Clothes Airer
Offering an impressive 15 meters of drying space, this can fit a load and a half of washing at one time. It's all too, meaning it'll work just as well for trousers and sheets as it will for your bras.
How to store bras
Finally, store your bras with the cups folded into each other. This will not only save precious space in your lingerie drawer but help your bras maintain their shape, too.
Jess Beech is an experienced fashion and beauty editor, with more than eight years experience in the publishing industry. She has written for woman&home, GoodtoKnow, Now, Woman, Woman's Weekly, Woman's Own and Chat, and is a former Deputy Fashion & Beauty Editor at Future PLC. A beauty obsessive, Jess has tried everything from cryotherapy to chemical peels (minus the Samantha in Sex and The City-worthy redness) and interviewed experts including Jo Malone and Trinny Woodall.