9 French lingerie brands you need to know about
These are the French lingerie brands Parisian women swear by when they want a luxe update for their lingerie drawers.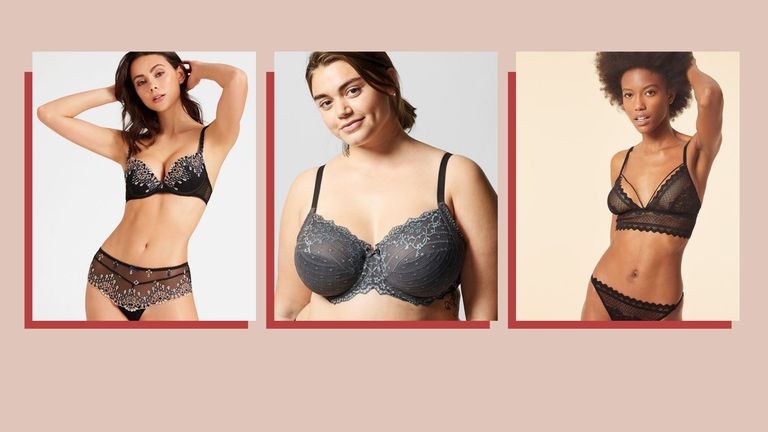 (Image credit: Aubade / Chantelle / Etam)
We've found the best French lingerie brands that are as comfortable as they are chic, to help you achieve effortless style. After all, great outfits, start with great lingerie.
It's no secret that French women have style. In fact, 'French girl' fashion is totally a thing, with people trying to find out how to get that effortless look. While it's mostly down to them shopping the best French clothing brands, it also all has to do with the exact pieces they invest in. Be it one of the best blazers for women or a sensational cashmere sweater, but it all begins with their lingerie drawer.
France is known for its luxury lingerie sector—with many brands launching throughout the 50s and 60s making their name in corsets. Now, these same brands are carefully crafting some of the best bras made from luxury silks and lace. And these are not just the bra styles essential to any underwear collection—including the T-shirt and triangle to the push-up and plunge—some of the best underwear and best shapewear is made by the labels on this list.
Good lingerie can be expensive, but it underpins your whole capsule wardrobe. Just like investing in the best designer bags, great lingerie offers an instant confidence boost. These are the French lingerie brands that'll make you feel as good as you look.
Best French lingerie brands—where to shop
Best French lingerie brands as chosen by our fashion team
1. Aubade
Looking for lingerie with a premium feel? Aubade was founded in 1958 in Paris, since then it has developed its key bra styles along with starting lingerie trends that'll never go out of style. With each bra needing a minimum of 24 pieces to be created, you can rest assured you're in the hands of experts and that the fit will be great.
---
---
---
---
2. Chantelle
Part of the Groupe Chantelle company founded in 1876, Chantelle first began as corsets and later went into lingerie including bras, briefs and shapewear. Now, the French lingerie brand is a go-to for everyday underwear that fits like a dream. It's also inclusive to all women's sizes by going from an A-I cup in a lot of the popular styles.
---
---
---
---
3. Eres
If you want something simple but special and your budget doesn't stretch to a custom bra, this is the French lingerie brand for you. Founded in 1968 by Irène Leroux, the swimwear brand was the first of its kind. Creating swimwear all year round, the styles were modern, wearable and available for those who wanted to go away throughout the year. Snapped up by Chanel in 1996, the label sticks to its luxury feel (with the black swimsuit being a favorite), and also now has lingerie and activewear. The bras and briefs are all fuss-free and timeless—perfect for minimalists.
---
---
---
---
4. Etam
Etam may be a throw-back brand for some. Once on the British high street along with Tammy Girl, the brand now exists online in the UK and in real-life stores across 44 other countries. Founded in 1916, the ready-to-wear brand started as corsets and branched out into lingerie and clothing. Now also known for its extensive lingerie collections including sustainable styles and some of the best period pants, the brand is a go-to for affordable style.
---
---
---
---
5. Simone Pérèle
Creating lingerie for over 70 years, corset designer Simone Pérèle founded the label back in 1948. Now, the brand is well-known for its carefully curated edit of gorgeous lingerie. With attention to detail being key to the brand's aesthetic, it's all about investing in the best-fitting bras that'll make you feel as good as you look.
---
---
---
---
6. Ysé
Starting its journey in 2012, Ysé bridges the gap between high-end luxury French lingerie and high street. Creating intricately designed styles to suit an inclusive range of sizes, the brand is one to invest in for everyday beautiful styles that are too good just to save for special occasions.
---
---
---
---
7. Maison Lejaby
Cultivating their expertise in corsetry and lingerie since 1930, Maison Lejaby creates high-quality lingerie with beautiful fabrications and masterful cuts. Combining Parisian elegance with a bold and modern aesthetic, Maison Lejaby has lingerie you'll love for special occasions and everyday wear too.
---
---
---
---
8. Chantal Thomass
Having designed lingerie since the 1970s, Chantal Thomass is known for her daring and occasionally risqué and burlesque-inspired designs. Leaning into her experience as a fashion designer, the current collection feels fresh, modern, even a little bit sporty in its execution with burnt orange and pale pinks accenting the collection.
---
---
---
---
9. Lise Charmel
Offering unique craftsmanship, Lise Charmel lingerie incorporates gorgeous lace, embroideries, and silk fabrics to create enchanting lingerie to make the wearer feel beautiful and empowered. Pure elegance, Lise Charmel aims to embody the design direction of a haute couture brand and inject that into their lingerie collections. With multiple edits, there is a style to suit multiple tastes.
---
---
---
---
Harriet Davey is a freelance fashion editor, writing and styling for titles including Vogue, Stylist, Grazia, Who What Wear, and woman&home. With over 10 years of experience in the industry, Harriet has a love for shopping but also a newfound interest in trying to be more sustainable. From renting outfits instead of buying new ones to opting for investment pieces, there are so many ways you can be more conscious of the way you shop.
This is why at womanandhome.com, Harriet is here to bring you carefully curated edits of the very best pieces worth spending your money on. With a love for Scandi brands and an eye for key designer pieces to mix in with high street hero buys, expect to see shopping stories and buying guides that'll make you feel excited about updating your wardrobes.