Custom bra shopping—9 important questions to ask before investing
A custom bra can be expensive, but they're definitely worth the investment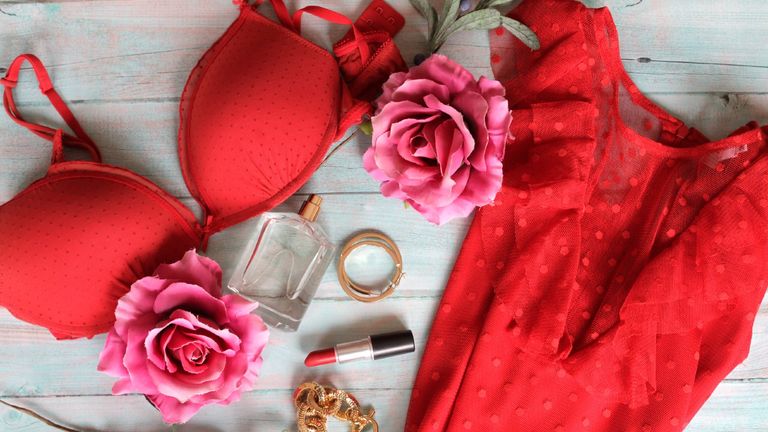 (Image credit: Getty Images)
Custom bras can be expensive but are definitely worth the investment if you have asymmetric boobs or proportions that don't quite fit in standard off-the-rack sizes. Before taking the plunge on a bespoke piece of lingerie though, ask the right questions to ensure you get the best fitting bra for you.
There are more underwear options than ever before, so finding the best bra should be a breeze these days. Yet, between all the bralettes, t-shirt bras, and strapless bras on the market, we still seem to be getting it wrong. In fact, 70 to 100% of women are wearing the incorrect size, according to a recent study conducted by Dr. Jenny Burbage into professional bra-fitting criteria in the UK.
Learning how to measure your bra size is no mean feat, and it's much harder to get this right without the help of a professional. Every woman's body is different too, and many fall through the slats of standardized sizing.
Enter custom bras. These made-to-measure pieces are individually tailored to give your boobs maximum support and fit like a dream.
What is a custom bra?
Custom bras are designed specifically to your boobs to tackle any of the typical fit issues you might face when shopping for underwear. You'll often have a consultation with a fitter, in which you discuss what you need from a custom bra that's missing for you when you look for a bra in your typical high-street lingerie department.
For example, if you have breasts that are asymmetrical (which most of us, to some extent, do), you can get a bra tailored to the larger, with an insert for your smaller breast to create the illusion of symmetry. Straps can also be tailored for those with broader or smaller shoulders, and for those with smaller breasts and a broader back, or a petite back and fuller bust. No size in any style is off-limits.
A fitter will advise you as to what works best for what you're looking for. They'll suggest cuts, straps, bandwidths, and the number of hooks and eyes you might need from your bra.
How much does a custom bra cost?
A caveat: specially-tailored bras don't come cheap. If you want a made-to-measure bra, with the full shebang when it comes to customization, prices will start at around £300 from a boutique bra specialist like Buttress & Snatch. At Rigby & Peller, an iconic bra brand based in London, prices can top the £800 mark for a custom-made basque. These are just two among the many best bra brands on the market.
But for many, once they go custom-made, they never turn back. Custom bras are a big investment and that means it's worth giving the same amount of consideration to the purchase as you would a new laptop or car. After all, it's something you're going to be wearing every day. Getting it wrong that could negatively impact both your back and your posture too.
Who might benefit from a custom bra?
In short: pretty much anyone. From a bride looking for something special, to someone with asymmetrical breasts or someone who is looking for underwear post-mastectomy.
"We make specialist bras to meet every kind of spec," says Rachel Kenyon, owner of Buttress & Snatch. "Whether it be a fabulous and fantastical show bra for film or TV, a wedding day, for the celebration of a large cup size, or for comfort with scarring and restoration of body positivity post-mastectomy. Our signature style is a joyful celebration of the female. We love bright colors, fun, audacious styles, and classic vintage looks, as the old ones are often the best ones. We like to cherry-pick colors, shapes, and style references from every era and mix them with modern lingerie techniques."
9 questions to ask before ordering a custom bra
If you can't make a person-to-person fitting, don't fret. You can still order the perfect bra online. Katie Weir, AKA the Bra Whisperer for Curvy Kate, tells us nine things to consider before placing an order.
Will I wear this bra on a daily basis or is it for an occasion?
Ask yourself how often you're going to wear a custom bra. If you're struggling to find a bra for everyday wear that gives you the support you need, then it's probably worth a splurge. But if it's a special-occasion bra you're after, you might want to consider whether once-in-a-blue-moon wear is enough to justify the price (unless it's your wedding day, of course!).
What shape do I want my bra to be?
Don't opt for a new shape out of the blue, just because you're getting a bra made to measure. Go with a shape you know suits you, that you're comfortable in and that works with the clothes you're going to be wearing the bra with. There are so many types of bras to choose from, finding one that works underneath your outfit is easy.
What fabric do I prefer?
Ensure the bra's fabric is right for what you need – for example, some people avoid sheer for everyday wear. Others avoid lace because it may not sit well under fitted garments. If you're allergic to certain fabrics, you'll want to highlight that too. Similarly, if you know from previous bras that there are certain fabrics you don't like the feel of, be sure to make this clear during your initial consultation.
What level of support do I need and do I want underwire?
Custom bras give you the opportunity to really tailor a bra's level of support to your lifestyle. So, whether it's high impact, barely there or somewhere in the middle that you're after, make sure you know what context you'll be wearing the bra in and, subsequently, how much support you need from it.
You're probably not splashing out on a custom bra just for something flimsy and decorative, but you don't want your new bra to feel restrictive, either. When enquiring about the bra's underwire, make sure it's supportive, without being uncomfortable.
Are my boobs symmetrical?
Most of us do have one bigger than the other – and it's usually the left. Getting a custom bra made gives you the chance to get a bra that fits like a glove, with the added option of an extra insert to balance your boobs.
Did I use a firm hold when measuring to ensure the most accurate measurements for my bra?
Taking an accurate measurement is vitally important to get a good finished product. Ensure you are not holding the tape measure too slackly and, if possible, get someone to help you by double-checking your measurements.
Is it important to me that I can have a FaceTime call with the designer to ensure my custom bra is the right size?
One option for virtual bra consultations is to have a fitting with the designer over the phone. You'll also be able to ask questions and voice any concerns you have about the finished product – it's this high level of customer service you're paying for, after all.
Have you read the customer reviews and are you satisfied they're genuine?
Feedback from other customers will help you hugely when deciding whether or not to take the plunge. Get as much information as you can about what other customers liked and didn't like about the designer's bras. If you're noticing negative feedback about one of your non-negotiables, then consider another brand.
Look out for fake reviews. Key giveaways worth noting are if a series of reviews have been posted close together, or if similar language and phrasing has been used across multiple reviews.
What is my maximum budget for my custom bra?
Shop around – make sure you're getting the best quality for the best price – and be sure to find out the final cost of your bra upfront, because you don't want to incur additional charges that you weren't aware of for small adjustments along the way.
Where to shop for a custom bra based on your budget
Under £200: Elma Lingerie
Operating from the US, Elma Bespoke Lingerie offers the chance to customise the style, colour and fit of your bra. Specialising in bralettes and the petite fit, Elma was set up to empower women with an A or B cup bust who want to wear beautiful, sexy garments.
The bralettes can be made unlined or lined and with removable pads for those after more of an everyday bra. Not travelling to the US any time soon? Don't worry, you don't have to hop on a plane to get fitted; they offer an online service, so you don't even have to leave the comfort of your home.
Under £500: Buttress & Snatch
With more than 20 years' experience, Buttress & Snatch promises to help with "pretty much any lingerie problem you can throw at us". From cloning your favourite discontinued bra to custom-made mastectomy bras, this London-based brand covers everything and every size.
They also recycle wires and other components from your old and worn-out garments, working in a small non-wasteful way to help benefit the environment, too.
Over £500: Rigby & Peller
Based in Knightsbridge, London, Rigby & Peller has that super-luxe feel. Their made-to-measure service creates completely bespoke garments using plush fabrics including silk, satin, and lace – perfect for creating a one-of-a-kind piece for a wedding or special occasion.
Production takes around four to six weeks with at least two appointments necessary for fitting. Custom-made pieces include bras, bodies, and corsets, as well as nightwear and swimwear. Prices for bras start at £305 and cost up to £865 for basques.
Kate is a freelance contributor to woman&home, covering everything she loves most: fashion, fiction, and fancy face cream. If she's not working, she's probably reading, feeding her online shopping addiction, or judging the taste level of celebrity houses (10/10 for Dakota Johnson, 2/10 for Tan France).

She graduated from Central Saint Martins in 2020 with a BA in fashion journalism, and her byline has also appeared in British Vogue, The Times, and Marie Claire.