The best period underwear for every stage of your cycle
The best period underwear ranked, from the best panties for heavy flow to the most eco-friendly underwear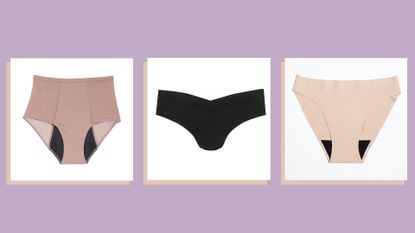 (Image credit: Future)
Our guide to the best period underwear makes finding the right pair for your flow a lot simpler. People who menstruate spend an average of $10 a month on period products, but that yearly cost decreases by 30% if you invest in period underwear.
Period panties have seen some impressive innovations in recent years. No longer bulky and uncomfortable, today's period underwear is sleek, sustainable, comfortable, and size-inclusive. As we've seen with the rise of menstrual cups, there are many more period care options out there today for women and those who menstruate.
Each option has pros and cons, but the rise in popularity of period underwear is undeniable—largely thanks to the positive impact wearing them has on the environment. Just one pair of period pants can replace 100 or more disposable pads or tampons according to the Women's Environmental Network. The case for period panties is clear, but it's important to find a pair that hits the three main considerations when it comes to menstrual care—is it comfortable, leak-proof, and discreet? We put the best period underwear to the test to bring you this round-up.
How does period underwear work?
Why you can trust Woman & Home Our expert reviewers spend hours testing and comparing products and services so you can choose the best for you. Find out more about how we test.
Layers of breathable, moisture-wicking fabric make up an absorbent pad and can be worn for up to 12 hours at a time. Other period care can be expensive and wasteful—in the UK alone around 200,000 tonnes of sanitary waste is created every year, according to Modibodi. Period pants are an eco-friendly and cost-effective alternative that can be reused time and time again. Combined with the best period tracking apps, you're set to feel comfortable and confident at every stage of your cycle.
Period underwear also caters to individual needs much better than other period products. "I like that period underwear often has different options for how heavy your flow is," says Sam, who suffers from endometriosis. "I use an organic cotton range and I really like that the waistband is soft and stretchy, as I get terrible bloating when my endometriosis is flaring up. I think it's important to have a good range of different features as everyone is different."
But, are period panties really hygienic? Yes! The soft and breathable layers are kind to the skin and allow menstrual fluid to leave the body naturally. Sanitary pads and tampons contain plastic, but a plastic-free alternative such as period underwear can actually reduce the risk of yeast infections, a sore vagina, irritated hair follicles, and bacterial vaginosis.
Just like knowing how to use a menstrual cup, it's essential you know how to use period panties correctly to get the most out of your product. After every use, be sure to wash the underwear on a cool wash and allow them to air dry to avoid shrinking.
How we tested and selected the best period underwear
We tested a wide range of period underwear over a test period. For the more individualized products—including the best maternity period underwear and best gender-neutral period underwear—we asked menstrual health experts for their top recommendations and considered customer reviews online to bring you the top options in these categories.
For all the other products in our round-up, during our tests we considered:
Design—the secret to feeling good in period undies is feeling like you're wearing regular panties, whether they're sexy and stylish or functional and supportive.
Absorbency—much like tampons and pads, period panties offer varying levels of absorbency, from light to extra heavy. We tested everything from thongs to postpartum long-wear styles.
Sustainability—we assessed the material of each product to rate how sustainable it really is.
Comfort—comfort is key when you're on your period, especially if you happen to suffer from pelvic pain or issues like vaginismus. We tested every pair for skin feel, long-wear comfort, and breathability.
Size Inclusivity—we tested sizing from XXS to XXL to see how each style and brand measured up.
The best period underwear, as chosen by our experts
1. Modibodi Seam-Free Bikini
Best period underwear overall
Specifications
Outer material: 91% Nylon 9% Spandex
Gusset material: Merino Wool, Polyester, Polyamide
Flow: Moderate—Heavy
Sizing: 2XS – 2XL
RRP: $27.50/£21.50
Reasons to buy
+
Seam-free for comfort
+
Inclusive sizing
+
Absorbent for heavy days
+
Bikini style
Modibodi excels in comfort, design, absorbency, style, and size options. The standard Bikini style is one of the brand's most popular styles, and we can see why. In classic black or a blush-pink color, these period panties are ideal for every day. Not too bulky and crafted from smooth, seam-free crepe with plenty of stretch, the Bikini hugs the skin and is discreet underneath pants, dresses, and skirts.
Modibodi period underwear is especially good for long wear, with layers of natural, sweat-wicking, and odor-diffusing fiber. Arguably some of the most comfortable period underwear on the market, Modibodi styles aren't limited to a bikini cut. If high-leg, high-waist, or a boy short is more your style, the medium-to-heavy flow panties come in each of these cuts, too.
The only drawback for the seam-free and classic-style underwear is the waistband can seem a little tight on the first wear. This will soon stretch and shape your body. Just be sure to wash your underwear on a cool setting to avoid shrinking them.
2. Bambody Absorbent Panty
Most affordable period underwear
Specifications
Materials: Outer bamboo
Gusset: Polyester 80%, nylon 20%
Flow: Medium
Sizing: XS—6XL
RRP: $14.90—$39.90/£12.90—£34.90
Reasons to buy
+
Affordable option
+
Four colorways
+
Natural bamboo fiber
Reasons to avoid
-
Only suitable for medium flow
-
Only holds up to two tampons worth of fluid
While period underwear can save you 30% of your annual spend on menstrual products, the upfront cost can be high. Most affordable period underwear is crafted from synthetic fabrics or can be bulky and uncomfortable. However, plenty of the leading brands offer bundle discounts when you buy a full set for every day of your period and more affordable brands are popping up all the time.
Bambody makes its affordable period panties from bamboo fabric, a natural fiber that's more breathable than polyester and cotton. The bamboo is grown without irrigation, and no fertilizers, pesticides, or herbicides are required—making it a sustainable, as well as an affordable option.
The Absorbent Panty more or less lives up to its name, however, if your periods are particularly heavy, one pair might not last you the whole day, as one pair only holds up to two tampons of fluid. Size inclusive and available in four relatively neutral colorways, the Absorbent Panty has a thick stretchy waistband for comfort. However, the panties are mid-rise so aren't as restrictive or supportive as a high-waisted style.
3. BP3 Sarah Sporty
Most comfortable period underwear
Specifications
Outer material : Outer 75% nylon, 25% elastane
Gusset material : 95% cotton, 5% elastane, 80% Polyester, 20% elastane Breathable TPU
Flow: Medium
Sizing: S—XXL
RRP: £18/£25.05
Reasons to buy
+
Invisible scalloped edging
+
Soft and flattering
+
Super comfortable
+
Silky feel
Reasons to avoid
-
Only holds two tampons worth of liquid
By indie brand BP3, the Sarah Sporty period underwear was by far the most comfortable we tested. With a silky feel, these period panties offer lots of protection with four layers of discreet gusset in breathable cotton. There's a waterproof layer and even an additional absorbent layer for extra security and protection from bladder leaks, periods, discharge, and sweat. They're a great alternative to tampons, especially if you usually suffer from vaginal dryness from your current period care.
Low cut and elasticated at the back to sit comfortably on your bottom, these panties combine comfort with aesthetics and don't look like period underwear at all. The scalloped edging is soft on the skin, but also looks good and is totally invisible under clothing.
"The scalloped edging is seamless so unlike your usual pants, the material hasn't been folded over causing a bulge especially under tight clothing. They are also laser cut which stops the material from fraying. Some of my BP3 pants are over two and a half years old now and still look as good as new, whereas cotton knickers start to fade and lose their shape" says Kelly Newton, the brand's founder.
These period pants are best suited to those with a medium flow, as they only hold around two tampons worth of menstrual fluid. While we loved the lightweight and silky material made from nylon and elastane, those who prefer wearing natural fibers might be best choosing a cotton option.
4. Thinx Super Absorbent Hi-Waist
Best period underwear for heavy flow
Specifications
Outer material : 89% nylon, 11% elastane
Gusset material : 100% polyester; middle breathable PUL
Flow: Super
Sizing: XXS—4X
RRP: $42/£31.11
Reasons to buy
+
Extra absorbent holds five tampons of fluid
+
Mesh detailing
+
High waisted for a comfortable fit
+
Inclusive size range
Customers online often say when they wear Thinx Super Absorbent Hi-Waist period underwear, they feel comfortable enough to wear a white dress on their heaviest days. And you better believe the hype, because we found this to totally ring true. Based on the brand's original high-waisted pant design, this product features new pads that are twice as absorbent, making them the best period underwear for those with a heavy flow.
Smooth mesh panels add style, and the high waited design allows for ultimate comfort and confidence when wearing these pants with skirts and dresses. Depending on your flow you might feel more comfortable changing into a fresh pair halfway through the day, however, plenty of people (us included) opt for one pair and enjoy a leak-free day.
Inclusive sizing and a true-to-size fit mean the Hi-Waist is comfortable for people who suffer from pelvic pain conditions like fibroids and endometriosis. The price point is a little high but these panties are built to last so should support you for at least two years provided they're cold washed in the machine and air-dried.
5. WUKA Basics Period Thong
Best period underwear for a light flow
Specifications
Materials: BCI certified cotton
Flow: Light
Sizing: 2XS—6XL
RRP: $15/£12
Reasons to buy
+
Discreet and lightweight
+
Invisible under clothing
+
Stylish design
+
Inclusive sizing
+
Affordable
Reasons to avoid
-
Not suitable for heavy flow days
-
Sizing runs small
The WUKA Basics Period Thong is ideal for those days where you're not quite sure if your period will make an appearance, or lighter days when it's on its way out. "The thongs are our recent launch and currently the most loved for summer. A thong is perfect for those days where you don't want to feel like you've got to wear full coverage pants just in case you start bleeding," says Ruby Raut, Founder, and CEO of WUKA.
If you usually wear thong-style underwear, this is a great option for making you feel more like yourself while you're menstruating. Lightweight and discreet, you won't have to worry about VPL with this underwear. It's perfect for wearing under tight clothing without leaving a trace.
While the thong isn't suitable for a heavy flow, it comes in an inclusive size range and is perfect for those who have irregular periods. It's worth noting the basics range from WUKA runs small due to less stretch in the cotton fabric, so you might want to consider sizing up for comfort.
6. Cocoro Classic MOERI Organic Cotton
Most sustainable period underwear
Specifications
Outer material: 93% GOTS organic cotton, 7% elastane
Gusset material: PUL-free polyester, organic cotton
Flow: Medium
Sizing: XXS—3XL
RRP: $38.90/£27.95
Reasons to buy
+
Sustainable
+
Organic cotton
+
Lace waistband
Cocoro is a Spanish brand aiming to be the world's most sustainable. Its period underwear saved 29.5 tons of waste from landfills in 2020 and a life-cycle study conducted revealed Cocoro panties generate 14 times less Co2eq than non-reusable pads and 9 times less than tampons.
"The concept of sustainability is ingrained in Cocoro," says Laida Memba, the brand's chief sustainability officer. "We seek to be sustainable at all levels: environmentally, socially, and financially. Our production is socially ethical, respecting the people involved, and resulting in a vegan certified product."
The period underwear itself is made from GOTS-certified organic cotton and you can feel it. It's super-soft with enough stretch for comfort, but still feeling has that cotton feel. The waistband of the Classic MOERI style is a little more forgiving with a stretchy lace band adding extra comfort and style. We loved the look and feel of these period pants, and with the impacting switching to this product can make for the environment it's a win-win.
However, we found the sizing of the Cocoro ran slightly small, so would recommend sizing up with these period panties.
7. Pantys The Dreamer
Best period underwear for nights
Specifications
Outer material: 86% nylon and 14% spandex
Gusset matieral: 100% natural modal
Flow: Super
Sizing: XS—XL
RRP: $52/£37
Reasons to buy
+
Carbon neutral
+
Three colorways
+
Biodegradable fibers
+
Extra absorbent
Reasons to avoid
-
Limited sizing for this style
Created specifically for nighttime, The Dreamer period pants by Pantys offer extra absorbency to prevent leaks while you sleep. With a longer leg, these panties have a larger absorbency pad that soaks up more fluid, meaning you can roll around in your sleep and still feel dry while keeping your sheets clean.
Made from super-soft nylon and spandex mix, these period panties have a comfortable elasticated waistband, so they won't slip down during the night. They're also made from biodegradable fibers with Emana nanotechnology which promotes microcirculation in the skin. Kind to skin and your period.
On warm nights, they are much more comfortable and breathable compared to a standard menstrual pad and regular pants. While this underwear won't stop you from sweating totally, it will help reduce the risk of candida infection, overheating, and irritated skin.
The downside to this product is it's only available in sizes XS-XL. While this offering is better than some other options on the market, other styles from Pantys are available in sizes XS-3XL.
8. Iceni Silver Warrior Period Wear Short
Best period underwear for sports
Specifications
Outer material: Cotton,
Gusset material : Cotton, Silvadur polymer
Flow: Heavy
Sizing: XS-L
RRP: $34.80/£25
Reasons to buy
+
Holds eight tampons of fluid
+
Breathable
+
Great for exercising in
Reasons to avoid
-
Limited sizing available
The best period underwear for sports is undoubtedly the range by UK brand Iceni Silver. Developed by and for athletes to hold 10x their weight in fluid, these period panties are designed in a short style with a thicker elastic waistband. Iceni Silver is trusted by some of the UK's leading athletes and sports professionals, so how do they measure up?
Providing a wider range of movement compared to other brands, this product is ideal for running or jumping (perfect for couch to 5k runs or HIIT treadmill workouts). The brand's founders suggest the Warrior short style is much better suited to sports like basketball, Judo, horse riding, and tennis, whereas the brief style allows a better motion for running and athletics.
The sweat-wicking ability is good and with breathable fibers on the outer, the Warrior shorts do offer much more comfort than you'd expect from a pad or tampon while doing sports, especially on a warm day. The extra absorbency and the added likelihood of sweating could leave you wondering if you'll have problems with odor wearing the shorts all day. However, built-in Silvadur polymer with silver ions does a good job of keeping bacteria to a minimum so we still felt and smelt fresh, even after a long workout.
Developed for teens and professional athletes, the range of sizing is limited running only from a UK XS-XL. However, there are inclusive activewear lines available from the likes of THINX, Modibodi, and Pantys that are worth trying as an alternative.
9. WUKA First Period Pack
Best period panties for teens
Specifications
Material: Organic cotton, tencel, recycled nylon
Flow: Medium
Sizing: 2XS—L
RRP: $44/£36.98
Reasons to buy
+
Three styles to choose from
+
Period education book included
+
Breathable organic cotton
Reasons to avoid
-
Sizing stops at L
-
Medium flow only
WUKA's First Period Pack offers a tween and teen-friendly introduction to period care with the Organic Bikini, Hipster, and Boxers styles. Each design holds three tampons worth of flow so can be worn during a school day for those with a light to medium flow. For a heavier flow, or for teens who usually go through more than three tampons during a school day, changing into a fresh pair might be necessary halfway through the day. Conveniently, the pack comes with a handy wash bag to pop in used pants ready to wash when they get home.
"I grew up all my life in Nepal using my mom's old sari rags as period pads. Reusable and sustainable but not comfortable at all," says Ruby Raut, founder, and CEO of WUKA. "Our first-period pack is the most popular pack in our online store. This is for young girls as young as 9-10 years old, who are at the beginning of their puberty journey."
The First Period Pack also comes with a choice of two books—The Girls Guide to Growing Up Great or The Autism-Friendly Guide to Periods. We think it's a product worth investing in for your teen to have at the start of their period experience.
While we loved the style and absorbency of this pack, it's worth noting the period pants are only available in sizes 2XS—L and wouldn't be best suited to teens with a heavier flow.
10. Modibodi Maternity Brief
Best maternity underwear
Specifications
Outer material: 95% Bamboo Viscose 5% Spandex
Gusset material: Merino Wool, Polyester, Polyamide
Flow: Extra heavy
Sizing: S—2XL
RRP: $31/£25.50
Reasons to buy
+
Extra absorbent
+
Holds 10 tampons worth of fluid
+
Comfortable V-shaped waistband
+
Soft material
Reasons to avoid
-
Low rise front might not be comfortable for some
Pregnancy can be uncomfortable at times and with your body weight, temperature, and a whole host of other things constantly changing, anything that takes the edge off and makes life easier is a blessing. Of course, if you're pregnant, you won't be experiencing periods. However, Modibodi's maternity briefs have been created to absorb the heavy discharge, post-partum bleeding, and bladder leaks that often come along with pregnancy.
A more comfortable alternative to disposable maternity pads and much more sustainable, this underwear is soft, discreet, and designed to fit pregnant bodies. The V-shaped waistband sits below the belly and the absorbable pad holds up to 10 tampons of fluid.
"We offer trusted protection and support both before and after baby because pregnancy is just the beginning. We're with you for the long-haul, leaky boobs, post-partum clots and all," says the Modibodi founder, Kristy.
Modibodi is pretty good at catering to all kinds of bodies, and these panties have great reviews, especially from new moms navigating parenthood for the first time. It's amazing how putting on a pair of regular panties can help a person to regain a sense of normalcy and feel as though everything will be ok. And these panties are a comfortable and stylish way to deal with all that comes with pregnancy and post-partum.
11. TomboyX First Line Leakproof Trunks
Best gender neutral period underwear
Specifications
Materials: 95% OEKO-TEX Certified cotton, 5% spandex
Flow: Medium—Heavy
Sizing: 3XS—6X
RRP: $32/£24
Reasons to buy
+
Inclusive sizing
+
Gender-neutral style
+
Nine colorways
Reasons to avoid
-
Only holds three tampons worth of fluid
If period underwear seems like it might be the best option for you but you feel uncomfortable about wearing the styles you often see on offer, don't give up. There are plenty of brands offering gender-neutral styles. The best gender-neutral period underwear comes from a brand beloved by the LGBTQ+ community—TomboyX.
The TomboyX trunks are size-inclusive, available up to a size 6X, and come in a range of colors. These period boxer shorts fit slim on the leg to avoid leaks, but the gusset floats comfortably allowing for room and breathability, so you can wear them under just about any outfit.
Holding three tampons of fluid, the period trunks are soft with a silky elasticated waistband—one of the features that make this brand so popular with its fans. "Finding size 6X is already hard, but feeling incredible wearing it is harder because it usually isn't made with love," says customer Avery. "These were made for me and for my body. I can't believe how sexy and comfortable I feel."
Regardless of how you identify, wearing boxers can be much more comfortable than wearing panties. This gender-neutral option is a comfortable option for all those who menstruate and want to ditch single-use menstrual products.
Emilie Lavinia is a writer, entrepreneur and women's wellbeing advocate. She is passionate about femtech, closing the gender health gap and campaigning for education and transparency across mental, physical and sexual health. Emilie presents All Being Well – a series that investigates the concept of wellness, good health according to experts and what it means to 'be well'. She has a decade of experience as a journalist, editor and brand strategist and is the founder of four separate organisations that champion women's health, marginalised communities and LGBTQ+ people.