Fashion trends 2022—the 7 styles for women you need to know about
Dopamine dressing is taking over in the fashion trends 2022, so boost your mood, your confidence, and your style credentials for the year ahead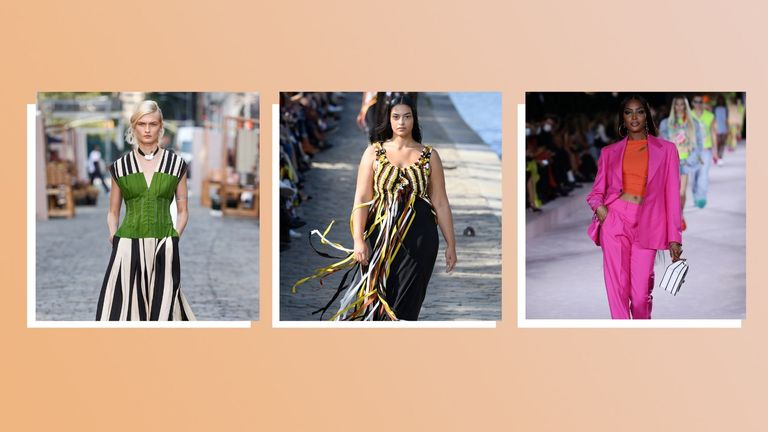 (Image credit: Getty)
It's been a rocky road in the world of fashion for the past couple of years, but rest assured the fashion trends 2022 are set to awaken your style senses.
The time has come to re-evaluate your capsule wardrobe and work out which pieces are wardrobe essentials, which you can bypass for future seasons, and what you need to update now. If you've been spending your time in comfy lounge pants or muted neutral colors, the fashion trends 2022 are expected to be an explosion into dressing up again. Katie Eastwood, stylist ambassador at online personal styling service Stitch Fix, says, "I'm predicting we're going to be seeing lots of extreme lengths; whether that be maxi or midi, metallics, bold colors, or low waists—in 2022 it's definitely a case of 'more is more'."
Dopamine dressing (wearing the pieces that make you feel good) is coming, but there are plenty of ways you can weave in new pieces to wear seamlessly with your best jeans or best winter coats until the weather warms up. Take inspiration from our top trend picks and start building your new-season style now.
Fashion Trends 2022 Forecast
Most of the styles you'll be seeing in stores filter down from the catwalks—after a difficult run of virtual shows during the pandemic, Fashion finally returned to the runways in September 2021. Based on these, the fashion trends 2022 forecast is for a downpour of maximalist looks.
From London to Paris, whether British clothing brands such as Burberry or French clothing brands such as Chanel, the catwalks were adorned with bright, daring pieces that have been lacking from our closets for years. The one question that remains is, after dressing down for so long, do we dare to wear them?
"Remember you don't have to recreate an exact outfit seen on the models", says woman&home fashion director, Paula Moore. "The fashion shows are there to inspire you, so take pieces from the looks you like best and weave them into your existing wardrobe subtly at first."
It thought this new wave of bold dressing has come about as a result of the pandemic, which designers have used to flex their creative muscles. "Trends often come through as a reaction to these political, social and economic issues." says Katie, "The bold, extravagant pieces we are seeing across the 2022 runways are most likely a reaction to restraints we've all been under as a result of the pandemic.
By celebrating the bold, the colorful, and all that sparkles, designers are offering a form of escapism, allowing people to embrace something positive through their aesthetic."
Biggest Fashion Trends 2022
As the new season approaches, here are some of the biggest fashion trends to look out for in 2022. Consider your options carefully, and think wisely about what you buy. StitchFix has found that 83% of its customers want to buy fewer, more quality items in a bid to become more conscious shoppers. Move away from the 'wear once' culture by using this to guide your style, opting for pieces you'll learn to love and will wear time and time again in various outfits and iterations.
1. TOP-TO-TOE COLOUR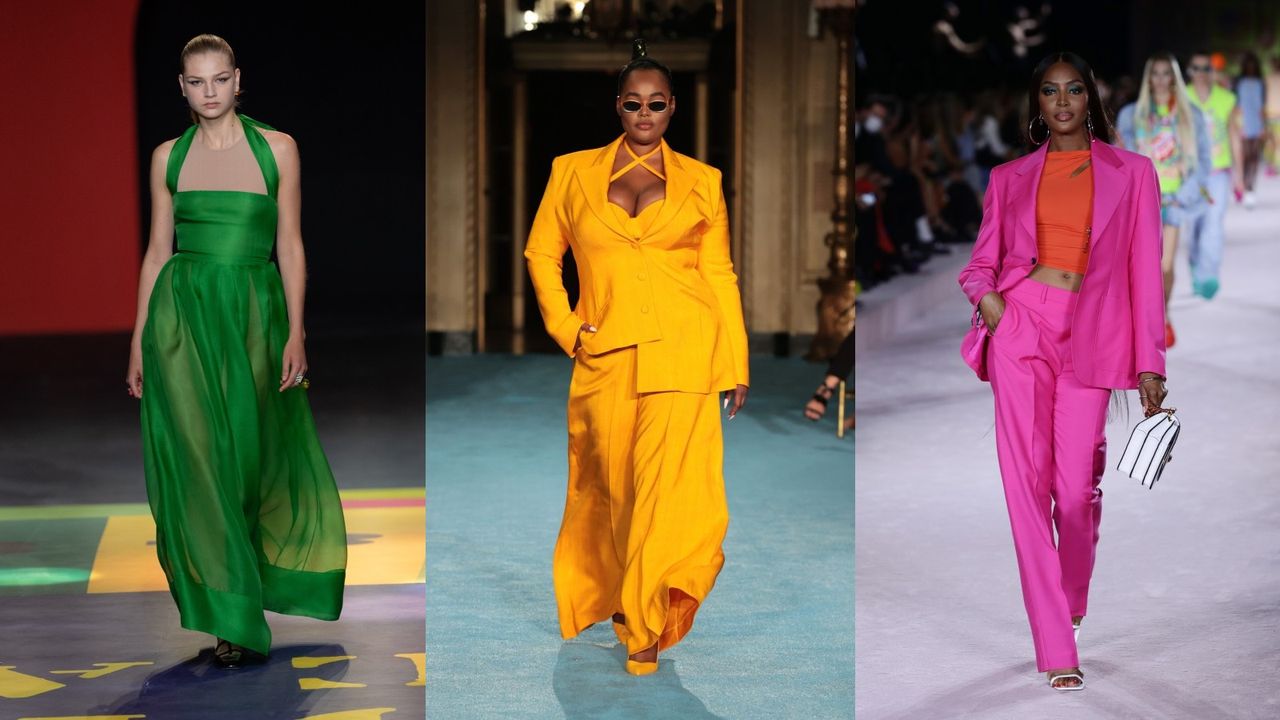 Forget tan, neutrals, or classic creams, this season is an explosion of all things bright—and it's not one for wallflowers. Models walking for Christian Dior and Versace were seen in a top-to-toe color that really makes a statement. "The Queen has been color blocking for years, now it's time for us all to boost our mood with bold hues," says Moore. "Start with a bright accessory, such as shoes or a bag, and add this to a look you're comfortable in."
From this point, you get more confident, she explains, "You can build up to a whole look easily. Fuchsia pink and Kermit-the-frog green compliment all skin tones, so why not try a suit that will take you from day to night effortlessly."
WHAT TO BUY
---
Bold shoes and bags: Ease into the trend with color-pop heels or attention-grabbing arm candy. They will instantly brighten up a little black dress or add some interest to your jeans. If you really want to branch out, try clashing the colors as well. Blues and greens or oranges and pinks are great together.
Boxy suits: The key to a good suit is all in the fit. A pair of wide-leg trousers cinch in the waist and skim over thighs, tuck in a slim-fit top, and add a boxy blazer and you'll feel empowered in seconds. Take a look at our guide to what color suits me to work out which shade is best for you.
Smock frocks: There is nothing easier than a throw-on-and-go dress. If you can bag a smock-frock in a bright color then you've nailed the trend without even trying. All you need is to add boots and you're good to go.
WHERE TO SHOP
---
2. FRINGING DETAILS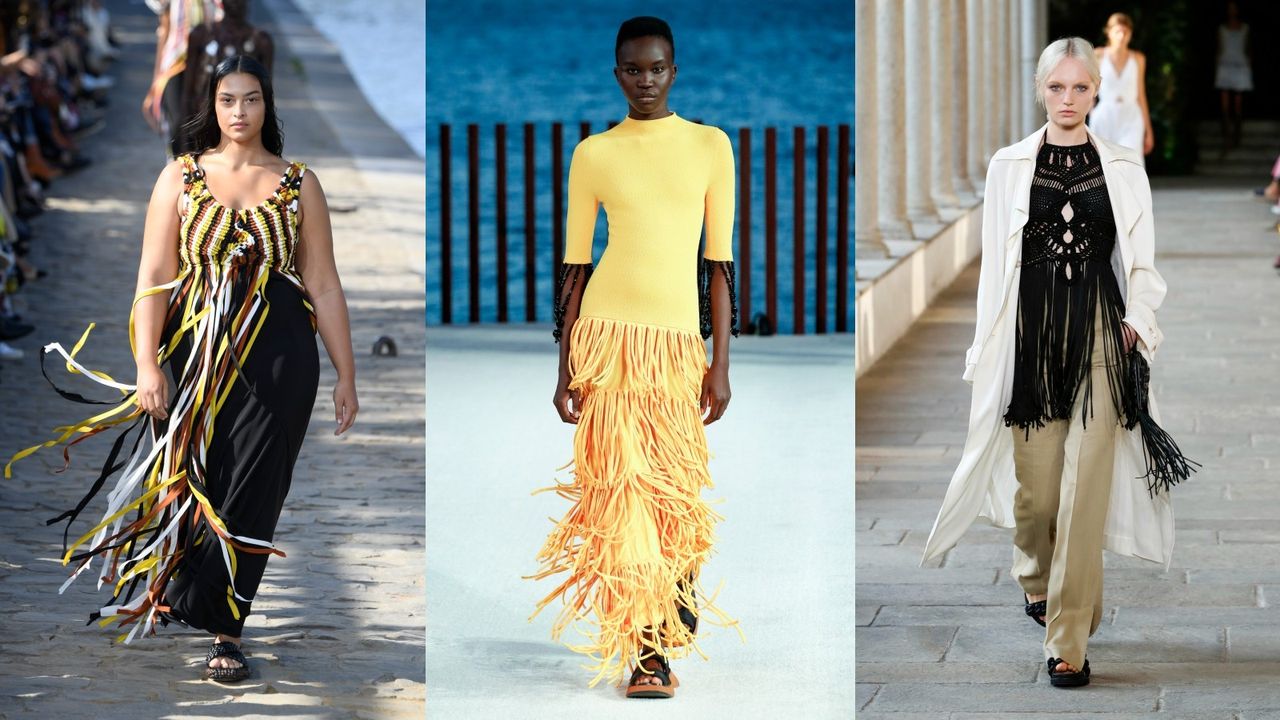 With its tassels, crochet, and slouchy fits this trend has a more bohemian feel— just dream of your summer holidays, wearing chunky sandals and a fringed outfit that moves in the gentle sea breeze, and you've got the idea. All you need to accessorize is a cocktail.
Fringing is actually easy to wear and very flattering—choose pieces where it falls cleverly over any areas you're a little self-conscious of, and it will take your look to a new level. Saisangeeth Daswani, head of advisory at trends intelligence agency Stylus, saw this one coming. "With digital taking over our day-to-day lives, we expect that consumers will have a continued desire for touch-and-feel in fashion," she explains. "Tactile surfaces have become key, offering a new way for consumers to engage with products."
WHAT TO BUY
---
Maxi dresses: The long-line dress is always a winner in our eyes as it means limited leg-shaving. Aside from that, it's also super flattering. Any styles with tassels in earthy tones will ensure your summer look is at the top of the style ladder.
Crochet tops: The open-knit tops are going to be big news this season. Try to find a style that has extra fringing at the bottom that will fall over your hips. Wear with a slim-fit midi skirt or chinos for a look that oozes style prowess.
Chunky sandals: The 'dad' sandals aren't going anywhere this season as hefty soles and simple designs continue to take center stage. The flat-foot aesthetic is great for this trend as it brings a laid-back, super cool feel to any look and minimizes fuss making this footwear the perfect companion to fringing.
WHERE TO SHOP
---
3. SEQUINS AND SHIMMER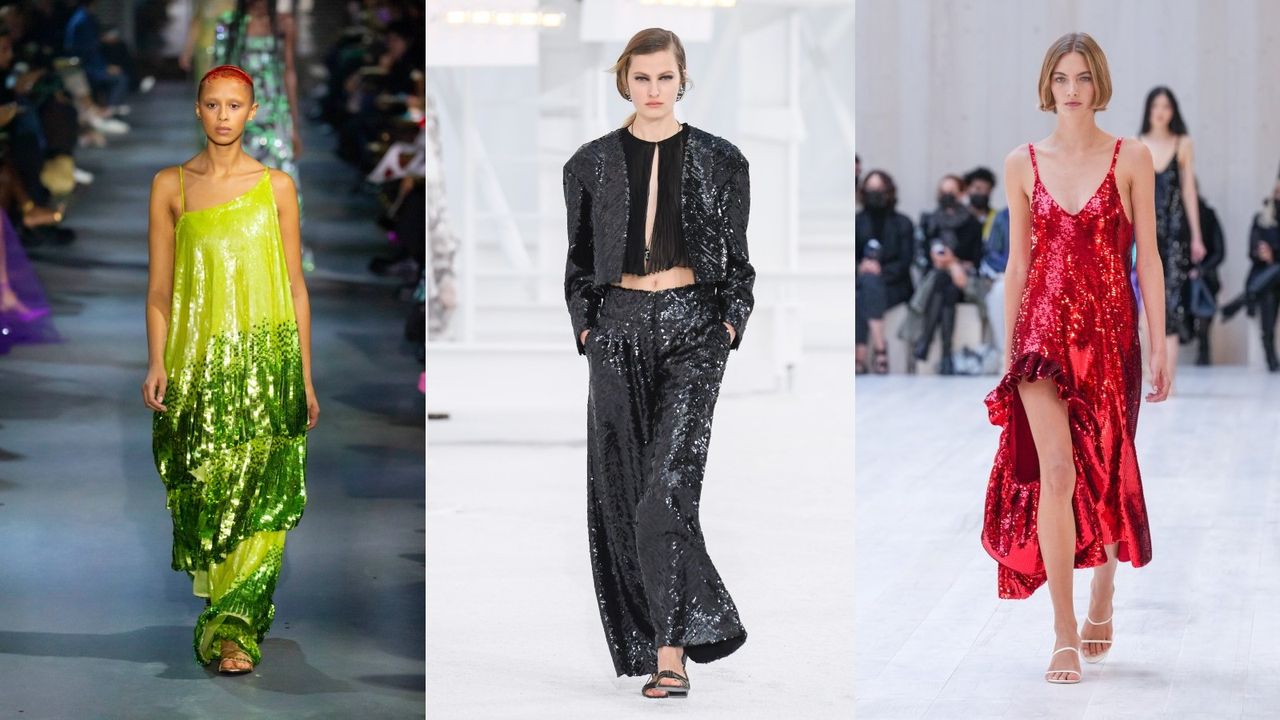 Sequins aren't just for Christmas, you know? You can shimmer any month of the year so, as it's your time to shine, take inspiration from Chanel and Valentino and introduce everyday sparkle into your closet.
Whether it's a show-stopping dress or a chic two-piece, sequins in spring will certainly get rid of any winter blues. But sequins in spring aren't the same as at Christmas. "I love sparkle, but the key is to keep accessories to a minimum", says Moore. "If you wear a standout piece, avoid overwhelming the look with lots of jewelry or prints. Let the clothes do the talking."
WHAT TO BUY:
---
Sequined blazers: The easiest way to include shimmering fabrics is in the form of a blazer. The smart cover-up never goes out of style, and if you bag one made from sequins then you can immediately elevate any look.
Wide-leg trousers: The trend for wide strides was big for AW21 and we are thrilled to see it continue into 2022. A flattering fit, they provide a clever way to dress down sequins. Just add a plain white t-shirt to black sequin trousers and you've made them an everyday outfit.
Slip dresses: A slinky slip dress in satin fabrics can be a little clingy, but get the minimal shape adorned in sequins and suddenly it's a lot more wearable. Look for midi styles that you can wear with simple ballet pumps or slides.
WHERE TO SHOP
---
4. MAXI VS MINI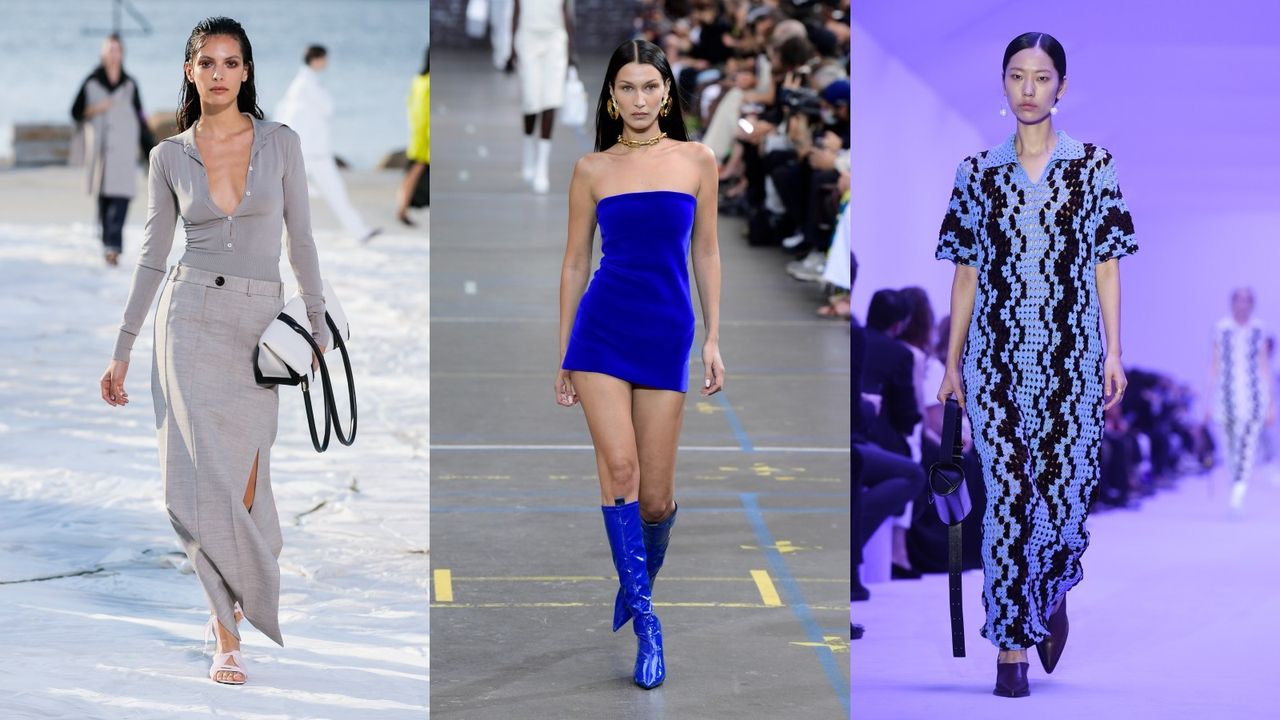 The good old midi skirt has reigned supreme for the last few years, but it's been ousted from the top spot this season—as we said from the outset, fashion trends 2022 are all about extremes.
You're going to have to decide if you're Team Mini or Team Maxi this year (although we're sorry to break it to you, it's actually the micro-mini making its way into the mainstream). We know it's not an easy thought to have a lot of leg on show, but you can make it work with tights and knee-length boots for extra coverage until the weather warms up.
If you're more of a maxi woman, then we're talking tube fits that finish close to the ankle, rather than the A-line hippie style we've been used to in seasons gone by. Think a slinky, full-length look rather than voluminous fabric. If that sounds a bit constricting, remember: a subtle split offers more movement.
WHAT TO BUY:
---
Mini dresses: There's no need to immediately be put off—there is no age limit when it comes to style, it's all about how you wear it and when you feel most confident. With a mini dress, try adding boots if you're self-conscious about showing too much skin, and remember the golden rule of keeping the neckline high if the hemline is high.
Tube maxi skirts: Look for skirts that finish at the ankle but that offer a more streamlined fit. Designs that sit at the waist will help to elongate your legs. Try subtle splits that finish at the knee to help the fabric float as you walk—it'll be more comfortable too.
Ribbed tops: Fitted tops with long-line skirts will give you an hourglass figure in seconds. If you're used to looser styles, remember the best shapewear pieces are your friend. Wear these underneath to help smooth your figure and you'll create an effortless look for spring.
WHERE TO SHOP
---
5. BOLD STRIPES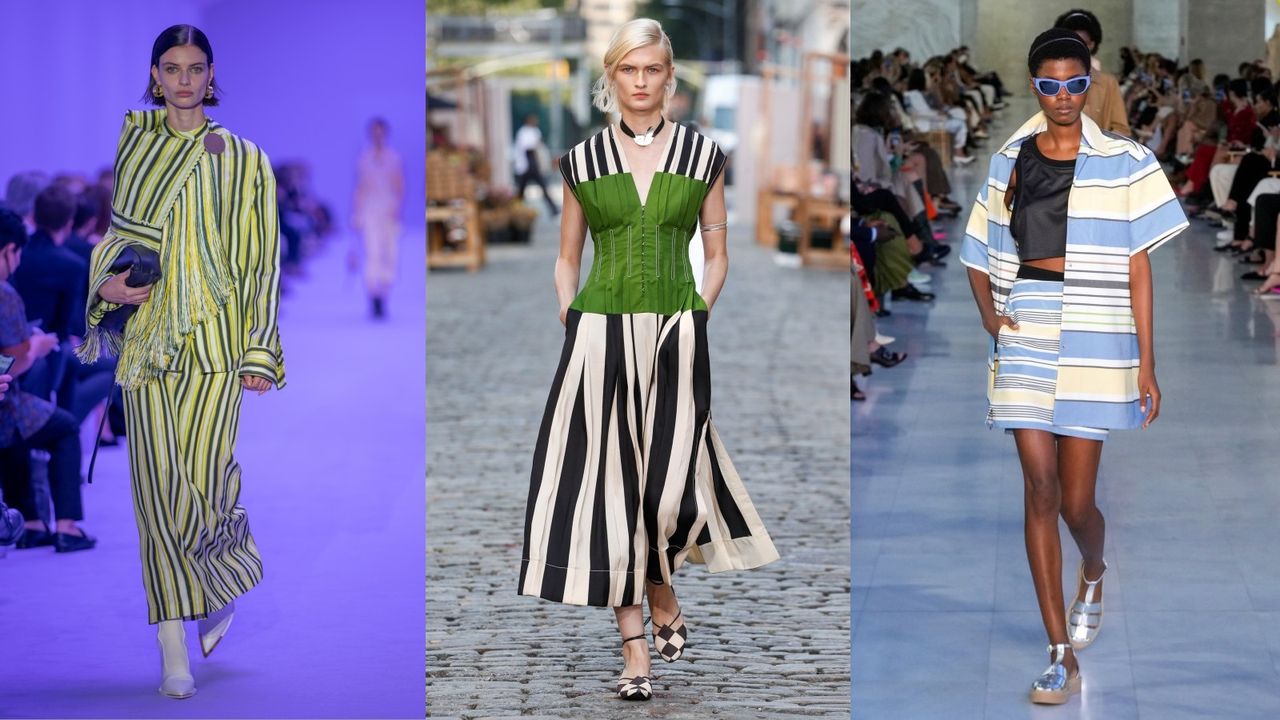 Read between the lines this season and embrace bold, defined stripes. There were no pinstripes in sight on the runways at Jil Sander or Tory Burch; here, wide stripes took the style crown.
"The striped jumper was a sell-out in winter and the look has made its way into 2022," says Moore. "Remember vertical stripes lengthen your figure and can be slimming. Pastel colors are gorgeous for spring, so give these a go, and a classic Breton is my go-to t-shirt all year round."
If you opt for monochrome stripes, try to accessorize with color to pack a real punch.
WHAT TO BUY
---
Matching co-ords: Get three looks for the price of one in a matching co-ord. Wear the top and bottom together as one complete look, or separately for extra versatility. A top and skirt in the same print are sure to get you noticed for all the right reasons.
Breton tops: Let's be honest, we all love a Breton tops or t-shirts. Super easy to wear and effortlessly stylish, the humble horizontal fisherman's stripe is a must-have. This season, try to mix up the colors and move away from white and navy.
Diagonal stripes: Experiment with the direction of your stripes. While vertical stripes are notoriously slimming, horizontal stripes don't automatically widen you. Try layering pieces and play with proportions by adding diagonal stripes into the mix.
WHERE TO SHOP
---
6. CUT OUTS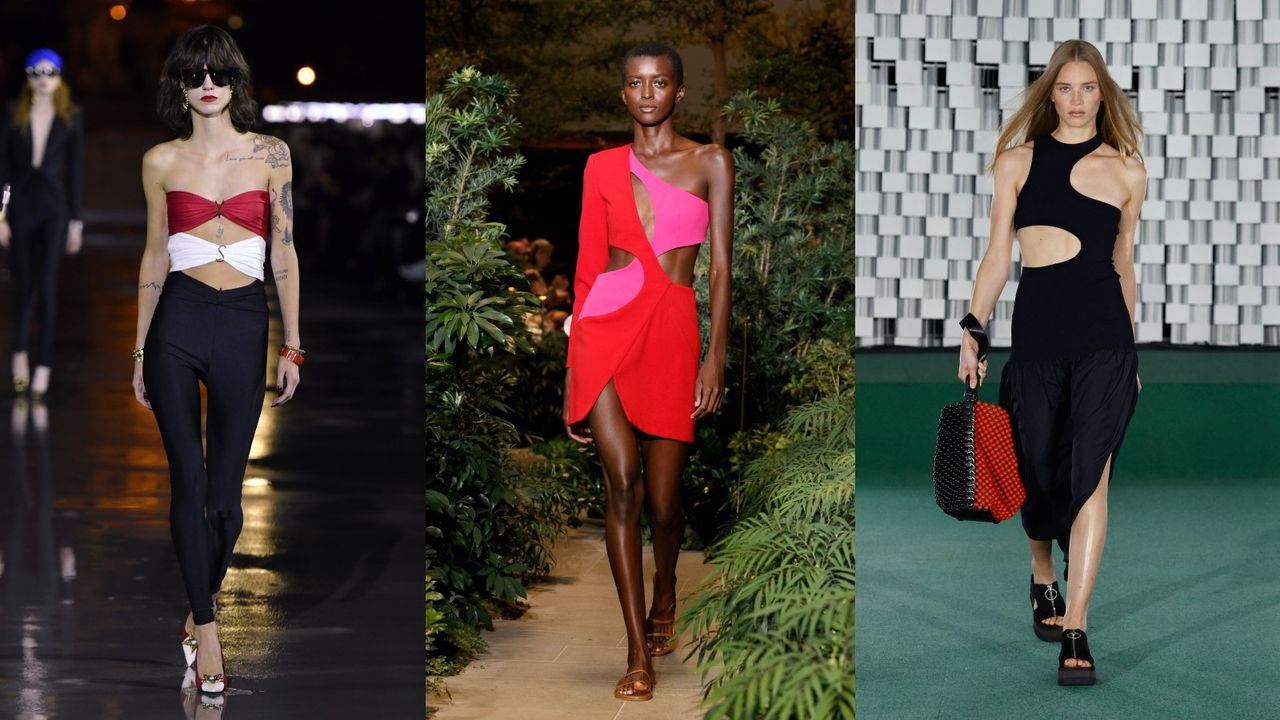 We can feel you rolling your eyes, but stick with us on this one. We know the idea of cut-out sections of clothes can be daunting, but while the catwalks might have shown a whole load of flesh, you can do it the subtle way. Promise!
"There's no need to shy away from this trend completely," says Moore. "A little goes a long way and even a small slash in the fabric at your waist can offer more movement in the fabric and highlight your smallest part." Think keyhole details, open backs, and cold-shoulder tops that expose a little flesh without you feeling like all your lumps and bumps are on show.
Sheer fabrics were also big this season so bag a top with transparent sleeves for another way to wear this look.
WHAT TO BUY
---
Keyhole blouses: A less intimidating way to embrace cut-outs is with keyhole detailing. Whether it's at the chest or on the back, a simple circle exposing a little skin is easy to pull off.
Open-back dresses: This style can be a problem if wearing a bra is essential, but there are also lots of exposed backs that finish just above where your bra strap lies. Look for fun prints, loose fits, and experiment with underwear.
Cotton pants: If your top half has a little flesh on show, offset the exposure by teaming with a pair of loose-fit trousers. A cool, cotton pair in black or tan are comfortable as well as stylish.
WHERE TO SHOP
---
7. THE 00s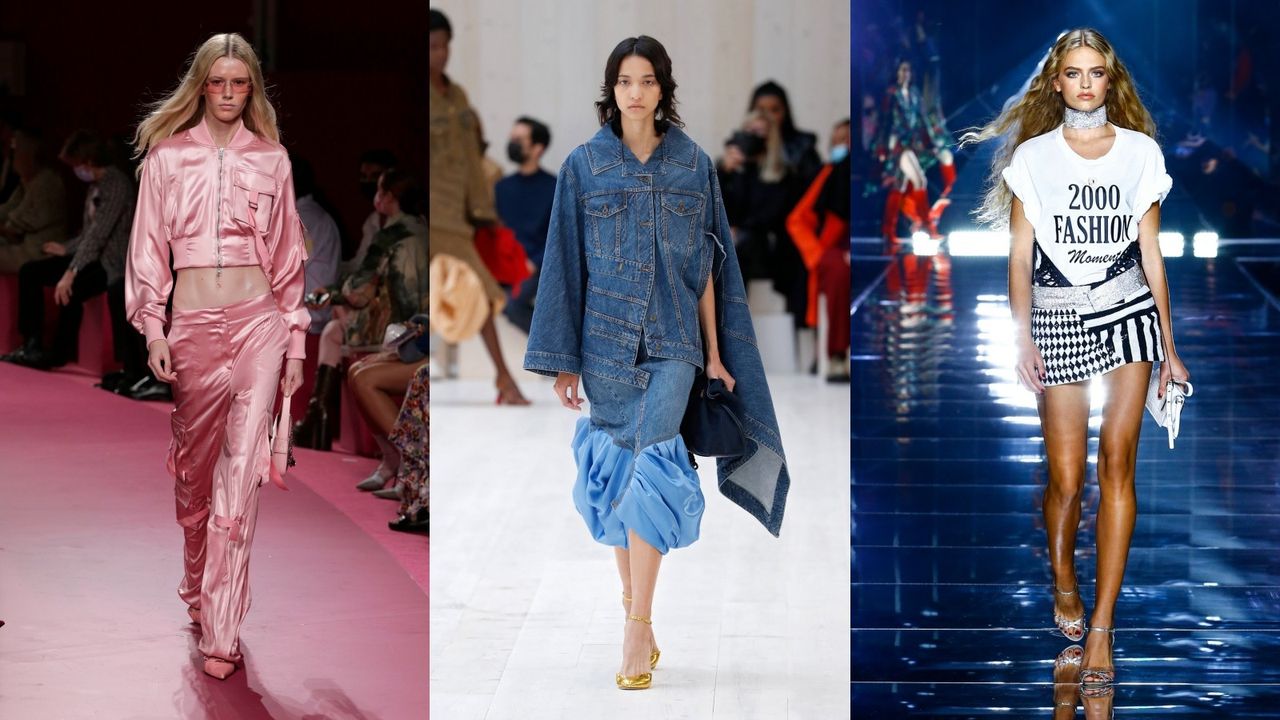 We know it feels as if the Noughties only just happened, but it's been long enough for the turn-of-the-century styles to return to the catwalk. We're turning to the nostalgic era of double denim, satin joggers, and chokers. Yes, really.
It can be difficult to embrace trends from years gone by without feeling as though you're playing dress-up, but this season take small nods from the decade rather than wearing it from head to toe.
For example, be inspired by famed denim duo Justin Timberlake and Britney Spears, and match your blue jeans with fitted shirts. Or swap your best leggings for a dressier, satin pair of lounge pants.
WHAT TO BUY
---
Faded denim: To execute this trend perfectly, you need to swap your jeans for the kind of denim that already looks as though it's lived a very full life. Faded or stonewash is ideal but darker shades work too. Then for added points, double it up!
Slinky satin: Any satin will work wonderfully but if you really want to amp up the 00's aesthetic then go for pink or bold colors. Keep an eye on fabrics though, as some satin can end up looking a little cheap.
3/4-length boots: While the cowboy boot is once again reigning supreme, any 3/4 winter boot will work—you can wear them with everything from midi dresses to over your jeans.
WHERE TO SHOP
---
Joely Chilcott is an experienced fashion and features editor having spent over ten years writing, styling and editing for a number of women's lifestyle publications, including Woman & Home, Woman and Woman's Own.
She caught the style bug as a child and, despite a few sartorially challenging teenage years, chose to pursue fashion journalism after university. Whether dishing out advice on using clothes to boost confidence, staying ahead of the curve with seasonal fashion trends or styling the latest celebrity photoshoot, Joely's passion lies in making women feel their best through their wardrobe.
She also spent three years as the Woman Editor of a tabloid newspaper in which she was regularly the mouthpiece for female issues while spearheading campaigns which successfully saw laws being changed as a result. A certified shopping expert, Joely is always on the lookout for new and exciting brands that she can champion, while holding the high street close to her heart. She has had work published in Drapers, Women's Health, Fabulous, YOU, The Sun and the Metro, as well as being a regular fashion contributor to TalkRadio.
You can usually spot her wearing a midi dress and boots...and complaining she has nothing to wear.