Fashion trends 2022: the key styles to shop this season
Boost your mood, your confidence, and your style credentials with the latest fashion trends 2022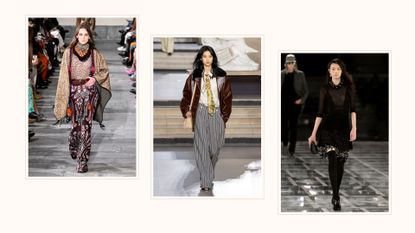 (Image credit: Getty Images)
The fashion trends 2022 are here to reinvigorate your wardrobe ready for the colder months. The last part of the year is packed with stylish and practical trends, from chic tailoring to cozy knits and plenty of bold colors to brighten up gloomy mornings.
A change in season means it's time for a host of new fashion trends 2022 to come to the fore. With something to suit every taste and shape, this season really does have it all. Whether you're looking for the perfect partywear pieces, or the latest coat trends to up your outerwear game. When it comes to the fall 2022 fashion trends, you won't be disappointed. While the fall/winter season will have some newer trends, many of the fashion trends from earlier in the year are still in play, ensuring with some clever layering, you can still wear favorites from the last six months.
Katie Eastwood, stylist ambassador at online personal styling service Stitch Fix, is expecting big things for the trends 2022, "We're going to be seeing lots of extreme lengths; whether that be maxi or midi, metallics, bold colors, or low waists - in 2022 it's definitely a case of 'more is more'."
From the mood-boosting bright color clothes of dopamine dressing, to discovering what is Barbiecore, this winter is packed with trend-led pieces that will make you feel both stylish and relaxed.
Fashion trends 2022 to shop now
Most of the styles you'll be seeing in stores filter down from the runways and the fashion trends 2022 can only be described as a downpour of maximalist looks.
From London to Paris, whether you're loving British clothing brands such as Burberry or French clothing brands such as Chanel, the FW22 runways were filled with creative and bright clothing, ready to embrace a season of Christmas party outfits.
"Remember you don't have to recreate an exact outfit seen on the models", says Paula. "The fashion shows are there to inspire you, so take pieces from the looks you like best and weave them into your existing wardrobe subtly at first."
It is thought this new wave of bold dressing has come about as a result of the pandemic, offering a roaring twenties feel, which designers have used to flex their creative muscles. "Trends often come through as a reaction to these political, social and economic issues." says Katie, "The bold, extravagant pieces we are seeing across the 2022 runways are most likely a reaction to restraints we've all been under as a result of the pandemic.
By celebrating the bold, the colorful, and all that sparkles, designers are offering a form of escapism, allowing people to embrace something positive through their aesthetic."
Consider your options carefully, and think wisely about what you buy. StitchFix has found that 83% of its customers want to buy fewer, more quality items in a bid to become more conscious shoppers. Move away from the 'wear once' culture by using this to guide your style, opting for pieces you'll learn to love and will wear time and time again in various outfits and iterations. You can also investigate the best sustainable clothing brands, that consciously design fashion-forward pieces that have a lower environmental impact. And if you want to fund your new wardrobe, why not learn how to sell your clothes online and swap out the old for the new.
Here are the biggest fashion trends to snap up in 2022.
1. Bohemian
With travel back on the agenda, designers were inspired by discovery and escapism. Handcrafted pieces, intricate knits, fringe and boho prints dominated on the runway at Etro and Ulla Johnson, with an emphasis on artisanal detailing, enhancing everyday styles.
Tones were earthy, while embellishment details raised the luxe factor up several notches. Feeding into other trends for crochet and tassel details, although this is a fashion trend 2022, these standout pieces have plenty of mileage. In true bohemian style, prints borrowed from several styles, with paisley, tile print, animal, florals and freehand drawings all at play.
While cotton and knit fabrics still have a central part in this trend, as we head towards winter look for silky and velvet fabrications, that make this look ideal for the party season ahead too.
WHAT TO BUY
Knitwear: Look for beautifully crafted knits, in interesting stitch patterns and jacquards. Earthy hues are the most versatile here, pairing easily with all your essentials for an easy seasonal update.
Jackets: Once again giving a nod to the quilting trend, jackets for this trend are all about texture. Quilted, patchwork and embroidered styles play on that handcrafted feel that is at the heart of the look. While not really concerned with full winter outerwear, this look is more about light layers that sharpen up weekend denim, or pair effortlessly over shift dresses instead of cardigans. Look for round necks and waist-cropped hemlines.
Jewelry: The easiest way to inject this trend is via statement jewelry. Opt for oversized, colorful stones and pieces that feel handmade.
Monsoon Rory Embroidered Jacket
H&M Jacquard Cropped Cardigan
RRP: $34.99 / £24.99 | As the winter chill bites it is time to layer up with the best sweaters and cozy cardigans. This jacquard design taps perfectly into the bohemian trend. Take inspiration from the model and use it to show how to style cargo pants.
2. Workwear returns
Workwear made a return to the runway as our lives in the office get back to business, literally. A visual sign of drawing a line under the last three years, designers embraced tailoring and suiting as a way of signalling that a return to the old normal is here. While many are still partaking in some work from home and a full time return to the office for most seems unlikely in the near future, athleisure's overbearing presence in our wardrobe is slowly being exchange for some fitted waistbands once more.
Look out for classically tailored suits, striking pinstripes and statement wide-leg, high waisted trousers that inject office attire with a little bit of personality and flare. Neutral hues, which dominate this season are all in play in this season, making these great building blocks for your wardrobe too.
With a return to work in mind, there is certainly and androgynous, girl boss feel to collections and this was evident at Michael Kors, Louis Vuitton, Sportmax and Kenzo, all of whom chose to champion city slicker style.
WHAT TO BUY
Wide leg pants: Use this trend as inspiration for what to wear with wide leg pants. When it comes rocking this look, a wide finish is a must. A high waist will nip you in at the waist, creating enviable hourglass curves in the process. Wearable with heels or the best loafers for women, these smartly tailored trousers in wool blends, checks, block colors and pinstripes will all help to up your office wear game.
Tailored Blazer: The best blazers have been a staple in our closet forever, but for the fashion trends 2022, they're integral to pulling off our bag to office look. While oversized silhouettes are here to stay, don't be afraid to buck the trend and go for a more fitted iteration for a shape enhancing look. When it comes to choosing a great fit, take note of where the shoulders sit, as this is key to ensuring your blazer looks sharp and not slouchy. Single breasted styles work for all shapes and sizes, while double breasted designs are great for adding curves.
Leather Totes: One of the best designer bags for work a leather tote bag adds instant polish to work look. Opt for one of the best laptop bags, or best workbags for women in high quality fabric with metallic finishings to really seal the deal.
Cos Wide Leg Tailored Trousers
RRP: $150 / £99 | With a pleated front, these wide-leg pants have a real borrowed-from-the-boys feel. With a defined waistline and space for a slim belt, these tailored pants are ideal for teaming with a tucked in shirt and neatly fitted blazer.
Reiss Double Breasted Blazer
RRP: $545 / £298 | This British brand is known for doing some of the best blazers in the business and this sharp, double breasted design is the perfect example. The slightly longer finish gives a nod to the oversized trend without losing your shape.
3. Gothic Romance
One of fall's biggest trends, referred to sometimes as Whimsigoth, this trend takes its lead from gothic romance, a look we often see in the winter months. Pulling together several over trends, this look is a little bit gothic, with dark colors, moody florals, with velvet and lace key fabrications, as well as a little romantic, often matched with layered tulle or lacey skirts, corseted silhouettes and long, pointed boots.
Drawing inspiration from more festive-ready party trends, this look is executed through feminine fitted pieces, that embrace and enhance hourglass curves. With mood eye make up a key part of this aesthetic.
Incredibly bewitching, this mesmirizing trend can be pushed as far as you want to take it. For a laidback execution, opt for a velvet party dress, or a lace blouse to kick start your party wardrobe. Want to full sign up? Team lace, tulle and velvet fabrications together and get that smoky eye on the go.
WHAT TO BUY
Velvet dress: A look we often see at this time of year, a berry or black hues velvet fitted dress, with a square, bust enhancing neckline is hard to beat for the office Christmas party and beyond.
Tulle or lace skirt: Look for A-line sillhouettes in a midi length hems to really nail this trend. Taking its style notes from romantic, princess-like silhouettes, opting for black or cream iterations will keep within the gothic romance style.
Pointed boots: One of the boot trends 2022, this look will elongate leds in an instant. Lace up designs are particularly strong for this theme.
Anna Scholz Velvet Tiered Shirred Bodice Dress
RRP: $267 / £225 | Anna Scholz makes some of the best plus size dresses and with party season on the horizon, there's no better way to wear this trend than via a velvet dress. With a burgundy hue and a flattering tiered silhouette, this dress is a showstopper.
Needle & Thread Florence Ruffle Skirt
RRP: $469 / £300 | One of our favorite occasionwear brands, Needle and Thread make some of the best dresses and party-ready separates. This tulle black ankle skirt can be toughened up with chunky soled boots, or kept polished with pretty flats or metallic heels.
Mango Velvet Single Button Blazer
RRP: $129.99 / £79.99 | To add a more androgynous twist to your look this velvet blazer gives a nod to the Gothic Romance trend without feeling overly 'pretty'. Ideal for adding a tailored element, you can pair it with its matching pants or sling it over a chiffon dress.
4. TOP-TO-TOE COLOR
Forget tan, neutrals, or classic creams, the fashion color trends 2022, are all about going bold and bright. Models walking for Christian Dior and Versace were seen in top-to-toe brights that really make a statement. "The Queen has been color blocking for years, now it's time for us all to boost our mood with bold hues," says woman&home fashion director, Paula Moore. "Start with a bright accessory, such as shoes or a bag, and add this to a look you're comfortable in."
From this point, you get more confident, she explains, "You can build up to a whole look easily. Fuchsia pink and Kermit-the-frog green compliment all skin tones, so why not try a suit that will take you from day to night effortlessly."
From the best pink dresses to new bolder iterations of the best blazers, this summer is the time to inject color into your closet. Ask yourself what color suits me and be most concerned by the hues near your face. If you're currently selecting what to wear to a wedding, or need an outfit for a christening, a block-colored look or bright print will easily reflect the joyous mood of the occasion.
WHAT TO BUY
Bold shoes and bags: Ease into the trend with color-pop heels or attention-grabbing arm candy. They will instantly brighten up a little black dress or add some interest to your jeans. If you really want to branch out, try clashing the colors as well. Blues and greens or oranges and pinks are great together. Check out the best handbag trends for 2022 for some added accessory inspiration.
Boxy suits: The key to a good suit is all in the fit. A pair of high-waisted, wide-leg trousers cinch in your middle, and gently skim over your thighs. Add a boxy blazer and you've got the recipe for a chic and empowering look in seconds.
Smock frocks: There is nothing easier than a throw-on-and-go dress. If you can bag a smock-frock in a bright color then you've nailed the trend without even trying. All you need is to add your best sandals and you're good to go.
Fashion editor's picks...
Zara Purple Blazer with Rolled-Sleeves
RRP: $69.90 / £49.99 | One of the biggest fashion trends 2022, purple is set to remain with us as a fashion trend for 2023 too. This deep hue is ideal for the winter season ahead and for setting party looks apart, teaming over dresses or pants alike.
RRP: $49.99 / £34.99 | Hot pink hues are a must by this season and into 2023, and this turtleneck silhouette is one of the best jumper dresses you can invest in right now. Sure to put a smile on everyone's faces, wear with the best knee high boots.
5. FRINGING DETAILS
With its tassels, crochet, and slouchy fits, this fashion trend has a more bohemian feel - conjuring up idyllic summer holidays, wearing chunky sandals and a fringed outfit that moves in the gentle sea breeze - you've got the idea. And to accessorize? All you need is a cocktail! A trend for 2022, fringing is set to be one of the biggest fashion trends 2023.
Seriously though, fringing is actually easy to wear and very flattering and it's also incredibly fun. Choose pieces where fringing falls cleverly over any areas you're a little self-conscious of, and it easily skims over those areas, taking your look to a new level in the process.
Saisangeeth Daswani, head of advisory at trends intelligence agency Stylus, saw this one coming. "With digital taking over our day-to-day lives, we expect that consumers will have a continued desire for touch-and-feel in fashion," she explains. "Tactile surfaces have become key, offering a new way for consumers to engage with products."
While you can wear fringing subtly everyday, this is a great one for party season, particularly if you're on the hunt for what to wear to a festival this summer. The swishing fringe detail with help you dance the night away in style.
WHAT TO BUY
Maxi dresses: The long-line dress is always a winner in our eyes as it means limited leg-shaving. Aside from that, it's also super flattering and easy to dress up or down for different summer events. Any styles with tassels in earthy tones will ensure your summer look is at the top of the style ladder.
Crochet tops: Open-knit tops are going to be big news this season. Try to find a style that has extra fringing at the bottom that will fall over your hips. Wear with a slim-fit midi skirt or chinos for a look that oozes style prowess.
Handbags: The most spacious tote bags this season have all been treated to a fringing makeover. look for suede tassel detailing for a fall update to the fashion trends 2022.
Fashion editor's picks...
RRP: $245 / £203 | Ease yourself into the trend by incorporating fringe subtly into outfit hemlines. This flattering dress with its discreet tassel detailing, and figure-hugging fit accentuates your curves. Pair with a white clutch and white stilettos.
Karen Millen Fringe Skirt
RRP: $238 / £139 | Embrace this trend with crafted fringed pieces. With a nod to runway styles, this skirt looks more expensive than its price tag, with all the hallmarks of a designer look. Keep your top half simple and bodycon to let the skirt shine.
Saint Laurent Fringed Handbag
RRP: $1,313 / £945 | One of the best Saint Laurent handbags, the fringe embellishment taps into the handbag trends 2022 perfectly. The thick black tassels add a luxe finish to this bag, while the gold hardware offers a timeless and iconic finish.
6. SEQUINS AND SHIMMER
As we head towards Christmas, sequin pieces are coming into stores in their droves. And while you can shimmer any month of the year, if you've been hesitating on the best sequin skirts, now is the time to buy. Take inspiration from Chanel and Valentino and introduce everyday sparkle into your closet. Ideal for work Christmas party outfits, after a rather stop-start season the last couple of years, it's time to party in style (and glitter).
Whether it's a show-stopping dress or a chic two-piece, sequins help to celebrate the season in style. "I love sparkle, but the key is to keep accessories to a minimum", says Paula. "If you wear a standout piece, avoid overwhelming the look with lots of jewelry or prints. Let the clothes do the talking."
WHAT TO BUY
Sequined blazers: The easiest way to include shimmering fabrics is in the form of a blazer. The smart jacket never goes out of style, and if you bag one made from sequins then you can immediately elevate any look.
Wide-leg trousers: The trend for wide strides was big for FW21 and we are thrilled to see it continue right to the end of 2022. A flattering fit, they provide a clever way to dress down sequins. Just add your best white t-shirt to black sequin trousers and you've got a strong everyday outfit.
Slip dresses: A slinky slip dress in a satin fabric can be a little clingy, but cover the cut in sequins, and suddenly it's a lot more wearable. Look for the best midi dress styles that you can wear with pretty flats, such as ballet pumps or slides. You can also add the best shapewear for a more sculpted silhouette.
Fashion editor's picks...
River Island Sequin Midi Dress
RRP: $248 / £150 | Looking for a dress with that wow factor? Look no further. This color block design has a bodycon fit to show off your curves and a split hem for easy movement. Keep the rest of your look simple - just add a pair of barely-there sandals.
Ted Baker Stariz Sequin Trench Coat
RRP: $695 / £425 | Sparkle your way through the season with this sequinned trench coat. We love the cream color for a summer occasionwear outfit. Throw on top of your favorite work outfit or over a simple black dress for a hassle-free ensemble.
Aggi Silver Ombre Sequin Blazer
RRP: $413 / £375 | With a cool silver and pink ombre design this is a wardrobe winner. The long length and accentuated shoulders offer a retro '80s-inspired finish and make it ideal for balancing out pear body shapes. Layer over your LBD or everyday denim.
7. MAXI VS MINI
The good old midi skirt has reigned supreme for the last few years, but it's been ousted from the top spot this season - as we said from the outset, the latest fashion trends 2022 are all about extremes.
You're going to have to decide if you're Team Mini or Team Maxi (although we're sorry to break it to you, it's actually the micro-mini that's still reigning supreme). We know it's not an easy thought to have a lot of leg on show, but if you've been trying to work out how to style knee-high boots, the mini-skirt, plus a pair of opaque tights is the ideal companion. Want even more coverage? Lean on the boot trends 2022 and go for a pair of over the knee boots with a short skirt.
If you're more of a maxi woman, you should be busy putting together those long skirt outfits - and if you're looking for a new floor-sweeping design then invest in retro tube fits that finish close to the ankle, rather than the A-line hippie style we've been used to in seasons gone by. Think of a slinky, full-length look rather than voluminous fabric. If that sounds a bit constricting, remember: a subtle split offers more movement.
WHAT TO BUY
Mini dresses: There's no need to immediately be put off - there is no age limit when it comes to style, it's all about how you wear it. With a mini dress, try adding boots if you're self-conscious about showing too much skin or keep your neckline high to balance shorter skirt hemlines. And while the micro is the most trend-led shape this season, straight-to-market brands know their audience, so you can still find plenty of 'just above the knee' styles if that's more your hem length.
Tube maxi skirts: Look for skirts that finish at the ankle but that offer a more streamlined fit. Designs that sit at the waist will help to elongate your legs. Try subtle splits that finish at the knee to help the fabric float as you walk - it'll be more comfortable too.
Ribbed tops: Fitted tops with long-line skirts will give you an hourglass figure in seconds. If you're used to looser styles, this is the perfect time to learn how to wear shapewear. Wearing shapewear underneath a fitted top will help smooth your figure, creating an effortless look for summer.
Fashion editor's picks...
& Other Stories Shirt Mini Dress
RRP: $89 / £65 | The shirt style keeps this polished, while the sleeves offset the shorter hem. There's a flattering tie detail to cinch you in at the waist too. Team with a chunky longer line cardigan and stompy boots to bring this look up to date.
RRP: $475 / £475 | Keep your look elegant with this gorgeous sage green dress. We love the embroidery detail, tapered waist, and peplum hem for its figure-hugging and leg-lengthening qualities. Pair with strappy metalic sandals for a partywear look.
8. BOLD STRIPES
Read between the lines this season and embrace bold, defined stripes. There were no pinstripes in sight on the runways at Jil Sander or Tory Burch; here, wide stripes took the style crown.
"The striped jumper was a sell-out in winter and the look has made its way into 2022," says Paula. "Remember vertical stripes lengthen your figure and can be slimming. Pastel colors are gorgeous for spring, so give these a go, and a classic Breton is my go-to t-shirt all year round."
If you opt for monochrome stripes, accessorize with color to pack a real punch.
WHAT TO BUY
Matching co-ords: Get three looks for the price of one in a matching co-ord. Wear the top and bottom together as one complete look, or separately for extra versatility.
Breton tops: Let's be honest, we all love a Breton top. Super easy to wear and effortlessly stylish, the humble horizontal fisherman's stripe is a must-have. This season, try to mix up the colors and move away from white and navy.
Diagonal stripes: Experiment with the direction of your stripes. While vertical stripes are notoriously slimming, horizontal stripes don't automatically widen you. Try layering pieces and play with proportions by adding diagonal stripes into the mix.
Fashion editor's picks...
Crew Clothing Striped Top
RRP: $60 / £45 | Available in classic monochrome and a red iteration, Crew Clothing excels when it comes to basics such as Breton tops. You can team these with skirts or trousers, under blazers or dresses all the year through.
Boden Fluffy Striped Tank Top
RRP: $110 / £80 | Incorporate lightweight knits into your fall outfit ideas for added warmth that doesn't compromise on style. We love this tank top for its embracement of color. Team with tailored pants and the best loafers for women for office attire.
9. CUT-OUTS
We can feel you rolling your eyes, but stick with us on this one. We know the idea of cut-out sections of clothes can be daunting, but while the catwalks might have shown a whole load of flesh, you can do it the subtle way. Promise!
"There's no need to shy away from this trend completely," says Paula. "A little goes a long way and even a small slash in the fabric at your waist can offer more movement in the fabric and highlight your smallest part." Think keyhole details, open backs, and cold-shoulder tops that expose a little flesh without you feeling like all your lumps and bumps are on show.
We saw this look feature heavily in the swimwear trends 2022, with subtle slashes at shoulders and backs as well as more racy thigh and midriff cut-out designs. And this look continues for the later part of 2022, embraced through the best cocktail dresses to up the ante on evening wear.
Still not convinced? Sheer fabrics were also big this season so bag a top with transparent sleeves for another way to wear this look.
WHAT TO BUY
Keyhole blouses: A less intimidating way to embrace cut-outs is with keyhole detailing. Whether it's at the chest or on the back, a simple circle exposing a little skin is easy to pull off.
Open-back dresses: This style can be a problem if wearing a bra is essential, but there are also lots of exposed backs that finish just above where your bra strap lies. Look for fun prints, loose fits, and experiment with underwear.
Cotton pants: If your top half has a little flesh on show, offset the exposure by teaming with a pair of loose-fit trousers. A cool, cotton pair in black or tan are comfortable as well as stylish.
Fashion editor's picks...
& Other Stories Midi Dress
RRP: $119 / £85 | Nail two trends in one with this vibrant green frock. The sleek cut-out detail on the sides highlights the waist before flaring out into an A-line skirt for a flattering silhouette. One you can reach for on those 'nothing to wear' days.
RRP: $139 / £75 | While the cut-out detail on this dress might be across the midriff, you can easily wear it over a silky slip for a fashion-forward take on evening dressing. Ideal for what to wear to a winter wedding, the pops of color create a cheery finish.
10. THE '00s
We know it feels as if the Noughties only just happened, but it's been long enough for the turn-of-the-century styles to return to the runway. We're turning to the nostalgic era of double denim, satin joggers, and chokers. Yes, really.
It can be difficult to embrace trends from years gone by without feeling as though you're playing dress-up, but this season takes small nods from the decade rather than wearing it from head to toe.
For example, be inspired by famed denim duo Justin Timberlake and Britney Spears, and match your blue jeans with fitted shirts. Or swap your best leggings for a dressier, satin pair of lounge pants.
WHAT TO BUY
Faded denim: To execute this trend perfectly, you need to swap your jeans for the kind of denim that already looks as though it's lived a very full life. Faded or stonewash is ideal but darker shades work too. Then for added points, double it up, pairing with a denim shirt or your best denim jacket.
Slinky satin: Any satin will work wonderfully but if you really want to amp up the '00s aesthetic then go for pink or bold colors. Keep an eye on fabrics though, as some satin can end up looking a little cheap.
3/4-length boots: From the best cowboy boots, to the best Chelsea boots, this season's shoe trends put the best winter boots front and center.
Fashion editor's picks...
Free People Knitter Denim Jacket
RRP: $249 / £149 | Once you've worked out how to style a denim jacket, consider your summer outerwear sorted. Throw it back to the noughties with this mixed fabrication jacket. The combo of denim and knitwear revolutionizes the staple item, taking it through to fall with ease.
Juicy Couture Kendall Bag
RRP: $108 / £95 | When in doubt, start with an accessory, and a baguette bag is the '00s purse that has exploded back onto the market, and we're excited. With snazzy sequinned embellishment and the iconic Juicy Couture logo, it's got Y2K party bag written all over it.
11. Elevated shapes
Go big or go home with this larger-than-life trend. Trapeze dresses have been rising up the fashion ranks for a while now, the total opposite of bodycon, this aesthetic is both comfortable and stylish - winning. A statement look, all it needs is a pair of simple gold hoops - check out our round-up of the best jewelry brands for inspiration - and add some sleek mules or your best white trainers.
And this isn't just a summer fashion trend either, making this a solid investment buy that you can wear now and keep wearing through the next six months. Looking forward to the fall trends, we're also seeing floor-sweeping maxi skirts in flattering A-line shapes as spotted at Carolina Herrera. Offset the voluminous shape and wear with fitted tees and tucked-in shirts that show off your waist for a flattering, hourglass silhouette.
WHAT TO BUY
Trapeze dresses: While a trapeze dress is by its nature an oversized dress, there are some aspects that are important to point out. A trapeze dress is not oversized everywhere. The dress should still fit you properly across the yoke of your back, shoulders and arms. The trapeze will start flaring out from just above or just below your bust line, making this a really comfortable style and one of the most stylish dresses to hide a tummy. A good choice for summer - especially if you look for cotton or linen fabrics - this easy breezy style makes a statement whilst looking effortless too. If you're looking for the best petite dresses in a trapeze shape, opt for shorter styles to avoid swamping your figure, taller frames can get away with maxi lengths.
A-line skirts: Take inspo from Carolina Herrera and go for this fit and flare style for a '50s inspired silhouette. Shorten the hem and go for midi lengths if a maxi length feels too overwhelming and stick to block colors. Pink is one to look for if you want to stay ahead of the curve.
Pared-back accessories: Whether that's a slip-on mule or a sporty sandal, this trend is attention-grabbing as it is, so accessories need to be unfussy and minimal.
Fashion editor's picks...
RRP: $285 / £165 | Having a neutral pair of trousers for the office is always a good idea. Wondering what to wear with wide leg pants? Keep your top half fitted to balance out the silhouette, particularly with a pair as full as this design.
Ted Baker Printed A-Line Dress
RRP: $325 / £195 | Wondering what to wear to an engagement party? A statement print dress is chic and stylish and offers an easy way to feel dressed up. The bold primary hues are certain to bring a smile to everyone's faces too, taping into color trends too.
12. Animal prints
Not exactly groundbreaking, we know but animal print - in particular leopard print - never fails to make an appearance on the runways and 2022 is no exception. Having been 'in' for quite some time down, often in muted and natural hues, leopard print, at least amongst the fashion pack is largely regarded as a neutral, teaming effortlessly with everything, for pretty much any occasion. One of the most instantly wearable trends to adopt, you won't regret investing in animal print pieces.
So, how to wear this fashion trend in 2022? Get ahead of the fashion game and take inspiration from the fall 2022 catwalks and look to eighties-inspired silhouettes. Think shoulder pads, mini skirts and a party-ready aesthetic. Nail two trends in one and reach for sequinned animal prints to really up the ante.
WHAT TO BUY
Printed co-ord: You can be as bold as you like with an animal print co-ord. Wear all together for a statement look or mix and match with your wardrobe basics for a more lowkey vibe. Whatever you decide to do, the outfit opportunities will be endless
Neon accessories: Treat leopard as a base layer, in the same way as you would your best black sweater. Add color, interest and vibrancy through directional accessories. A vibrant green bag or hot pink shoe will really pop against leopard print for a glamorous evening look.
Sequins: Tap into that eighties aesthetic and add some sequins to your animal print. If you can't find any embellished print - add your own. Layer a sequin blazer over a leopard print dress or team a sequin skirt with a zebra print shirt.
Fashion editor's picks...
Free People Animal Charm Ankle Boots
RRP: $158 / £148 | Animal prints are still a major trend across all the key fashion capitals and these Free People boots have a boho feel that will add edge to any outfit this season. Pair with directional khaki cargo trousers or with a denim dress.
Karen Millen Animal Print Mesh Top
RRP: $110 / £52 (International Delivery) | Curated for curves, this top uses stretch fabric to create a flattering silhouette that gently contours and skims your frame. Team with chunky jewelry and black tailored trousers to revive everyday looks.
13. Ruffles and frills
Romantic and frivolous, ruffles give any outfit a playful, feminine touch. Usually reserved for the summer months, ruffles made several appearances on the fall runways too, proving they're here for the long run.
"Ruffles and frills add texture and interest to the simplest of outfits and can be super flattering too. Choose carefully where to place your ruffles - a frilly skirt can help balance proportions or a ruffle blouse can add volume to smaller busts," explains Paula.
Take note from Molly Goddard and render it cold-weather ready by teaming a girly tulle skirt with chunky fair isle knits for a pretty meets practical look.
WHAT TO BUY
Ruffle blouse: From Broderie Anglaise to floral prints, the easiest way to inject this trend into your wardrobe is with a ruffle blouse. Wear with your favorite jeans for a weekend look that oozes romance.
Tulle skirt: Whether you're embracing your inner ballerina or trying to learn how to dress like Carrie Bradshaw, the tulle skirt is feminine and flamboyant and you're guaranteed to feel fabulous wearing one. Give it a grown-up rebellious edge and wear it with your best leather jacket or stompy boots.
Chunky knitwear: Give this look daytime appeal and team frilly dresses and skirts with your best sweaters. Think cable-knit cardigans and fair isle knits for a look that will see you through the winter months too and are ideal for discovering what is Dark Academia - the emerging preppy style trend that will be huge come fall.
Fashion editor's picks...
Boden Pale Pink Tulle Skirt
RRP: $110 / £85 | Ideal for the festive season ahead, tulle skirts can take you from desk to dancefloor with ease. Pairable with sweatshirts for a more relaxed feel, you can also dress this look up with a sequin top or silky cami and heels for added polish.
&OtherStories Pink Ruffled Dress
RRP: £349 (US only) | Delivering on party-readfy drama, this dress looks like it has sashayed straight off the runway. The hot pink hue is bang on trend, while the plentiful ruffle will add volume to your frame, the empire line cut will still flatter.
14. Sportswear
No longer a fashion fad, sportswear has well and truly cemented itself into our everyday wardrobes and it shows no signs of slowing down. The Roksanda catwalk paved the way with its collaboration with Italian clothing brand Fila featuring puffed-up silhouettes and statement branding.
If you're hitting the slopes this month, newbie Poster Girl showcased an apres-ski-inspired runway show with sporty sunglasses, knitted balaclavas, and furry snow boots.
"Make this trend more wearable and team ski-like bomber jackets with your wardrobe basics. Or just ease yourself in gently with sporty sunglasses," says Paula.
Play with proportions and wear fitted leggings or your best skinny jeans with oversized quilted silhouettes to avoid swamping your figure.
WHAT TO BUY
Logos: Another trend that taps into that Y2K vibe is logo-embellished clothing, in particular retro branding. From sportswear to the best designer bags, it's time to shout about who you are wearing. Look for logo sweaters and leggings.
Quilted clothing: One of the best winter coats, puffer jackets get a spring trends update this season with lighter layers of padding for those cooler spring days. As well as jackets, quilted textures are cropping up on accessories too so you'll be able to rock a padded tote bag all through summer too.
Sporty sunglasses: Now's the time to snap up some of the best sunglasses with a sporty twist. The futuristic wrap-around style looks great with more polished clothing - try teaming with some smart suiting or a blazer and leggings.
Fashion editor's picks...
Victoria Beckham High-Neck Sweatshirt
RRP: $188 / £152 | The Reebok x Victoria Beckham collaboration has been around for several seasons. Giving your gym wardrobe a sports-luxe twist, expect sweatshirts with a more directional feel.
Veja V-12 Low Top White Sneakers
RRP: $140 / £123 | A fantastic sustainable brand, it's no wonder that Veja has garnered fans amongst both the fashion set and Royalty. We love the pastel blue logo, a classic white trainer with a twist.
Sweaty Betty Wide Leg Trousers
RRP: $98 / £75 | The best joggers are always welcome in our wardrobe and Sweaty Betty does great sportswear styles. These wide-leg trousers can be dressed up for smart-casual outfits, just add a fitted tee and a tweed blazer to head into the new season.
Joely Chilcott is an experienced fashion and features editor having spent over ten years writing, styling and editing for a number of women's lifestyle publications, including Woman & Home, Woman and Woman's Own.
A certified shopping expert, Joely is always on the lookout for new and exciting brands that she can champion, while holding the high street close to her heart. She has had work published in Drapers, Women's Health, Fabulous, YOU, The Sun and the Metro, as well as being a regular fashion contributor to TalkRadio.