What is whimsigoth? The witchy aesthetic taking over social media
The latest TikTok style trend, Whimsigoth is truly bewitching. A fashion editor explains what it is and how to wear it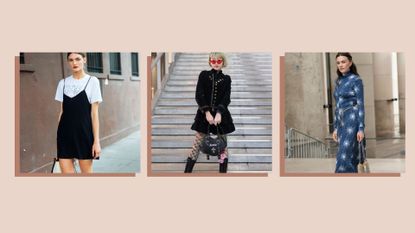 (Image credit: Getty Images)
TikTok's latest style trend, whimsigoth is the bewitching aesthetic that has put the internet and the fashion crowd under its spell. We explore its origins and how to wear the look this season.
With currently just under 30 million views and counting, the whimsigoth hashtag is reigning supreme and gaining moment on TikTok. Mixing the witchy energy of iconic TV shows and movies such as The Craft and Buffy The Vampire Slayer, this '90s fashion trend romanticizes the gothic look, so think Tim Burton rather than The Cure. The term, which fuses whimsical and gothic, was originally created by the Consumer Aesthetics Research Institute to describe a moody, but playful element of interior design popular in the '80s and '90s and it has since made its way onto TikTok, where it's found a whole coven of new fans.
Rebecca Kershaw, who over on TikTok is known as Whimsigothwitch is just one of the style aesthetics fans.
"I think the whimsigoth trend is so popular because there's always been a love for this style," she says. "However for the longest time, there's not been a name for it. I think when I started to make videos on TikTok, the term just started popping up everywhere and everyone just got excited there was a name for something they love!"
What is whimsigoth?
Whimsigoth offers a feminine take on gothic fashion, while maintaining its edginess - think Grimm Brothers as opposed to Disney. With a dominant color palette of dark hues of purple, brown, red, green, blue and of course black, it's the perfect inspiration for fall outfit ideas. Comprising of lots of billowing layers and sensual fabrics, such as velvet and lace, This is pure fashion drama, and as such, has been inspired by lots of TV shows, movies and pop stars.
For Rebecca, it was the female icons she grew up with that have inspired her look today.
"I've grown up being inspired by women in music, television and film who emulate that aesthetic. Some that come to mind are Sabrina The Teenage Witch and films such as The Craft, Practical Magic and Hocus Pocus. Artists such as Stevie Nicks and Mazzy Star have also been a huge influence on me."
Whimsigothic clothing: Outfit ideas to help you nail the trend
Designer Anna Sui, has been championing the whimsigoth look for decades but for the fashion trends 2022, the look featured on runways at the likes of Burberry, Givenchy and Valentino who all sent models down the runway this year dressed in black lace and thigh-high boots.
Items essential to the look include corsets, chunky boots, layered jewelry and of course a long skirt. All of which fall in line with the fall 2022 fashion trends too. A look that needn't cost huge amounts of money, many whimsigoth followers source most of their wardrobe from thrift stores and second-hand sites, which makes this trend stylish and sustainable.
We've put together five great whimsigothic outfit ideas, as well as key accessory options.
1. How to wear a dress for the Whimsigoth Trend
Whimsigoth is all about drama, which makes it ideal for Christmas party outfits. This is definitely not a minimal look.
"When it comes to dresses, whimsigoth is all about dramatic textures and flowing silhouettes," says Megan. "Think velvet, satin, ruffles and lace to add some celestial chic to your wardrobe."
If you need some style inspiration, look to Florence Welch, Lisa Bonet and Gillian Owens, aka Nicole Kidman in Practical Magic, who show that when it comes to whimsigoth outfits, more is more.
Layering is central to the whimsigoth aesthetic, so take a slinky slip dress or body con number, throw on a sheer top, add a velvet coat and then pile on all the jewelry as the simplest starting point. You can mix fabrications within the trend as there is definitely a tactile element to the look.
Style tip: 'This look can be casual - it just depends on how you wear your dress' advises Megan. For a more laidback approach, Megan suggest trying a velvet slip dress layered over a white t-shirt, paired with big chunky boots. The outfit will feel directional, tap into the look but still feel relaxed.
Monsoon Star Devore Midi Dress
RRP: $106 / £85 | One of the best British clothing brands for occasion dresses, this luscious green velvet dress from Monsoon, is one of the best cocktail dresses and features a flattering silhouette and a cut-out detail at the back for added wow factor.
Russell & Bromley Gold Platform Heel
RRP: $327 / £295 | With a touch of '70s disco, these platform heels will inject fun into any party outfit. The perfect shoe for a flattering jumpsuit or calf skimming dress, they combine style with comfort - thanks platform - so you can dance happily.
Free People Luna Headband
RRP: $30 / £24 | Celestial inspiration is key to whimsigoth so inject it into your look with this star and moon headband. If you're not sure how to style a headband like this, pair it with low key waves and a floaty frock and let the sparkles do the talking.
2. How to wear a skirt for the Whimsigoth Trend
One of the big trends of the season, maxi skirts featured heavily on the runway, but also are a must-have for those wanting to adopt a witchy aesthetic - and according to Rebecca, this is the one item you need to nail the whimsigoth trend.
"I think a must is a maxi or midi-length bohemian skirt for that perfect witchy vibe," she says.
If you looked into what is boho style last season, then you'll already be relatively au fait with this silhouette. Long and flowy is the key here, but the material and color choice are also essential. Think lush jewel tones in velvets, tulle and lace, even crochet works well for this trend as that second-hand, retro vibe is all important. When creating long skirt outfits, think about teaming your skirts with fitted blouses or bodysuits to give a sleek finish. For cooler months, a longer-length cardigan or fur-trimmed coat will enhance the '90s vibe and pull the outfit together. If you prefer a shorter skirt, make sure to add lacey tights and stompy boots for a true whimsigoth outfit.
Style tip: As well as fabrics, patterns are crucial to whimsigothic clothing. Paisley is good, as are florals and patchwork, but the most important one according to Rebecca is anything related to moons or stars.
"Celestial patterns are a big part of the whimsigoth aesthetic, so anything with those on is a must-have!" exclaims Rebecca.
RRP: $42 / £8 | Part of a co-ord, this cardigan can be worn alone or over a fitted vest. The rib knit style makes it ideal for smart casual outfit ideas and for adding a touch of color to your closet. Purple is set to remain as part of the fashion trends 2023 too.
RRP: $30 / £25 | The lettuce hem on this skirt makes it a true '90s throwback. Team with wardrobe essentials, such as a polo neck or t-shirt to bring it bang up-to-date. Great paired with your best winter boots right now or sandals for summer nights out.
Warehouse Chunky Knee-High Boots
RRP: $141.25 / £127.20 | Knee-high boots are going nowhere this season but to keep in line with the boot trends 2022, opt for a chunky soled pair. Wondering how to style knee-high boots? Contrast them with a feminine style or print to add interest.
3. How to wear a top for the Whimsigoth trend
"A bell sleeve top, reminiscent of Stevie Nicks and bohemian '70s fashion, is so very whimsigoth," says Rebecca.
While not the most practical of sleeves (especially at mealtimes), they are dramatic and make a great look for nights out, as do corsets, another whimsigoth favorite. The latter, however, can be toned down by wearing a cardigan, denim jacket or blazer over the top to take you from day to night.
While velvet reigns supreme with whimsigoth tops, other fabrics to consider are mesh, chiffon, crochet, satin and even leather. But don't ignore knits, a trusty cardigan is key to this look. Go for a maxi length or one that has little ties to pull you in at your waist, mimicking that corset look - perfect for hourglass body types.
Style tip: 'A waistcoat also really works with this trend', says Megan Watkins, Head Stylist at SilkFred.
She continues: "To make this bang on trend, go for a baggier, light waistcoat with embellishments for a celestial vibe, and be sure to layer it over a long-sleeved, flowy dress to complete your whimsigoth look."
Cider Bell Sleeve Star Top
RRP: $24 / £20 | Channel all the witchy vibes with this star-embellished top. Perfect for those night outs that call for a nice top and jeans look, it will also work if you're trying to discover different ways for how to style a slip dress - layer this underneath.
Pretty Lavish High-Rise Satin Trousers
RRP: $54.40 / £48 | Made from recycled satin, the lustre on these pants make them perfect for parties. The pin tuck detailing gives them a luxury edge and the high waist means they'll work with shorter tops or tucked in blouses, highlighting a waist.
ASOS Bow Pointed Ballet Pumps
RRP: $24 / £18 | Evening shoes don't have to be high and painful to wear as these gorgeous comfortable flats prove. Thanks to the velvet and regal purple color, these shoes look more expensive than their price tag, which is always a bonus.
4. How to wear trousers for the Whimsigoth Trend
While skirts and dresses are definitely the favored item of clothing for the Whimsigoth fashion trend, trousers do work as well - especially if you hark back to the '90s for your style inspiration.
Think velvet flares, cargo pants, patchwork jeans or faded mom jeans to add a touch of nostalgia to your look. And if you want to go badass Buffy style, learning how to style leather pants are the way to go. Team with lace or crochet tops and throw on a long cardigan or duster-style coat for a casual look with plenty of witchy flare.
Style tips: Layers are your friend with this style. One way to get more wear out of your wardrobe is to wear your best dresses over a pair of slim-fit flares or leather pants. Shirt dresses worn over trousers or open as a light layer in a sheer fabric works particularly well.
Urban Outfitters Fur Trim Cardigan
ASOS Ultra-Wide Neck Corset Top
RRP: $26.10 / £18 | Corsets are back in a big way but thankfully they're not the bone-crushing, style of old. This one is made out of cotton and elastane for a comfortable and contoured fit. It also adds a little more va-va-voom to any ensemble from jeans to skirts.
River Island Wide Leg Cargo Trousers
RRP: $102 / £55 | Wondering how to style cargo trousers? This relaxed shape is back, but this time they're less athleisure and a tad more formal. Looking for birthday outfit ideas? Wide-legged ones teamed with mules and a pretty silky blouse are perfect.
5. How to wear coats for the Whimsigoth trend
Just as with the skirts and dresses for this trend, coats should be long and flowy to emulate that witchy aesthetic. Additional extras such as fur trims, embroidery and jewel tones add to the look.
"One of the most on-trend coat styles for AW 2022 is the trench coat with faux fur trim and faux fur cuffs, which is coincidentally also the perfect outerwear for the whimsigoth trend," advises Megan. "Go for darker colors such as brown and black to capture the witchy look."
A popular coat for this look is a pleather or leather coat with a faux fur collar. Worn over a maxi dress or with flared trousers, it gives a real '70s meet '90s vibe that works for the whimsigoth trend and beyond.
If you're looking for more warmth, one of the best winter coats, that also happens to be part of the coat trends 2022, is a faux fur number and a cropped one looks super stylish worn with a cute pinafore dress or mom jeans, bringing a touch of glamour into this look.
Style tip: If you're feeling bold, Megan suggest opting for a long velvet duster coat, which will instantly give your outfit that whimsigoth aesthetic.
French Connection Pleather Coat
RRP: $166.30 / £150 | This faux fur trimmed coat will add a touch of glamor to any outfit. The self-tie fabric belt is a great way to enhance your waist, while the thigh skimming hemline means you can wear it with both mini and maxi skirts.
Joe Browns Floral Pinafore Dress
RRP: $55 / £45 | Florals can be worn all year through, just choose a floral pattern with a darker background and you're good to go. A pinafore dress is great for adding versatility to your wardrobe. Layer under polo necks, blouses and t-shirts.
Saint + Sofia Mock Neck Top
RRP: $59 / £44 | Designed for layering, every capsule wardrobe needs a selection of fitted knits. Great for wearing underneath blazers or dresses, they will also add an extra layer of warmth under blazers or shirts during the winter months.
6. Best shoes for the Whimsigoth Trend
Chunky or platform knee-high boots are very much part of the whimsigoth spellbook and integral to the fall winter shoes trends 2022 too. A real '90s throwback, they're the perfect way to add height without sacrificing on comfort. A black pair will go with literally everything in your wardrobe and will add a special touch of magic to mini or sequin skirts this season.
If clunky boots aren't your thing, however, there's still plenty of choice. You can try a witchy pointed toe, or shoes with some celestial embellishments, which will look magical poking out underneath a pair of jeans or a maxi dress.
One of the big shoe trends 2022, Mary Janes these have shed their school-girl image and grown up, looking fantastic when paired with your best midi dresses or with mom jean outfits.
Style tip: Lace or fishnet tights will add the whimsigoth finishing touch regardless of what shoes you choose to wear.
RRP: $47.50 / £29 | Elevating a classic black boot to new heights, balance the toughness of this pair by wearing with a floral dress or tulle skirt. Mixing fabrications and feels for a directional finish. The stud work adds a high-shine finish too.
Dr Martens 1460 Black Lace Up Boot
RRP: $170 / £159 | One of the best Chelsea boots, Dr Martens are boots that will last for years. While they have never gone out of fashion, they're style currency is particularly high right now. Just make sure to wear them in as they can be quite tough at first.
7. Best jewelry for the Whimsigoth trend
This is one trend where jewelry is a major player - not just because aesthetically it goes with your main outfit. While Rebecca says wearing anything celestial - such as moons, stars or sun, or choosing something with your star sign on is perfect, healing stones are a major component of the look.
"Another element of whimsigoth is wearing healing stones which are used in spiritual practices such as witchcraft," she explains. "Finding jewelry made with rose quartz or amethyst is a stunning addition to your outfit, plus amethyst can help maintain mental clarity and physical energy, while rose quartz is great for self-love."
Don't forget that '90s favorite as well – the choker. It's a big jewelry trend 2022 this year and it's easy to see why. A statement choker can style up a t-shirt in an instance and is perfect for adding polish to an outfit.
Style tip: Mix and match your favorite celestial-themed necklaces to create a stylish layered look.