How to style cargo pants: 7 stylish ways to wear this season's sporty silhouette
Wondering how to style cargo pants? Here are 7 great ways to wear this new season trend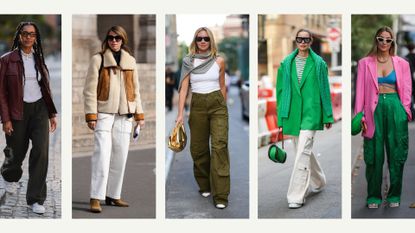 (Image credit: Getty Image)
They're back again, but if you're left bewildered by how to style cargo pants, have no fear. From a casual brunch to a day in the office, this Y2K trend is much more versatile than you may think.
Originally created by the British Infantry in 1938, back in the late '90s/early '00s cargo pants were the domain of pop stars. From the co-ordinated Destiny's Child to the super laidback look of the All Saints, baggy cargo pants were the mainstay of many a celeb's wardrobe and learning how to style cargo pants like your favorite star was a right of passage. The style fell out of favor for a number of years, seen as practical rather than stylish, thanks to their iconic, multi-pocket design. However, fast forward to 2023 and they've firmly regained their status as the celeb must-have look with the likes of Rihanna, Kim Kardashian and Gigi Hadid, all being snapped in a pair. And as the '90s is a major spring/summer fashion trend this year, the look is intrinsically linked with the current fashion mood.
Natalie Robinson, a fashion stylist and creator of The Lifestyle Collective, also believes they've become part of our wardrobes again thanks to the new ways of working.
"It comes as no surprise that cargo pants have made a come-back given the increase in hybrid workers, since lockdown," she says. "Cargo pants are versatile, loose-fitting, and a great casual alternative to jeans hence suitable for working from home."
How to style cargo pants: 7 ways to wear this new season must-have
With over six million views, the TikTok hashtag #stylingcargos shows both how many people want to learn how to style cargo pants but also how complicated this look can be to deconstruct. Designers such as Prada, Celine and Bottega Veneta have all sent their interpretations of this look down the runway, proving cargo pants are truly back in fashion.
Not the easiest silhouette to wear, the pockets on the side add interest and practical storage, but also add bulk, so the key rule is to keep the rest of your look more fitted to rebalance your frame.
1. How to style cargo pants with a sweater
What's the best sweater when it comes to how to style cargo pants? Cropped or slim-fitting are your best bet, especially if you're cargo pants are adding volume to your bottom half. You can also do a French tuck with your jumper to help define your waist - just tuck the front in and let the rest hang loose.
Alternatively, if it's one of those layering up days, why not tie your sweater diagonally across your body? Not only does this add interest to your outfit, but it also keeps your knit close by if the weather gets chilly.
Style tip: Cargo trousers don't just come in toned-down military colors. Tap into one of the big fashion trends 2022 with top-to-toe color. Opt for bright cargo pants and clashing with another bold shade on top. It's guaranteed to add a hit of dopamine dressing to any dull day.
RRP: $30.99 / £17.50 | A simple crew neck jumper like this one is definitely one of those wardrobe essentials you'll reach for time and time again. Available in a wide variety of colors, it's smart enough to wear with a skirt for work but also great dressed down with trainers for those weekend vibes.
RRP: $85 / £59 | These bright pink beauties are dopamine dressing to the tee. Explore what is Barbiecore - a major trend this season and throw these on in the morning to boost your mood. Go head to toe in pink or clash with orange, these are not trousers for those that like to blend into the background.
RRP: $259 / £129 | One of the best crossbody bag. this compact design is an easy way to add a modern touch to any outfit. Made from soft leather with an adjustable strap, it's the ideal size for storing all your daily essentials in style. Available in a variety of shades, winter white looks great against bright colors.
2. How to style cargo pants with a blouse/shirt
A classic shirt is often an outfit savior, and it's no different when it comes to how to style cargo pants. The best shirts to wear will be those that are cropped or slimmer fitting, tucked into your cargo pants, to give you a more streamlined look. If you want to know how to style an oversized shirt, however, there's still a way. Wear it over a cropped top or fitted tee for a casual look, this way you're able to showcase your waist and give the outfit shape while still retaining a modern, contemporary feel.
Styling tip: If you choose a wide-legged, tailored pair of cargo pants, this look works really well for the office. Add a pair of heels for a more polished finish.
Victoria Beckham Cropped Shirt
RRP: $490 / £350 | Made from crisp cotton, this boxy fit, cropped shirt is a great silhouette to wear with high-waisted pants or skirts. It's not so cropped that you'll be revealing your stomach, but it ensures a less bulky look than tucking in a shirt.
&OtherStories Cargo Pants
RRP: $129 / £95 | Can you ever have too many black trousers in your wardrobe? Update your basics this season with these cargo detailed, wide leg pants. With a flattering wider leg and structured fabric, they can be worn for smarter occasions.
Office Patent Ankle Boots
RRP: $92 / £69 | High shine is one of the major fall winter shoe trends 2022 - and it doesn't get much shinier than this gorgeous pair of pointed, heeled ankle boots. They'll definitely add a touch of glamour to any outfit this winter.
3. How to style cargo pants with a blazer
Despite cargo pants being on the casual side, learning how to style a blazer with cargo pants can make them wearable for the office - team with a crisp shirt and a tailored blazer and make sure you choose cargo pants with minimal pockets and a straight, uncuffed leg for a more tailored finish.
For an evening ensemble, opt for a silky pair of cargo pants for a more dressed up feel. A simple camisole underneath a blazer, or tux-inspired jacket will work really well for this look. And if you're looking for smart casual outfit ideas, throw your best cashmere sweater under a blazer and team it with cargo pants and a loafer for a fresh take on androgynous dressing.
Style tip: For a more luxe look for the evening, add a pair of strappy, sparkling sandals. Contrasting the masculine fit of the blazer and utilitarian pants with something more feminine creates a modern feel.
RRP: $49.99 / £29.99 | When it comes to fall outfit ideas, checks are always a good idea. An oversized blazer is essential this season. Team with a roll neck in a coordinating fall shade and a knee-length pleather skirt, and you'll be ready for the season ahead.
RRP: $45.90 / £27.99 | These cargo pants are so good that they've gone viral on TikTok. It's no surprise that they're so popular. Available in an impressive range of colors, the high waist and straight-leg fit make them universally flattering too.
4. How to style cargo pants with a hoodie
Historically casual, cargo pants teamed with your best hoodies are the ideal outfit for those off-duty moments.
As this look is more casual, you can get away with wearing an oversized hoodie as it's meant to be relaxed. Cuffed cargo pants are a great choice here as they're a bit sportier than their non-cuffed counterparts. Fabrics such as nylon also contribute to the laidback and athletic vibe.
To add a dressier feel, and give the look a more sports luxe aesthetic - in keeping with next season's fashion trends, you can always team this ensemble with heels, but your best white trainers or your best Chelsea boots with a lug sole will work nicely for cool weather days.
Styling tip: If you want to wear this season's stompy boots, tuck your cargo pants into the boot for a contemporary look that says you mean business.
Abercrombie & Fitch Jacket
RRP: $120 / £99 | Bomber jackets are a major fall fashion trend, although with sports luxe expected to remain a key look for the fashion trends 2023, this is a style to be investing in now. Although there are many iterations, a black version won't date.
Pangaia 365 Hooded Sweatshirt
RRP: $165 / £130 | Every capsule wardrobe should include a simple hoodie. Pangaia's eco-friendly sweatshirts are loved by celebrities such as J-Lo and Kourtney Kardashian and for good reason - for every product sold, the brand plants a tree.
5. How to style cargo pants with sequins
While at first glance, sequins may not be the most obvious partner for a pair of cargo pants, shimmering sequins actually look super chic when teamed with everyday basics like cargo pants or jeans. The mix of super glam with the utilitarian feel of the pants makes for a high-low mix and is perfect for those events that need a touch of sparkle, without feeling like you're too dressed up.
While any cargo pants will work with sequins, if you want to get really dressy, choose a slinkier pair made of satin or silk and team them with strappy heels and a clutch bag for the ultimate party look this season.
Style tip: If you're not brave enough to choose a sequin top, dip your toe into this look by choosing a sequin bag or pair of shoes. It will add a touch of glam to your cargo pants, without being too over-the-top.
RRP: $50 / £36 | Alongside cargo pants, another Y2K style revival is the one-shoulder top. Adding instant disco fever to any look, be that jeans, wide-legged trousers or a cute mini skirt, this sparkly silver, one strap number will nip you in at the waist.
Zara Satin Black Cargo Pants
RRP: $59.90 / £45.99 | These high-waisted pants are great for supporting a midriff. The satin material makes them a great choice for catching the lights on the dancefloor. Team with a camisole and blazer for a classic but contemporary, evening look.
6. How to style cargo pants with a t-shirt
For a no-fuss, easy-to-wear look, team your cargo pants with a t-shirt. The best t-shirt to wear is undoubtedly the classic white tee, however, graphic or stripe tees also will pair nicely here.
When it comes to how to style cargo pants with a t-shirt, this is when classic khaki cargo pants come into their own. It may not be super directional, but it's timeless for a reason - working for everything from the school run to casual brunch outfit ideas.
Styling tip: Change up your tee and cargo pants outfit by switching up your outerwear. A blazer makes a look office appropriate, whereas a baseball jacket or shacket will give it a cooler, more laidback edge.
RRP: $45 / £28 | Breton stripes never go out of fashion and, tucked into your favorite cargo pants, they add a certain Parisian touch to what is a much more casual '90s aesthetic.
Gap High Rise Utility Pants
RRP: $89.95 / £32 | These pared-down cargo pants are great for pear body shapes as there are no side pockets to add bulk to your lower half. These will easily become your go-to trousers.
Converse Pearl Platform Trainers
RRP: $103 / £90 | Wondering how to wear high top Converse with cargo pants? Their simple styling and sporty feel make them ideal for pairing with khaki cargos for a modern twist.
7. How to style cargo pants with a coat
Sharing a military history, cargo pants team well with a classic trench coat. Ensure to slip your trench on over a slim-fitting top to balance your silhouette and leave the trench unbuttoned to highlight your figure.
If you're looking to beat the chill, a thigh skimming coat for winter is the best bet when looking for outerwear to wear with cargo pants, as this stops the look from becoming too bulky. If your cargo pants are slimmer fitting, you can go for a larger or longer coat. Gilets are also a good option for keeping warm, without added bulk.
Style tip: If there's a lot of volume going on - big coat and wide-legged cargo pants, then heels are a great way to give you height, lengthen your leg and generally make your whole outfit look more pulled together.
RRP: $550 / £209 | Made from super-soft teddy-style, faux fur, this coat will keep you warm and help you look stylish during the winter. The wide collar gives it a retro edge, while the pretty pink shade will add a touch of color to all of your winter outfits.
ASOS Leather Look Cargo Pants
RRP: $550 / £40 | The faux leather and muted mushroom shade makes these exceptionally chic. Pop on a pair of comfortable flats such as loafers or ballet pumps, and you've got an outfit ready to take you through a cold-weather day.
RRP: $43 / £36.99 | Crescent shapes were big news for the handbag trends 2022 and this half moon silhouette is not going anywhere soon. Stylish, yet roomie, this sleek bag comes in a variety of cool, chic shades, and is ideal everyday essentials.