How to wear high top Converse - ageless, expert-approved styling tricks and tips
Everything you need to know about how to wear high top Converse to help you get the most of this wardrobe staple.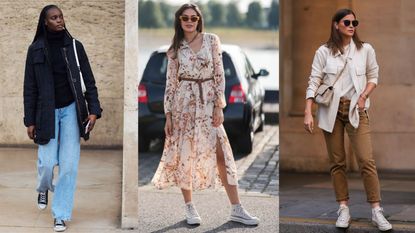 (Image credit: Getty Images)
The question of how to wear high top Converse - AKA Chuck Taylors - is one that is always on our style agenda. Although they are technically classified as a sneaker, categorized by their ankle hugging high top, they can leave many in a bit of a spin.
One of the best sneakers on the market, the classic Chuck Taylor, high top Converse is relatively inexpensive, with prices starting from around $60. A versatile shoe design, while learning how to style them might feel like a minefield, they actually pair well with everything from jeans to dresses. Retaining their charm, whether they're boxfresh or well-loved, this is a timeless shoe choice. While the classic Converse high top is one of the best white trainers on the market, there are also heaps of colors to choose from in this timeless silhouette. Covering everything from neutrals to bold bright hues and directional print and pattern, once you nail the silhouette, you can really stock up. Adding a cool and sporty edge to any ensemble, it's little wonder celebrities including Julia Roberts and Jessica Alba are fans.
Originally launched as a basketball trainer back in 1917, Converse's iconic Chuck Taylor All Stars have been reimagined countless ways over the years. Despite this, the fundamental details have remained almost exactly the same - canvas fabric, a single stripe at the side of the wide sole, and Chuck Taylor patch at the ankle. But despite their iconic status, the slim ankle fit can leave many wondering how wear high top Converse, as they do differ to regular trainers.
How to wear high top Converse
If you're struggling with how to style high top Converse - confused by their almost boot-like silhouette, don't just take our word for it when we say they go with absolutely everything.
"Converse are an easy-to-wear piece that works whatever your personal style," says style consultant Charlotte Verdeyen. "They go with every type of outfit; from grounding a bright or patterned look to dressing down a satin slip dress. As a stylist, I encourage all the ladies I see from 20 to 60+, to invest in a pair."
"They're really an all-time classic trainer and exceptionally comfortable," adds Rachel Ingram, Editor in Chief at Threads Styling. "I've had a pair for over 10 years now and still love them."
Here's how to wear high top Converse with every type of look, according to fashion experts...
1. How to wear high top Converse with dresses
Sleeker than classic trainers - think Stan Smiths or Vans, and edgier than pumps or your best sandals, high top Converse are the comfortable flats that will give your best dresses, even your frothiest, most feminine ones a sporty edge. "Converse are a great addition to dresses, making your outfit feel slightly less girly," says Ella-Louise Gaskell, celebrity stylist and founder of P.S. Online Styling. "They're both casual and cool."
"High top Converse have a flattering slim fit so look great with oversized floaty dresses," continues Rachel. Good news, especially given that smock dresses are a huge spring/summer fashion trend 2023.
Bright Converse trainers are a lovely way to add vibrancy and personality to an otherwise simple or monochrome outfit - hello dopamine dressing - or to create a playful color clash when wearing block-color dresses. If you'd prefer something more understated, black or white high tops will go with pretty much any dress in your closet. A midi or maxi length will reveal just a flash of your shoes, while a mini will really show them off.
Our fashion editor recommends…
H&M Printed Blue & White Smock Dress
RRP: $34.99 / £24.99 | This oversized dress is the perfect summer throw-on-and-go frock and ideal for brunch outfit ideas. With a button front and drawcord waist for added shaping, we love the voluminous sleeves that deliver on drama.
Mango Printed Faux Wrap Dress
RRP: $79.99 / £49.99 | Or why not try this party print perfect dress. One of the best green dresses this season, it has a crossover front for a flattering neckline on all bust sizes and a faux wrap mini skirt for added detail. Pair with pink accessories.
Converse Chuck Taylor All Star
RRP: $65 / £60 | The OG of Converse high tops - white Chuck Taylors, are guaranteed to go with any outfit, you'll get endless wear out of these, making them ideal for a minimalist capsule wardrobe. Keep them fresh with our guide on how to clean white shoes.
2. How to wear high top Converse with jeans
"High top Converse are great because they go with literally any type of jean," says Ella-Louise. "My favorite way to wear them is with boyfriend-style straight-leg jeans, as these tend to come with a raw edge (meaning it's slightly jagged and not hemmed). The combination of the straight cut and high tops elongates the legs too."
If you're trying to work out how to style flared jeans, or you've opted for a straight or mom shape, you'll be able to layer them over your Converse with ease, if they're skinny jeans, you may need to tuck them into your shoes.
As for styling your top half, the world is your sartorial oyster. "I would style high top Converse and jeans with a band or slogan tee and leather jacket. Or a textured oversized blazer and statement necklace," says Charlotte. "I also love wearing the same jeans with a silk oversized sleeveless blouse and black tuxedo blazer."
Our fashion editor recommends…
Cos Tapered-Leg High Rise Jeans
RRP: $120 / £69 | These tapered high waisted jeans are oh-so-flattering and the perfect companion to your high tops. They're sustainably crafted from non-stretch organic cotton too. Roll up the hem for a great answer to how to wear high top Converse.
All Saints Dalby Leather Biker Jacket
Converse Chuck 70 Vintage Canvas
RRP: $90 / £85 | A pair of black high tops offers just as much versatility as a pair of black ankle boots or your best Chelsea boots during cooler months. These have been given an upgrade with premium canvas and a super sleek vintage aesthetic.
3. HOW TO WEAR HIGH TOP CONVERSE WITH A SUIT
The best Converse trainers have the ability to ground any look, instantly giving your outfit an effortless vibe and nailing smart casual outfits. Suits and coords are no longer reserved for the boardroom so if you want to give tailoring a casual spin at the weekend, team with your favourite Converse.
"If we've learnt anything from the past two years, it's that comfort is key and wearing Converse with a tailored two-piece is a perfect high-low mix that's comfortable and empowering," says Paula Moore, fashion director at woman&home.
Weave in other casual elements to your look to keep it balanced, such as layering your blazer over your best t-shirt or slip on a baseball cap for a sporty twist. Colorful suits keep the look playful and directional or you can keep it tonal and team a camel suit with neutral colored Converse for a sleeker vibe.
Our fashion editor recommends…
Whistles Bella Pleat Front Pants
RRP: $239 / £119 | One of the top fashion color trends 2023, these lime pants are sure to get you noticed. With a leg-lengthening, wide leg cut, your Converse will just peep out the bottom of your pants leg. Team with fresh whites for a crisp finish.
Whistles Crepe Boyfriend Blazer
RRP: $299 / £149 | This blazer has a borrowed-from-the-boys look for a relaxed finish. Layer over the matching pants, or add polish to your best midi dresses for a smart and versatile way for how to style a blazer. Making this an easy, staple cover-up.
4. HOW TO WEAR HIGH TOP CONVERSE WITH AN ALL-IN-ONE
Much like your favorite denim, styling Converse with a flattering jumpsuit is an easy off-duty look to master. "People are often afraid of jumpsuits and boilersuits because they think they are hard to style but in reality they are incredibly easy to wear. In fact, just like a midi dress, an all-in-one is a ready made outfit that requires minimal styling - just a few accessories and you're good to go," says Paula.
"I love teaming my high tops with a boilersuit for a cool utilitarian feel. Stay classic in a khaki romper and white Converse or mix it up in vibrant colors head-to-toe, choose whatever suits you and your style."
Our fashion editor recommends…
Lucy & Yak Ragan Jumpsuit in Yellow
RRP: $75 / £65 | One of the best sustainable clothing brands, Lucy & Yak's jumpsuits are great for your wardrobe and the planet. This has a zip fastening making it easy to get on and off and non-stretch fabric in an A-line shape for a figure flattering finish.
Baukjen Organic Stretch Dungarees
RRP: $202 / £159 | Dungarees can be grown-up, and we love this sleek striped design. Boasting a relaxed fit, layer over a plain tee or full sleeved blouse and swap for a roll neck when it gets cooler. The adjustable shoulder straps will help with the fit.
5. How to wear high top Converse during summer
"High top Converse look great in the summer and will give your look a bit of a grungy edge," says Paula. "Ideal for wearing in a busy city - or when you're not quite pedi-ready for sandals - Converse pretty much work with everything from strappy dresses to denim shorts." They're especially good for in-between days, when the weather can't quite make up its mind. Or, when you know you'll be doing lots of walking.
"For versatility, I like the high-top Converse in black. The canvas fabric makes them hot-weather appropriate while the higher cut gives them a black ankle boot effect that is easy to style with skirts and trousers. Wear with a color-popping suit for a casual spin that you can rock during the day or dress down a slinky evening slip dress with some cool Converse and a denim jacket."
Low cut trainer socks will go undetected, or choose a pair in a contrasting color, or with detailing around the hem, to add extra interest.
Our fashion editor recommends…
Arket Non-Stretch Denim Shorts
RRP: $59 / £45 | Denim shorts paired with high tops will have you field-ready in no time, if you're wondering what to wear to a festival this summer. These have a relaxed fit and sit high on the waist before flaring out for a softer finish across your thigh.
Free People Oh So Low Midi Skirt
RRP: $50 / £44 | Or why not try Converse with a feminine slip skirt to give your look a rock 'n' roll edge, making it appropriate for daywear or less dressy events. We love the summer-ready pistachio hue but you can also snap it up in 15 other colorways too.
6. How to wear high top Converse during Spring and fall
"Look no further than high top Converse in spring and fall for casual footwear that keeps you covered," says Paula. "When a boot feels too heavy and normal trainers with jeans leave that slither of bare ankle left open to the elements, the high top reigns supreme."
The options for how to wear high top Converse in spring and fall are endless. Both of these seasons can be plagued by changeable temperatures, making a more boot style trainer a great choice. Layer beneath jeans, tapered pants or wide-leg leather culottes and team with your best sweater to give your everyday outfits a retro feel. A trench coat is the perfect finishing touch. High top Converse work just as well with dresses during cooler spells too, whether your poison is a floaty floral midi with long-sleeves or a chunky knitted dress. A pair of high denier tights will both protect your legs from the chill, and negate the need to wear socks. Just watch out for puddles or you'll find out the hard way that these shoes aren't waterproof.
Our fashion editor recommends…
& Other Stories Collar Sweater in Stripe
RRP: $99 / £65 | When a Breton top doesn't quite cut it during a cold spell, enter the striped knit. The collared, V-neck sweater was a huge hit last year and we predict it'll be a sell-out again.