How to style oversized shirts for every occasion
Wondering how to style oversized shirts without looking overwhelmed by fabric? This is how to wear them according to fashion experts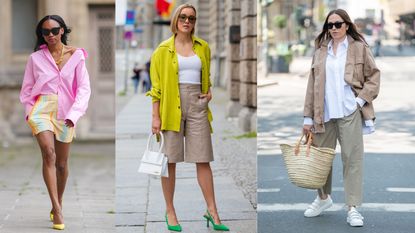 (Image credit: Getty Images)
Want to know how to style oversized shirts without feeling like you're being overwhelmed by fabric? You're in the right place.
Pieces you can throw on and go are always the ones that earn their keep in your wardrobe, and an oversized shirt definitely falls into that category. The breezy shape has the benefit of being both roomy and comfortable, while the crisp collar and cuffs will make any outfit feel polished and put together. To get maximum cost-per-wear, opt for an oversized shirt in a neutral, goes-with-anything hue like white or pale blue. Neutral shades can then be easily mixed and matched with other items, tucked into jeans and worn open layered over dresses.
So, just how oversized should you go? "I'd say this depends on your height and frame, as well as the style you want to achieve and the occasion you're shopping for," explains Katie Eastwood, Stylist Ambassador at Stitch Fix UK.
Consider the proportions of your shirt compared to the rest of your look. You still want to highlight your shape - whether that's your waist, or an ankle, but maintaining an area of your silhouette will stop you looking overwhelmed in fabric.
"For example pairing an oversized shirt with denim shorts and bare legs, or an oversized T-shirt tucked neatly into a high waist trouser. You want to show body shape beneath the bagginess." advises Rachel Ingram, Editor in Chief at Threads Styling
How to style oversized shirts
Despite being 'oversized', the look is actually highly managed with proportions well-considered. Many shirts are purposefully leaning into this aesthetic, and are listed as 'oversized', meaning you can buy your usual size and still achieve the look. They'll be bigger than normal, but still have taken the proportions of your body shape into consideration.
"It's always worth a look in the men's section (too) if you can't find anything you like in the women's department, but it's also worth remembering how sizes differ - men's shirts will be made for different body types, so they may be bigger in the shoulders for example, and won't take into account the female form," says Katie Eastwood. They're often bigger on the collar too. "A nice way to wear a men's shirt is to wear it as a light layer - over a strappy top and jeans, to act as a shacket for when the sun dips."
Here's how to style oversized shirts for all occasions.
1. How to style oversized shirts for day
"Oversized shirts are one of my core capsule wardrobe staples," says Ella Gaskell, celebrity stylist and founder of P.S. Online Styling. "My favorite way to wear an oversized shirt for daytime is to wear it untucked and open over a tank top, with the bottom two buttons done up. I then tuck the front into jeans which instantly gives it a bit of shape, but yet it hangs down and feels slightly 'undone'."
Alternatively, you could leave the buttons altogether, wearing your oversized shirt more like this season's 'shacket' - that's a cross between a shirt and a jacket for the uninitiated.
"Pair a plain colored or striped shirt with some loose-fitting, tailored trousers," adds Katie Eastwood. "Deliberately oversized, is not only a really chic look, but super comfortable too." Just add box fresh white trainers, or your best sandals and a pair of the best sunglasses and you're good to go.
Everlane The Organic Cotton Cutaway Tank
RRP: $30 / £33 | You can never go wrong with a plain tank so it's worth investing in designs that will last. This Everlane edition is made from organic cotton and available in 12 different colors to suit every mood.
H&M Slim Mom High Waist Ankle Jeans
RRP: $24.99 / £19.99 | Mom jeans are a staple piece all year round, and they complement oversized shirts perfectly due to their relaxed shape. Keep it bright in blue or opt for black jeans for more formal occasions.
Adidas Stan Smith White Shoes
RRP: $95 / £75 | One of the most classic designs from the brand, Stan Smiths are the sneakers that will add a cool edge to any look. Utterly timeless, this comfortable flat adds a sporty feel to dresses and jeans.
2. How to style oversized shirts for evening
An oversized shirt has the potential to take your outfit from day to night with minimal adjustments and just a few extra accessories. Katie Eastwood recommends adding "statement jewelry, a pair of heels or a bold lipstick" to your classic shirt and blue jeans combination to make it feel more evening-appropriate.
If you're going somewhere with a no denim policy, swap your jeans for high-shine leggings, or use it as an exercise in how to style leather pants or a slinky midi skirt instead.
"Depending on the event and the proportions of the bottom half of your outfit, I would give the shirt a "French tuck"," says style consultant Charlotte Verdeyen.
This means tucking in your shirt at the front only, leaving the back loose. This will draw attention to your middle and give your frame definition, without losing the relaxed feel.
Keep your hair simple - tied back or swept to the side - to put the focus on the collar, and finish your outfit with a chic leather blazer or biker worn draped across your shoulders.
All Saints Dalby Leather Biker Jacket
RRP: $354 / £299 | If shirts feel a little preppy for your personal style, try adding one of the best leather jackets in a biker silhouette over the top. This All Saints offering cuts at the right place to show off your French tuck and to give you more shape.
Mango Printed Seams Fluted Skirt
RRP: $59.99 / £35.99 | Balance the loose fit of the shirt with a figure-hugging midi skirt. The unique print of this Mango slip design is ideal for styling with everything from a leather jacket to a tailored blazer. The fluted hemline will also help to balance out a voluminous top.
Mulberry Gold-Plated Brass Hoop Earrings
RRP: $305 / £280 | Add some statement jewelry to uplift your look. These sweet earrings will add a pop of color, as the pink and red accents on these Mulberry hoops ensure they fall in line with the recent fashion color trends 2022. Great for work or play.
3. How to style oversized shirts in summer
"This is also a great opportunity to add a pop of colour, by pairing your denim cut-offs with a bright button-up," says Katie Eastwood. Sunset shades of pink, red and orange are all gorgeous choices for during the summer months, while icy blue and white will really show off your tan. Similarly with trousers, try a half tuck of your shirt into a pair of shorts or denim cut-offs for a beach-ready look.
"Another option is to try the dress technique - shop a shirt in a few sizes above and wear it as a summer evening dress, paired with sandals, trainers, or heels," continues Katie. "It's a lovely look for a warm summer's evening. For those that like to accentuate their waist, the addition of a belt can be a really magic touch here too."
If you're lucky enough to be heading to sunnier climes, cut down on packing by nailing how to wear oversized shirts as the best beach cover ups and embrace this season's obsession with the Coastal Grandmother trend, for effortless beachside style. "Throw yours over a stunning piece of swimwear, add a classic straw sun hat, a big chunky necklace and a cocktail," advises Charlotte.
Levi's 501 Mid-Thigh Dark Denim Shorts
RRP: $69.50 / £60 | You can never go wrong with Levi's denim, and the brand's new jean shorts are sustainable as well as comfortable. The deep blue color will go with anything in your summer wardrobe whilst the high-waist defines your shape.
Accessorize Serena Sparkle Floppy Hat
RRP: $27 / £22.50 | Shade yourself from the sun with this floppy straw hat. Whether you're working out what to pack for a beach vacation, or need protection for those picnic in the park days, this fun sun hat (literally) has you covered.
Next Black Floral Bandeau Swimsuit
RRP: $61.50 / £52 | The best swimsuits demand great beach cover-ups and an oversized shirt fulfils the brief perfectly. Featuring tummy control and adjustable straps, the bold print here will contrast beautifully with your best white linen shirt.
4. How to style oversized shirts in fall
When it comes to how to style oversized shirts, it's the standout features that make them great for layering when the weather turns. Instead of using yours purely for warmth, make a statement by letting the collar and/or cuffs peek out beneath a slouchy knit or tailored jacket. The crisp cotton will contrast beautifully with chunky wool or fuzzy faux fur too. If you're looking for to style oversized shirts made from a heavier fabric, like flannel or corduroy, you could even use it as outerwear, buttoned up and layered over a fine knit jumper or long-sleeved top, transforming it into a shacket.
As for colors, this season's fall 2022 fashion trends predict a commitment to rich, earthy reds and browns, alongside biscuit and caramel-hued beiges. Oversized shirts in these shades will serve you well through the colder months, or, if you don't want to invest, your trusty white or blue shirt will coordinate with trousers or skirts in any of these colorways.
FatFace Camel Thea Plain Shacket
RRP: $130 / £79 | Ideal for transitioning into fall, this directional shacket will look great styled over an oversized shirt. Make sure to pop the collar and pull the cuffs out the end of the shacket to show them off. Opt for crisp white hue for added contrast.
Cos Silk Blend Oversized Jumper
RRP: $135 / £89 | This silk blend sweater offers added luxe to your look. Pairing perfectly with bright white shirts or blue and white stripe iterations, ensure to use a half tuck to highlight your silhouette and avoid being drowned in layers of fabric.
River Island Grey Ripped Mid Rise Jeans
RRP: $78 / £42 | The best skinny jeans can make an outfit when you're learning how to style oversized shirts. Proportions are key, so utilizing a slim-fitting silhouette on your bottom half will help to balance the shirt and keep your shape.
Best oversized shirts to shop now
Jess Beech is an experienced fashion and beauty editor, with more than eight years experience in the publishing industry. She has written for woman&home, GoodtoKnow, Now, Woman, Woman's Weekly, Woman's Own and Chat, and is a former Deputy Fashion & Beauty Editor at Future PLC. A beauty obsessive, Jess has tried everything from cryotherapy to chemical peels (minus the Samantha in Sex and The City-worthy redness) and interviewed experts including Jo Malone and Trinny Woodall.