What to wear with black jeans: classic outfits that will take you from desk to dinner in style
Wondering what to wear with black jeans? Here are the style tips every fashion lover should know about mastering this hard-working piece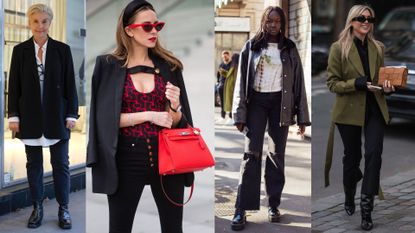 (Image credit: Getty Images)
One of the most versatile pieces in your wardrobe, deciphering what to wear with black jeans can be a sartorial challenge. With the ability to be dressed up or down, nailing a black jeans outfit for all occasions will help you solve those 'nothing to wear moments'.
The best jeans are a wardrobe essential. Underpinning your capsule wardrobe, black jeans have the ability to take on multiple roles. Smart, sleek, sexy and casual, working out what to wear with black jeans for every occasion will make getting dressed every day a whole lot easier. A style staple, we don't expect to see black jeans as a specific denim trend 2022, but they can be used as an outfit building block to help you inject the latest runway looks into your closet as they go with pretty much everything.
Super versatile, black jeans can literally pair with any of the fashion color trends 2022, from bold pink to pale pastels, the discreet style can help you unlock whole new looks. For smart occasions, such as meetings or dinner dates, the best skinny jeans will help streamline and sculpt your silhouette. For casual weekend brunches or get-togethers, black mom jeans will keep your look on point. But it's figuring out what to wear with black jeans and when to wear them that can be the styling challenge. We break down what to wear with black jeans to see you through the season.
What to wear with black jeans
1. Black Jeans + Blazers
Black jeans + the best blazers are a style match made in heaven. Versatile, polished, and unassailably chic, this classic combo will never fail to breathe new life into your workwear wardrobe. Why? Because unlike your classic pair of blue jeans, black jeans are infinitely more polished. When worn with a blazer, dark denim makes for a stylish (not to mention more comfortable) alternative to staid, office slacks. While you might not use black jeans as the answer for what to wear to an interview, once you've bagged the job, chances are you can slide a pair of well-tailored, black jeans into your workwear capsule wardrobe. As we head into the warmer months try adding any of the best shirts or blouses for a smarter finish, or for a slightly more relaxed feel, style with a t-shirt. Finish the look off with anything from a pair of comfortable flats, such as an on-trend loafer, to your best designer heels.
Our fashion editor recommends...
(opens in new tab)
Zara Cropped Flare Black Jeans
RRP: $39.90 / £25.99 | An ankle-skimming cut is an instant leg lengthener. Ideal for a more casual look, if you want a polished finish then skip the frayed hem detail.
(opens in new tab)
Reiss Double-Breasted Blazer
RRP: $475 / £268 | While you could embrace the dopamine dressing trend and opt for a bright-colored blazer, a classic tailored iteration in black will never date and work all year.
(opens in new tab)
Office White and Grey Stan Smiths
RRP: $92.60 / £74.99 | Adidas Stan Smith shoes are some of the best white trainers on the market. This classic style will never date, and a box-fresh pair will really pop against jet black jeans.
2. Black Jeans + Shirt or Blouse
Lean into this season's trend for bright color clothing through printed and block color blouses. The speediest way to dress up a pair of black jeans, look for silky and sheer iterations that instantly give a luxe finish. Ideal for what to wear on a first date, a feminine blouse in a bold hue can make a striking statement, helping you to exude confidence. Paired with your fave black jeans, it can create a stylish but relaxed outfit.
Not sure about going bold? Want something a little more timeless? A classic white shirt, in a slightly oversized fit, paired with some black skinny jeans is a look that will never date and feel both put together and relaxed.
Our fashion editor recommends
(opens in new tab)
Levi's Black 312 Shaping Slim Jeans
RRP: $69.50 / £80 | While many brands have started to cut jeans to a super-skinny silhouette, these Levi's slim shapers give you a fit that's halfway between straight and skinny for a smart but not sprayed on finish.
(opens in new tab)
River Island Pink Front Twist Blouse
RRP: $67 / £36 | Similarly to the most stylish dresses to hide a tummy, a front twist on a blouse or a ruched panel will skim over your midriff, whilst still showing off your curves. We love the bold pop of pink here too.
3. Black Jeans + Bold accessories
Wondering how to make your go-to black jeans look less 'throw on'? It's all down to how you accessorize. From a new season silk scarf, an oversized tote, to nailing how to wear a headband, a pair of black jeans is a great building block. Allowing your added accessories to really sing. Whether you opt for straight, boot cuts or a pair of mom jeans, if you want the accessories to be the star of the show, keep the rest of your outfit muted. Heed to one of the best Coco Chanel quotes though and make sure to remove the last accessory you put on before leaving the house.
Our fashion editor recommends...
(opens in new tab)
H&M Slim High-Waisted Mom Jeans
RRP: $24.99 / £19.99 | Offering '90s nostalgia, mom jeans have made a big impact on our denim wardrobes. With a universally flattering high waist, mom jeans work well for all body types.
(opens in new tab)
Kate Spade Spring Flight Headband
RRP: $55.65 / £45 | A headband can instantly eliminate a bad hair day and offer a pop of color to your look. For dressier occasions opt for embellished styles, or pick a bold print for a casual look.
4. Black Jeans + Sweater vests
With summer just around the corner, we can't wait for the warm weather. But as bright as spring is, there are still those chillier days that require some smart layering. The sweater vest is an excellent choice for what to wear with black jeans, offering a fun styling option that gives just the right amount of coverage. Pairing easily over shirts and blouses, you can lean into the vintage feel and opt for black flare jeans too. Check out our guide for more ideas on how to style a sweater vest.
Our fashion editor recommends...
(opens in new tab)
Reiss Black Skinny Flared Jeans
RRP: $220 / £135 | The '70s remain a key fashion trend 2022 and the easiest way to embrace the look is through some stylish flared jeans. Keep your top half more fitted to avoid looking overwhelmed in the style.
(opens in new tab)
Boden Cashmere Knitted Sweater Vest
RRP: $130 / £90 | Cashmere is great for regulating body temperature, so don't be afraid to wear your best cashmere sweaters in spring. You can pair this look with black jeans, or style your sweater vest over a midi dress.
5. Black jeans + Leather Jacket
Evoke your inner rocker and team black jeans with your best leather jacket. Both wardrobe classics, jeans + leather jacket is a stylish, casual combination that you can wear over and over again. To fully embrace the style, opt for oil slick coated denim or a leather-look pair and a biker jacket silhouette. Wear with everything from V-neck t-shirts to a Breton striped top, or a fine roll neck sweater on cooler days. Team with a pair of the best Chelsea boots for a 'with the band' aesthetic.
Our fashion editor recommends...
(opens in new tab)
River Island Molly Coated Black Jeans
RRP: $84 / £45 | Get the look of leather but with the added stretch from wearing jeans. With an ankle-skimming finish and body-hugging fit, these slick coated jeans offer a point of difference to your regular cotton denim styles.
(opens in new tab)
All Saints Cargo Leather Jacket
RRP: £299 (international delivery available) | In a classic biker shape, All Saints is known for creating some of the best leather jackets. Buttery soft, a timeless design will never date, making it well worth the investment.
Wyse London Breton Stripe Top
RRP: £65 (international delivery available) | The best Breton tops work all year through, adding interest to casual denim outfits. Opt for classic color combos including white and black and white with navy.
Rivkie is a fashion editor, writer and stylist with over fifteen years' experience in the industry. Having studied design and pattern cutting at the London College of Fashion, Rivkie fell in love with styling and journalism, covering fashion weeks in London, Paris and New York.
Specialising in plus size fashion, Rivkie has long championed that style is for everyBODY and has been a regular talking head on a host of radio stations and television shows, pushing for greater representation for plus size women and fashion throughout her career.
With contributions from