50 Inspirational Coco Chanel quotes about life, style and womanhood
Coco Chanel quotes on style, life, and womanhood to live by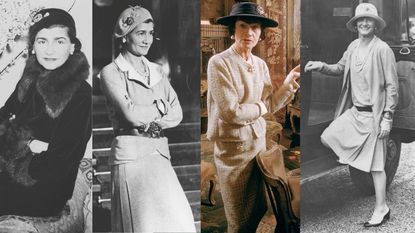 (Image credit: Getty Images)
woman&home newsletter
Sign up to our free daily email for the latest royal and entertainment news, interesting opinion, expert advice on styling and beauty trends, and no-nonsense guides to the health and wellness questions you want answered.
Thank you for signing up to . You will receive a verification email shortly.
There was a problem. Please refresh the page and try again.
One of the most influential designers of all time, Coco Chanel quotes are words to take note of. As a designer, Chanel changed the face of fashion but she was also particularly astute offering plenty of pearls of wisdom during her time in the spotlight.
When it comes to some of the best fashion quotes of all time, we can rely on Coco Chanel to offer some serious words of wisdom. The best Coco Chanel quotes cover everything from design and sartorial style to life and womanhood and the outspoken fashion leader did not mince her words. Well known for making some of the best designer shoes and best designer handbags, if you're going to listen to anyone when it comes to style, Coco Chanel is a good choice.
While Coco herself might not be with us anymore, the best Chanel bags are still one of the wisest fashion investments you can make. Chanel as a designer brand remains one of the most sought after in the world, and its runway shows and collections regularly pay homage to the early years of the French clothing brand. While Chanel's clothing, perfume, and accessories lines remain at the height of fashion, well-loved Coco Chanel quotes also help the woman behind the brand to live on. Whether you're looking for some personal inspiration, a stylish quote for Instagram, or new wall art, you'll find it hard not to be inspired by this powerhouse of design.
15 Coco Chanel Quotes about life
The best Coco Chanel quotes are surprisingly profound. While one might think that working in the luxury arena, Coco would have been out of touch with reality, despite her high-end designs, the designer had a strong grasp on what made women tick. She observed the finer nuances of life—the transformative power of a haircut, the joy in a slick of lipstick. And wanted women to realize that youthfulness was not the be-all and end-all—claiming, "A woman does not become interesting until she is over 40." But above all else, Coco Chanel had a sharp sense of humor and a desire to empower women. These are the best Coco Chanel quotes about life...
"You can be gorgeous at thirty, charming at forty, and irresistible for the rest of your life."
"A woman who cuts her hair is about to change her life."
"As long as you know men are like children, you know everything!"
"Success is often achieved by those who don't know that failure is inevitable."
"If you're sad, add more lipstick and attack."
"Gentleness doesn't get work done unless you happen to be a hen laying eggs."
"I only drink Champagne on two occasions: when I am in love and when I am not."
"My life didn't please me, so I created my life."
"The best things in life are free. The second-best things are very, very expensive."
"Some people think luxury is the opposite of poverty. It is not. It is the opposite of vulgarity."
"I feel that to live is a wonderful thing."
"A woman does not become interesting until she is over 40."
"Nature gives you the face you have at twenty. Life shapes the face you have at thirty. But at fifty you get the face you deserve."
"Don't spend time beating on a wall, hoping to transform it into a door."
"Hard times arouse an instinctive desire for authenticity."
22 Coco Chanel quotes about style
Of course, when it comes to Coco Chanel quotes on fashion, the designer extraordinaire always had a lot to say. Coco Chanel's most famous style quotes offer sartorial words to live by and there are plenty on this list that we're sure you've heard before. Although we look to Chanel to help set the fashion trends 2022, in reality, Chanel has always championed timeless style over trend-led dressing. From the best blazers, to the best midi dresses and crisp white shirts, Chanel understood the importance of a capsule wardrobe that champions elegance over everything.
Ever a realist Chanel recognized that while not everyone could wear her clothes, they should understand the importance of style and use clothes as a way to positively project themselves. Her shoe quote—"A woman with good shoes is never ugly." might seem a little frivolous, but at the core, the designer simply wanted women to understand that dressing well would make them feel good and build their confidence.
"Before you leave the house, look in the mirror and take one thing off."
"Luxury must be comfortable. Otherwise, it is not luxury.
"I don't do fashion. I am fashion."
"The best color in the whole world is the one that looks good on you."
"A woman can be overdressed but never over elegant."
"It's not the appearance, it's the essence. It's not the money, it's the education. It's not the clothes, it's the class."
"I don't understand how a woman can leave the house without fixing herself up a little—if only out of politeness. And then, you never know, maybe that's the day she has a date with destiny. And it's best to be as pretty as possible for destiny."
"We need dresses that crawl and dresses that fly. Fashion is at once a caterpillar and a butterfly; caterpillar by day, butterfly by night."
"Adornment, what a science! Beauty, what a weapon! Modesty, what elegance!"
"Dress like you are going to meet your worst enemy today."
"A woman with good shoes is never ugly."
"A woman is closest to being naked when she is well-dressed."
"Fashion is architecture: it is a matter of proportions."
"In fashion, you know you have succeeded when there is an element of upset."
"Fashion is made to become unfashionable."
"A girl should be two things: classy and fabulous."
"Elegance is not the prerogative of those who have just escaped from adolescence, but of those who have already taken possession of their future."
"Dress shabbily and they remember the dress; dress impeccably and they remember the woman."
"Fashion changes, but style endures."
"Simplicity is the keynote of all true elegance."
"Fashion has two purposes: comfort and love. Beauty comes when fashion succeeds."
"Fashion is not something that exists in dresses only. Fashion is in the sky, in the street, fashion has to do with ideas, the way we live, what is happening."
13 Coco Chanel quotes about womanhood
Growing up in an era where the glass ceiling was still very much intact, Coco Chanel, despite making couture fashion for women, still operated in an arena heavily dominated by men. Coco Chanel's view on womanhood centers around confidence, strength, and independence. The Coco Chanel quotes given here offer an eye-opening view of the values that the designer held dear, believing women should be champions of self. These are the awe-inspiring words Chanel offered on womanhood...
"In order to be irreplaceable, one must always be different."
"Be who you are, not who the world wants you to be."
"I don't care what you think of me. I don't think of you at all."
"If you were born without wings, do nothing to prevent them from growing."
"You live but once; you might as well be amusing."
"Only those with no memory insist on their originality."
"Since everything is in our heads, we had better not lose them."
"To achieve great things, you must first dream."
"There is no time for cut-and-dried monotony. There is time for work and time for love. That leaves no other time."
"Women have always been the strong ones of the world."
"A girl should be two things: who and what she wants."
"The most courageous act is still to think for yourself. Aloud."
"How many cares one loses when one decides not to be something but to be someone."
Rivkie is a fashion editor, writer and stylist with over fifteen years' experience in the industry. Having studied design and pattern cutting at the London College of Fashion, Rivkie fell in love with styling and journalism, covering fashion weeks in London, Paris and New York.
Specialising in plus size fashion, Rivkie has long championed that style is for everyBODY and has been a regular talking head on a host of radio stations and television shows, pushing for greater representation for plus size women and fashion throughout her career.