What to pack for a beach vacation: Our comprehensive guide of what and how many items to put in your case
An inventory of what to pack for a beach vacation and a handy checklist to tick off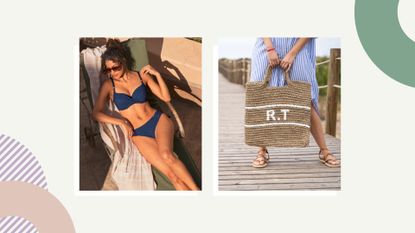 (Image credit: Future: Bravissimo & Fantasie / Rae Feather)
When considering what to pack for a beach vacation, the best place to start is with a list. Jotting down exactly what you need will help make the whole process less stressful and also make sure you don't leave anything behind.
The summer is here and if you're lucky to be heading off on a beach vacation this season, you're probably already starting to think about what to pack. There is a real skill in packing well, from maximizing your luggage space to not forgetting an important item, get the packing right and you're hopefully in for a stress-free trip.
For the most effective packing, making a list will help you with nailing those holiday outfit ideas and ensure nothing is forgotten. Creating a holiday capsule wardrobe, will mean you take exactly what you need with you, rather than ending up bringing lots of pieces that could have stayed in your closet. Opting for items that can mixed and matched, dressed up for the evening, or worn casually in the day will also help to add versatility to your vacation wardrobe.
To help, we've compiled our ultimate guide of what to pack for a beach vacation. Based on a 7 day trip, we'll take you through exactly how many of each clothing item needs to be in your luggage and where to get them. We've even included a handy tick list for you to reference.
What to pack for a beach vacation: Our checklist
Clothing to pack for a beach vacation
It stands to reason that on a beach vacation you'll spend most of your time enjoying the sun, sea and sand, so this should inform the largest part of your holiday wardrobe.
Packing versatile cover-ups such as t-shirts and maxi skirts that can be re-worked for the evening, breakfasts or occasional sightseeing trips will also maximize the use of every item in your suitcase.
While most of your day will be spent relaxing, soaking up that Vitamin D, don't forget to pack some smarter pieces too, so you can get dressed up for dinner. The best midi dresses are a great candidate for this.
Be strict when it comes to footwear. When deciding what to pack for a beach vacation, many of us are guilty of overpacking on shoes. Consider how relaxed you'll hopefully feel by the time dinner rolls around - will you really want to wear high heels? Try taking some of the best sandals and comfortable flats that can take you from day to evening, and don't forget to pack trainers for any activities that might require supportive footwear.
3 swim pieces - swimsuits, or bikinis, giving items a chance to be rinsed and dried between wears.
2 beach cover-ups - from sarongs to kaftans, having something to sling on over swimwear will help with your beachside style
3 bottoms - a mix of skirts, trousers or shorts
4 tops or t-shirts - for pairing casually in the day or throwing over swimwear
2 days dresses - beach dresses, or items easily slipped on for breakfast
2-3 evening outfits - for fancier dinners out
1 pair - UV-protecting sunglasses
Sleepwear - dependent on how often you change your sleepwear
Socks and underwear - 12 pairs of underwear / 7 pairs of socks
Sunhat - Something protective, such as a wide-brimmed design
Shoes - Flip flops, trainers, walking sandals and a pair of smarter sandals for evenings
Bags - a beach bag, a crossbody bag and a plane carry-on - that's all you need
Footwear to pack for the beach
We've all been guilty of overpacking on footwear for a beach holiday, but it really does cause unnecessary excess baggage. When deciding what to pack for a beach vacation, you need to be honest with yourself about what you'll actually wear. In the heat our feet tend to swell slightly, meaning comfort is king, but that doesn't mean you have to compromise on style.
Opt for neutral shoes that will go with everything you've brought and choose only one pair of slightly dressier shoes for smart alfresco dinners. You will also need a pair of day sandals (these can double-up for the evening if you don't need smarter shoes), as well as a pair of beach-ready flip-flops and a pair of trainers for more rigorous activity. Remember flat jeweled sandals will catch the light beautifully making them a sleek day-to-evening option, and one less pair of shoes, means extra room for souvenirs on the way home.
Office Embellished Sandals
RRP: $47 / £34.99 | These sandals will pack relatively flat and take up little in room in your case - making them ideal for vacation. The silver detailing gives them a polished finish, great for day or evening use and they can even be worn as one of best wedding shoes for brides for something understated.
Havaianas Top Flip Flops in White
RRP: $24 / £20 | A simple pair of flip-flops is ideal for everything from the beach to the pool, to wearing around your hotel or apartment. Whether you're wondering what to wear on a cruise, or packing for days on the sand, you need a pair flip-flops. This neutral white hue will go with everything and instantly feels summery.
White Stuff Canvas Lace-Up Trainers
RRP: £35 (UK only) | Pack a pair of breathable and lightweight canvas shoes or your best white trainers to complement the rest of your holiday looks. This cute cream and white pair from British clothing brand, White Stuff features a fun rainbow tab at the back for added style and detailing. They're great for sightseeing trips.
Teva Original Universal Sandals
RRP: $60 / £45 | One of the best sandals of the season, this multi strap design is a popular one with the fashion crowd. With a springy, foam footbed for supreme comfort and a nostalgic, retro feel, the colorful design taps into the fashion color trends 2022 with a nod to the sunny, bright hues of dopamine dressing.
Valentino Ivory Garavani Logo Sandals
RRP: $690 / £490 | With a rattan base, these ivory sandals are the ideal neutral hue for teaming with everything from beach looks to dinner-ready dresses. Keep it casual, paired with shorts and a linen shirt, adding instant elegance to your look, before pairing with your favorite, billowing maxi dress for cocktails at golden hour.
Dune London Linnie Flatform Sandal
RRP: $99 / £75 | Giving a nod to a classic espadrille, this flatform sandal offers laidback style. The cognac hue ensures this supportive shoe can team with almost any look and work from day through to evening. The crossover front gives a secure fit, ensuring you can wear these for exploring as well as dining out under the stars.
Bags to pack for the beach
As with shoes, it is tempting to overpack on handbags, thinking you'll need a different clutch for every look. Again, to avoid wasting luggage allowance, opt for three classic bag styles that will see you through the entirety of your trip. For everyday, you'll want a good crossbody bag with a secure fastening. These are ideal for keeping belongings close and safe and are particularly good for handsfree sightseeing excursions. Make sure to go for a size that fits the essential - phone, wallet, suncream.
Next you need a beach bag - an obvious choice when deciding what to pack for a beach vacation. While rattan iterations are super stylish and give a nod to the handbag trends 2022, remember that tightly woven or structured iterations don't pack particularly well and could get damaged. For easy travelling and flat packing, choose a large canvas tote that will fit all the essentials and fold without issues.
Unless your everyday crossbody bag will work for the evening, you may want to take an evening clutch or crossbody for dining out during your vacation. Choose a metallic or neutral hue that will team up with all your outfits.
Accessorize Leopard Strap Camera Bag
RRP: $40 / £30 | From holiday to your everyday, this smart navy camera bag with directional leopard print crossbody strap is ideal for a day of sightseeing. Big enough for the essentials, this neutral piece will look great with light and bright colors alike.
Rae Feather Monogram Amy Tote
RRP: $185 / £150 | This handmade tote bag is available for personalization, making it a wonderful poolside present. With a raffia, woven feel, but in a softer, more packable structure, this bag is ideal for sliding into your case for your next vacation.
Beach vacation toiletries
Wondering what toiletries to pack for a beach vacation? As a starting point you need to make sure you've got the best reef safe sunscreen to protect your skin and the ocean this season. You'll want to go minimal on make-up, but keeping your skin hydrated will also be important, so you might want to pack a face moisturizer with SPF in it (although in hot climes you will want to wear and reapply full SPF regularly - try the best facial sunscreen). If you're looking to give your hair a bit of a ocean-ready feel, then try these tricks for beach hair waves to fully embrace those vacay vibes.
Aside from immediate beach essentials, any makeup you opt for should be lightweight, it's good to give your skin a break, so try the best tinted moisturiser over heavy foundation and the best cream blush that can be used for cheeks and lips for lighter packing and a fresh glowy look. Don't forget to pack make up remover - like one of the best micellar water cleansers to refresh your face at the end of each day.
If you're spending time in the sun, make sure you've packed one of the best aftersun lotions, to help soften your skin and keep it nourished after a day in the sun.
Rivkie is a fashion editor, writer and stylist with over fifteen years' experience in the industry. Having studied design and pattern cutting at the London College of Fashion, Rivkie fell in love with styling and journalism, covering fashion weeks in London, Paris and New York.
Specialising in plus size fashion, Rivkie has long championed that style is for everyBODY and has been a regular talking head on a host of radio stations and television shows, pushing for greater representation for plus size women and fashion throughout her career.