The best reef safe sunscreen to protect your skin and the ocean this summer
We select the 10 best reef safe sunscreens for every budget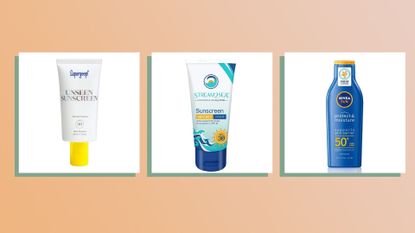 (Image credit: Future)
woman&home newsletter
Sign up to our free daily email for the latest royal and entertainment news, interesting opinion, expert advice on styling and beauty trends, and no-nonsense guides to the health and wellness questions you want answered.
Thank you for signing up to . You will receive a verification email shortly.
There was a problem. Please refresh the page and try again.
Any form of sun protection, including reef safe sunscreen, is good news. We're well informed on the importance of daily SPF defense in the fight against skin cancer and premature skin aging. But what you may be unaware of, or just starting to become conscious of, is the damage that certain sunscreens and their ingredients can inflict on the ocean.
Reef safe is the new buzzword in sun lotion, from the best facial sunscreen to SPF products used from top to toe. Scientists warned of the potential link between sunscreen and coral reef deterioration several years ago. Since then, Hawaii has banned the sale of sunscreen containing coral-harming chemicals (more on those later), and you're likely to spot the phrases reef safe and reef friendly on more and more bottles of SPF.
Whether you are generally interested in an eco-friendly lifestyle, want a nod to sustainable beauty in your routine, or simply have SPF questions about how sun care can affect coral, this guide has got you. We've tried and tested the best reef safe sunscreen on the market and answered all your questions to help you protect yourself and the planet.
Your reef safe sunscreen FAQs, answered
Why you can trust Woman & Home Our expert reviewers spend hours testing and comparing products and services so you can choose the best for you. Find out more about how we test.
Why choose reef safe sunscreen? According to the environmentalist organization Green Cross, we dump about 25,000 tonnes of sun cream into the oceans every year, which works out at about 1 liter per second. There are chemicals in SPF - chiefly oxybenzone and octinoxate - that have been said to cause damage to coral reefs. These UV filters protect skin by absorbing the sun's rays before converting them to heat. Studies have shown that when coral has been exposed to Oxybenzone, it can lead to coral bleaching and have a detrimental impact on algae. This in turn affects the fish, marine life, and organisms that rely on these reefs.
What makes a sunscreen reef-friendly? "Reef safe or reef friendly SPF formulas are usually deemed so by the absence of four ingredients identified as potentially having a negative environmental impact," explains Abi Cleeve, suncare expert and founder of Ultrasun (opens in new tab). 'These are Oxybenzone (Benzophenone-3,BP-3), Butylparaben, 4-methylbenzylidene camphor (4MBC) and Octinoxate (Ethylhexyl methoxycinnamate)." Always check the label to make sure your sunscreen is formulated without these offenders.
Are mineral formulas better? Mineral sunscreens are often viewed as a kinder, more environmentally-friendly option. They are also generally considered to be the best sunscreen for sensitive skin. In fact, Holland & Barrett has gone so far as to ban the sale of all non-ocean-friendly sunscreen lines, carrying only 100% mineral formulas instead. Mineral sunscreens may currently be the more trusted option when it comes to the environment but as Abi says, "It's important that we don't oversimplify this. It isn't a binary choice of chemical = bad and mineral = good." Whether you opt for a mineral, chemical, or hybrid sunscreen, the best formula is the one that you are most comfortable with and most likely to slather on daily.
The best reef-safe sunscreen, chosen by our beauty editor
1. Ultrasun Family High Protection SPF30
Best reef-safe sunscreen for most people
Specifications
RRP: $31/£26
Type: Chemical and mineral hybrid
Key ingredients: GSP-T, Vitamin E, Lamellar technology
Reasons to buy
+
Featherlight feel
+
Suitable for sensitive skin and children
+
Water-resistant
+
Protects against UVA, UVB and Infrared-A
The brand's patented lamellar technology delivers a formula that is long-lasting and non-greasy. It works by applying filters in fine, alternating layers that bond with the skin evenly, and protect by sitting just below the skin's surface. This is a hybrid sunscreen, combining physical protection with chemical absorbers. Plus all this science is backed by environmentally-conscious ingredients. Ultrasun is the first sun care brand worldwide to be awarded the BASF ECOSUN (opens in new tab) pass status, a stringent testing process that examines SPF formulas to see if they are marine and ocean safe. Ultrasun not only met these requirements but surpassed them.
In terms of formula, the light lotion melts into the skin with very little effort leaving no hint of a white cast. Fun fact: it is the only sunscreen that my husband will happily wear, which speaks volumes about its near-invisible, un-sticky, quick-to-absorb formula. For me, it's always been a godsend on hot beach breaks and helped me to avoid prickly heat which I am usually afflicted with. No surprise then that the hypo-allergenic, oil-free, perfume-free formula is recommended by Dermatologists for those prone to skin allergies. A true sunscreen superstar.
2. Nivea Sun Protect & Moisture SPF 50
Best budget reef-safe sunscreen
Specifications
RRP: $17.99/£6
Type: Chemical
Key ingredients: Glycerin, Vitamin E
Reasons to buy
+
Smells amazing
+
Fast-absorbing
+
Moisturizing effect
+
Water-resistant
Reasons to avoid
-
Might be too perfumed for some
Nivea sunscreen will always hold happy memories of long, hot summers waiting for exam results. 20 years later, though the formula has come a long way, I find its distinct sunkissed scent just as appealing as I did as a teen.
It's got some fab credentials for the price - 5-star UVA protection, water resistance, and a 75% biodegradable reef-safe formula. There are skin perks too. The formula delivers instant and long-lasting hydration and works with the skin's microbiome (the bacteria that make up a crucial component of our skin barrier) to keep everything balanced and prevent moisture loss. This is a fantastic option for families—trust me, sunscreen-phobic kids won't have much to moan about with this quick-absorbing formula.
3. The Organic Pharmacy Cellular Protection SPF 50
Best reef-safe sunscreen for dry skin
Specifications
RRP: $45.50/£39.95
Type: Mineral
Key ingredients: Calendula, Aloe, Rose hip, Shea butter
Reasons to buy
+
Can be used on the face and body
+
Hydrating formula
+
Suitable for sensitive skin
Reasons to avoid
-
Takes slightly longer to absorb
When a sunscreen formula is billed as being suitable for babies, you know it's going to be a caring and cosseting treat for adult skin alike. It's made from 59% organic ingredients, including shea butter and rosehip to bolster moisture levels. The defense comes from coral-safe zinc oxide and titanium.
The rich consistency is more like one of the best face moisturizers than a typical light sun lotion, so does require a little more rubbing in. But I'm pleased to report it left no white cast on my olive complexion, and my skin felt plumped with hydration for the rest of the day. In fact, it's been clinically proven to increase skin moisture by 18% when applied once a day for 28 days. I also liked the fact this could be used on the face and body, and the skin-nourishing ingredients certainly left my dehydrated skin looking and feeling a lot better with each application.
4. Green People Scent Free Sun Cream SPF 30
Best reef-safe sunscreen for sensitive skin
Specifications
RRP: $31.45/£25.50
Type: Mineral
Key ingredients: Aloe Vera, Green Tea, Beeswax
Reasons to buy
+
Prevents prickly heat
+
Water-repellant
+
Carbon-neutral sugar cane packaging
Reasons to avoid
-
Unscented, which may not appeal to some
Green People is the OG ocean-friendly sunscreen, having advocated for physical blocks over chemical versions for years, and only using ingredients that do not pose a threat to marine life. Even more admirably, Green People donate 20p from every purchase of their reef-friendly sunscreen to The Marine Conservation Society. And it's not just good news for the planet. You can expect high factor, broad-spectrum protection, meaning it protects against both UVA (the rays responsible for aging) and UVB (the ones that burn skin) rays using non-toxic filters.
This is a great choice if you suffer from prickly heat - those sore, itchy, unsightly bumps occur when sweat ducts are blocked, trapping sweat under the skin until it becomes inflamed and peppered with a prickly rash. Green People's formula is made without silicones or artificial fragrances, and anything else that's likely to block pores and trigger a reaction in sensitive skin or eczema-prone skin. When skin can breathe, it's less likely to break out. The cream itself absorbs exceptionally quickly, with no signs of tackiness or a white cast, leaving only soft, moisturized skin in its wake.
5. Stream2Sea Sport Sunscreen SPF 30
Best water-resistant reef-safe sunscreen
Specifications
RRP: $17.96/£14.99
Type: Mineral
Key ingredients: Green tea, Aloe, Coconut oil
Reasons to buy
+
80 minutes of water-resistance
+
Non-greasy
+
Sustainable sugar cane packaging
Reasons to avoid
-
Leaves a slight white cast
If you're super active, this is the sunscreen for you, providing 80 minutes of water-resistant, broad-spectrum protection when swimming, exercising, or sweating. Environmentally virtuous, it's been proven safe for freshwater fish, saltwater fish and coral larvae, using non-nano titanium dioxide and biodegradable ingredients.
The formula doesn't make your eyes sting and weep like other sunscreens, which is especially handy if you're in and out of the water. It's quite a thick lotion so a little definitely goes a long way. If you're a bit overzealous, it can leave skin with a slight white sheen. But the cream is loaded with antioxidants and nourishing ingredients like coconut oil that felt pampering.
6. Biossance Squalane + Zinc Sheer Mineral Sunscreen SPF 30
Best facial reef-safe sunscreen
Specifications
RRP: $30/£23
Type: Mineral
Key ingredients: Zinc oxide, Water lily, Sugar cane-derived squalane
Reasons to buy
+
Works with all skin tones
+
Calms redness
+
Dewy finish
Reasons to avoid
-
Hard to detect its cooling effect
If you want to up the ante from your usual face moisturizer with SPF to a dedicated facial sunscreen, this reef-safe option could be a perfect choice. Deeper skin tones will be glad to hear that it goes on sheer, so there's no mime-like white cast associated with other mineral sunscreens.
It's also a lovely option for hot, sticky days when you really don't want to wear make-up but kind of want that dewy makeup look. The soft-focus glow made my skin look healthy and, dare I say, rather fresh. It's got hot-right-now squalane to lock in a big slurp of hydration without feeling too greasy and is also credited with helping the sunscreen glide over the skin. My foundation went on very smoothly over the top without any of that dreaded pilling.
7. Hawaiian Tropic Aloha Care Protective Sun Lotion SPF 30
Best matte-finish reef-safe sunscreen
Specifications
RRP: $8.94/£7.25
Type: Chemical
Key ingredients: Glycerin, Carica Papaya Fruit Extract
Reasons to buy
+
Velvet finish
+
Invisible feel
+
Water-resistant
Reasons to avoid
-
Tropical scent may be off-putting
This is satisfyingly matte and velvety. In fact, it's so effective at providing a natural, invisible finish, that it feels like you're wearing nothing at all (although If you like the hyper-luminous glow of sunscreen oil, give this one a miss) The only giveaway that you have sunscreen on comes from the famous Hawaiian Tropic coconutty-aroma. It's not to everyone's taste, but I can't deny that with every waft it puts my mind straight on a seven hour flight into holiday mode.
Sunscreen-phobes will be glad to hear that this reef-safe formula melts into skin with little effort and is so un-sticky, that you don't even need to wash your hands after application. It's a great price for the size of the bottle, too.
8. Supergoop! Unseen Sunscreen SPF 30
Best reef-safe sunscreen for oily skin
Specifications
RRP: $44/£32
Type: Chemical
Key ingredients: Frankincense, Meadowfoam seed, Red algae
Reasons to buy
+
Weightless
+
Suitable for all skin tones
+
Shine control
Supergoop! was the first SPF brand not to use oxybenzone, and since then their 'no list' includes more than 1600 ingredients, including octinoxate. The ingredients they have included in this cult facial sunscreen work hard for your skin, like extract from meadowfoam seed to hydrate, frankincense to soothe and red algae to protect against the detrimental effects of blue light emitted from electronic devices.
It comes out clear with a putty-like consistency that smooths across the face effortlessly and becomes entirely undetectable. The velvety-matte finish is great for combination and oily skin types, and much like the best primers gives great grip for any subsequent make-up you apply. Although it is on the pricey side for facial sunscreen, a little does go a long way.
9. Garnier Ambre Solaire Eco Designed High Protection Lotion SPF 50
Best family-friendly reef-safe sunscreen
Specifications
RRP: $8.63/£7
Type: Chemical
Key ingredients: Natural-origin glycerin, Shea butter
Reasons to buy
+
Improves skin hydration
+
Biodegradable formula
+
100% recycled bottle
Free from oxybenzone, octocrylene and octinoxate, this sun lotion is respectful of marine life. And the green points don't stop there. Working with the Ocean Conservancy to prevent plastic pollution, the bottle is 100% recycled and recyclable, the formula is 94% biodegradable, and it's manufactured in a carbon-neutral factory. Very commendable.
Ambre Solaire formulas are usually best-in-class and this is no exception. The lotion blends in well, without leaving a tacky trace or white sheen. Dry, tight-feeling skin will lap up the glycerin and shea butter-infused blend, which delivers 24 hours of hydration. My skin, which errs on the dry side, certainly felt comfortable all day. Swimmers will be pleased to learn that in trials, 83% of women agreed it reduced the tight sensation they usually experience from chlorine water.
10. Tropic Great Barrier Sun Lotion SPF 15
Best age-defying reef-safe sunscreen
Specifications
RRP: $34.53/£28
Type: Chemical and mineral hybrid
Key ingredients: Green algae extract, Vitamin E, Coconut extract
Reasons to buy
+
Water and sweat-resistant
+
Hydrating
+
Anti-pollution
This hybrid sun protector combines both mineral and chemical filters that have been deemed environmentally-, ocean- and skin-safe to provide solid protection against UVA and UVB rays, pollution, and blue light damage. It comes in SPF 15, 30 and 50 so there's plenty of choices to suit your defensive needs.
I found the formula refreshingly silky and light—it sank in with little effort or patience required on my part. For a lotion so full of nourishing ingredients (Hyaluronic acid and vitamin E make skin feel soft and smooth), it didn't leave any visible white sheen or sticky feeling.
---
Ingredients to avoid for reef safe sunscreen
The difficulty with the term reef-safe is it is less of a regulation imposed by an official body, and more of a guideline that brands use to reassure the consumer. The best thing to do is to check the label and make sure that the sunscreen does not contain any of the following ingredients on the HEL list.
Any form of microplastic sphere or beads
Any nanoparticles like zinc oxide or titanium dioxide
Oxybenzone
Octinoxate
4-methylbenzylidene camphor
Octocrylene
Para-aminobenzoic acid (PABA)
Methyl Paraben
Ethyl Paraben
Propyl Paraben
Butyl Paraben
Benzyl Paraben
Triclosan
It's also worth pointing out though that sunscreen isn't the only threat to coral reefs. Sewage, pollution, and rising sea temperatures caused by carbon emissions are perhaps the most significant causes of coral damage, so to say sunscreen is the biggest threat to marine life would be an overstatement. As Jo Ruxton from the charity Ocean Generation (opens in new tab), says, "Our ocean has been bombarded with toxic chemicals following decades of industrial and agricultural waste pouring into it. Now we know the damage these can do, every step we can take to prevent it from worsening is critical."
It's clear that further research into the impact of sunscreen on the ocean environment is needed. However, we all want to make the best choices we can to protect our skin and the environment, and choosing a reef safe sunscreen will limit the stress on coral. Every little helps, as they say. If you want to err on the side of caution, avoid sunscreens formulated with those ingredients that have been found to have a negative impact on coral.
---
woman&home thanks Abi Cleeve, Jo Ruxton
Stephanie Maylor is a Beauty Editor working across five national magazine titles, with almost 15 years' experience in the industry. She has written for many brands, including woman&home, Grazia, Now, More!, Fabulous, NW, Woman, Woman's Own, Woman's Weekly, Essentials, Best, Chat, and OK! online.
In 2010 she launched her own beauty blog, which was shortlisted for Best Beauty Blog in the 2011 and 2012 Johnson & Johnson Beauty Journalism Awards. She has interviewed many high profile industry experts and celebrities including Alesha Dixon, Twiggy and Christina Hendricks.