How to make a tan last longer and safely hold onto your glow
Experts reveal how to make a tan last longer by caring for your skin before, during, and after sunshine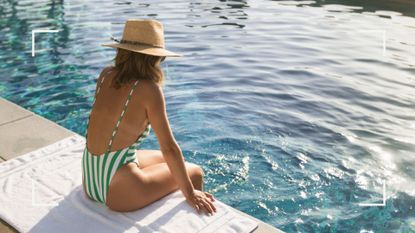 (Image credit: Getty)
Found yourself googling how to make a tan last longer before you've even departed the tarmac of your vacation destination? We get it.
Second only to the joy of feeling sunshine on your skin is the smugness of returning home with a golden glow. That stress-free its 5-O'clock-somewhere attitude can fade quite quickly but your tan doesn't need to be packed away like suitcases in the loft, nor do you need to rely on the best self tan to keep that glow going.
First, a word on tanning safely. There are two types of UV rays – UVB, which is strongest in the summer and responsible for burning, and UVA, which is responsible for skin aging, present all year round and can penetrate glass and clouds. When our skin is exposed to sunshine it triggers melanocyte cells to begin making extra melanin (the pigment that gives our skin its color) as a natural defense. But this process still needs to be supported by a good broad-spectrum SPF, like one of the best facial sunscreens, to prevent damage.
To help you get all the pros of a tan with none of the cons, and to eke out your glow for as long as possible, we asked the top names in tanning for their expert advice on how to make a tan last longer in a skin-safe way.
How to make a tan last longer, according to the experts
1. Catch it safely
What's the harm in a little first-day burn, eh? It turns out, quite a lot. "The biggest myth in sun protection is that you need to go red to go brown," says Abi Cleeve, Founder of Ultrasun and Beauty Expert. "This contributes to skin damage and skin cancer cases. Plus, as soon as the skin reddens, it's in trauma and a 'trauma tan' ensures that skin burns and sheds, leaving it less tanned in days. By protecting properly, the tan you achieve will last." That's us told.
In that case, how to make as tan last longer without compromising too much on sun safety? "Extra protection means your tan will be deeper and longer lasting," continues Cleeve. "Make sure you're wearing a high protection sunscreen all day every day, apply indoors at least 15 minutes before going out into the sun to prevent product evaporation and allow it to bond with the skin." Taking regular shade breaks, and avoiding the sun between 12pm and 2pm, when it's at its highest and hottest, will help too.
2. Exfoliate before you go
Avoid taking any excess baggage of old, hanging-on skin cells by exfoliating before you head off. "Good exfoliation is key so that the skin has a great canvas to receive all of your holiday beauty products," recommends Cleeve. "Including, crucially, your SPF when you're there." By clearing dead skin cells, exfoliation clears the path for other ingredients to penetrate the skin more easily, so you'll soak up all the benefits of that hydrating, thus tan-prolonging, after-sun. Exfoliation also "promotes a healthy cell turnover, which will lead to a more even and longer-lasting tan," adds Cleeve.
3. Try a tan activator
If you want to pick up as much color as possible when the sun is shining, consider using a tan-activating moisturizer or serum ahead of time. "I advise adding a pre-sun product to your routine the week before exposure to the sun to prep the skin," explains Cleeve. "Ultasun's Pre-Sun Tan Activator contains Thalitan, which stimulates melanin synthesis in the skin to increase its solar protection ability before exposure, as well as obtaining a prolonged tan following exposure." Think of this as a warm-up for your skin, getting the melanocytes to start stretching their legs.
Small studies have also indicated that taking supplements of the antioxidant astaxanthin can also help to shield skin from UV rays in order to achieve a healthy tan without burning. It's not a substitute for sunscreen though, and should only ever be used as an added extra when you want to nail how to make a tan last longer.
4. Consider fake tan
Worrying about your skin's appearance is common on the first day of a vacation, which can make you more likely to neglect sun safety and end up peeling. "Using self-tan prior to holiday not only gives you confidence but will also reduce the temptation for over-exposure," advises Cleeve. It's best to do this before you go away, as, according to Abi, "self-tans contain DHA, which can compromise the efficacy of UVA filters."
"I would suggest getting a professional tan or using a self-tanner at home, right at the end of your pre-holiday beauty preparations," explains leading tan expert James Harknett. Make sure you're up to speed with how to fake tan properly to avoid self-tan mistakes like streaky legs or patchy palms – the best gradual tan is the safest bet for first-timers. "If you are wearing self-tan on holiday, chlorine from swimming pools may affect it, and sand may also rub off the tan – especially on your hands and feet," adds Harkett. The false stuff can be slowly replaced with a safe, natural glow, and if you want to amplify it for evenings, top up with one of the best instant tans that you can wash off before bed.
5. Drink plenty of water
When we're hot, we sweat more, which means that our body has less fluid to play with than normal. Our skin is always at the back of the queue when it comes to distributing the good stuff throughout our bodies, so if there's not enough to go around, dehydration will show in the skin with a dull appearance, amplified fine lines, and tightness. If your skin is well hydrated, it will look it, with a plump, dewy finish and lasting glow.
But, before you start guzzling down pints of H2O, be aware that there's no need to go above the recommended water intake of around six to eight glasses of water a day. If it's over-hydrated, the skin won't look any better, and you'll lose valuable pool time to bathroom trips. The same advice replies on the journey to and from your destination too. "Make sure you drink plenty of water, as long flights can really dry out the skin," says Harknett.
6. Re-hydrate your skin
You've enjoyed the sun, diligently slathered on SPF, and (hopefully) avoided needing to know how to treat sunburn. How you treat your skin post-sun exposure is also really important if you want to keep that glow going. "The key to holding onto a tan post-holiday is to keep skin moisturized and hydrated," says Michaella Bolder, St.Tropez Tanning & Skincare Expert.
The first port of call when learning how to make a tan last longer? One of the best aftersun lotions. These will be formulated with exactly the ingredients your skin needs, such as soothing aloe vera, hydrating hyaluronic acid, and nourishing shea butter. The buttery or oily part is especially important here, as it's this that will help to seal moisture into the skin. Turning down the temperature of your shower to cool rather than scorching and making sure any body washes or soaps you use are gentle and contain moisturizing ingredients will also help keep skin hydrated.
7. Avoid drying ingredients
You don't need to be a chemist to tell when a product is too harsh. If your skin feels tight when you come out of the shower, or dry after using a certain serum, these are give-away signs. This is bad news for your tan too, as skin needs to be balanced and hydrated to hold onto it. "Avoid formulations that have high amounts of alcohol, which can be drying and may cause your tan to fade faster," advises Cleeve. Another common culprit is fragrance. You'll be able to feel (and smell) if these ingredients are present in products in high concentrations. If so, swap for something gentler and more nourishing.
8. Exfoliate less afterward
Exfoliation removes old, surface skin cells in order to reveal the fresher, shinier skin beneath. It can be achieved by physical means (using a scrub or device to loosen the bonds that hold onto the old cells) or chemical (where you use AHAs, PHAs, or BHAs to break down the bonds). "Post-holiday, try to avoid exfoliating ingredients such as alpha-hydroxy acids or beta-hydroxy acids," advises Bolder. "These ingredients will renew the skin and cause the tan to fade quicker." If you need to exfoliate to combat peeling, do so carefully and gently.
9. Simplify your skincare
We might feel relaxed on vacation, but our skin is not as it's being exposed to sunshine, salt water, chlorine, and dehydrating air-conditioning. Ingredients that speed up cell turnover, like alpha-hydroxy acids and retinoids won't just make your tan fade faster, but can irritate – and a sore, red face will really take away from your newly acquired glow.
"After a holiday, your skin can be really sensitive as it will be dehydrated and will also have to adjust to a change in elements," advises Harknett. Try not to pile on the active ingredients. Instead, pare down your routine to make sure your skin stays stable. "I would approach active ingredients like retinoids and alpha-hydroxy acids with caution at this stage of your summer skincare," says Harknett. "They can increase UV sensitivity and your chances of developing pigmentation." You can re-introduce them slowly when you're not spending so much time in the sunshine.
Sign up to our free daily email for the latest royal and entertainment news, interesting opinion, expert advice on styling and beauty trends, and no-nonsense guides to the health and wellness questions you want answered.
Jess Beech is an experienced fashion and beauty editor, with more than eight years experience in the publishing industry. She has written for woman&home, GoodtoKnow, Now, Woman, Woman's Weekly, Woman's Own and Chat, and is a former Deputy Fashion & Beauty Editor at Future PLC. A beauty obsessive, Jess has tried everything from cryotherapy to chemical peels (minus the Samantha in Sex and The City-worthy redness) and interviewed experts including Jo Malone and Trinny Woodall.