The best fake tan for pale skin – subtle, streak-free bronzing that won't go orange
Our beauty team selects the best fake tan for pale skin to deliver a natural sunkissed glow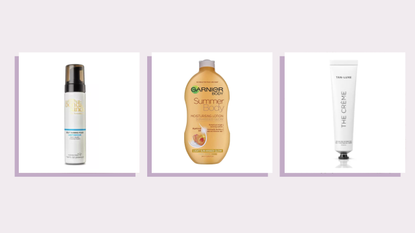 (Image credit: Future / Bondi Sands / Amazon / Tan Luxe)
Finding the best fake tan for pale skin is no mean feat. There's a little more leeway when it comes to bronzing darker complexions – that added depth is more forgiving of warm olive and honey tones. But for the fairer among us, go a shade too dark and you could end up with a radioactive glow that screams "I got this from a bottle!"
Not that we are anti-bottle—we're all for faking it when it comes to achieving a holiday hue. But whatever your skin tone, the best self tan should look natural, as if you've just stepped off a yacht in the Balearic islands. You wouldn't choose your best foundation in a shade 10 tones darker and more orange than your own skin, so why should you put up with fake tan that imparts a tangoed tint across your body? A-list tanner, Amanda Harrington agrees. "Very much like makeup, you need to consider what the developing color will look like as the end result, and some formulas can be too red or yellow for paler skins."
If you're looking for the best fake tan for pale skin, don't let previous streaky spray tans or DIY disasters hold you back. As celebrity tanning expert and founder of Isle of Paradise, Jules Von Hep says, "Never be scared to tan—there are so many formulas now that are perfect for every skin type and tone." From softly-softly gradual tans to the best cream bronzers that add a subtle glow to your complexion, these natural-looking formulas will impart a subtle and healthy-looking glow on even the most reluctant-to-tan skins.
Choosing the best fake tan for pale skin
Why you can trust Woman & Home Our expert reviewers spend hours testing and comparing products and services so you can choose the best for you. Find out more about how we test.
If you want to learn how to fake tan like a pro, particularly when you're working with porcelain skin, follow these expert tips and master the art of believable bronzing.
Choose the right formula: "For paler skin tones I recommend using a light, hydrating formula which you can build up over time," advises Von Hep. "Tanning waters and oil mists are the most hydrating tan possible. You are quite literally giving your skin a drink and they are so easy to apply—the trick is to apply liberally. Your skin should be drenched after application and then blended with a mitt, swept gently over skin."
Go gradual: "If you are pale and looking for a natural, sun-kissed glow, avoid darker shades of tan with higher levels of DHA as this will add too much red pigment to the skin," says St.Tropez Tanning + Skincare Expert Michaella Bolder. "I love using gradual tan for building a really subtle glow on paler skin. If you apply tan every 3-4 days, by the time you get to the richest tone, you've already begun to wash the tan off during showering. I like to then reapply around day three or four to help maintain a hydrated and consistent, gorgeous-looking tan."
Think about undertone: "The simplest way of finding your undertone is by your skin's reaction to the sun," explains Amanda Harrington. "If you have a paler skin tone with a slight red/yellow undertone, possible freckles and high mole count, blue-ish veins that burns easily in natural sunlight, you have a cool undertone and I would describe you as a natural rose. If you are pale, with a yellow/green undertone to the skin, greenish veins, sallow in the winter but catches tan almost immediately with little effort, then you are a natural olive."
Put in the prep: "Paler skins can really catch the tan in dry areas," says Harrington, "so scrub and moisturize pre tanning application. I always pop my Ultra Balm on hands, elbows, knees, and feet to avoid the tan catching, even if I am using a gradual tan." And if the worst happens and you forget your barrier cream, read our beauty editor's guide to how to get fake tan off hands.
The best fake tan for pale skin, chosen by our beauty editor
1. Coco & Eve Sunny Honey Bali Bronzing Foam
Best fake tan for pale skin overall
Specifications
RRP: $34.90/£25.90
Texture: Mousse
Key features: CellushapeTM (Lotus Extract), 100% natural DHA, raw virgin coconut
Reasons to buy
+
Firming ingredients
+
Long-lasting
+
Fades evenly
On testing, this had a lovely soft vanilla scent, reminiscent of an '80s My Little Pony—in the best way. That typical tan smell is so faint that it's barely noticeable, and once I rinsed off the guide color it dissipated completely. The mousse comes out a little dirty-looking with a green tinge, but don't let that scare you into immediately hopping in the shower. It blends to a subtle bronze as you slather it across your limbs. Apparently, it's this green-grey pigment that zaps any orange tones so your tan looks more natural, which I can certainly attest to.
Medium is their lightest shade but it is definitely suitable for pale complexions, and it was easy to customize simply by rinsing off the guide color a little earlier—two hours for the faintest hint of color, or overnight for a deeper glow. The effect was smooth, streak-free, and even (it definitely helped to gloss over some dodgy tan lines of summers past!) Want to know more about this huge-selling, expert-approved formula? Read our full Coco & Eve tan review for all the details.
2. St Tropez Self Tan Purity Bronzing Water Gel
Best luxury fake tan for pale skin
Specifications
RRP: $44/£33
Texture: Gel-to-water
Key features: Hyaluronic acid, Aloe leaf juice, Glycerin
Reasons to buy
+
No transfer on to bedding
+
No fake tan smell
+
Deeply hydrating
St Tropez is the indisputable king of the faux glow and this gel-to-water, clear tan is one of our favorites. For starters, there is absolutely no hint of that typical fake tan smell, only a beautifully zesty, peach-like scent. The gel is light but crucially, not runny, so it's easy to smooth over skin without fear of streaks or drips.
I am usually a guide color fan but this is so easy to blend and I'm yet to detect a streak, so you really don't miss it. In fact, the lack of color is a godsend if, like me, you have white towels and bedding as this doesn't transfer. My skin started to look softly golden after a few hours, and felt incredibly soft and sated with moisture. Another perk is the fact you don't have to rinse it, so there's no clock-watching waiting for the development time to lapse. This is a faultless tan for pale skin.
3. St Moriz Colour Correct Tanning Mousse
Best budget fake tan for pale skin
Specifications
RRP: $19.99/£9.99
Texture: Mousse
Key features: Hyaluronic acid, vitamin B5, peach undertones
Reasons to buy
+
Great price
+
Natural result
+
Hydrating and tanning
Reasons to avoid
-
Slightly stronger tan scent
Like some of the other pricier formulas on our list, this budget tan uses special pigments to neutralize orange, red, and sallow tones for a realistic pale-girl tan. The Light mousse has peach undertones to inject natural-looking warmth into alabaster skin.
I always prefer a tan with a guide color, which this has, so I can spot tell-tale gaps, stripes, and patches and blend with abandon. The initial smell reminded me of talc, which was fresh and pleasant. It did sour slightly as the tan developed into that classic biscuity aroma but faded once the guide color was rinsed off. The color was refreshingly natural and not at all orange. It lasted well too, probably owing to the moisturizing additions, chiefly Hyaluronic acid and vitamin B5. With this quality for this price, you can't go wrong.
4. Tan-Luxe The Crème
Best fake tan for pale faces
Specifications
RRP: $49/£39
Texture: Cream
Key features: Glycine, squalene, birch bark, rice bran
Reasons to buy
+
Barrier-repairing
+
Elasticity-boosting
+
Customizable colour
Reasons to avoid
-
Can streak with certain actives
If you haven't heard of the skin barrier, let us enlighten you. It's basically the outermost layer of the epidermis and is responsible for keeping the good stuff sealed in and irritants locked out. Healthy skin should look smooth and hydrated, but with a weakened lipid barrier, your face may feel dry and tight. To summarise, your skin barrier is the key to unlocking beautiful healthy skin, which is why it's surprising it doesn't always get the airtime it deserves. In fact, this is the world's first barrier-repairing gradual tanning facial moisturizer. It's packed with amino acids and lipids that basically care for the skin barrier so it functions at its best. Hello, gorgeous skin.
The cream itself smells a bit like sunscreen, and the texture is decadently rich, so probably best applied before bed. My skin felt instantly plump and smooth to the touch. I saw a healthy glow creep in after about three hours. As with all gradual tans, the depth of color is in your hands. They say that the level of DHA in the cream (4.5% to be exact) is just the right amount to be used daily, but if you're particularly fair, you might want to limit it to once every few days. I made the mistake of using my regular glycolic acid exfoliant in between applications, which did remove the tan and made it look a little patchy, but another evening top-up of crème evened things out again. I really appreciated the healthy, radiant glow this delivered, so much so I felt comfortable going sans make-up, which is saying a lot.
5. Amanda Harrington Illuminating Bronzing Mousse
Best fake tan for cool undertones
Specifications
RRP: $49.47/£38
Texture: Mousse
Key features: Light-reflecting illuminators, Hyaluronic acid, Aloe Vera
Reasons to buy
+
Non-drip formula
+
Deeply moisturising
+
Radiant finish
+
Comes with gloves
This is one of the most luxurious self-tans we've ever had the pleasure of using. A-list tanner, Amanda has thought of everything to elevate the at-home tanning experience, from the applicator gloves and brush, which offer a more intuitive application, to the creamy and blendable soufflé formula. It comes in three undertones—Natural Honey, Natural Olive, and our go-to for porcelain skin, Natural Rose.
It feels delightful on the skin—no wonder given the cavalcade of nourishing, skincare-inspired ingredients, such as Hyaluronic Acid, Co-enzyme Q10, and Green Tea extract. What's great about this tan is the guide color is amazingly accurate to the final, washed-off result, so you won't get any nasty surprises.
6. Isle of Paradise Self-Tanning Oil Mist
Best fake tan for dry, pale skin
Specifications
RRP: $32/£21.95
Texture: Liquid
Key features: Hyaluronic acid, glycerin, squalane, peach colour-correcting actives
Reasons to buy
+
Deeply hydrating
+
Easy to blend
+
Long-lasting
This is the latest tanning innovation from Isle of Paradise—a bi-phase, shake-to-mix tanning body oil. Any bronzing aficionado worth her fake tan mitt will know the secret to an even and long-lasting tan is keeping skin moisturized. That's the thinking behind this deeply hydrating formula. Hyaluronic acid, glycerin, squalane, and a combination of seven nourishing oils lock moisture into the skin. My skin (legs in particular) can feel dry and itchy with even the best fake tan for pale skin, but there was no sense of tightness with this mist. My skin felt smooth and sated, and the tan did last a good few days.
There are three shade levels in the range—fair skins are best suited to the light, peach-toned mist. "As a rule, I say our peach = sunkissed weekend away glow, green = one week away golden glow, violet = two weeks away deep rich bronze,'" explains founder Jules Von Hep. The application process can be a little messy so it's best done in the shower or bathtub. As it's a clear liquid, there's no guide color so after saturating skin in the mist you'll need to blend thoroughly with a mitt to ensure a streak-free finish. However, after showering, the result was pleasingly natural and made my skin tone look a lot more even.
7. Crazy Angel Gradual Tan
Best gradual tan for pale skin
Specifications
RRP: $15.62/£12
Texture: Cream
Key features: Shea butter, hyaluronic acid, vitamin E
Reasons to buy
+
Lovely rich texture
+
100% vegan
+
Streak-free finish
Enriched with shea butter, caffeine, and a hint of tanning agent, this moisturizing lotion leaves skin smooth, soft, and delicately bronzed. You can also quite safely use it on the face should you not want to fork out for a separate facial tan. I used a mitt to apply it but you can easily slather it on with bare hands if you find that easier—just make sure you wash them well afterward.
The cream is satisfyingly thick which makes it a dream to blend. You can take your time with it, without worrying that it's going to drip down your ankles. The product apparently has a fresh, floral scent but I couldn't really pick it out, and the one downside was it definitely smelled tan-y. With that said, it's a great option for the price. Particularly as the skin across my shins tends to feel dry but this gradual tan left them much smoother and softer, as well as healthily tinted.
8. Utan Turbo Self-Tan Mousse
Best customisable fake tan for pale skin
Specifications
RRP: $31.28/£24
Texture : Mousse
Key features: 100% natural DHA, natural henna extract, mango
Reasons to buy
+
Quick-drying and non-sticky
+
Suitable for sensitive skin
+
Works on any skin tone
The good news for pale complexions, or any complexion for that matter, is you can customize the color depth to suit your needs depending on how long you leave it on. The smart formula contains natural tanning agents that develop at different times, putting you in charge of the intensity of your tan. Rinse it off after an hour for a fresh glow (a great color for alabaster skin tones) or for up to eight hours for a rich, ultra-dark tan.
The formula was easy to blend, quick-drying, and refreshingly un-sticky. My skin wasn't just beautifully bronzed but glowy too, which for someone with dehydrated skin that veers on the dry side was a welcome side effect. Not surprising, then, that Utan formulas are all dermatologist-approved and suitable for sensitive skins.
9. Vita Liberata Body Blur
Best instant fake tan for pale skin
Specifications
RRP: $38.99/£30
Texture: Cream
Key features: Shea butter, glycerin, soft-focus particles
Reasons to buy
+
Washes off easily
+
Shade for every skin tone
+
Blurring finish
Reasons to avoid
-
Pricey for a wash-off tan
Ideal for any last-minute legs-out/arms-out/anything-out situation, this instant color is more like body makeup with a soft-focus sheen that helps to filter out things you might not want to show off to the world, like thread veins, dry skin on legs, bruises, and mottled skin. This is where this formula excels. I loved the smooth and uniform finish—it really helped to gloss over the faint bruises and freckles I have across my shins.
There are five shades within the collection so fair skins have some choice, from Lighter-Light to Light. The formula delivers a subtle hint of natural color—imagine wearing sheer stockings everywhere. It's definitely more about the flawless, perfected finish, rather than an obvious tan, which is great news for nervous bronzers—you really can't go wrong with blending this. For a wash-off formula, I found it had surprisingly good staying power. It didn't rub off on my skirt, which is a win, and it didn't streak after getting drenched on the school run.
10. Bondi Sands Self-Tanning Foam
Best budget tan mousse for pale skin
Specifications
RRP: $20.81/£15.99
Texture: Mousse
Key features: Aloe vera, Glycerin
Reasons to buy
+
Fast-drying
+
Long-lasting
+
Smells like coconut
This bronze whip has amassed an impressive number of top-tier reviews. It has a beautiful coconut scent that does go a little way to disguise the slight fake tan-y background aroma. The mousse is tinted so you can see exactly where to buff and blend with your tanning mitt. It melts into the skin so you get impressive coverage across your limbs.
Another major plus is the fact it dries quickly so you don't have to wait around for half an hour feeling sticky and tacky. If it's a subtle hint of color you're after, hop in the shower after an hour. Otherwise, leave on for six hours and rinse for sunkissed skin. The only downside is after a few days it started to fade in patches, but if you're familiar with how to remove fake tan then you'll know that it's nothing a good scrub or tan eraser won't fix, ready to start all over again.
11. Garnier Summer Body Hydrating Gradual Tan Moisturiser
Best moisturising fake tan for pale skin
Specifications
RRP: $5.62 / £4.74
Texture: Moisturiser
Key features: Apricot oil
Reasons to buy
+
Delightful scent
+
Non-streaky
+
Affordable
Reasons to avoid
-
Scent may cause problems for sensitive skin
If you find traditional fake tans to be too high maintenance, a tanning moisturizer will become your new best friend. Developing gradually, this tanner hydrates your skin whilst providing a golden glow, and it only takes a matter of seconds to rub in.
Whilst other types of self-tan have a tendency to cling to my dry spots and accentuate them, this tan helps to nourish and hydrate whilst also providing color. The apricot oil-infused formula sinks quickly into the skin so is ideal to apply any time of day. I typically apply this after showering and before going to bed, so by the time I wake up I am perfectly bronzed. But be careful around areas like the hands and feet, as if you miss any spots it can look pretty obvious. Now for the best part: it won't stain your bed sheets once absorbed. For an affordable yet effective and natural-looking tan, this is the perfect product.
12. Tanologist Self Tan Drops
Best travel fake tan for pale skin
Specifications
RRP: $21.99 / £15.99
Texture: Liquid
Key features: Pink grapefruit, goji berry, juniper
Reasons to buy
+
Easily portable
+
Adaptable color
+
Natural finish
Reasons to avoid
-
Not as effective for body tanning
Though small, these tan drops by Tanologist are certainly mighty. Add a few drops to your favorite skincare, makeup, or body care product, and expect to see a noticeable difference within just a couple of hours. If you find yourself avoiding fake tans due to skin sensitivity, the non-comedogenic formula of these drops ensures that no breakouts or irritation will occur. Plus, you can easily add a drop or two to your skincare routine by mixing it with your favorite products.
When using this on my face I was instantly amazed at the glow it gave. However, on my body, the results weren't as noticeable. I would recommend using double the amount of drops that you do on your face to avoid the mixture becoming too diluted on areas like the legs. At 30ml this little bottle is just the right size to throw into any makeup bag whilst traveling or on the go, so it is a great option for vacations.
13. Dove DermaSpa Summer Revived Self-Tan Face Cream
Best drugstore fake tan for pale skin
Specifications
RRP: $4.70 / £3.99
Texture: Moisturiser
Key features: Natural seed oils and tanners
Reasons to buy
+
Easy to apply
+
No strong smell
+
Good for acne-prone skin
Reasons to avoid
-
Results might be too subtle for some
This facial tanner by Dove is by far the most affordable product I tried for this guide, and it is perfect for pale skin due to its subtle results. Apply at the end of your usual skincare routine instead of your moisturizer to add a natural-looking glow to the face. This product does take slightly longer to sink in than a traditional face moisturizer, but as the last step in your routine, this doesn't cause many problems.
If you like a deep or dark tan, this moisturizer probably won't be suitable for you. It gives more of a your-skin-but-better glow, rather than a two-weeks-in-Mexico look. For pale skin, though, I find this does just what I need it to for every day. Streak-free and also hydrating, you won't feel the need for foundation after seeing the results.
14. Ciaté London Brazilian Glow Bronzing Serum
Best serum fake tan for pale skin
Specifications
RRP: $25 / £20
Texture: Liquid
Key features: Hyaluronic acid and Vitamin C
Reasons to buy
+
Instant effects
+
Available in shimmer or normal finish
+
Easy to blend
For instant results, this bronzer-serum hybrid gives a gorgeous natural glow that can be applied with your fingertips or a brush. Perfect for those who want something quick and simple that can be washed off at the end of the day, this tan functions more like a makeup product than a long-lasting tint.
The texture is very watery and blended seamlessly on my face and neck, making it light enough to layer under makeup products or wear over them to add definition. The main benefit of this bronzing serum, though, is that it doesn't carry that typical fake tan smell or stickiness, so it is ideal for everyday wear. It is buildable too, so can be adjusted to your liking. Whether you use this to form the base of your tan or have it on hand for top-ups between your other bronzing sessions, it is ridiculously versatile.
---
How to use your undertone to find your ideal tan
We know how important the role of undertones is when it comes to nailing the perfect foundation match for your complexion, and the same applies to self-tan too.
"Traditionally, the undertone of your skin is what you would see as your natural skin tone when you haven't been in the sun for around six months," explains Michaella Bolder. "Paler skin types can often have a cool blue and sometimes hint of red undertone. Those with olive skin tones may see more of a yellow or grey undertone that will take lightly to the sun. Darker skin tones can be a mix of blue, red, and yellow undertones."
Most tans will imbue the skin with a red pigment, which is why some can look unnaturally warm on pale complexions but the tanning industry is taking note. "I created a tanning range for paler skin tones called Natural Rose, which has cool violet and blue in the formula, which neutralizes and evens out paler skin,' explains Harrington.
---
woman&home thanks Amanda Harrington, Jules Von Hep and Michaella Bolder for their time and expertise