The best gradual tan for a beautiful, subtle glow without streaks or mess
Our beauty team's best gradual tan guide will help you mimic sun-kissed skin all year round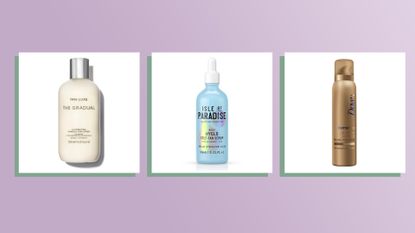 (Image credit: Tan-Luxe, Isle of Paradise, Dove)
The best gradual tan lends skin a sun-kissed warmth that will have people asking, "where have you been?" From mimicking a trip to the coast to two weeks in the Côte d'Azur – you can gradually (hence the name) build up the color to achieve your desired finish.
This makes gradual the best self tan option for tanning newbies or anyone who likes to maintain a consistent, convincing color. "Gradual tans are the easiest way to achieve a long-lasting glow," says Jules Von Hep (opens in new tab), tanning guru and founder of Isle of Paradise. Unlike developing self-tan mousses, or creams that offer instant color, the best gradual tan will slowly deliver a golden glow while nourishing skin with a moisturizing base. "On holiday, I'll replace my after sun with a gradual tan to keep my glow going for longer," says Von Hep.
Whether you're new to faux tan or prefer your glow to look natural – we have you covered with our edit of the best gradual tans, all tested by us. And for a seamless blend, Von Hep shares his top application tips on how to fake tan like a pro.
How we tested the best gradual tans
Why you can trust Woman & Home Our expert reviewers spend hours testing and comparing products and services so you can choose the best for you. Find out more about how we test.
When it comes to gradual tan, we are totally spoilt for choice. From drops and mousse to mists and creams, there are so many new sophisticated self-tans out there which makes finding 'the one' a tricky task. To filter out the best from the rest, we tested a wide variety of gradual tans from different brands at a range of price points.
As with the best bronzers, the best gradual tan is one that blends in seamlessly - adding warmth without looking too obvious. We applied each product more than once over the course of a few days to see how it developed, checking for patches and streaks. We also looked out for application ease, whether the tan transfers onto clothes and how it fades.
How to pick the best gradual tan for you
"It's important to remember that self-tan should always look natural," says Von Hep. To pick the best gradual tan, Von Help recommends "selecting your tan like you select makeup." By this, he means opting for a shade that will flatter your natural skin tone.
Fair skin: "Opt for lighter solutions that have a low concentration of tanning actives."
Medium skin: "Medium to olive skin tones should seek out green-based, golden gradual tans."
Dark skin: "Darker skin tones or those with an ash undercurrent should lean towards darker ranges."
"Note that you can be smart here – one coat of a medium gradual tan will roughly equal two coats of a light gradual tan, and one coat of a dark gradual tan will roughly equal two coats of a medium gradual tan," says Von Hep.
The best gradual tan, chosen by our beauty team
1. Isle of Paradise Hyglo Hyaluronic Self-Tan Body Serum
Best overall gradual tan
Specifications
RRP: $32/£25.95
Texture: Lightweight serum
Key ingredients: Hyaluronic acid and grapefruit, chia seed and avocado oils
Available shades: One shade
Reasons to buy
+
Lightweight formula
+
Hydrates and moisturizes skin
+
Delivers a natural-looking tan
+
No streaks or patches
Reasons to avoid
-
Runs out quickly when used daily
Bridging the gap between skincare and self-tan, this gradual tanning serum is a multi-tasking hero that delivers a super-natural glow while deeply hydrating skin. Seriously, we are hooked. Up there with the best fake tans that we've tried (and the best skincare products), we love the fact it's lightweight and silky in texture which makes application a total dream. A far cry from those messy formulas of the past, this product is more akin to a skincare serum than a fake tan.
To use, we applied a generous layer of the serum (around 8 – 12 drops) directly onto the skin before massaging it in with our fingertips. Because of its thin consistency, we found that it's really easy to blend, covering every area for an even, golden glow. As for the results, we instantly noticed that our skin looked healthier and hydrated (thanks to hyaluronic acid) After a few hours, the natural warm color started to shine through. This is a brilliant all-rounder that delivers a post-holiday bronzed glow.
2. Sisley Self Tanning Hydrating Body Skin Care
Best luxury gradual tan
Specifications
RRP: $147/£94
Texture: Silky cream
Key ingredients: Macadamia oil, hibiscus flower extract, sesame essential extract
Available shades: One shade
Reasons to buy
+
Soothes and hydrates skin
+
Fresh floral scent
+
Streak-free finish
+
Velvet mitt included
If orange streaks and biscuity scents have previously put you off fake tan, turn your attention to this luxurious pick from Sisley. Loaded with hibiscus flower extract and macadamia oil, the skin-loving formula softens and hydrates skin while locking in moisture for radiant results. Instantly after application skin looks nourished and thanks to the fresh floral fragrance – it doesn't smell like you're wearing any fake tan at all (a big tick).
To use, we applied a thin layer all over the body (they also have a face version that's easily one of the best fake tans for face) before buffing it using small circular movements with the velvet mitt that's included. We found that one layer was enough to achieve a healthy, sun-kissed glow – while two layers increased the intensity for a richer tan. While it's expensive, this dreamy cream does deliver a luxe-looking and believable bronze without a streak in sight.
3. Garnier Summer Body Hydrating Gradual Tan Moisturiser
Best budget gradual tan
Specifications
RRP: $5/£4.99
Texture: Cream
Key ingredients: Apricot oil
Available shades: Two shades (light and dark)
Reasons to buy
+
Lightweight formula
+
Hydrates and moisturizes skin
+
Suitable for sensitive skin
+
Streak-free finish
You don't have to break the bank to get a good glow. Case in point: this gradual self-tan lotion from Garnier, which lends limbs a natural hint of color that can be built up from soft and subtle to a 'whoa!' glow. Brimming with hydrating apricot oil, it moisturizes skin, too – so much so that we suggest skipping your best body moisturizer and going straight for this.
In terms of application, we used a mitt to apply the cream – buffing it in for an even, streak-free finish. By using a mitt, we also avoided tell-tale orange hands. We did find that formula is a little sticky when you first apply it, but it soon sinks in and starts to develop. There are two shades to choose from (light and dark) and one bottle will last you a while. The one downside? It does have that distinctive fake tan scent.
4. James Read Sleep Mask Overnight Gradual Tan Gel
Best overnight gradual tan
Specifications
RRP: £35 (UK only)
Texture: Gel
Key ingredients: Red algae and hyaluronic acid
Available shades: Two shades (light to medium and dark)
Reasons to buy
+
Fast drying formula
+
Softens and hydrates skin
+
Fragrance-free
+
Delivers a subtle glow
If like us, you like to apply your tan before you hit the hay – this could be the formula for you. While several fake tan formulas transfer onto bed linen during the night – this one, from James Read, does not. Instead, it has been specifically designed with a clear gel formula that quickly sinks into the skin – gradually developing overnight so that come morning, you wake up to a gorgeous golden glow and clean sheets.
We recommend applying the gel with a mitt so that you avoid orange hands and can really buff the product in. Prior to using a mitt, we tried applying this gradual tan with hands and found that it did leave a few streaks (and has us Google searching 'how to get fake tan off hands.') So, learn from our experience and get yourself a tanning mitt. As for the results, expect a subtle warm glow that will invite "you look well" compliments.
5. Dove DermaSpa Gradual Self-Tan Body Mousse
Best mousse gradual tan
Specifications
RRP: $27.99/£9.99
Texture: Mousse
Key ingredients: Unique 48h active moisturisation technology
Available shades: Two shades (fair to medium and medium to dark)
Reasons to buy
+
Non-sticky formula
+
Lightweight mousse
+
Easy to apply
+
Delivers subtle glow
+
Dermatologically tested
Most gradual tans come in a cream or serum-like formula, which is why we were intrigued to try this mousse. It has a lightweight, whipped-up consistency that's easy to apply (again, we recommend a mitt for this) and blend in. What we did notice is that there's no guide color – and while this is normal for gradual tan – it does take some getting used to with a mousse.
We ended up applying more than enough to ensure that we'd covered every area for a flawless finish. As for the results, we were impressed with the color – a green-based, golden glow that really does look natural and is far from orange. Available in two shades, light to medium is a great fake tan for pale skin, while medium to dark suits olive and dark skin tones. Overall, this is a great purse-friendly pick for anyone after a subtle yet healthy-looking tan that will last for a few days.
6. Tan-Luxe The Gradual Illuminating Tanning Lotion
Best gradual tan for face and body
Specifications
RRP: $34/£25
Texture: Lotion and oil
Key ingredients: Raspberry seed oil, vitamin E and aloe vera
Available shades: One shade
Reasons to buy
+
Absorbs quickly
+
Skincare ingredients
+
No fake tan smell
+
Speedy developing
Reasons to avoid
-
On the pricy side for a gradual tan
A cult classic, this gradual tan from Tan-Luxe ticks all our boxes and then some. The formula, which is an oil/lotion hybrid, glides effortlessly across skin, melting in like butter to lend limbs a natural, bronzed look that adapts to your skin tone. Laced with raspberry seed oil, vitamin E and aloe vera – it hydrates, smooths, and firms skin, too.
As for the scent, it's odor-free which we greatly appreciated after testing some strongly scented faux tan formulas. We also found that it develops faster than most – delivering a subtle glow after just one hour. Wait another three hours and your skin will look seriously radiant. As you can probably tell, we're huge fans of this gradual tan – it's a must-try for both body and face. And while it is pricier than some, we think it's well worth it. Sold?
7. Vita Liberata Heavenly Elixir Advanced Tinted Tanning Elixir
Best gradual tan for long-lasting results
Specifications
RRP: $44/£35
Texture: Lightweight cream
Key ingredients: Aloe Vera, coffee butter, cucumber, witch hazel, glycerin
Available shades: One shade (medium)
Reasons to buy
+
Scented with cocoa
+
Slow-releasing gradual tan
+
Skincare ingredients
+
Long-lasting results
Reasons to avoid
-
Have to use a lot to cover entire body
Vita Liberata knows a thing or two about faux tan and this Heavenly Elixir is nothing short of a glow-bestowing miracle. The serum-meets-moisturizer is tinted in color which makes the application seamless. For best results, we recommend using a mitt to apply the product in long, circular motions. While we love the texture, it's worth noting that you need quite a few pumps to cover the entire body – which means, if you like it as much as we do, the bottle will run out fast.
Despite needing several pumps, we can confirm that this gradual tan delivers a believable lightly-bronzed finish that looks as though you've just come back from holiday. Think an olive, golden glow that's streak-free with a radiant finish. Formulated with clever encapsulated technology, the DHA slowly releases – enhancing your results for up to 72 hours after application. Oh, and there's also a cocktail of powerhouse skincare ingredients to hydrate, moisturize, smooth, and soothe skin, too.
8. Bondi Sands Everyday Gradual Tanning Milk
Best moisturising gradual tan
Specifications
RRP: $19/£11.99
Texture: Milk
Key ingredients : Aloe Vera and vitamin E
Available shades: One shade
Reasons to buy
+
Hydrates and soothes skin
+
Quick-absorbing
+
Great for everyday use
+
Mess-free application
If you already apply body lotion every day, consider swapping it out for this gradual tanning milk from Bondi Sands. Ideal for the summer months, this everyday tanner instantly moisturizes dry skin with aloe vera and vitamin E while gradually developing into a natural-looking tan. It's a great pick for fake tan first-timers as well as those who want to top up their tan post-holiday.
We applied this every day for three days and found that the color remains subtle yet sun-kissed. Unlike others we've tried, this one doesn't streak with continued use or cling onto dry patches – something that we're putting down to the nourishing formula. Impressed, we also enjoyed the loose milky texture that sinks straight into the skin without ever feeling sticky. The downside? The cocoa butter scent is quite overpowering and sweet - but if you can get past this, we'd say it's definitely worth it for the results.
9. This Works Perfect Legs Gradual Tan
Best gradual tan for legs
Specifications
RRP: $45/£38
Texture: Serum
Key ingredients: Vitamin C, natural caramel and shea butter
Available shades: One shade
Reasons to buy
+
Moisturises skin
+
Delivers sun-kissed glow
+
Lovely scent
+
Suitable for all skin types
Summer is here which inevitably means that more skin will be on show. If you're after a quick glow booster, specifically designed for your legs, consider this tanning serum from This Works. Powered by vitamin C and shea butter – this skin savvy serum (that smells a-mazing, FYI) bolsters radiance and locks in moisture for luminous limbs. It also contains DHA to build a bronzed, healthy-looking glow.
To apply, we treated this like every other serum, applying it onto clean, dry skin using our hands. Of course, if you prefer, you can also use a mitt to apply. If you do go for hands just be sure to wash them immediately after application. We adore the instant glow you get from this serum and noticed that after a few hours, our legs looked nicely tanned. We're officially hooked and will be using this prior to weddings, parties, and holidays from now on.
---
How to apply the best gradual tan
First things first, skin prep is key. "Shave or wax at least 24 hours prior to application and ensure skin is exfoliated with a dry brush or scrub," says Von Hep. By using one of the best body exfoliators, "skin will have an even surface so that the final result will be even and, more importantly, it will fade evenly as a natural tan would."
"Whichever texture of tan you choose, always start from the ankle – not the feet – and work your way up towards the heart and chest," says Von Hep. "Apply your gradual tan in sweeping motions all over the body to ensure the product is evenly distributed," he continues. For the final step, use whatever is left on the mitt to tan the hands and feet. "To speed up drying time, use a hairdryer on a cool setting all over the body," says Von Hep.
---
woman&home thanks Jules Von Hep for his time and expertise.
Emma Stoddart is a freelance beauty journalist and self-confessed skincare aficionado with over five years' industry experience. Emma has worked for some of the UK's top women's titles including Net-A-Porter, Stylist and Grazia. Her experience spans online and print as well as producing editorial shoots with some of the industry's biggest artists, including Val Garland. Asides from working with them behind the scenes, she's also had the chance to interview the likes of Patrick Ta, Pat McGrath, and Sam McKnight for all their insider tips and tricks.