Best body moisturizers: creams, lotions and serums that'll give you silky-smooth skin
These are the all-time best body moisturizers according to our beauty team – and they've tried *hundreds*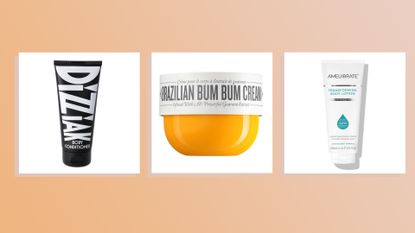 (Image credit: Dizziak, Sol de Janeiro and Ameliorate)
The best body moisturizer is a cornerstone of a good skincare regime, just like the one you diligently apply to your face every day. As well as ensuring that your body's largest organ functions well, moisturizing your skin will keep it looking healthy, glowing and youthful.
Used alongside one of the best body exfoliators, the right moisturizer will help you on your way to achieving the softest skin of your life. And yet many people have their facial skincare routine nailed while skipping out on body moisturization altogether. "People are increasingly conscious about protecting the facial skin barrier through the use of gentle cleansers and regular application of moisturizer, but the skin on our bodies is often neglected or forgotten – despite its larger surface area," explains consultant dermatologist Dr Justine Kluk (opens in new tab).
But, Kluk continues, body hydration is as essential as using the best face moisturizer. "Our skin gets drier as we get older, and changes in environmental conditions can also lead to dry skin with its accompanying itching, flaking, and roughness. Moisturizing the skin on our bodies can prevent or reduce this." Whether you have a dry skin type or not, experts agree that everyone can benefit from using body moisturizer to boost essential hydration and encourage a supple skin texture that looks beautiful and feels comfortable.
The best body moisturizers, chosen by our beauty team
Why you can trust Woman & Home Our expert reviewers spend hours testing and comparing products and services so you can choose the best for you. Find out more about how we test.
1. Dizziak Body Conditioner
Best body moisturizer overall
Specifications
RRP : $27 / £20
Key ingredients : Shea butter, glycerin, vitamin E, aloe vera
Reasons to buy
+
Deeply nourishing
+
Smells great
+
Sinks in nicely despite being thick
Reasons to avoid
-
Could be a little too thick for some preferences
The brand may only have been around for four years, but Dizziak's super popular haircare products are already loved by beauty experts everywhere. So when the brand announced its venture into body care products in 2021, you can bet that we were all very excited about it. Body Conditioner is absolutely jam-packed with skin-loving ingredients, from nourishing shea butter to moisturizing glycerin, soothing aloe vera and allantoin, vitamin E, and fatty acids galore.
On testing, we found that this cream manages to be extremely nourishing and thick without feeling greasy or too heavy on the skin. And it smells nothing short of divine, cocooning you with a rich and comforting scent. It really does tick all the boxes in terms of performance and skin benefits – plus a little goes a long way, meaning this mid-priced tube will last you a good amount of time.
---
2. CeraVe Moisturizing Cream
Best budget body moisturizer
Specifications
RRP: $19.99 / £16
Key ingredients: ceramides, hyaluronic acid, glycerin
Reasons to buy
+
Affordable
+
Gentle and fuss-free
+
Very supportive of the skin barrier
+
Can be used on both the face and body
CeraVe's straightforward skincare products are recommended by dermatologists all over the world as they are both gentle on the skin and effective. Available both in tube and pot form, the Moisturizing Cream contains three different ceramides to help support your skin barrier as well as hyaluronic acid, a hydrating ingredient that famously can hold up to 1,000 times its own weight in water. Not only that, but the cream also features MVE Delivery Technology, which means hydration is released gradually over the 24 hours after you apply it, making it one of the best body creams for dry skin on our list.
We love this because it sinks in nicely, doesn't leave a greasy residue in its wake, and is great if your skin is sensitive or if you struggle with itchy and dry conditions like eczema. It's also non-comedogenic, meaning it won't clog your pores if you're prone to body blemishes. Sure, it's not the most luxurious-feeling body moisturizer on the market by any means, but it gets the job done and does it well. Prefer a lightweight moisturizer? This won't be for you, but it does also come in lotion form that should suit.
---
3. Sol de Janeiro Brazilian Bum Bum Cream
Best luxury body moisturizer
Specifications
RRP: $48 / £46
Key ingredients : Coconut oil, brazil nut, guaraná, cupuaçu butter
Reasons to buy
+
Very nourishing
+
Promises to firm the skin
+
Delicious sweet, nutty scent
It wouldn't be a round-up of the best body moisturizer buys without giving Sol de Janeiro's famous Bum Bum Cream (Pronounced "boom boom") a mention. With a legion of model and celebrity fans, it's loaded with ingredients that help to soften your skin and protect it from environmental damage – from nourishing cupuaçu butter to antioxidant-rich guaraná and açai oil. What's more, the high caffeine content of this mega moisturizing cream means that it can help to firm up your skin and smooth out its texture.
Every time we use this we find that the buttery formula sinks into the skin nicely leaving it feeling deliciously soft. It also smells delicious thanks to its sweet blend of vanilla, salted caramel, and pistachio scent – just don't mistake it for an actual dessert.
---
4. Ameliorate Transforming Body Lotion
Best exfoliating body moisturizer
Specifications
RRP : $19 / £15
Key ingredients : Sweet almond oil, lactic acid, LaH6 hydration complex
Reasons to buy
+
Sinks in very easily
+
Provides gentle exfoliation
+
Great for bumpy "chicken skin"
Reasons to avoid
-
Could be too light for some
As well as much-needed skin nourishment, some of the best body moisturizer formulas also work to refine your skin's texture, like this best-seller from Ameliorate. With a formula enriched with moisturizing sweet almond oil, the key feature is the brand's LaH6 skin hydration complex, a cocktail of six different active ingredients that work together to ensure optimum hydration and softness in your skin, among them exfoliating lactic acid, restoring urea, and soothing allantoin.
Our testers found that transforming Body Lotion was particularly great at smoothing your skin's texture over time, helping to minimize any roughness or bumps like keratosis pilaris (often nicknamed 'chicken skin') It's also a buy that dermatologists often recommend – including both Dr Kluk. "I have always loved the Ameliorate Transforming Body Lotion and Cream," says Kluk. "I have been using the illuminating glow version of their classic lotion recently, for a subtle summer shimmer if I'm wearing a dress or a strappy top."
---
5. Nécessaire The Body Serum
Best body serum
Specifications
RRP : $45 / £45
Key ingredients: Hyaluronic acid, niacinamide, ceramide np
Reasons to buy
+
Lightweight
+
Very hydrating
+
Layers well with thicker formulas
+
Fragrance-free
Reasons to avoid
-
Can feel slightly sticky if you apply too much
Prefer a lighter form of body moisturizer? Enter Nécessaire's fuss-free but techy serum. It features a whopping five different molecular weights of hyaluronic acid, which in layman's terms means that this hydrating ingredient can reach multiple levels of your skin to boost moisture levels throughout. It's suitable for all skin types, including eczema-prone skin, and also contains ceramides and niacinamide to help support the barrier.
If you want something that absorbs ultra-easily in the mornings we find this serum to be a great addition to a daily regime for a quick hydration fix – or it can be layered under body moisturizer to really supercharge moisture levels. Be sure not to apply too much, though, as we found this can leave a very slightly sticky feeling on the skin. Some may miss the inclusion of scent too (although if you have sensitive skin this will be welcome) Either way, there's no denying that this really helps your skin to achieve serious softness.
---
6. Liz Earle Skin Replenishing Body Balm
Best body balm
Specifications
RRP : $32 / £23
Key ingredients : Shea butter, rice bran oil, black oat seed extract
Reasons to buy
+
Feels nourishing
+
Keeps skin's moisture levels up for up to 48 hours
+
Fresh, uplifting scent
Reasons to avoid
-
May be a little thick for some
When it comes to trusted household names in the world of skincare, Liz Earle's brand is up there with the best of them. So it's probably not a huge surprise that this line offers one of the best body moisturizer options out there as well as iconic facial skincare buys.
Take our word for it that the Replenishing Body Balm feels like a real treat. It's got a nice, relaxing scent that stays on your skin, all fragrant and eucalyptus-y but never overpowering. The brand is known for its focus on natural active ingredients, so thanks to the inclusion of shea butter and rice bran extract, it's also a seriously nourishing formula that helps to nix any dry patches of skin. We reckon this is easily one of the best Liz Earle products and a really nice one to rub into damp skin, after a pampering shower or bath with our best bubble bath.
---
7. Aveeno Daily Moisturizing Lotion
Best everyday body moisturizer
Specifications
RRP : $11.99 / £7.59
Key ingredients : Colloidal oatmeal, glycerin
Reasons to buy
+
Very soothing
+
Absorbs quickly
+
Lightweight formula
+
Fragrance-free
Reasons to avoid
-
Some may want a thicker formula
Aveeno's very popular Daily Moisturizing Lotion is a great everyday body moisturizer that won't break the bank. The hero of the formula is prebiotic colloidal oatmeal, an ingredient that really helps to lock in moisture and support the skin barrier, helping your skin to restore itself and recover. It's also a very soothing ingredient, making this gentle, fragrance-free moisturizer a good choice for those who struggle with very dry and sensitive skin, which might be irritated by a fancier formula.
On testing, we found this was hydrating but never felt heavy or greasy and, considering it's so reasonably priced, it's easy to see why this is one of the go-to body lotions on the market. Dr Justine Kluk also recommends the thicker Aveeno Cream, which is designed for very dry and sensitive skin, as one of her go-tos.
---
8. Caudalie Vinosculpt Lift & Firm Body Cream
Best body moisturizer with skincare benefits
Specifications
RRP : $45 / £27
Key ingredients : Grapeseed oil, shea butter, iris extract
Reasons to buy
+
Helps to firm up skin
+
Rich in antioxidants
+
Whipped texture
Caudalie is a brilliant French skincare brand with ranges that target a whole range of skin concerns, including addressing the needs of aging skin. If you're looking for a moisturizer that helps to kickstart skin firming and fine line smoothing, we reckon the Vinosculpt Body Cream will be a great fit for your routine.
It's been designed to target loss of firmness in four key areas – the arms, the chest, the stomach and the derrière. When testing this cream we loved the satisfying whipped texture and lovely feel on the skin, plus this formula is loaded with antioxidants thanks to grapeseed polyphenols, as well as vitamin E and omega 6. It also packs that famous nourishing ingredient found in many of the best moisturizer buys, shea butter. And yet it isn't too greasy or heavy despite its hardworking credentials. Bravo, Caudalie.
---
How to choose the best body moisturizer for you
There are three main types of moisturizer, which advanced cosmetic doctor and CeraVe expert Dr Ifeoma Ejikeme (opens in new tab) breaks down as:
Humectants: "These pull moisture to themselves and to the skin, and include ingredients like glycerin and hyaluronic acid."
Emollients: "Change the skin barrier and improve hydration in the skin; these include ingredients like jojoba oil or isopropyl palmitate."
Occlusives: "Sit above the skin and prevent free water loss from the skin, including ingredients like petrolatum and squalene."
It's also worth considering these factors when seeking out the best body moisturizer for you.
Choose a formula that suits you: There are a few different body moisturizer formats to choose from when shopping, depending on what suits your skincare routine and skin best. Serums are the lightest option, while lotions are slightly runnier moisturizers that tend to absorb more quickly than your thicker, more nourishing creams and balms. Body oils are also super nourishing, and have the added bonus of giving your skin a really nice sheen.
Look out for key ingredients: When it comes to moisture, ingredients like glycerin and hyaluronic acid are good indicators of upped hydration and moisture, while richer ingredients like shea butter or nut oils are extra nourishing – for skin that's either drier than usual because of environmental factors, or naturally very dry. And on that note…
Think about your skin's needs: Your moisturizer of choice will vary depending on if your skin is very dry, blemish-prone, or uneven in texture, for example. "For keratosis pilaris, pick a moisturizer that contains ingredients like lactic acid or urea to soften and smooth the surface bumps," says Dr Kluk. "For very dry skin, look for a thick cream, balm, or ointment. These products often have occlusive properties, which means they help reduce water loss and keep water locked into the skin, as well as soothing and softening the surface." As for blemish-prone skin, exfoliating salicylic acid is known for its ability to help unclog pores.
It goes without saying that if you have a skin condition like eczema or psoriasis, it's always worth liaising with your doctor to ensure you get a fuss-free formula that won't exacerbate any of your symptoms.
Lucy is a UK-based beauty journalist who has written for the likes of Marie Claire, Cosmopolitan, OK!, Women's Health and more, as well as contributing to woman&home. Her work covers everything from expert skin and haircare tips to the latest product launches and the show-stopping beauty looks spotted backstage at London Fashion Week. During her career she's interviewed some seriously famous faces, from Little Mix to Drag Race royalty The Vivienne, as well as chatting to the industry's leading hairdressers, dermatologists and make-up artists.