The best bubble baths, oils and salts for a relaxing, indulgent soak
Sink into the tub with our pick of the best bubble baths and bathing products, to cheat a spa feel at home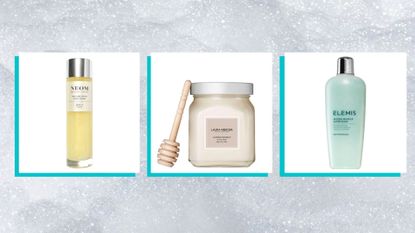 (Image credit: Future)
The best bubble bath is so much more than just a beauty product. In fact, most bathing products – from foaming gels to aromatic oils and soothing bath salts – don't really have much to do with how you look. These lotions and potions are all about how you feel.
That's not to say a gorgeous bathtime buy can't have beauty benefits. If you pick something with the right ingredients and drop it into a steamy bath of course it'll do its thing on your skin, whether that thing is nourishing ashy limbs, smoothing skin like the best body exfoliators, or scenting you from top to toe in a lovely floral fragrance. But it's also fair to say that most of us take a bath for mental and physical benefits, rather than aesthetic ones. We want to relax, recover after exercise, soothe aches or simply steal an hour away from the noise of daily life.
Whatever the reason you want to lock the bathroom door, light a candle, and full the tub, the best bubble bath will enhance that intended effect and then some. From energizing foams to sleep-enhancing salts and skin-nourishing oils, these are the grown-up bathing buys we rate.
The best bubble bath, oils and salts, as chosen by our experts
Why you can trust Woman & Home Our expert reviewers spend hours testing and comparing products and services so you can choose the best for you. Find out more about how we test.
1. L'Occitane Shea Bubble Bath
Best bubble bath overall
Specifications
RRP: $39/£28
Size: 500ml
Type: Foaming liquid
Mood: Comforting
Reasons to buy
+
Nourishing ingredients
+
Luxurious bubbles
+
Beautiful fragrance
+
Sustainable
If we had to sum this product up in one word, it would be comforting - and who doesn't want a bit of luxury comfort, come bathtime? The beautiful, sweet, and warming shea fragrance completely fills the bathroom and the senses. A little goes a long way - we found just a couple of capfuls enough for a pleasingly bubbly experience, while the noticeably velvety foam sticks around for an unusually long time.
The inclusion of said shea butter meant we stepped out of the bath with nourished and lightly scented skin. The fact that it is sustainably sourced shea will also be of comfort to the ethically-minded beauty consumer, as is the recyclable bottle, which also happens to look ultra chic on the edge of your bathtub. It's also available in a handy refill pack, for extra eco points.
2. Neals Yard Remedies Lavender Bath Salts
Best bath salts
Specifications
RRP: $19.50/£15
Size: 350g
Type: Salts
Mood: Relaxing
Reasons to buy
+
True lavender fragrance
+
Quick to dissolve
+
100% natural ingredients
+
Recyclable packaging
Neal's Yard Remedies have become synonymous with incredible botanical blends and organic, effective skincare. Their bathing products are particularly lovely though and these bath salts are among our favorites.
With pure lavender and essential oil-infused sea salt crystals, a sprinkle of these in the tub enveloped us with a sense of calm and relaxation. We find that they are always nice and quick to dissolve when thrown in under warm running water and won't leave you sitting in grains. However, as they're salts you won't be getting any bubble action, but if that's not a dealbreaker and you're after a therapeutic experience, you'll love them as much as we do.
3. Elemis Aching Muscle Super Soak
Best bubble bath for soothing muscles
Specifications
RRP: $66/£44
Size: 400ml
Type: Foaming milky gel
Mood: Tension release
Reasons to buy
+
Soothing rosemary and thyme extracts
+
Contains antioxidants
+
Hydrating on skin
This is the sort of bubble bath you need to hide away. Not because it's un-glamorous but because everyone who sees it will want a glug in their bath and it's not one to be wasted! Pricy it might be, but once you've experienced this rejuvenating, deeply relaxing formula you won't want to be without it.
With aromatic rosemary and uplifting thyme, we love that this has a true 'spa' smell - relaxing, invigorating and calming in one. It has all the olfactory benefits of the best essential oils and fills your bathroom with scent while enabling tight, tense muscles to let go and relax. You'll emerge from the tub feeling soothed and ready for sleep.
4. Laura Mercier Almond Coconut Milk Honey Bath
Best luxury bubble bath
Specifications
RRP: $60/£45
Size: 300g
Type: Foaming cream
Mood: Comforting
Reasons to buy
+
Delicious aroma
+
Beautiful packaging
+
Moisturizing ingredients
Reasons to avoid
-
May be too sweet for some
Many Beauty Editors have been known to call this creamy bubble bath their guilty pleasure. Why guilty? Expense aside, it is decadently sweet. Sweeter than any fragrance that 'experts' are really supposed to be into. Basically, it's cake in a jar. But fragrance snobbery has no place in our bathroom and we would defy anyone to swirl that adorable little wooden honey dipper into their bath and not feel immediate happiness.
Scent aside, this also has a beautifully creamy texture and is rammed with skin-loving ingredients like sweet almond and oat proteins plus Vitamin B5 that left our limbs super soft. The lather it creates is of the luxuriously fine variety and - let's be honest - it'll look great in your bathroom.
5. Oskia Vitamin E Bath Oil
Best luxe bath oil
Specifications
RRP: $118/£78
Size: 120ml
Type: Oil
Mood: Soothing
Reasons to buy
+
Unique invigorating aroma
+
Luxurious ingredients
+
Beautiful bottle
No list of the best bubble bath should be without this Oskia option. This cult bathing elixir contains a blend of over 30 flower oils and smells heavenly. The skin benefits are also unparalleled, with cold-pressed raspberry, strawberry, blueberry and cranberry seed oils, its antioxidant-rich formula deeply nourishes the skin without leaving a greasy feeling.
It is undoubtedly pricy, but a little goes a long way. We found just one capful under running water gave a slight foam to the bath, unlike other bath oils which can just sit on top of the water. It's particularly great on the aromatherapy front as a few deep, slow breaths really brings a sense of calm.
7. Weleda Rosemary Invigorating Bath Milk
Best bath milk
Specifications
RRP: $21.80/£15.75
Size: 200ml
Type: Milk
Mood: Energising
Reasons to buy
+
Fresh herby fragrance
+
Natural essential oils
+
Very good value
There's a pervasive myth out there that baths always have to be soothing or relaxing, but actually, given the right aromatics, a nice long soak can be incredibly invigorating too. This simple and well-formulated herbal milk bath is just that, offering a jolt to the senses and a moment of mental clarity when needed.
The texture is a thin, milky fluid that's easy to pour under the taps but also, we found, quite easy to pour a little too much of - so tip that bottle with caution. The scent is clean, herbal, and bracing as advertised and the silky oil-based formula softens skin as you soak. We're huge fans of this product and get through a bottle every winter. Like everything Weleda does it's excellent value and thoughtfully made with natural ingredients and recyclable packaging.
7. Neom Bedtime Hero Bath Foam
Best bubble bath for before bed
Specifications
RRP: $25/£23
Size: 200ml
Type: Foaming gel
Mood: Calming
Reasons to buy
+
Sleep-inducing formula
+
Effective aromatherapy blend
+
No lavender (for those that dislike it!)
+
Gives great bubbles
Reasons to avoid
-
Smaller sized bottle for the price
Here's another product on our list that does a fab job of inducing a restful slumber. This time without lavender extracts, which will come as a pleasant surprise for those that dislike the scent but still want a snooze-inducing soak. Instead, a blend of chamomile, ylang-ylang, and cedarwood, work together to soothe a busy mind.
We already know that baths themselves have been shown to induce sleep (as body temperature changes trigger the release of melatonin) and we found pouring a capful of this in supercharged that effect. In fact, just breathing in this calming aroma was enough to make our shoulders drop about three inches.
8. OUAI Chill Pills Bath Bombs
Best grown up bath bombs
Specifications
RRP: $30/£25
Size: 6 x 42.5g
Type: Melting bomb
Mood: Uplifting
Reasons to buy
+
Skin-softening
+
Floral aroma
+
Non-greasy
+
Very instragrammable
Reasons to avoid
-
Doesn't really fizz
-
No bubbles
Here's something a bit different. Six aromatic bath bombs made with natural oils that soften skin and turn your bath water into a milky soak. Bath bombs, as a category, tend to target a younger market (and have the sweet fragrances that make for teen and tween catnip) but these are super grown up and sophisticated.
They are also great for anyone who's worried about even the best bubble bath leaving you with a dirty tub. We found they didn't leave the surface of our bath greasy or slippery so there was no need to rinse it out afterward - which is the last thing you want to do after your relaxing soak. These are also particularly great for anyone with dehydrated skin, who wants to nourish while they bathe - but those who love bubbles might be disappointed.
9. Ameliorate Softening Bath Milk Oil
Best bath milk for dry skin
Specifications
RRP: $26.50/£20
Size: 250ml
Type: Bath milk
Mood: Soothing
Reasons to buy
+
Skin-softening
+
Non-greasy
+
Smells lovely
On the hunt for some skincare for dry skin? If parched flaky patches are a problem then this could be the best bath product for you. It's enriched with Ameliorate's blend of softening ingredients including soothing colloidal oats and sweet almond oils to reduce itchiness and bring comfort to the skin.
It smells lovely and has a nice functional bottle that's easy to get the right amount from. We did find that those who love a luxurious foam right be disappointed as It doesn't produce bubbles, but it does turn the water milky and hydrating - particularly great if you live in a hard water area or suffer from skin issues like keratosis pilaris (AKA chicken skin) or psoriasis.
10. Baylis & Harding Goodness Sleep Lavender & Bergamot Sleep Bath Soak
Best budget bubble bath
Specifications
RRP: £5 (only available in the UK)
Size: 500ml
Type: Foaming gel
Mood: Relaxing
Reasons to buy
+
Affordable
+
Gives great bubbles
+
Smells lovely
Reasons to avoid
-
A little drying on the skin
Sometimes the best bubble bath is the one you can freely use without worrying about it eating into your rioja fund. If you tend to be generous with your measurements, you might want something a bit more affordable and this is the best bubble bath in our book, for a great foam and lovely scent on a budget. With lavender and bergamot essential oils, this foaming bath soak fills the bathroom with fragrance and is perfect for a calming bathe before bed.
The only drawback we could find was that it left out skin feeling a little dry than some others on the list so if you're sensitive or prone to dry skin, you may need something a bit more nourishing. Failing that, slathering yourself in one of the best body creams for dry skin should do the trick.
How to pick the best bubble bath product for you
Scent: Relaxing bubble baths tend to feature lavender quite heavily but there are other fragrances to suit your mood. Floral scents like rose and jasmine tend to be uplifting while herbaceous scents like rosemary and ginger can have a rejuvenating effect.
Bubbles or no bubbles: Sensitive skin types may want to avoid bubbles as these can be stripping on the skin barrier but look for nourishing formulations with ingredients like shea butter or glycerin to keep skin hydrated.
Formulation: Bath oils are fantastic for dry skin as they nourish the surface of the skin whereas suds from bubble baths cleanse the skin. Bath salts tend to be detoxifying so pick a formulation depending on your needs.
How to have a relaxing bath
Lorna Veale, founder of clean beauty brand No Secrets shares her tips for getting the most out of your bath:
Rinse your bath: "The first thing to do when having a bath is to make sure it is 'clean' from any cleaning products that you may have used. Most have warnings on the side like toxic or corrosive. You don't want to sit in a bath with them swimming around. Rinse your bath with hot water to make sure there is no residue of these products."
Find the right temperature: "Give yourself 20 minutes in the bath and a little time to relax and gather yourself afterward. Your water should be between 36-38 degrees Celsius, and the room should be 25-30 degrees celsius ideally."
Grab a book: "The temptation to catch up on your weekly binge on Netflix should be avoided! Taking a book or magazine into the bathroom with you is also a great way to relax and take yourself into a different world for a while."
And breathe: "To help you float away, try breathing in through the nose for five seconds and out through the mouth for five seconds, increasing to ten seconds for each, and continuing for two minutes. Finally, try to complete your ritual slowly, perhaps by using the softest towel to pat yourself dry."