Is fake tan bad for your skin? Experts give their honest answer
Wondering if there are any downsides to your self-tan habit? We asked skin specialists to settle the debate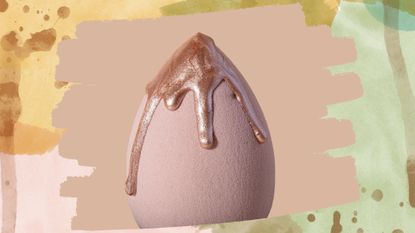 (Image credit: Future/Getty images)
We know suntanning is a health and beauty no-no, but is fake tan bad for your skin too? Whether you're considering DIY tanning for the first time or are a seasoned self-tanner looking for some reassurance, we've got the answers you seek.
It's natural to be curious about the products we put on our bodies. Doubly so when said product beds itself in and changes our skin color for anywhere between a weekend and a fortnight. Plus, as any keen home-bronzer will know, even the best self tan can have unwanted effects like streaks, dotty pores, and crispy-looking cuticles. But does the damage run deeper than simply telling tales of our fake tanning adventures?
We've spoken with aesthetic and dermatology specialists to ask the big question – is fake tan bad for your skin? And are some ways of using tanning products better for us than others? Here's what the experts had to say.
The experts answer, is fake tan bad for your skin?
Is self-tanner bad for the skin?
The simple answer, according to everyone we asked, is no – fake tan should not be bad for your skin. "As long as it is used topically and as direct­ed, there is no indi­ca­tion that self-tan­ning prod­ucts are harm­ful to your skin's health," advises Dr Safa Al-Naher, advanced facial aesthetics trainer and director of Serene by Dr Safa.
The main exception to this rule is when someone has an allergy or easily-aggravated skin. "Individual skin types may react differently to self-tanners, including the active ingredient DHA," explains Caroline Brooks, skin specialist and founder of The Glass House Salon & Spa. "Some people with sensitive skin may be more prone to experiencing irritation or allergic reactions."
If you are worried about reactions, proceed with caution in the way you would when trying any new skincare ingredient or product. "I would always suggest carrying out a patch test before applying it to larger areas of your body, says Dr Al-Naher. "Behind the ear is a good place, leaving it for at least 24 hours before applying in full."
Does fake tan dry out your skin?
Health and safety aside, what about the way your skin looks and feels? Is there any truth in the widely-touted belief that self-tanners dry the skin out? It's not quite that simple. Understanding how the active ingredient, DHA, works is key to getting to the bottom of this one.
"Self-tanners contain an active ingredient called DHA (dihydroxyacetone), which reacts with the amino acids in the top layer of the skin to produce a temporary brown pigment," explains Brooks. Dehydrated skin will naturally draw in more of your chosen tanning product, therefore more DHA, which is why areas like your cuticles, elbows, and heels are prone to taking on a too-intense color and staining (it's also why applying a thick barrier cream on dry palms before tanning is key in how to get fake tan off hands)
So while fake tan will collect on and cling to dry skin, accentuating its appearance, it does not actually cause the skin to become drier.
How to prevent dry skin when tanning
If you've ever read up on how to fake tan properly, you've may have also wondered whether all the recommended pre- and post-tan steps are really necessary. Apparently so, if you want to keep your skin in good nick. As DHA works by binding with the amino acids in the skin's top layer of cells (dead skin cells that are ready to shed) ensuring there isn't too much dead skin there in the first place, then keeping everything well-moisturized afterward, helps your tan stay put as well as look smooth, even and hydrated.
Emma Coleman, dermatology and aesthetic RGN advises following this skin-kind tanning routine:
Exfoliate: "Use a salicylic acid face wash and a washcloth to exfoliate the skin before applying a self-tanner.
Apply: The tanner in sections using a self-tan mitt for an even result.
Blend: With oil or moisturizer on your wrists and ankles.
Dilute: With oil or moisturizer over your joints.
Give: Your skin time to dry before applying facial skincare
Moisturise: every day after tanning."
Every expert we asked emphasized how crucial these steps are if you want to know how to self tan your face or body without drying it out. "Exfo­li­ation is the most important part of the process, particularly after a long winter," agrees Dr Al-Naher. "This will remove any build-up of dead skin cells, but I would pay particular atten­tion to your knees, elbows, and ankles, as these are the areas where you often get dry skin forming."
"After application, using a moisturizer can help prevent or alleviate any dryness or damage to the skin," adds Brooks. Oils are known to loosen dead skin cells and can break down DHA, neither of which you want after painstakingly applying your tan, so the best body moisturizer for the job will be an oil-free formula.
Our beauty editor recommends...
How often is it ok to fake tan?
In skin health terms, as often as you like. "DHA has a strong safety profile so there is no risk of overdosing," agrees Coleman. From an appearance perspective, it's wise to avoid loading layer upon layer. "Most self-tanning products are safe to use as often as you like, however, to avoid build-up and patches forming, I recommend regularly exfoliating in between applications," says Dr Al-Naher.
How often you top up depends on the product you use, too. Gradual lotions with high levels of hydrating ingredients and low percentages of DHA are designed to be layered and can be used several times a week. Traditional tanning mousses and creams will contain higher levels of DHA, so you can leave longer gaps. "If you use a good quality product, you should only need to re-apply once a week," Dr Al-Naher adds.
Is self-tanner safer than tanning?
There's no question that getting your tan from a bottle is far safer than exposing your skin to UV rays. Think of a real tan as your skin putting up little melanin umbrellas to desperately try and defend itself from deep and irreversible cellular damage. Scary, huh? "I would always recommend a self-tan over a natural tan, due to the long-term damage the sun can do to your skin." says Dr Al-Naher.
If you tend to use tanning products during warmer seasons and holidays, you might wonder, is fake tan bad for your skin when combined with the actual sun? Coleman notes that, "according to a 2008 study, DHA-treated skin which is then exposed to UV light is likely to generate approximately 180% more free radicals compared to skin which has not been treated with DHA."
Considering that free radicals are nasty skin-damaging and collagen-degrading molecules – the kind we fight off with antioxidants such as our best Vitamin C serums – that also sounds pretty scary. However, it's worth bearing in mind that a 20% DHA solution was used in this trial, and the typical DHA percentage in self tan tends to be 1-5% (the legal limit in the EU is 10%, although the FDA has not imposed a limit in the US)
Still, it's wise to limit UV exposure for that and so many other reasons. "Self-tanner does not offer protection from the sun, so you should always wear sunscreen on top. The color change due to the tanner may also mask any burning or sun damage that starts to happen," adds Dr Safa Al-Naher. Exercising caution in the sun is never exactly a bad idea, is it?
Beauty Editor, womanandhome.com
As woman&home's Beauty Channel Editor, Fiona Mckim has tried more products than she's had hot dinners and nothing makes her happier than raving about brilliant finds on womanandhome.com or her instagram grid (@fionamckim if you like hair experiments and cute shih-tzus). Fiona joined woman&home as Assistant Beauty Editor in 2013 under industry legend Jo GB, who taught her everything she needed to know (learn about ingredients and employ extreme cynicism). She has since covered every corner of the industry, from interviewing dermatologists and celebrities to reporting backstage at Fashion Week and judging the w&h Beauty Awards.