How to self tan your face and cheat a natural-looking golden glow
Expert tanners share how to self tan your face without going orange or patchy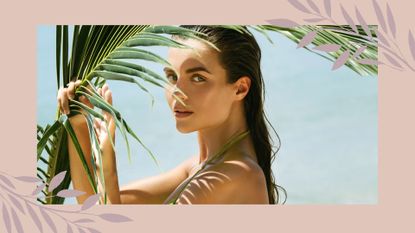 (Image credit: Getty)
woman&home newsletter
Sign up to our free daily email for the latest royal and entertainment news, interesting opinion, expert advice on styling and beauty trends, and no-nonsense guides to the health and wellness questions you want answered.
Thank you for signing up to Woman & Home. You will receive a verification email shortly.
There was a problem. Please refresh the page and try again.
Not sure how to self tan your face? The process is pretty similar to your body, just with a couple of extra considerations to achieve a convincing finish.
If you can master the method (and we're confident that you can) then there are lots of benefits to using the best fake tan for face. The main one is that you're not harming your skin by sitting out in the sun to get a 'real' color. "Self-tan is effortless, causes no skin damage, and modern products contain ingredients that can actually improve the health of your skin – helping with things like brightness and hydration," says Michaella Bolder, St.Tropez Tanning & Skincare Expert. "It's the safest way to achieve a golden, natural glow."
To make sure you're achieving a believable bronze rather than channeling a tangerine, we asked Bolder and other tan experts to share their fail-safe tips on how to self tan your face. Here's what they said.
How to self tan your face, according to the experts
1. Prep your skin
A good tan requires good prep, and scrimping on this is one of the key culprits behind a patchy or streaky finish. Understanding how to fake tan your face requires a bit of forward planning, and ideally, you want to exfoliate your skin between 24-48 hours before you apply your tan.
"This creates a fresh canvas and can help to shift any prior tan build-up," explains Marc Elrick, founder, and CEO of Tan Luxe. "I would always recommend using a chemical exfoliator over a granular one, purely for the reason that they're gentler on the skin." Make sure you're keeping your skin nice and hydrated in the lead-up to tanning with a good serum and your best face moisturizer.
With your skin soft, smooth and good to go, cleanse your face to make sure you've removed any makeup, SPF, and general daily grime from the surface of your skin. If any of these are still lurking around, your tan won't be able to work as effectively.
2. Protect your hairline and brows
Fake tan temporarily tints the surface of your skin, and that means you have the potential to color your hair too. Those with blonde or grey hair are most at risk of a noticeably orange hairline or brows, but even brunettes can develop a ginger tinge. "Keep your hair away from your face with a decent-sized toweling headband before tanning," advises leading tan expert James Harknett. "Protect your eyebrows too by using Vaseline or barrier cream."
If you forget this prep, wiping a flannel with a little moisturizer on it through your brows after applying tanner works as a backup. Remember that fake tan can also distort the shade of eyebrow tint, so lay off the fake stuff for a few days before your next brow appointment.
3. Pick a tool
Not sure what tools you need when learning how to self tan your face? Whether you use your hands, a mitt, or a brush depends on the formula you're using and the finish you're hoping for. A mousse tends to work better on a mitt, a cream with your hands, and a mist with a brush to even it out. "I advise people to use the leftover tan on the application mitt for their face [after tanning the body] so you don't go too dark," says Skinny Tan's tanning expert Claire Lambert. "If you use a tanning brush you could add some contour to your face and blend it into your hairline too."
"You can use your fingers - or I like to blend my self-tan with a large makeup brush for an effortless and even finish," adds Bolder." If you are using your fingers, make sure you wash them with warm, soapy water after application and read up on how to get fake tan off your hands to correct any mishaps.
4. Use a face-specific product
"It's not unsafe to use the same tan on both areas, but I would recommend using something specifically formulated," advises Elrick. "You wouldn't apply your body moisturizer to your face, right? These areas have different needs. For example, on the face, we include more anti-aging actives, and there's a real firming focus for the body."
When you apply fake tan, you miss out on the opportunity to use your regular skincare for that morning or evening, so it's nice to find a formula that contains the sort of ingredients you'd normally be using. "When applying self tan to your face, look for the ingredients in your skincare serum," advises Bolder. Many facial tanners include things like hyaluronic acid to hydrate, ceramides to nourish, and niacinamide to soothe.
5. Choose your tanner type wisely
"It comes down to personal preference," says Bolder. "A mist is great for beginners to apply an even veil across the face, while tanning drops are great to add buildable coverage."
DHA, the active ingredient in tan, is notoriously dehydrating. If your complexion leans dry, counteract this with a cream-based gradual tan that's packed with nourishing ingredients. Mousses are good but can be quite sticky, so not everyone will enjoy the feeling of them on their skin. Alternatively, mists are great if your complexion is congested or oily as they're much lighter. Tanning drops that you can mix with your moisturizer are a crowd-pleaser for all skin types, and are nice and easy to slot into your routine.
Our beauty editor recommends...
6. Think about shade and undertones
There's no one-size-fits-all shade of fake tan. The exception to this is express tans, which can be adapted by the length of time you leave them on before showering. Remember your shade will vary depending on the time of year, and whether or not you've got a natural glow. Not got the right shade to hand? "You can be smart with your tan," says tanning guru and co-creator of Isle of Paradise, Jules Von Hep. "One coat of a medium-based tan will roughly equal two coats of a light tan, and one coat of a dark tan will roughly equal two coats of a medium tan."
One of the biggest fake tan mistakes people make is not taking their undertones into account. Your undertone is consistent, and won't change no matter how sun-starved or tanned your skin is. There are three – warm (which has yellow or golden tones), cool (which has red, pink, or blue tones), and neutral (which is a mix of both). "If you find your tan is looking orange, this is likely because your undertone is off," explains Bolder. "For instance, if you have a pink undertone, look for a green-based self-tan."
7. Finally, consider contouring
Just as tantouring can create the illusion of a more toned physique, you can also use the fake stuff to hone and exaggerate your facial features too. "Your set of makeup brushes will come in handy not only to apply your self-tan but also to contour and add depth to your tan or makeup," advises Bolder. "I like to add some self-tan beneath my cheekbones and corners of the forehead to enhance my contours."
Building up a little more color in the places where the sun naturally hits, like your forehead, nose, the tops of your cheeks, and your chin, will also help to create a really convincing finish. If you're nervous, you could always have a go with one of the best instant tans or best bronzers first before trying it with a developing self tan.
---
Your facial fake tanning FAQs
Why does fake tan fade faster on your face?
Meticulously applied a tan all-over only to find that the glow on your face has disappeared quicker than the rest of your body? Don't worry, this is a very common tanning problem. "As we wash and apply different products on our face more regularly, the tan can often fade more quickly compared to on your body," says Elrick. "As a result, you might need to reapply here more frequently."
The ingredients in your skincare will impact the speed your tan fades too. "Any products you're using in the evening that contain exfoliating acids or retinol will fade your tan," Elrick continues. And the same goes for slapping on your best face oils, which can dissolve DHA. The key to how to make a tan last longer? " I would always recommend reapplying your facial tanner the morning after using any exfoliating products. You should treat your fake tan like a natural suntan by keeping your skin hydrated between applications. This keeps your glow going for longer and ensures an even, natural fade."
Will applying fake tan to your face give you spots?
Alongside is fake tan bad for your skin, one of the most commonly asked faux glow questions is whether or not it will give you spots. This won't be the case for everyone, but some people find that applying self tan leaves them with breakouts. "It shouldn't cause spots, but be careful on your face if you have clogged pores," says Lambert. "Make sure you're also looking after your skin with face washes and regular exfoliation."
There are a few potential reasons behind these blemishes. The first is that fake tan can dehydrate the skin, which then triggers our complexions to make more oil to compensate. This excess oil can then combine with dead skin cells to block pores. Certain tan formulas can clog pores too. Another factor is that in order to use tan you often have to adapt or skip parts of your normal skincare routine, which might mean you're using fewer blemish-busting ingredients like salicylic acid and retinol. If this is the case, you might want to lay off the fake stuff until your skin is in a more balanced place.
Sign up to our free daily email for the latest royal and entertainment news, interesting opinion, expert advice on styling and beauty trends, and no-nonsense guides to the health and wellness questions you want answered.
Jess Beech is an experienced fashion and beauty editor, with more than eight years experience in the publishing industry. She has written for woman&home, GoodtoKnow, Now, Woman, Woman's Weekly, Woman's Own and Chat, and is a former Deputy Fashion & Beauty Editor at Future PLC. A beauty obsessive, Jess has tried everything from cryotherapy to chemical peels (minus the Samantha in Sex and The City-worthy redness) and interviewed experts including Jo Malone and Trinny Woodall.