The best bronzer for fair skin to get a natural-looking glow
Our beauty editor hunts down the best bronzers for fair skin, for a vacation glow minus the orange tones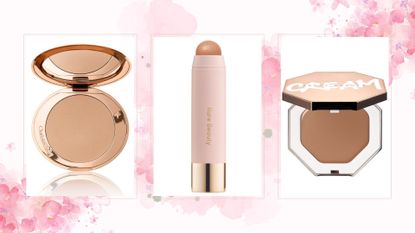 (Image credit: Future/Brands)
Finding the best bronzer for fair skin is not a straightforward task.
The aim of the best bronzers is to make your skin look sunkissed, but if you have a pale complexion this raises some problems. Firstly, it's likely that your skin doesn't tan naturally, and even if it does pale skin is still happiest in the shade. There's not much kissing going on between your face and the sun, so you don't have a golden version of yourself to refer back to and replicate with makeup. Team this with the fact that old-school bronzers left pale skin orange and muddy, and we wouldn't judge you for giving the category a wide birth.
The good news is that the latest bronzer generation is not only softer in texture and finish but available in lighter shades too. "A good bronzer will light up the face in a natural way," advises pro makeup artist Kelly Cornwell."Make sure it's only one or two shades darker than your skin tone. Match your best foundation to the shade on your skin, then use the bronzer to add a little warmth. Always check the shade of your bronzer on the neck. If you can see a very dark stripe, then it's not for you."
How we tested the best bronzer for fair skin
Why you can trust Woman & Home Our expert reviewers spend hours testing and comparing products and services so you can choose the best for you. Find out more about how we test.
To test the best bronzers for fair skin, our pale-complexioned Beauty Editor eased off her best fake tan for the face for long enough to see if these formulas could do the heavy lifting instead. She judged each bronzer on the texture of the formula, how easy they were to apply, how natural the finish looked on the skin, and, of course, whether the shade was convincing on a fair skin tone.
How to choose the best bronzer for fair skin
Wondering how ace picking a bronzer for pale skin? Every product in this list fit the following criteria:
Blending well: When you have pale skin, you need to be able to really work the product into the skin to buff away any tell-tale joins or marks. Stubborn, clingy formulas aren't going to work for you.
Natural color: The best bronzers for fair skin will have been created with those complexions in mind so that they won't have any muddy or orange hues to them.
Easy to apply. Blendability is key when aiming for a subtle look. You'll find the best powder bronzers, the best stick bronzers, and the best cream bronzers on this list. Whatever the formula, we made sure these were easy to apply for even the freshest bronzer newbies.
The best bronzer for fair skin according to a beauty editor
1. Rare Beauty Warm Wishes Effortless Bronzer Stick
Best stick bronzer for fair skin
Specifications
RRP: $32.50/£25
Formulation: Stick
Best shade for fair skin: Power Boost
Reasons to buy
+
Long-lasting
+
Natural finish
+
Easy to apply
Reasons to avoid
-
Not everyone will like a stick
In 2022, the industry reached saturation point with celebrity beauty brands. We're not pointing fingers as to the one that finally broke the camel's back, but let's just say it had something to do with genderless skincare and a vineyard. The shame is that this can cast a shadow on the genuinely brilliant celebrity beauty ranges, like Selena Gomez's Rare Beauty. If you haven't tried anything from the line yet, we recommend you start with this bronzer.
It's a nice chubby stick that can be drawn onto the skin (it's best to focus on the places where the sun naturally hits, so your forehead, nose, chin, and cheekbones) and then either blended with warm fingers or buffed with a brush. It swipes on like a cream but takes on a more powdery texture when on the skin, which gives it better-staying power than your average lightweight bronzer. This is especially important for fair skin, a patchy finish throughout the day will be really noticeable. All in all, it's satisfying, simple, and a joy to use.
2. Charlotte Tilbury Airbrush Bronzer
Best luxury bronzer for fair skin
Specifications
RRP: $56/£44
Formulation: Powder
Best shade for fair skin: Fair/Pale
Reasons to buy
+
Generous amount of product
+
Luxurious packaging
+
Blurs skin
Reasons to avoid
-
Size isn't great for travel
If you're the kind of person that wants to cosplay as a Hollywood starlet when you apply makeup, know that Charlotte Tilbury is always going to deliver on glamor. This bronzer is absolutely huge (a slight downside for keeping your makeup bag travel-friendly), satisfyingly weighty, and clad in rose gold. The powder inside might have less initial wow factor than the packaging, but it delivers where it counts.
It's super silky and very finely milled, which has a blurring, pore-disguising, almost air-brushed effect on the skin – not entirely dissimilar to the best powder foundations. It's matte, so helps to soak up shine on oily complexions without the need to follow with your best setting powder. Depending on how fair you are, you might need to build this a little for a noticeable color, but don't worry about running out – it's so generously sized that you won't be hitting pan anytime soon.
3. Ilia Nightlite Bronzing Powder
Best eco-friendly bronzer for fair skin
Specifications
RRP: $34 / £36
Formulation: Powder
Best shade for fair skin: Drawn In
Reasons to buy
+
Recyclable packaging
+
Flattering sheen finish
+
Easy to use
Reasons to avoid
-
Compact doesn't have a mirror
If ILIA are already on your radar, it's probably for their much-loved Super Serum Skint Tint, and this bronzer is the perfect addition to your already glowing routine. It's pretty no-frills, but that's what we like about it. It comes in two shades – a light tan and a medium tan, and has a powder texture that blends really easily.
The finish has a very slight subtle sheen to it, rather than being completely matte, which we found really helped to inject some vibrancy back into our drab, sun-starved complexion. Fair skin is typically drier than darker skin tones, so this will help to make skin look instantly more nourished and hydrated. If you're keen to make more eco-friendly shopping decisions, you'll be pleased to know that this comes in a mirror-free compact that can be fully recycled once you've popped out the powder insert.
4. Fenty Beauty Cheeks Out Freestyle Cream Bronzer
Best bronzer for fair skin for a glowy finish
Specifications
RRP: $32 / £30
Formulation: Cream
Best shade for fair skin: Butta Biscuit
Reasons to buy
+
Good shade range with a wide offering of undertones
+
Lovely cream texture
+
Glossy finish
Reasons to avoid
-
High-pigment finish can be difficult for first-timers
Fenty Beauty not only filled a gaping hole in the market for shade inclusivity for deeper skin tones, Rihanna's brand has also shown that it is possible for a brand to cater to all ends of the skin spectrum – including the very pale. The formula of Cheeks Out Freestyle Cream Bronzer works for all skin types, and the shades stretch for all skin tones. If you have fair skin, then cream bronzers like this are a good choice as the lighter texture and their ability to blend makes them pretty much foolproof when it comes to application.
What we love about this is that it's sheer and glossy, which gives skin a gorgeous glow, but is also super pigmented so you only need the tiniest amount. You can shop by your skin tone (which would be fair or light) but also by your undertones too, which are cool, neutral, or warm. If you don't know which category you fit into, hold a piece of gold jewelry next to your skin, followed by a piece of silver jewelry. If the gold makes your skin look brighter, you're warm, and if it's the silver, you're cool. Look the same? You have a neutral undertone. By taking these into account, you'll get a more convincing finish from any bronzer for pale skin.
5. Milk Makeup Matte Bronzer Stick
Best bronzer for fair skin for keeping in your makeup bag
Specifications
RRP: $28.50 / £22
Formulation: Stick
Best shade for fair skin: Dazed
Reasons to buy
+
Blends well
+
Tapered top is a good size
+
Handy for handbags and travel
Let's address the elephant in the room first. Milk Makeup has received some criticism for making their stick products smaller, but without reducing the price. The brand's take is that the smaller size is easier to use and easier to transport (plus it uses less plastic) and we're inclined to agree with this logic, even though we'd still like them to be cheaper. The now narrower top makes it easier to be more precise with your bronzer placement, especially if you're a keen contourer and like to swipe your bronzer down the side of your nose.
The formula is still a doddle to blend with fingers or your best makeup brush and leaves skin with a natural-looking warmth – a bit like you've just spent an afternoon in the sunshine. Those with very fair skin may find that they need to do a little more blending to perfect the finish. For a cream product, it doesn't have much in the way of a sheen, so if that's your bag then you'll need to use your best primer for dry skin or a dewy lightweight foundation to bring the glow beneath.
6. Benefit Hoola Matte Bronzer
Best bronzer for fair skin for a matte finish
Specifications
RRP: $35 / £30
Formulation: Powder
Best shade for fair skin: Lite
Reasons to buy
+
Nice natural shade
+
Creamy formula
+
Global bestseller
If you opened all your friends' makeup bags in the '00s we can guarantee that Benefit's Hoola Bronzer would have been in the majority of them. This little cardboard box of glow was a true cult buy but didn't originally work for all skin tones. Fast-forward to now, and Hoola has four shades to its bamboo bow - the original, caramel, toasted, and the one we're interested in, which is lite.
It's a powder bronzer, so designed to be swept on with a brush, but if (like us) you're curious to swipe a finger across it, you'll find that the texture is creamier than your average powder bronzer, which makes for a long-lasting and soft finish on the skin. It clings readily to a makeup brush, which means it's quite easy to apply a bit too much. Don't panic though – just blend with a fluffy brush.
7. E.l.f Putty Bronzer
Best affordable bronzer for fair skin
Specifications
RRP: $7 / £6
Formulation: Cream
Best shade for fair skin: Feelin' Shady or Tan Lines
Reasons to buy
+
Bargain price
+
Good staying power
+
Easy to blend
The true beauty underdog, e.l.f. Cosmetics have managed to go from a relatively simple, affordable drugstore makeup brand to a TikTok sensation that's outselling the other brands in their sector. So if you want to get your hands on this bronzer, you'd better act fast. The putty bronzer comes in a little tub which is perfect for travel and has a creamy texture that's easy to dot onto the skin where you want it.
It transforms into a powder as you apply, so you just need to buff and blend relatively quickly before it dries down too much. We did find that the textures varied slightly between the shades we tried (some were silkier than others) so keep this in mind. It could also be that one sample was older than the other, so make sure you're putting the lid back on properly to stop yours from drying out. Also, it's worth us flagging that the lightest shade in the range, Feelin' Shady, has a slightly cooler grey tinge to it, which makes it better for contouring than bronzing.
8. Nudestix Nudies Bronze Bronzer Stick
Best bronzer for fair skin for applying on the go
Specifications
RRP: $35 / £28
Formulation: Stick
Best shade for fair skin: Bondi Belle
Reasons to buy
+
Multi-use sticks
+
Comes with a built-in brush
+
Quick and easy to apply
If you're a five-minute-face, applying-your-makeup-on-the-subway kind of girl, then you'll love this Nudestix Nudies Bronzer Stick. It's a cream stick that can be used on your face, eyes, and lips to deliver a natural bronze and the lightest shades are pale enough to suit even the most porcelain of complexions. We have to admit we weren't convinced by the lip thing, but if your lips are naturally quite a deep pink, then the bronze shade could offer a cool, muted peachy finish.
As for bronzing your face, which is our priority here, these sticks are absolutely gorgeous and so intuitive to use that even the most bronzer-adverse will be able to get on board. The texture is like butter and it melts into skin for a seamless finish. It's double-ended, so does come with a built-in brush, but we found that our fingers were the best tools for ease and speed.
9. Nars Bronzing Powder
Best bronzer for fair skin with a subtle shimmer
Specifications
RRP: $38/ £31
Formulation: Powder
Best shade for fair skin: San Juan
Reasons to buy
+
Flattering shimmer
+
Beloved classic
+
Lightweight texture
Reasons to avoid
-
May be too subtle for some
Anyone who's familiar with Nars (or who counts their Orgasm blush as one of their best blushers) will know that they don't play when it comes to pigment. We expected this bronzing powder to require a very softly-softly approach to avoid veering off into tango territory, but actually, the payoff is much more subtle. This gives you much more control over how much you want to build the color, which is great for fair skin.
For example, you might want to go heavier around your cheekbones and forehead but put a much lighter dusting across your nose and chin. We used Nars Bronzing Powder with a big fluffy brush which was the perfect tool for diffusing this very soft, fine powder onto the skin. It does have a subtle shimmer to it, but you have to apply a lot to see those specks of sparkle. They catch the light very softly, but in a grown-up, not glittery, way.
10. Laura Mercier Tinted Moisturiser Bronzer
Best liquid bronzer for fair skin
Specifications
RRP: $29 / £27
Formulation: Liquid
Best shade for fair skin: Sunshine
Reasons to buy
+
Hydrates the skin
+
Leaves skin looking healthy
+
Flattering finish
Reasons to avoid
-
Can't be applied directly to the face
If you're a tan of a tinted moisturizer, then we're willing to bet that you've given Laura Mercier Tinted Moisturizer a go. The brand is the first name in glossy, glowing skin, so we were very excited to hear that they had extended the range with a Tinted Moisturizer Bronzer. Confused as to what that actually means? In short, it's a liquid bronzer with the added benefit of 12-hour hydration for the skin.
Just like their cult tinted moisturizer, the bronzer also comes in a tube (it's just much smaller) which means you need to apply it to your hand first to avoid accidentally overdoing it. The formula is super silky and blends beautifully, which lends itself well to a speedy, fuss-free application with your fingertips. A little goes a long way too, so don't let that tiny tube put you off, and go in sparingly to begin with – you can always add more.
Jess Beech is an experienced fashion and beauty editor, with more than eight years experience in the publishing industry. She has written for woman&home, GoodtoKnow, Now, Woman, Woman's Weekly, Woman's Own and Chat, and is a former Deputy Fashion & Beauty Editor at Future PLC. A beauty obsessive, Jess has tried everything from cryotherapy to chemical peels (minus the Samantha in Sex and The City-worthy redness) and interviewed experts including Jo Malone and Trinny Woodall.